What is a QMS?
A QMS, shorthand for quality management system, is a formalized tool used for formal documentation of policies, procedures, requirements, and processes used by an organization to produce and manage a product and/or service offering.
A QMS should reflect the unique needs of the organization and be used to manage the system processes and personnel activities that take place throughout the product life cycle to ensure quality standards are consistently being met.
Organizations across multiple industries depend on their QMS to manage the quality, safety, and effectiveness of their product or service over a period of time, verifying and validating its ongoing performance and ability to meet the needs of customers.
Quality management, as a system, relies on certain key quality functions from within in order for it to operate. Quality assurance and quality control are two fundamental components of a QMS and each depend heavily on one another for effective quality management to be achieved.
Quality Assurance refers to the activities that ensure quality in the processes by which products are developed. And while a large portion of a QMS is focused on assuring the quality of processes, Quality Control represents a set of activities that revolve around identifying defects in the products that are created.
QMS STRUCTURE
There are five main functional areas of a medical device QMS:
Document control
Management responsibility
Resource management
Product realization
Measurement analysis and improvement
Under the document control subsystem is where key documents and artifacts will live. There are varying degrees of importance for each and the order in which they fall in the QMS hierarchy does matter.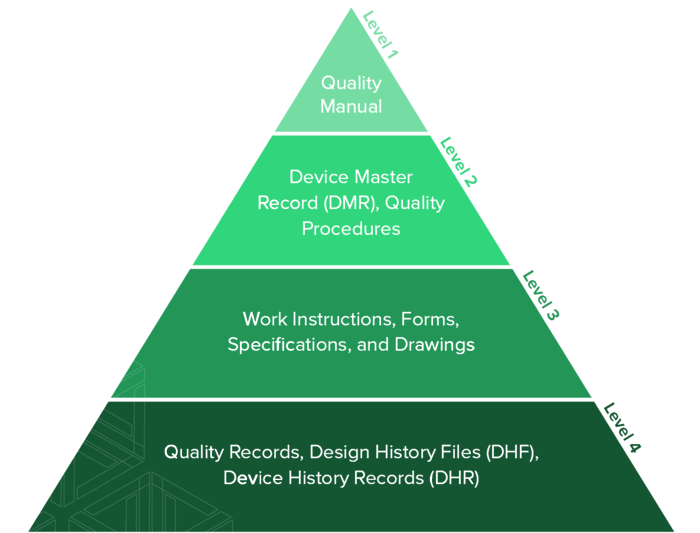 Example of a QMS hierarchy
A QMS is made up of a set of components, such as company policies, procedures, forms, and work instructions accompanied by their sequence, interactions, and resources, of which are operational requirements within the medical device company. Finally, the quality records are the company's proof that all aforementioned items exist within the QMS and are being carried out effectively.
Management is at the heart of any QMS and its processes. The important role this group has in the success of a QMS has a direct impact on nearly every subsystem of a QMS.
A valuable best practice for maintaining a strong and reliable QMS is to continually monitor its effectiveness and ensure that the QMS is adjusted as necessary. An effective means of doing so is by establishing key performance indicators for the processes within the QMS.
There are a number of different methods for QMS monitoring which are used by organizations across multiple industries to improve the quality of their systems and processes.
One commonly practiced method is the PDSA Cycle, also commonly referred to as the Deming Cycle (named after one of the pioneers of Quality as it relates to a QMS, W. Edwards Deming.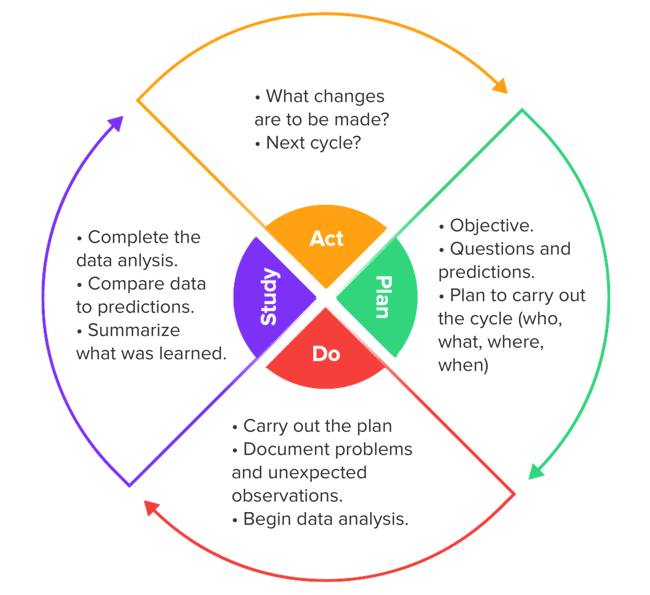 PDSA Cycle and Model for Improvement, Deming/API
This model for improvement involves four major stages with key considerations and recommended practices listed for each:
Plan

Plan to carry out the cycle — who, what, where, when
Define objective
Come up with questions and predictions

Do

Carry out the plan.
Document problems and unexpected observations
Begin data analysis

Study


Complete the data analysis
Compara data to predictions
Summarize what was learned

Act

What changes need to be made?
Next cycle?
Various approaches to quality improvement should ultimately aim to serve the purpose of helping organizations meet the needs and expectations of both the customer and regulators. In doing so, organizations will reap many benefits, as well.
QMS implementation and ongoing maintenance will provide a high return on investment for organizations in terms of overall financial gain, competitiveness in the marketplace, and customer satisfaction of a high quality product and/or service.