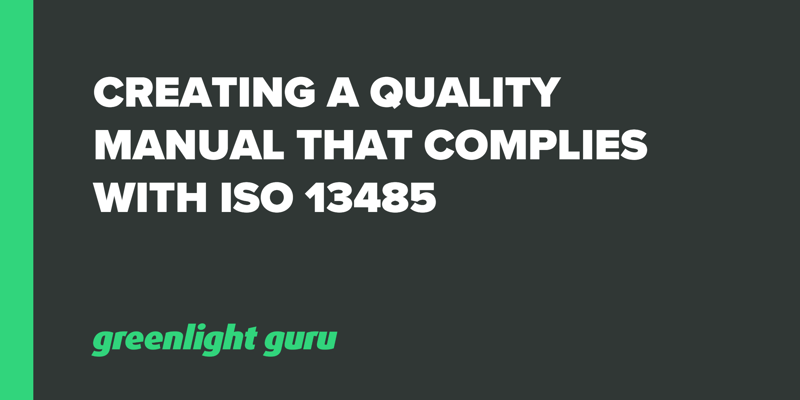 An excellent quality management system (QMS) is one of the keys to bringing a safe and effective medical device to market.

And in order for your QMS to fall into that category, you'll want to follow guidelines from ISO 13485:2016—the international standard for medical device quality management systems—which include the need for a quality manual.
Think of a quality manual as the user's guide to your QMS. The purpose of a quality manual is to help you, your team, and any stakeholders or auditors navigate your QMS. Your quality manual should also communicate your company's purpose and objectives for the QMS as well as establish the roles and responsibilities for maintaining the system and performing quality activities.
As such, it's important that you create a quality manual that complies with the applicable requirements from ISO 13485:2016 and is both informative and easy to navigate. Here's how:
BONUS RESOURCE: Click here to download a free template you can use to outline all documented procedures in your quality manual.
What are ISO 13485 quality manual requirements?
ISO 13485:2016 requires your quality manual to cover four key elements:
Describe the scope of your QMS. Include any clauses you have excluded and a justification for excluding them.

List or reference the standard operating procedures (SOP) of your QMS.

Describe any interactions of QMS processes.

Provide an outline of the structure of QMS documentation.
The standard gives manufacturers flexibility as to how a quality manual is structured, as long as it meets those four key criteria.
Keep in mind that your quality manual isn't meant to be a book-length document. Medical device manufacturers often feel they need to create a weighty tome that touches on absolutely everything in ISO 13845. And yes, that may technically satisfy the requirements for a quality manual, but it's worth considering whether that approach results in a useful quality manual.
Employees, customers, regulatory bodies, investors, and other key stakeholders will all need to access your quality manual at some point. Therefore, it's important that you create a streamlined, navigable quality manual that meets the four main requirements, at minimum, without becoming extraneous.
What to include in a quality manual
Now that we've outlined the high-level requirements of a quality manual, let's dive into what's required to satisfy each of them:
Scope
You must describe the scope of your QMS requirements, including any exclusions you have made, in your quality manual. Keep in mind that only aspects of clauses 6, 7, and 8 may be excluded.
For example, you might state: "This quality manual is for all ABC Diagnostics companies located at (list addresses)." You can then include a brief description or list of the activities performed at each of those addresses (design and development, internal audits, etc).
For any requirement you are excluding, include a justification as to why it does not apply to your product. An example of an exclusion statement would be: "As our products are not intended to be implanted, Section 7.5.5 does not apply." Be as clear as possible when documenting your rationales; you may have to defend them in an audit!
You must also define the roles and responsibilities of any third parties you're working with, such as manufacturing and sterilization firms, and provide their full contact details.
List your QMS Standard Operating Procedures
There are a number of standard operating procedures (SOPs) that ISO 13485 requires companies to document or reference in the quality manual, including:
Control of documents

Control of records

Internal audit

Control of non-conforming products

Corrective and preventive actions

Validation of computer software

Customer specifications (for manufacturing, inspection, packaging, and delivery)

Monitoring and measurement

Servicing and installation (if applicable)

Management review

Work environment and contamination control

Design and development

Validation of sterilization and sterile barrier systems (if applicable)

Identification and traceability

Preservation of product

Calibration or verification for measuring equipment

Feedback and complaint handling

Reporting to regulatory authorities

Advisory notices, reworks, data analysis
It's important to note that ISO 13845 does not require you to write out each of your procedures step-by-step in the quality manual; the guidelines only specify that a list or index of the manufacturers SOPs is necessary.

To comply, you can create an appendix within your quality manual called "Documented Procedures" and then list your procedures in a table format. This could include two columns, one to reference the section number or title within ISO 13485:2016 (7.4 Purchasing) and a second column to reference your procedure (SOP-06, Purchasing Procedure).
Describe process interactions
The objective of this requirement within your quality manual is to describe how your various processes interact with one another.
One of the simplest ways to depict this is by including a process flowchart that shows the dependencies and interactions of your processes. Whichever method you choose, it needs to show the inputs and outputs of each corresponding process. This flowchart is bigger than your design and production processes. Management Responsibility, Supplier Evaluation, and Risk-Based Approaches also come into play.
Document structure
Your quality manual will also need an outline of your document structure.
You can visualize the quality manual as sitting at the top of the pyramid, with your SOPs and work instructions in the middle and your document records (such as records of internal audits) at the bottom of the pyramid, as shown in the figure below.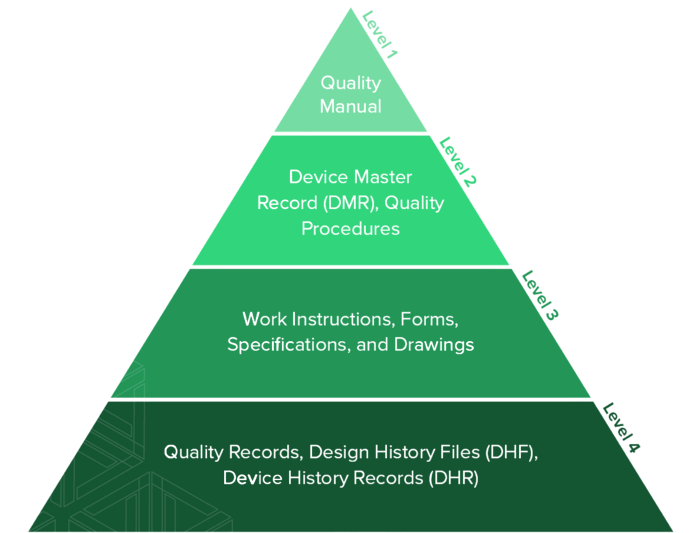 Example of a QMS Hierarchy
It's up to you how you want to structure your documentation, as long as you can clearly explain it in your quality manual.
Extras
Aside from the previous four sections, there are some "nice-to-haves" you may want to include in your quality manual:
The Quality Policy, since your Quality Manual is your users guide, it makes sense for your Quality Policy to showcased here

A brief description of your company, its mission, and vision

A list of any definitions or abbreviations

An organizational chart detailing job titles, not necessarily who holds the title currently

A list of the regulations and standards you are following (especially if your products are sold in multiple markets)
As you can see, the QMS standard doesn't intend for your quality manual to be an overly complex document. It's possible to create a simple quality manual that is both useful and ISO 13845-compliant.
BONUS RESOURCE: Click here to download a free template you can use to outline all documented procedures in your quality manual.

Create and maintain your quality manual with an intelligent document management solution
Your quality manual serves more than just proof you've satisfied a compliance checkbox activity. It's a key company document that illustrates your commitment to quality management.
And the best way to curate and maintain the valuable information stored within your quality manual—and your entire QMS—is with Greenlight Guru's Intelligent Document Management solution.
AI and ML technologies power our Medical Device Success Platform (MDSP) to give you full visibility and traceability of all your documents and other key connections throughout your entire QMS.
It's easy to create a quality manual that satisfies ISO 13845 requirements when you're using the only medical-device specific QMS solution, built on best practices from industry standards and regulations from around the world. Get your free demo today!
---
Looking for a design control solution to help you bring safer medical devices to market faster with less risk? Click here to take a quick tour of Greenlight Guru's Medical Device QMS software