Understand and Manage the Impact of Any Change
Greenlight Guru Change Management software enables medical device companies to link or connect any documents or configuration items that are stored in the quality system.
This simplifies the change management process, increasing the visibility of inter-dependencies between change records, documents, risks, design controls, customer complaints, audits, non-conformance reports and more.
When a specific document needs to be changed, Greenlight Guru makes it easy to quickly determine what other documents are affected and automates the approval and record-keeping aspects the change control process.
Halo
℠

by Greenlight Guru: The world's first AI and machine learning recommendation engine for medical device quality

Halo℠ by Greenlight Guru is the first predictive recommendation engine for medical device companies to easily make the shift from reacting to changes to predicting changes.

Intelligent Document Management powered by Halo℠ leverages unique artificial intelligence (AI) and machine learning (ML) technologies to create efficiencies and improve quality across the change management process.

These new capabilities work in tandem with those of Greenlight Guru Visualize to provide medical device companies with a network view of the entire quality system with real-time visibility into the impact of a change on connected policies, procedures, and artifacts in a single, closed-loop quality system environment.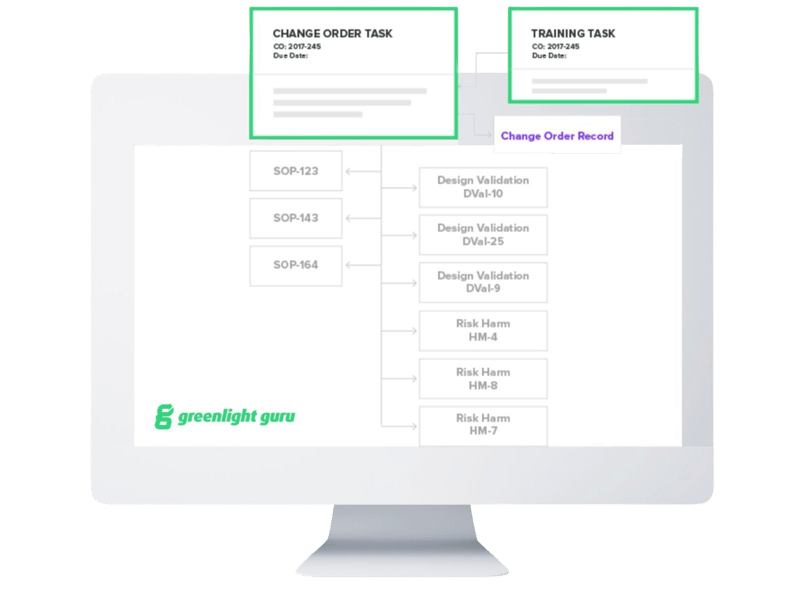 Gain control of your change process by leveraging Greenlight Guru Change Management Software, the only QMS software solution designed exclusively for medical device companies.