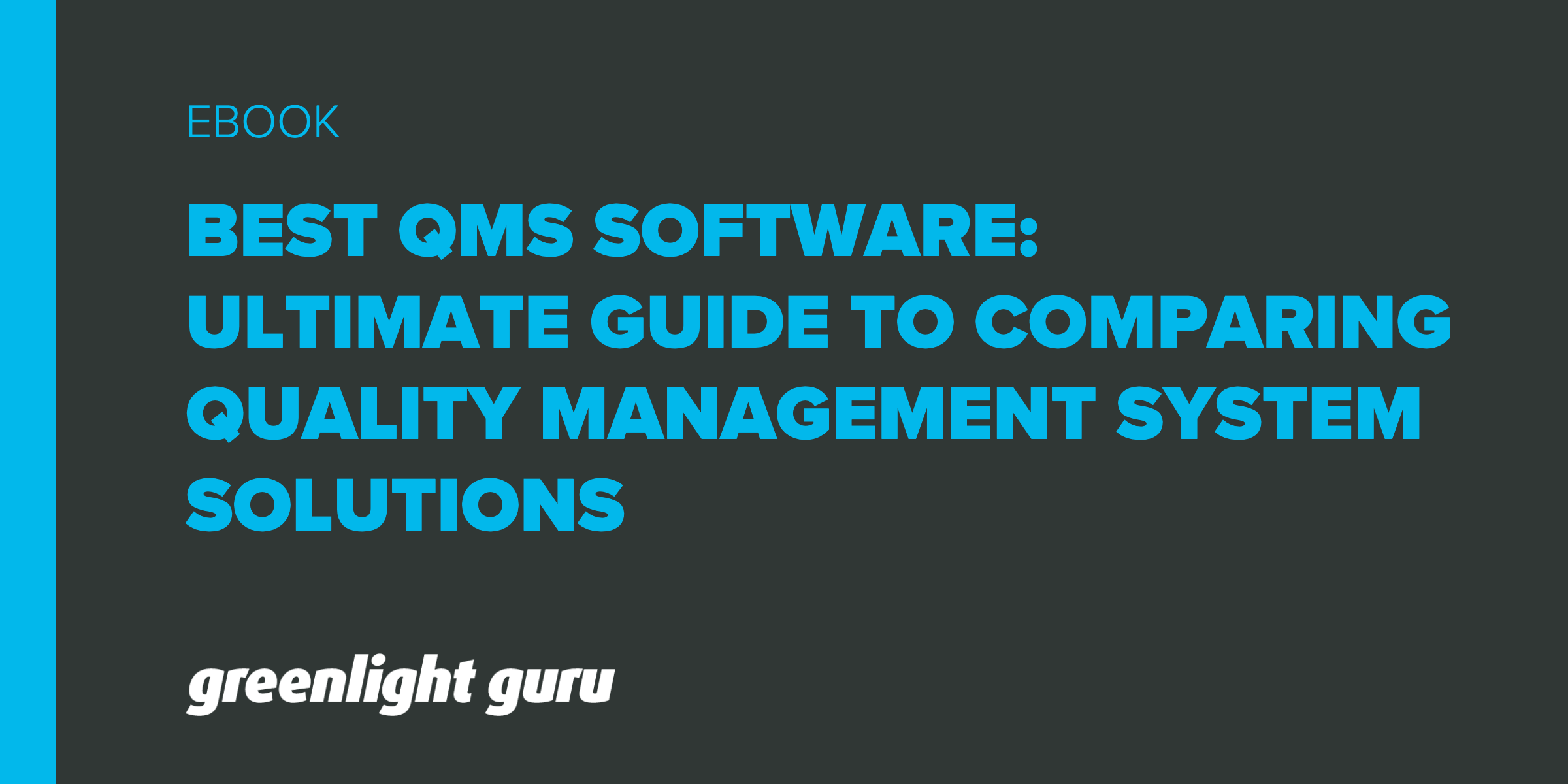 How a company chooses to establish and maintain their quality system has everything to do with their success. As the medical device industry and regulatory environments continue to evolve, there is a growing focus on the capacities of one's quality system, including access to reliable quality data and the ability to demonstrate closed-loop traceability.
Opting to run your business with an inadequate quality system is guaranteed to waste time, capital, and other valuable resources.
This guide is designed to give you a strong sense of the QMS solution offerings for medical device companies. It covers the necessary information for making an informed decision on how to approach your quality system and how your company can strategically benefit from your QMS.
| | |
| --- | --- |
| | For two year's and counting, Greenlight Guru has been named a quality management software Leader according to G2 Crowd, based on high customer satisfaction scores and its large market presence. |
Table of Contents
Paper and Ad Hoc Quality Systems
General-Purpose QMS Software
Legacy Approaches to Managing Quality
Modernizing your QMS
Unique Business Benefits
High Potential Medical Device Startups
Established Companies Selling Devices Internationally
Companies Growing Into New Regulatory Markets
Nimble Teams That Move Fast
Overcoming Challenges with Managing Quality
Managing Quality as an Asset
Comparing The best QMS Software Solutions for medical devices
After realizing the impact your QMS has on your business, the next step is choosing the right QMS solution for your company. We have broken down the pros and cons of the different types of solutions available to medical device companies.
Paper and Ad Hoc Quality Systems
Using a paper-based system to manage processes involves storing documents on physical paper and navigating the QMS manually. The terms "paperless paper" and "paper-digital" refer to storing scanned images of these documents on a digital system or using tools like Google Docs, Excel, SharePoint, and Dropbox to manage files in a "digital filing cabinet." Typically, a paper-based system will be a combination of all of these methods.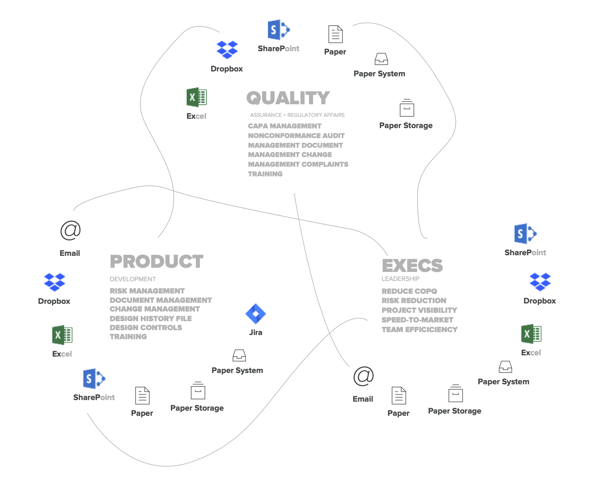 Although these systems are perceived to be a cheaper option and easy to set up at first, a paper-based system makes achieving closed-loop traceability (CLT) of quality processes, such as design controls, changes, audits, CAPAs, customer feedback and more, nearly impossible.
To sign documents, ad hoc and paper-based systems involve physically signing paper documents and then uploading them for storage using a third-party signing software. Using this type of antiquated system makes compliance with FDA's related regulation, 21 CFR Part 11, increasingly challenging.
Because these tools are not built specifically for design controls or design reviews, more time and resources are exhausted by managing spreadsheets and disconnected systems. This is arguably the most time-consuming portion of medical device design and development, and design inputs alone can take 30% of the time spent on a project.
When using paper and ad hoc systems, a design history file (DHF) can take weeks to compile, and design reviews can move particularly slow. All of this results in a longer path of travel to bring a device to market, while increases the likelihood of things falling through the cracks and consuming capital along the way.
Ensuring that you have a closed-loop quality system that automates the ability to connect post-market quality data back into design activities not only will allow your team to focus on value-added activities, but also eliminates the cumbersome paper-pushing that is highly error-prone.
Bottom line: When it comes to managing product development or quality processes, ad hoc and paper-based systems are outdated and prohibit companies from remaining competitive long term in the modern age. These systems are not sustainable or scalable, lack reliable data, and will ultimately lead to the QMS bottlenecking company growth efforts.
General-Purpose Quality Systems
General-purpose quality systems are a step up from paper-based solutions, but they're not without their own issues. Designed for managing quality processes, they tend to have a less intuitive interface that is designed for generic use in many different industries.
However, because they are not designed specifically for the medical device industry, they don't integrate regulatory standards, do not include industry-specific templates and best practices, and lack in-house expertise that could offer guidance both in using the software and navigating the medical device regulatory landscape.
At the expense of efficiency, resources, and access to industry expertise, general-purpose quality systems could be used to manage traditional quality processes or document control workflows when supplemented by heavy configuration, consultants, and ongoing validation costs. These costs, of course, add up.
The lack of purpose-built capabilities for managing design controls, risk, and design reviews typically leads to design history activities being documented offline and managed through disconnected processes within the quality system.
Investing in a general-purpose QMS solution enables you to carry out quality management but doesn't prepare you for adapting to a rapidly changing medical device industry. And all that time and cost for a system that doesn't fully integrate design controls and risk and fails to lay the proper foundation demonstrate closed-loop traceability?
Bottom line: General-purpose quality system solutions are just that – general purpose. These solutions lack the purpose-built capabilities that medical device companies need to integrate their core QMS processes, maintain compliance with industry regulations, and achieve closed-loop traceability. They may cover the basics of a QMS, but configuring, implementing, and managing them will cost you more time and money in the long run.
Purpose-built Quality Systems
A purpose-built quality management system is made exclusively for a single industry. These systems are carefully architected to provide the necessary support that meets the unique needs of its users. Industry-specific workflows are all interconnected within the quality system, covering the bases of every major product stage a company will go through.
Purpose-built systems in the medical device industry are designed and constantly updated to ensure ongoing compliance with the latest regulations and standards, like FDA's 21 CFR Part 820 and ISO 13485:2016. This helps companies better manage and reduce risk, accelerate time to market, and pass audits/inspections with flying colors.
Everything is accounted for in a purpose-built quality management system, which ultimately streamlines and improves quality management for companies. A purpose-built quality management system for medical devices, like Greenlight Guru, enables operational excellence and continuous improvement so you can focus on what truly matters: making true quality medical devices that save and improve lives.
Types of Quality Management Approaches
Whether a company is implementing a QMS for the first time or looking to evolve existing processes related to design controls, risk, document control, etc., you'll likely encounter an age-old debate of using traditional, legacy tools for managing the quality and product development activities vs. adopting modern solutions.
At the heart of this decision is assuring a firm understanding of how the approach you take to managing the QMS can either positively or negatively impact your ability to establish a culture of quality, accelerate device clearance timelines, expand into new regulatory markets, and scale efficiently while staying ahead of regulatory changes.
Legacy Approach to quality management
Legacy approaches for managing a medical device companies QMS typically include paper, "digital paper", or general-purpose office tools like Word and Excel. These solutions are falling out of fashion quickly as they pose major challenges on medical device companies that elect to leverage these legacy tools in an ad-hoc approach.
Using legacy tools to manage quality makes it all too easy to lose track of documents or end up with different versions of the same document circulating amongst distributed teams, and navigating a stack of binders is extremely cumbersome.
It made sense to maintain a device's design file in physical three-ring binders in the late '90s, but modern organizations realize managing design and quality activities in ad-hoc ways falls short and lacks the ability to gain real-time access to reliable design, risk, and quality data that is highly correlated in unique ways for medical device companies.
Major challenges with a legacy approach to a quality system include:
Inability or cumbersome effort required to demonstrate closed-loop traceability between design controls, risk management, and quality activities

Difficulty with 21 CFR Part 11 validation

Maintaining compliance while staying ahead of regulatory changes

Access to reliable quality data in real-time
A significant challenge with legacy QMS solutions is the time and effort required to achieve closed-loop traceability between design controls, risk management, design reviews, and post-market surveillance activities throughout the total product life cycle.
For instance, understanding the relationships between how a corrective and preventive action (CAPA) investigation leads to implementing a change to the device's design outputs that impacts validation, and thus further design reviews and risk management protocols can be a burdensome aspect of legacy approaches that drive hidden costs, inefficiencies, and both patient and business risk.
Electing to go with a legacy approach will put your company at risk of falling behind - in more areas than one. From our 2020 State of Medical Device Report, we learned that over 50% of companies are using paper or ad hoc systems. It's also true that 50% of all FDA post-market surveillance inspections ended in formal citations attributed to quality system failures. It's hard to believe that to be a coincidence...
Modern Approach to Quality Management
In today's market, leading medical device companies are implementing turn-key, modern quality management software solutions that enable closed-loop traceability of all quality system processes that are involved throughout the product lifecycle.
A closed loop quality system uses this type of modern approach to quality management by connecting both pre- and post-market workflows within a single source of truth system that provides data-driven insights for effective management and continuous improvement. This modern approach to managing quality gives medical device companies full visibility and control over everything that's managed within their quality system.
Many of the challenges associated with trying to demonstrate CLT and on-going validation efforts will dissipate with a purpose-built QMS solution. And the benefits extend far beyond just giving your engineers' time back in their day to focus on value-added activities.
Modern solutions offering closed-loop quality system traceability are proven to be the easiest and most effective way to implement a new quality system or upgrade established processes.
Best Medical Device QMS Software Solution
Greenlight Guru was founded by medical device professionals with industry experience to specifically meet the needs of a best-in-class quality management system built for modern medical device companies.
Our innovative software solution and advisory services lay the foundation for a connected quality ecosystem by integrating quality processes, multi-level design controls, and risk activities throughout the device lifecycle to achieve closed-loop traceability and improve both business and patient outcomes.
Greenlight Guru's turn-key medical device QMS software comes with built-in controls and aligns with major medical device regulations and standards including FDA, ISO, EU MDR, and MDSAP. Not only does Greenlight Guru align with major medical device industry standards, but also stays ahead of them by ensuring that workflows are up-to-date and reflective of industry best practices as regulation changes occur.
This allows your team to refocus their time on activities that get your device(s) to market faster while acting as a single source of truth for your product development and quality activities.
With Greenlight Guru, risk management is integrated into the design and post-market surveillance activities, giving teams better visibility into their quality system to measure efficiencies, inform business and more. This will help your team mitigate patient and business risk, while maintaining closed-loop traceability to any related design controls or quality events.
Right-sizing your QMS is one of the essential ways for ensuring that your QMS is both efficient and scalable. Greenlight Guru meets medical device companies where they are in the lifecycle of their business, then guide or grow with them from there.
Starting with their product development activities, companies can utilize advanced document management, design controls, and risk management workflows. Once they have reached the next stage of their product's lifecycle or gained additional capital, they can upgrade into advancing the quality of their device by adopting the necessary quality event workflows or post-market surveillance capabilities.
As industry regulations evolve, we update our solution accordingly requiring zero maintenance on the user end, and no software validation or associated costs. With an included a software validation package, medical device companies do not have to worry about validation becoming a large cost center for them and their teams.
Greenlight Guru offers more than just software - we offer companies a trusted partnership through our team of dedicated medical device experts. Whereas legacy systems offer support only for the software, our users can gain insights from experienced medical device professionals with extensive product development, quality and regulatory expertise that act as an extension of a company's own team.

best QMS Software for Different Company Types
Greenlight Guru has worked hard to create a connected quality ecosystem that integrates quality processes, design controls, and risk activities throughout the device lifecycle. Here's what users had to say about the product.
On G2 Crowd, 89% of users rate Greenlight Guru with 4 out of 5 stars, and 91% are likely to recommend us to others. Greenlight Guru has been named a leader for seven quarters in a row.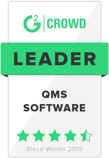 Our MDQMS solution has been adopted by companies around the world, in several markets, and serving a variety of purposes. Take a look at some of the use cases for our solution.
Best QMS solution for Medical Device Startups with High Potential
Centese is an early-stage company that spun out of a leading medical device incubator. After initially reverting to a paper-based quality system, they immediately began searching for a digital quality system that would allow their small team to focus on value-added activities while also avoiding the need to hire someone to oversee a paper-based quality system.
By implementing Greenlight Guru's MDQMS, Centese simplified the effort required to achieve ISO 13485 certification, received 510(k) clearance for their device, and set themselves up to scale commercialization efforts by adopting a modern QMS solution.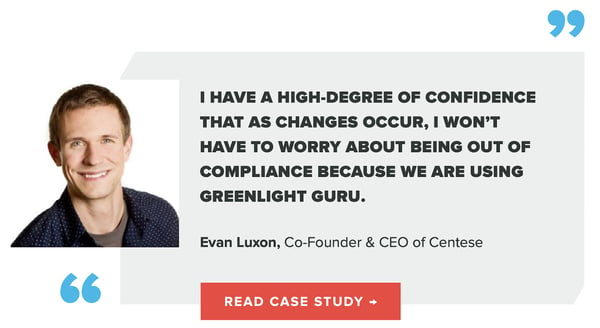 Best QMS Software for Established Companies Selling Devices Internationally
Stryker veterans at C2DX, Inc. prioritize quality in everything they do. They knew the limitations of other solutions (i.e. paper) which led them to implement a purpose-built medical device quality management system (MDQMS) right from the start.
With Greenlight Guru they have been able to streamline their processes and make significant progress towards their FDA approval and MDSAP and ISO certifications – all while impressing auditors.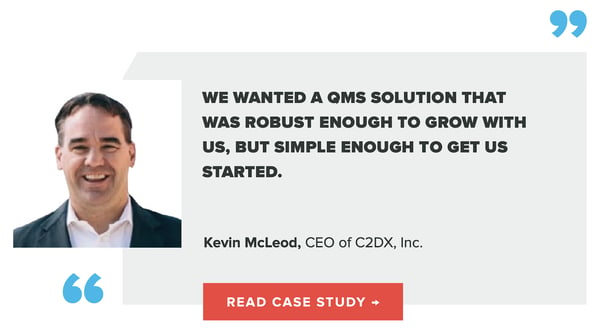 Best QMS Software For Companies Entering New Regulatory Markets
Lucerno Dynamics has a Class I device commercially available in several markets and is moving into the EU market for the first time. A gap analysis revealed areas for improvement in order for them to achieve ISO 13485:2016 certification. After considering 8 different systems, they chose to implement Greenlight Guru.
By implementing Greenlight Guru's MDQMS, they were able to streamline quality processes and document controls to experience their first-ever paperless audit while achieving their ISO 13485 certification.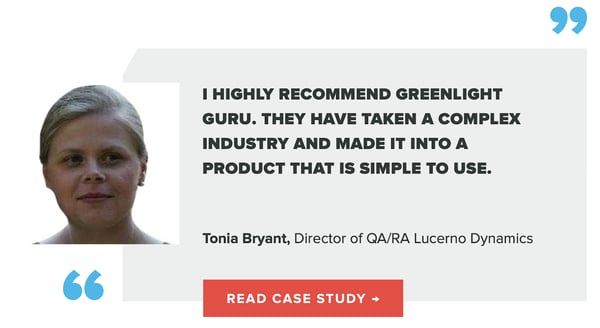 Best QMS Software for Nimble Teams that Move Fast
Photonicare is an early-stage company where their team members are always wearing multiple hats to maintain their agility. They were looking for a purpose-built QMS solution that would increase their efficiency and have the controls in place to get their device to market and achieve compliance with industry regulations.
Since adopting Greenlight Guru, they have accelerated their time to market, feel confident about their QMS for future audits and inspections, and achieved 510(k) clearance.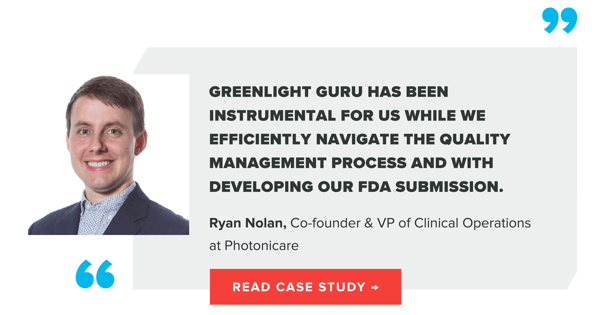 Quality Management as a Competitive Differentiator
In today's highly competitive and rapidly evolving regulatory landscape, early-stage and high-growth medical device companies are in need of modern product development and quality system solutions that set their company up for success.
Quality relates to the way in which a company handles all internal processes and the level of care that goes into their work. But how valuable is it, really? The inability for companies to measure and quantify the value of quality may lead to a reduced focus in this pivotal area.
There's no need for the value of quality to be so abstract; when we talk about quality, we're thinking of it as a real-world asset to your company. Focusing on quality not only benefits the systems and processes in place, but also enables companies with access to reliable data, accelerated device clearance timelines, reduced risk, near real-time audit readiness, and promotes the culture of quality necessary to be a top performer in the industry.
Overcoming Challenges with Managing Quality
In order to be competitive with peers, many medical device companies are reassessing the systems used to manage design controls, risk, and quality activities.
Medical device companies face several challenges when it comes to laying a foundation for the high-quality data needed to demonstrate Closed-Loop Traceability (CLT) that will be necessary in the coming decade.
The major challenges that medical device companies are running into as they realize the impact of their inadequate quality system include:
The use of paper or general-purpose quality solutions creates difficulty in having reliable design, risk, and quality data.

Lack of reliable design and quality data leads to a significant burden in demonstrating the closed-loop traceability necessary to perform confidently in the face of an audit.

Underinvestment in best-in-class tools for managing quality negatively impacts a company's operational efficiency, patient and business risk, and company culture.
Managing Quality as an Asset
For the industry's top performers, quality isn't just a buzzword – it's a cultural value. "Quality-as-an-Asset" means building quality into every stage of the organization, from device design and development to sales, manufacturing, and post-market surveillance.
We found from our recent industry benchmark survey of more than 500 medical device professionals that companies who consider themselves highly competitive are 4x more likely to view quality as a strategic asset (2020 State of Medical Device Product Development and Quality Management Report).

In addition to the relative competitiveness of your company, underestimating the value of quality trickles down into other areas of an organization, impacting your company as a whole.
According to a McKinsey & Company report on the value of good quality in medical devices, findings showed a 191% higher employee turnover rate at medical device companies that do not invest in and prioritize quality.
Investing in quality begins with the implementation of your quality system. To maintain competitiveness and avoid major challenges, it is vital to understand the different approaches to quality systems and how those will impact your business down the line.
---
Looking for a best-in-class medical device quality management system (MDQMS) built for modern medical device companies? Our innovative software solution lays the foundation for a connected quality ecosystem, giving companies access to reliable quality data and helping them achieve closed-loop traceability throughout the lifecycle of their device(s). Click here to take a quick tour of Greenlight Guru's Medical Device QMS software →