Table of Contents
FDA Quality System Regulation
ISO 13485:2016
Training Management and Change Management Connection
Good Training Management Practices
Poor Training Management Practices
Manual Approach to Training Management
Automated Approach to Training Management
Benefits of Automating your Training Management
Benefits to Trainees
Benefits to Trainers and Training Managers
Task Automation
Part 11 Compliant
Personalized Dashboard
Training Task Tracking and Status Updates
Traceability
---
Does your team have the knowledge required to do their jobs? Can you prove it?
Training is a regulatory requirement of FDA and international governing bodies. According to FDA CFR 820.25, medical device manufacturers are required to show proof that personnel have the "necessary education, background, training and experience" to ensure that they can correctly perform their jobs.
This is where things can get a bit hazy for training managers and others in leadership roles in medical device companies. While the need to train is well understood, exactly what constitutes "training" and how that should be managed is not.
Inspectional citations for "Training - lack of or inadequate procedures" still features with some frequency among 483 observations issued by FDA. The detailed descriptions for such notices go on to add "procedures for training and identifying training needed have not been [adequately] established."
Some frequently asked questions from medical device manufacturers include:
Who needs to be trained?

Do they need to be trained on everything?

How often do we need to conduct training?

What does that training have to look like?

How do we determine competence?

How do we record and present evidence of our training?
The bottom line is that you must have appropriate training procedures in place and you need to be able to prove it to FDA and governing bodies in the markets where you sell your medical device.
This ultimate guide provides an in-depth look at answers to those common questions and explains everything you need to know to comply with the applicable requirements as well as establish a training management system that promotes total competence of the members of your medical device organization:

Training Requirements in the Medical Device Industry
As a medical device company, you are required to establish procedures for identifying training needs among your employees and ensuring that all personnel are appropriately trained to those needs. You must prove this by keeping good training records.
FDA Quality System Regulation
Below is the relevant section to personnel training requirements outlined by FDA in 21 CFR Part 820, the Quality System Regulation (QSR) for medical devices in the United States:
21 CFR Part 820.25 Personnel
(a) General. Each manufacturer shall have sufficient personnel with the necessary education, background, training, and experience to assure that all activities required by this part are correctly performed.
(b) Training. Each manufacturer shall establish procedures for identifying training needs and ensure that all personnel are trained to adequately perform their assigned responsibilities. Training shall be documented.
(1) As part of their training, personnel shall be made aware of device defects which may occur from the improper performance of their specific jobs.
(2) Personnel who perform verification and validation activities shall be made aware of defects and errors that may be encountered as part of their job functions.
The FDA quality system regulation leaves it open to medical device companies to establish the specifics of how they will meet those requirements. A basic interpretation is:
Employees must be trained in their job function by using what is written in the SOP (Standard Operating Procedure) for the task being performed.
Where the employee performs tasks that require specialized outside training, they should have appropriate evidence of that training (for example, a welding certificate).
Employees responsible for detecting defects should have specific training in doing so.
As a company, you will need to identify how the general requirements for training apply to you as well as job-specific training requirements. Each SOP you have should have a training record associated with it and each employee should have their own specific training log too.
ISO 13485:2016
Below is the specific section from ISO 13485:2016 that deals with training of personnel in medical device companies.
ISO 13485:2016 Clause 6.2 Human resources
Personnel performing work affecting product quality shall be competent on the basis of appropriate education, training, skills and experience.
The organization shall document the process(es) for establishing competence, providing needed training, and ensuring awareness of personnel.
The organization shall:
a) determine the necessary competence for personnel performing work affecting product quality;
b) provide training or take other actions to achieve or maintain the necessary competence;
c) evaluate the effectiveness of the actions taken;
d) ensure that its personnel are aware of the relevance and importance of their activities and how they contribute to the achievement of the quality objectives;
e) maintain appropriate records of education, training, skills and experience (see 4.2.5).
NOTE The methodology used to check effectiveness is proportionate to the risk associated with the work for which the training or other action is being provided.
The ISO standard is similar to that of CFR Part 820.25 from FDA and is not prescriptive in terms of the exact methods you must follow to prove training and competence of personnel. This makes sense as there are some significant differences between what a medical device startup might require and what a large multinational corporation might require.
For example, startups might train everyone in their small team together, whereas a large company is more likely to need to split up training and give it only to people who have direct responsibilities for the related tasks.
As you grow, you'll have a narrower group of employees who need to be trained on all areas of your QMS. However, there are some aspects of your QMS on which all personnel need to be trained, such as the Quality Policy and general quality practices.
In order to prove compliance with training requirements you must be able to demonstrate appropriate:
Employee awareness
Training effectiveness
Records of all training
In other words, your company determines a training program that meets those requirements. Essentially, you need to be able to say "yes, we meet training requirements - here's how and why."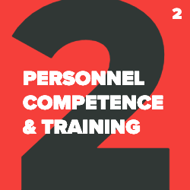 Importance of Competence and Training of Personnel
Training is the last link in the chain to ensure that your hard work in creating well established and understood policies and procedures isn't undone by lack of competence. Teams must be trained with the knowledge necessary to put those procedures into practice, aligning your company with the regulatory requirements.
According to the international standard for medical device quality management systems, ISO 13485:2016, establishing personnel competence through necessary means of training is required for all medical device organizations.
Competence is a key goal of training because it ensures your employees are producing a high standard of work. It's part of the overarching goal for manufacturers to produce safe and effective medical devices.
Of course, there are several moving parts and procedures that go into medical device manufacturing, from initial product design to labeling to post-market surveillance. At any point along the way, it's possible for something to go wrong and ultimately, if it does, you do not want to tell the FDA the root cause was "our team wasn't trained."
Competence and training don't necessarily go hand-in-hand, but you're not going to get competence without training. Effective training is an issue that comes up frequently for manufacturers.
When training is treated as just another "checkbox activity," it may not result in knowledge retention or competent application. How are you going to prove that you've established competence in an effective way?
Document control is a key part of the puzzle. If it wasn't documented, then in the eyes of auditors and Inspectors, it didn't happen.
Purpose and Scope of Training Management
At all the various stages of product development, you work hard to produce a safe and effective device. You establish policies and procedures for everything, from how to source suppliers to what to do if a defect is ever discovered. However, if you don't properly train those responsible for implementation and maintenance, those various policies and procedures are just words on paper.
When should training occur? Any time there is a required document, there should be an associated training record with it. The regulations and standards don't prescribe training requirements for specific roles, rather it's more about training whomever is responsible for doing the specific task on the relevant policies and procedures. This makes sense from the perspective of many smaller sized organizations - you often have people taking on more than just the primary responsibilities of their "core" job title or functional role.
The idea of competence is raised a lot in the industry. Do your team members ultimately know how to perform the necessary aspects of their jobs to a competent standard? If they're tasked with sourcing and managing suppliers, do they know how to make a well-based decision on which actions to take? Do they know what they should be doing for ongoing quality assurance?
Consider your team members who perform validation activities: how will they know if the device or component is passing or failing a certain level of standard you've set? Do they know what to do if it does fail? People need specific knowledge of what their next steps are if something goes wrong.
Training Management within a Quality System
Medical device companies are required to establish procedures for identifying training needs and for ensuring that their personnel is appropriately trained and that training must be documented in your QMS.
These records of training are something you can expect auditors and inspectors to review. In an audit, these officials want to know that the persons responsible are trained in their functioning area of expertise.
A requirement from ISO 13485 related to training states that "Organizations shall ensure that its personnel are aware of the relevance and importance of their activities and how they contribute to the achievement of the quality objectives." Quality is considered to be everyone's job so it matters that your people have had the relevant training.
Does that mean everyone should be trained on everything quality? No. Not everyone needs training on all procedures - that would be almost impossible for companies with large numbers of employees. You can think of it more like this:
All process documentation in your QMS should have training records associated.

All personnel who are required to use the process documentation as part of their work should be trained on it.
FDA also emphasizes personnel training as part of a robust quality system. When you incorporate training activities within your quality management system (QMS), you are putting your processes into action in a meaningful way.
There's no point in creating a 50-page purchasing procedure if no one is trained on how to follow it. You can say "here, do this," but people tend to need more context around why certain steps need to be taken, or when those steps require completion.
And let's be honest: if someone were to say to you "read this 50 page document, just whenever you have time," would you ever really get around to it? Maybe in a perfect world where time is a commodity. And for most medical device professionals, it's quite the opposite.
Training Management and Change Management Connection
Establishing a connection between your training and change management activities is imperative. Policies and procedures tend to evolve and can even change completely over time. From a training perspective, any time a procedure or policy changes, any personnel involved with such should be retrained on the most up to date version.
Even simple changes such as a change order of operations should trigger a new training need and be reflected in your training records, too. There's no point in updating documents if the people who do the job aren't privy to the changes. You need to be able to easily identify who needs the new training and who has had it already.
For example, consider anyone auditing for device defects. A change in your procedure might change the acceptance criteria for the device, even resulting in a rejection where it wouldn't have been previously. You can quickly see how failure to retrain can lead to serious, yet preventable issues...
Good Training Management Practices
As usual in the medical device industry, training management boils down to producing safe, effective devices. Good training practices aid in this objective by:
standardizing work,
creating repeatable processes and procedures, and
reducing the amount of rework required.
When your team members are reliably trained, you produce reliable products and tend to require less time to get those products to market. It's part of building a company designed for sustainable growth. Your diligence with sustaining good training management practices will form the foundation which allows you to build a reputable name for your business in the eyes of regulators, competitors, and most importantly, patients.
Poor Training Management Practices
The ultimate risk of poor training practices is a poorly made product. Your medical device might be less safe and effective if the people who are responsible for bringing the device to market are not adequately trained. The flow-on effects for time and money spent on resources for rework, not to mention your tainted reputation, could be immense.
To go back to our earlier example of acceptance criteria for a change, failure to train on an updated procedure could lead to defective products making their way to the end user undetected. Your team members could miss something important and ultimately, cause harm to someone.
CFR Part 820.25 has two points specifically referencing this possibility of risks associated with device defects as result of poor training:
(1) As part of their training, personnel shall be made aware of device defects which may occur from the improper performance of their specific jobs.
(2) Personnel who perform verification and validation activities shall be made aware of defects and errors that may be encountered as part of their job functions.
Another possible scenario is for FDA inspectors to determine that your company doesn't have adequate procedures in place to identify and implement training needs, or that personnel who should be trained are not trained. As we have said time and time again, if it isn't documented, it didn't happen!
Various Approaches to Training Management
The training requirements of both FDA and ISO follow similar intentions - train employees in the requirements for their jobs and keep up-to-date records of the training. It's up to the individual company to establish their own training system that suits their specific needs, including their unique environment and culture.
Considerations for establishing training programs include company size, employee skill levels, risk of operations to product safety and any "effectiveness" considerations, such as language or learning style.
Manual Approach to Training
Under "old ways" of training, typically companies will do a significant amount of manual work to determine and record training activities. One company I worked with had an audit finding of "inadequate training" which was a general way of saying it was unclear who needed to be trained on which documents..
To tackle this, we wrote all of our job roles or codes on a large whiteboard, got a list of documents from our QMS and indicated for each item who needed training.
From this exercise, a training matrix was created but storage of training evidence relied on people's memories. Had person X been trained on procedure Y? When and how? The company followed a training matrix, but the manual nature of documentation meant that it was easy for records to be left out or forgotten.
Whether a company uses Sharepoint, Excel or paper, the "old way" of training typically means the documents had to be manually signed to prove training was completed. This led to issues such as documentation stuck in someone's drawer and overall incompleteness of records.
The manual system led to some common pain points for people in different positions in the organization:
Trainees
Training could be a significant roadblock. The average job role had 60 documents to sign off on and a new recruit might spend many days just on reading documents. Some wouldn't make it through training; they'd decide on day two of reading through documents that it just wasn't for them.

An overall feeling of frustration. Trainees would have liked to be up to speed as quickly as possible but the paper-based system meant it took a long time.

Re-training was another pain point, especially if employees need to read through a new version of a 50 page quality document.

Trainees can't find the documents they've already trained on. File folders are all over the place and generally out of sight.

Training is boring and an "obligation" to get through.
Trainers
Maintaining a lot of spreadsheets gets difficult to manage. Understanding who needs to conduct the training, what the training material is, and when the training activities will occur is not possible in a single glance. Missing documentation adds to this pain.

Confusion over how to define necessary competence for individual team members.

Struggling with resource retention related to unrealistic training programs and required assignments.

Training feels like nagging. The trainer becomes the "training police," trying to cajole people into getting through the documentation.
Executives
Business risks associated with inadequate training of members of the organization and their ability to deliver quality results.

Pains with inefficiency. New hires are sitting around reading training documents for a long time before they're able to get on the floor and work.

Potential for "inadequate training" findings where manual records are a mess and training can't be proven. The goal is for all staff to be competent in their jobs, enhancing safety and effectiveness.
The pains outlined here have all contributed toward ineffectiveness in training among medical device companies. Some have been fortunate to pick up on this at an early stage, while others have had audit findings, or even 483 warnings around training inadequacies.
Manual-based systems are an unnecessary inefficiency for medical device companies, but there is a new and better way...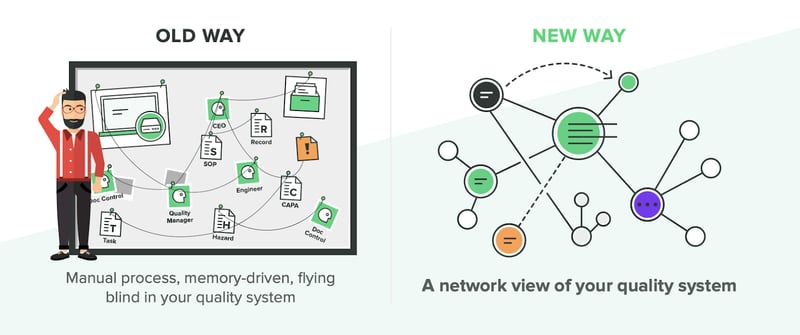 Automated Approach to Training
There are many challenges involved with the old way of training for medical device companies. The "new way" seeks to mitigate or eliminate those challenges, not just for regulatory compliance, but so you can operate more effectively with well-trained team members.
So, what is the "new way?" A modern solution like Greenlight Guru Training Management. Managing training activities and records shouldn't be a difficult task spread across different systems or methods of keeping records. You should be able to track all training records in one view and be able to definitively answer who has completed any given training.
Greenlight Guru Training Management is an addition to the Greenlight Guru cloud-based platform and provides efficient tracking across all of your training requirements. One of the major benefits of cloud-based software like this is that you get one definitive "source of truth."
There are no more records hidden in someone's drawer at a different building or questions over whether or not someone has been trained. You also know that you're always looking at the most up-to-date information as cloud-based software is updated in real time.
Importantly for the workloads (and motivation!) of your team, you can deliver training in appropriate, bite-sized chunks rather than overwhelming them with 50 pages at a time. You can easily prioritize training and gain quick insights over how far along trainees are within the process.
Manual, labor-intensive tools can put your company's compliance at risk and take a lot of time out of your day. Greenlight Guru helps you to bring your training management into efficient order, keeping training managers, auditors, company executives and trainees happy.
Benefits of Automating your Training Management
What are the benefits of choosing Greenlight Guru Training Management? Let's run through several that have been proven to offer significant value to medical device companies.
Increased efficacy and efficiency of your training program
You can more easily standardize the delivery of your training program with a centralized system for training on documents, processes and any revised procedures or forms. Automation features notify the relevant team members of training tasks and events, while a personalized dashboard helps to give everyone their own prioritized view, so that management and trainees are kept in the loop.
A key efficiency is increased visibility into the whole training process. With all records kept in one place, there's no more scrambling to put together evidence for an auditor or simply to figure out who has done what. This visibility can also extend to requiring sign-off by training managers which is recorded in the system, ensuring training activities are effective.
Elimination of administrative overhead
How much administrative time is wasted on paper records? Well, we don't have an actual figure, but we know it's a lot. You often have no idea who is holding onto what records or where they're kept. Days can be spent trying to track and update records, and even then, you're not sure you have them all.
A clear advantage of training management via an electronic quality management system (eQMS) is that you're always in the loop. You don't have to waste all that time chasing and hunting, and instead your time can be spent on more critical tasks.
When you think about this from the perspective of tracking any updates and changes, an extra layer of benefit is attached to the eQMS. How many policies or procedures do you have? How many of those face regular or semi-regular updates? How will you know that people have been trained on the updated version? An eQMS keeps all of that information at your fingertips - no more chasing people for records!
Simplified regulatory compliance maintenance
Training should be so much a part of your process that when the auditor shows up, you can simply hand over a record. It's all about standard work and making sure people know how to do their jobs.

No one enjoys scrambling to piece together scattered training records, only to receive a 483 warning for training anyway! With an eQMS like Greenlight Guru, you can immediately retrieve anything an auditor asks for (which, let's face it, is a better look for your company anyway!).
Training Management with a Medical Device QMS Solution
Getting training right within medical device companies is a big deal. In fact, if you look closely at some of the biggest challenges of medical device manufacturing, training is a factor in all of them. Requirement not defined well? Training. Don't understand the intent of the regulation? Training. Poor product quality checking procedures? Training.
Benefits to Trainees
As a training manager, I've overseen many trainees in medical device companies and several different methods of training management. If there's one thing that can put new hires off, it's feeling overwhelmed by the training process.
This happens frequently in medical device companies where trainees are handed 60+ thick documents and instructed to read them in their first few days on the job. The task is onerous and, frankly, likely to be ineffective. If you have to read multiple huge documents in one sitting, how much information do you retain? The chances are a lot is lost in the tedium of the repetitive task.
Then there's keeping track of what these new employees have covered and what they still need to go through. In a paper-based environment, even with the best of intentions this can become a source of confusion. Records have to be filled out manually and when the trainee looks at the requirements, they have to remember reading the document and its content.
For the sake of trainees and the managers who want to retain their hires, the whole training management system should be as simple and painless as possible. That's what Greenlight Guru Training Management can do for your company and your team.
Trainees will be able to see their own dashboard view of their personal training record. They can quickly see what they've done already and what they need. They can click through to the relevant QMS documents to read them or to double-check content.
It's a seamless process from their dashboard to the information they need, rather than hunting around the premises for a particular document or record.
Significantly, (especially for the comfort and motivation of your trainees!) this electronic training management system offers you a way to divide out training requirements into manageable chunks. You can easily prioritize what should be done first and give your employees more time to get through training.
They could be working on the floor at the same time, with training requirements completed to meet the associated task. This will help to give them a better experience of their early days working for your company, rather than a tedious wade through endless documents.
Benefits to Trainers and Training Managers
The role of the training manager can cover a lot of ground in medical device companies. Consider that every single process in the QMS must be trained for and that you also need to be able to prove that people are competent in their jobs. This might include keeping records of external training you have deemed necessary for the job, or records of how you have tested for competency, too.
You can see how in a growing company, training quickly becomes one of the "big beasts" to tackle. Under "old ways" of keeping records, it's easy to see how trainers can lose track. What training activities are still active? Which are overdue and need following up? Who has done what, when and how?
In addition, where you have role-based training requirements, these are managed more efficiently by having a central SOP or list of training tasks for the role. This doesn't always happen under paper-based or manual systems, leading to a sort of ad-hoc approach, where someone remembers around audit time that Jane in quality control hasn't yet seen the new acceptance criteria.
Enter Greenlight Guru Training Management. A primary use case for trainers and training managers is that they can easily get an overview of all training activities from their dashboard. They can see everyone who has trained on a given document as well as individual training logs.
It's also much easier to see any discrepancies, for example, if a procedure has been updated (which will trigger a training requirement), yet no one has trained on it yet.
As you can probably see, there are many use cases for good quality training management software in the medical device industry. Let's take a look at what those look like.

Greenlight Guru Training Management Software
Greenlight Guru Training Management Software is the ultimate tool to help you easily track and provide evidence that your employees are effectively trained on processes, procedures, changes, and other QMS documentation.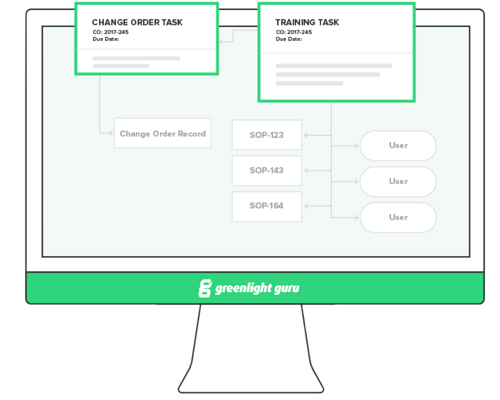 Learn more about Greenlight Guru Training Management Software
Task Automation
The purpose-built software allows you to easily set up workflows and automated tasks. The right people can receive notifications on training tasks, including reminders of what is due. This automation extends to any updates made to the various documents in your QMS.
Part 11 Compliant
FDA 21 CFR Part 11 sets out regulations around electronic records and signatures. It covers validation, the audit trail, legacy systems, copies of records and record retention. In essence, you can't just use any old means of storing your training records - they must meet the criteria for Part 11.
Greenlight Guru was built to be Part 11 compliant, meaning you don't have to do any extra work ensuring your record system meets requirements. It delivers auto-generated training records and can show different views of training. For example, you might want to see an individual's training record, or you might want to know who on your team has trained in a certain process.
Personalized Dashboard
It's often the high-level view that's missing for frustrated training managers, and Greenlight Guru takes care of that. Personalized dashboards detail training activities and can give you the broad view. For example, you can see that 100% of your team has started training on a given activity but only 5% of trainees got to the last document in the scope of the training.
Training managers can view both assigned and outstanding training activities, and have the ability to be more proactive with follow-up. This is much better than a last minute hustle, pleading with people to get their training done in the next two days!
A training manager might also be forewarned of any issues with training by having this clear overview. For example, if certain things are consistently not done, is there some kind of issue with training? Do you need a CAPA for training?
Training Task Tracking and Status Updates
An easy view of all training tasks makes a manager's job much more efficient. You can view tracking and status of any assigned training tasks at a glance.
Traceability
Say it one more time: in the medical device industry, if you don't have a record of it, you didn't do it. This is a constant source of warning letters across different parts of the QMS. Greenlight Guru provides traceability across all training logs and records which provides objective evidence for your compliance activities. The best audits tend to be the ones where an auditor asks about a certain activity and you can immediately say "yes, and here's the record of that."
Another important use case is that the training management software can be used to standardize your training. You can have profiles for job roles or you can have specific training requirements that everyone must complete.
It makes it much easier to have a repeatable process, rather than reinventing the wheel with each new hire. At a glance, you can see exactly what training should be assigned to the individual.
As per ISO 13485 6.2(c), it is a requirement that you evaluate the effectiveness of training, too. This is another thing you need to be able to prove you are doing via your records. Training Management software is where you can keep those records of how and when you checked for the effectiveness of the training.
How should you check? It should be risk-based, according to the role. So for example, training on acceptance checks, which are critical for health and safety, should be checked rigorously - perhaps by a pass/fail test or observation on-the-job.
By now, you know that training is a detail-oriented process, but that does not mean it has to be a painful one. By using a purpose-built, automated QMS solution like Greenlight Guru, you can train your employees electronically and view real-time progress within your QMS.
Keep training management simple by giving your team the tools they need to prove competency in their works, be made aware of device defects, and feel empowered to quickly bring safer medical devices to market.
---
Looking for an all-in-one QMS solution to advance the success of your in-market devices and integrates your quality processes with product development efforts? Click here to take a quick tour of Greenlight Guru's Medical Device QMS software →