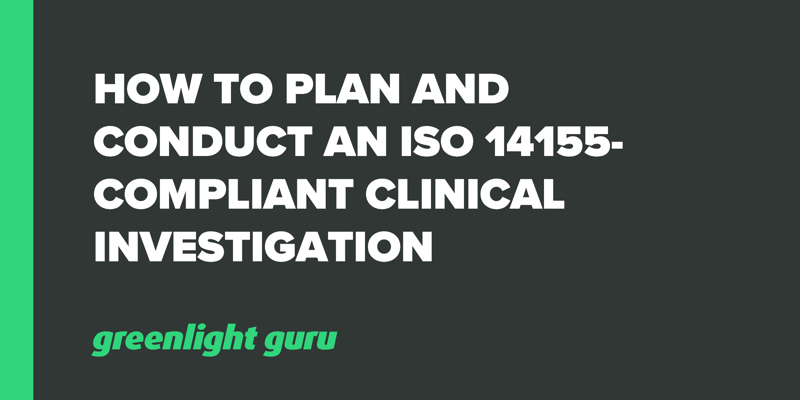 Clinical investigations play an important role in your journey of bringing a medical device to market.
This part of the process is often viewed as complex or burdensome in terms of the regulatory requirements that must be followed by manufacturers, but a strong understanding of the related standards can help to alleviate most of those concerns.
To this end, you should familiarize yourself with ISO 14155:2020 Clinical investigation of medical devices for human subjects — Good clinical practice. Here's what you need to know ahead of planning and conducting a clinical investigation that complies with this international standard:
FREE RESOURCE: Click here for a free PDF checklist to help you structure your clinical investigation report according to ISO 14155:2020 guidelines.
What is ISO 14155?
ISO 14155 provides the general specifications and requirements for clinical investigations of medical devices. The latest version of the standard was published in 2020 and is intended to serve as a guide for clinical research professionals during the design, conduct, recording, and reporting of clinical trials related to the safety and effectiveness of medical devices.
The purpose of ISO 14155 is to:
Protect the rights, safety, and well-being of human subjects;
Ensure scientific conduct of the clinical investigation and credibility of the clinical investigation results;
Define the responsibilities of the sponsor and principal investigator;
Assist sponsors, investigators, ethics committees, regulatory authorities, and other bodies involved in the conformity assessment of medical devices.
The updates found in ISO 14155:2020 ensure that the standard maintains harmonization with other international standards as well as global acceptance.
Here in the US, FDA recognizes clinical trials that have been run in accordance with ISO 14155, including clinical data collected outside of the US as long as it maintains compliance with the standard.
ISO 14155 has a relationship with ISO 14971 in that the application of risk management principles must be used across all stages of the clinical investigation. "Clinical risk management" is now added to the list of responsibilities for the sponsor. It's also important to note that clinical investigation planning requires the inclusion of personnel with relevant medical expertise.
Planning Clinical Investigations according to ISO 14155
When planning a clinical investigation, it's important to follow the requirements for 'Clinical Investigation Planning' under Clause 5 of ISO 14155, which requires the inclusion of personnel with relevant medical expertise. Their qualifications must be carefully documented and the standard requires that their experience is relevant to the clinical investigation you are conducting.
If you don't have someone on your team who fits this description already, you can hire an external consultant to fulfill this required role. The person you hire must be readily available to answer any questions about the clinical investigation.
You must also have a system for risk management, including a Risk Management Plan to identify, evaluate, rank and control risks. You can now access Greenlight Guru's previously confidential SOP template of a risk management plan for free by clicking here.
When we talk about risk, bear in mind that there are two broad categories of risk: those associated with the medical device itself and those related to clinical procedures, including follow-up procedures. Procedures of ongoing risk management must be in place for both of these categories.
The thresholds for product-related risk must be defined in the investigative brochure, clinical investigation plan (CIP) or both. Thresholds must be designed before the study begins, and all relevant parties must be informed.
ISO 14155 Section 6.4 provides guidelines for outlining clear objectives and determining whether an exploratory or confirmatory design is more suitable. You need to show evidence that your proposed design is justified based on scientific and ethical principles. Also, the sponsor must collaborate with an appropriately qualified biostatistician to prepare the CIP.
Greenlight Guru QMS Software is the only medical device-specific solution with dedicated Risk Management and Design Control workflows. The cloud-based platform follows the latest industry regulatory standards from around the world, allowing manufacturers to remove the regulatory burden, integrate risk management practices throughout every quality system process, and produce safer, more effective medical devices.
Conducting an Investigation according to ISO 14155 Good Clinical Practices
Good Clinical Practices (GCP) are a key component of what's required under ISO 14155. Here is a quick summary of the Good Clinical Practices that are outlined in the standard relating to conducting an investigation:
Ethical principles
Clause 4 of ISO 14155 covers the ethical principles that must be incorporated into your clinical investigation. For example, if you are compensating participants, the compensation amount must not be so large that it encourages participation or otherwise influences subjects. There must not be improper influence or inducement.
An independent oversight committee must protect the rights, safety and well-being of the investigation subjects. Use of members of vulnerable populations is not permitted, except where the investigation couldn't otherwise be conducted. All study participants must give informed consent.
Clinical investigation conduct
Clause 6 of ISO 14155 covers clinical investigation conduct. The good clinical practices outlined here are intended to ensure that the investigation maintains strict accountability and tight controls over documentation and recording.
Privacy and confidentiality of test subjects is another key part of clinical investigation conduct. Privacy must always be maintained and data should be protected against unauthorized access. All human subjects must be documented and accounted for over the course of the investigational study.
Closing out a clinical investigation
The good clinical practices for closing out a clinical investigation are found under Clause 7 of ISO 14155. These guidelines explain what to do if an investigation is to be prematurely terminated or suspended, versus a routine close-out of a clinical investigation.
Clause 7 also contains requirements for the clinical investigation report that manufacturers must prepare as well as expectations for document retention after the investigation comes to a close. Document retention must be in line with the appropriate regulatory body requirements.
Responsibilities
ISO 14155 separates the good clinical practices for 'Responsibilities' into two clauses, Responsibilities of the Sponsor (Clause 8) and Responsibilities of the Principal Investigator (Clause 9).
The sponsor is responsible for planning and conducting the clinical investigation within prescribed quality assurance and quality control principles. It's important to note that even if the clinical investigation is contracted out by the sponsor to a qualified third party, the sponsor still retains overall responsibility.
The responsibilities of the Principal Investigator include: the implementation and management of the day-to-day activities of the investigation in accordance with the CIP, ensuring the integrity of investigation data, and safeguarding the rights, safety and well-being of the human subjects involved in the study.
FREE RESOURCE: Click here for a free PDF checklist to help you structure your clinical investigation report according to ISO 14155:2020 guidelines.

Conduct ISO 14155-compliant clinical investigations and accelerate time to market with Greenlight Guru
The key to having a successful clinical investigation and accelerating your speed to market is to maintain well-documented records that can serve as proof that you've followed the ISO 14155 requirements for the clinical investigation of your medical device.
Your documentation should be kept up-to-date in a secure, easily accessible quality management system. The simplest way to achieve this is with an eQMS, ideally one that has been built specifically to address the unique needs of medical device manufacturers, the only solution of its kind: Greenlight Guru.
Get your free demo of the Greenlight Guru QMS software now →
---
Looking for a design control solution to help you bring safer medical devices to market faster with less risk? Click here to take a quick tour of Greenlight Guru's Medical Device QMS software