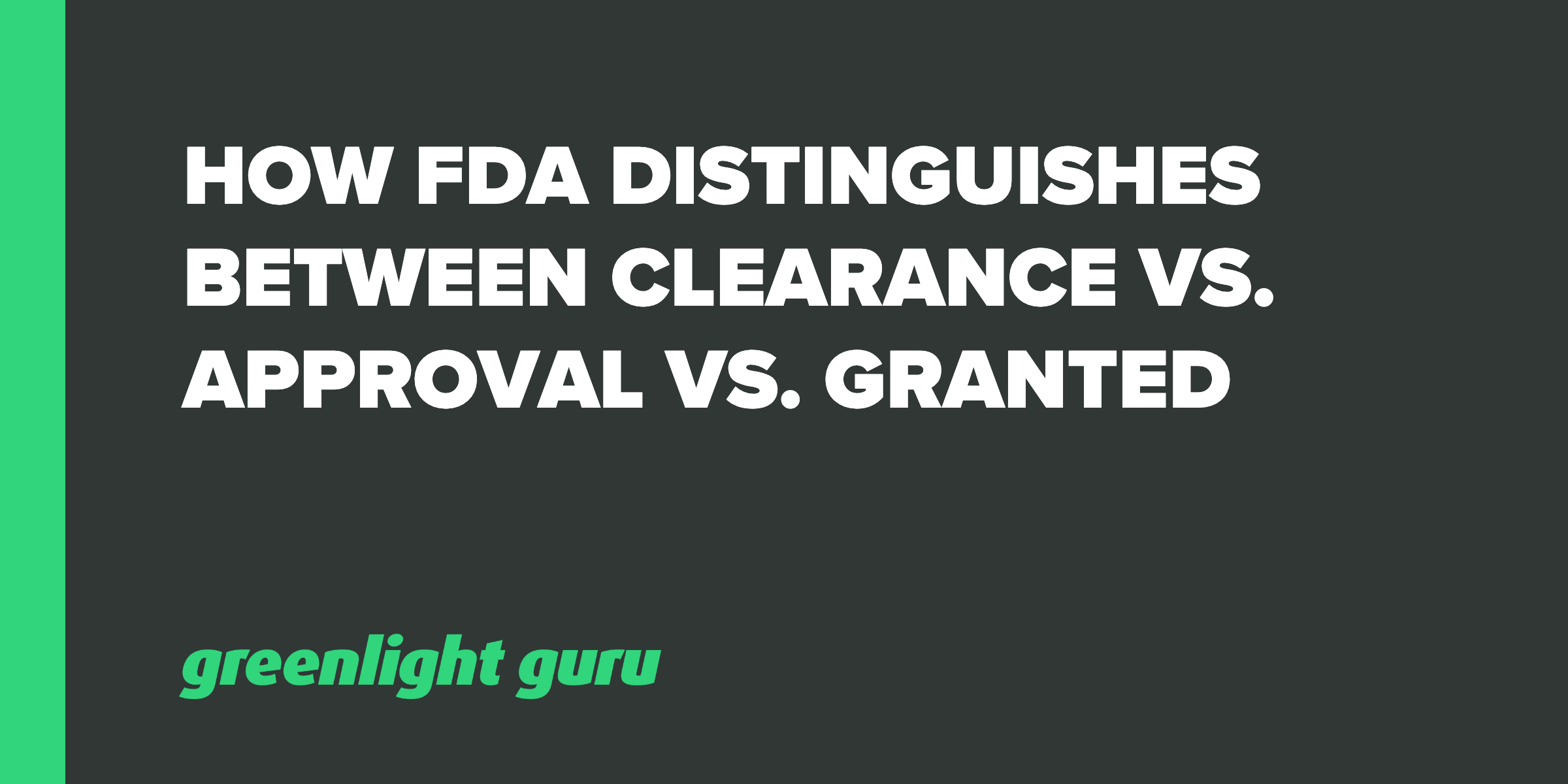 As a medical device professional, you are well aware of how much time and effort goes into getting your product to market. The seemingly simple task of determining your device classification can prove to be quite challenging.
Even after you determine the classification, you are still faced with the difficult decision of choosing one of the many regulatory submission routes. The process of developing a product and preparing all necessary documentation for your submission can take many months, or even years in some cases.
Did you know that the FDA assigns specific terminology to devices that have gone through the submission process?
You have likely heard the terms Clearance, Approval, and Granted used many times throughout the medical device industry.
Some of you may think these terms mean the same thing. Or you've heard them used interchangeably, so you assumed it was no big deal to use one versus the other.
That couldn't be more wrong.
The terminology you use does in fact matter. In worst cases, using it incorrectly can result in serious legal consequences for your business and the device you worked so hard to bring to market.
It's important that companies know the differences between the three terms and understand when it is appropriate to use them. Let's dig in and look at the distinctions of Clearance vs. Approval vs. Granted:
What is the difference between Clearance, Approval and Granted for medical devices?
You may think I'm arguing semantics here, but FDA is clear that the terms Clearance, Approval, and Granted each relate to their own distinct process in various pathways of bringing a medical device to market:
Clearance

: When a medical device is cleared, this means it has undergone a 510(k) submission, which FDA has reviewed and provided

clearance

.

Approval

: For Class III medical devices to be legally marketed they must undergo a rigorous review and approval process. Following a successful submission of a premarket approval (PMA) or a Humanitarian Device Exemption (HDE), the device is given

Approval

by FDA.

Granted

: Medical devices using the De Novo pathway must be

Granted

by FDA before they can be legally marketed in the United States. This is a relatively new term in the FDA lexicon.
Take the Apple Watch for example, which has garnered a lot of media attention for achieving FDA clearance as a Class II medical device. For Class II and Class I, the FDA doesn't give "approval," it just gives clearance.
Jon Speer weighed in on the topic during a recent interview that was published on The Verge, "Class I and Class II products are lower-risk products, a classic Class I example is something like a tongue depressor — and it's much easier to get clearance than approval."
The misuse in terminology is also commonly seen in the media where these three terms are interchangeably used and imprinted somewhere in our memories to confuse us later. I'll see press releases, or blog posts written by large, well-known medical device companies saying their 510(k) was just "approved."
Using that terminology isn't just flat out wrong, it can also cause issues for your company and I'll get into why in the next section.
Why Using Correct Regulatory Terminology Matters
First of all, let's look back at the notion of a 510(k), which is one of the more common routes for getting a product to market. Medical device companies can use this pathway if they are able to prove substantial equivalence with an existing product. The FDA reviewer is reviewing the information you provide to "clear" your devices as similar to the predicate.
The PMA process, which typically involves Class III devices, is much more rigorous than the 510(k) process. The devices need to prove safety and efficacy through clinical evidence. This allows the FDA to put their stamp of "approval" on the device.
It's no secret that Class II and Class III products are subject to various types of FDA inspections. FDA inspectors can be some of the most detail-oriented people you will ever meet. They are going to examine your documentation very closely, so you want to make sure you get the simple things, such as terminology, correct.
Let's say an inspector shows up at your door expecting to review a Class II device and sees that your website labels it as "approved." That will be an immediate red flag to that inspector. If that happens, I can guarantee that inspector will be more likely to dig deeper and deeper into your other processes, as well.
Perception is everything during an inspection. You do not want to start off on the wrong foot due to a simple case of mistaken terminology. Don't forget that inspectors are likely to do a lot of research on your company. They will likely look at your website and any other marketing collateral they can find.
A lot of people fail to realize that much of that information is considered part of the device labeling. You want to make sure all those things get properly reviewed under your quality management system to prevent any simple mistakes from happening.
Inspections are often the main concern of quality and regulatory professionals, but there can be legal ramifications to using the wrong terminology, as well.
One thing commonly professed by product liability attorneys is that if opposing counsel can object to any aspect of testimony by proving that something which was said is incorrect, the entire testimony can be thrown out. In other words, if it ever comes down to a court case, you could find yourself on the wrong side of things if incorrect terminology is used.
Consumers are also becoming increasingly more educated about medical devices due to the growing trend of wearable technology. These end-users are continually searching the internet and social media for information about these products. So much so that they may even make their buying decisions based on the terminology that is used with the device.
Healthcare professionals especially are familiar with the differences in terminology. You will need to provide a compelling case that your product is accurately marketed and safe to use on their patients.
A simple mistake in terminology can cause some of the most powerful marketing campaigns around to have a detrimental, opposite effect on potential patients and clinicians.
Who do the correct terms matter to? Clearly quality professionals, regulatory bodies such as FDA, members of the judicial system, and even consumers. If a medical device company can't get basic terminology right, what else might they be getting wrong?
Final Thoughts
Terminology is very important. You need to know your Clearances from your Approvals and Granteds.
Using these terms incorrectly can lead to a very difficult inspection, create serious legal ramifications for your company, and can even cause you to lose market share.
Launching a medical device is the culmination of a lot of hard work, time, and money. Make sure you and your colleagues understand the subtle differences in terminology. It is a simple way to prevent any self inflicted wounds that can have unfortunate consequences for your business.