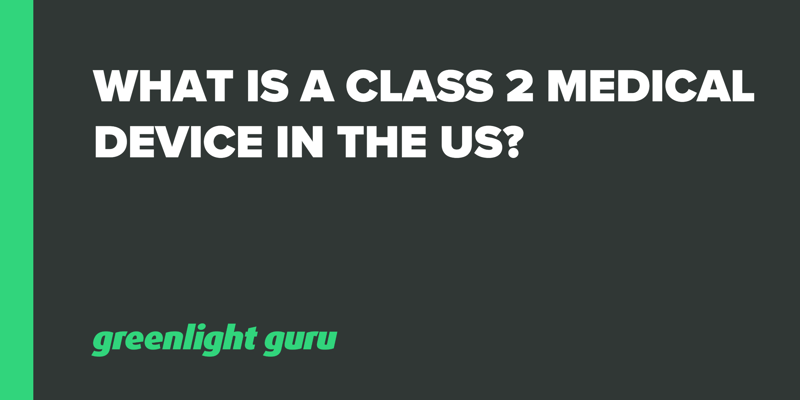 The goal of anyone involved in medical devices is simple: produce high quality products that improve or save patient lives.

The US Food and Drug Administration (FDA) plays an enormous role in this process, as they are tasked with ensuring the quality, safety, and effectiveness of over 1,700 different types of medical devices and 50,000 individual products.
FDA In order to ensure the appropriate safeguards are objectively applied to each device sold in the US market, FDA uses a risk-based classification system for three types of medical device classes.
The focus of this article will be on the second tier, class 2 medical devices, highlighting the go-to-market process and regulatory expectations associated with this product classification type.
FREE RESOURCE: Click here to download the free eBook of our step-by-step guide to determining how your medical device will be classified.
How does FDA Determine Class 2 Medical Devices?
The FDA classification system works by grouping 1,700 generic device types into 16 medical specialties. Each of these generic devices are also assigned a class - class 1, class 2, and class 3 - depending on its potential risk, impact, and invasiveness for patients.
The class 2 type of devices represent a moderate to high level of associated risk and are subject to both general controls and special controls by FDA, which may include compliance requirements for performance, labeling, clinical testing data, and post-market surveillance.
What are examples of a class 2 medical device?
Class II medical devices account for 43% of device applications, and represent a wide spectrum of product types.
Some examples of class 2 medical devices include:
Blood pressure cuffs

Pregnancy tests

Syringes

Blood transfusion devices

Powered wheelchairs

Contact Lenses

Some software used as diagnostic tools
Though there is not a single or specific category of device that determines classification, class 2 devices generally have more interactions, longer periods of sustained contact, and potentially greater impact on patients' wellbeing.
To determine if your product is a class 2 medical device, you first need to revisit its intended use and indications for use. A clear understanding of these two related, yet distinct statements will help you then identify which specialization or panel the device belongs to as well as the specific regulatory controls you'll be required to follow.
What are the different premarket submissions for class 2 devices?
If you've determined your product is a class 2 medical device, you'll need to evaluate one of two potential pathways to market:
Premarket notification 510(k)
For most class 2 medical devices, a premarket notification is the chosen pathway to market. Also known as a 510(k), it consists of a product submission to FDA that demonstrates two claims:
The proposed device is sufficiently similar to an existing and legally marketed U.S. product, and

It is as safe and effective as the predicate device.
You can learn more about the premarket notification process by reading our previous blog post, FDA 510(k) Submission Process: A Step-by-Step Guide to Preparing Yours.
De Novo
The second premarket submission option for class 2 medical devices is a De Novo Classification Request to FDA. A De Novo classification request uses a risk-based process just like 510(k), but with a distinct twist.
Whereas the focus of a 510(k) submission is proving substantial equivalence of a predicate device, a De Novo request does not use any existing equivalence criteria as a basis for being granted by FDA. That's because the De Novo program is meant for class 2 devices with no existing predicate. For this reason, a De Novo request is best suited for novel medical devices classified as low to moderate risk.
What device exemptions exist for class 2?
There are some class 2 medical devices for which FDA has concluded a 510(k) is not required to provide reasonable assurance of safety and effectiveness. These devices are considered to be exempt from product submissions, although they are still required to follow all applicable regulatory controls and requirements from 21 CFR Part 820.
A full listing of all class 2 medical devices currently exempt from product submissions can be found here, Medical Device Exemptions 510(k) and GMP Requirements.
FREE RESOURCE: Click here to download the free eBook of our step-by-step guide to determining how your medical device will be classified
Achieve FDA clearance for your class 2 medical device using less resources and time
The medical device industry is fickle, and for good cause: the devices we design can have an enormous impact on patients, healthcare providers, and public health overall.
Navigating FDA's classification system and all of the associated requirements isn't something that can be learned overnight. You need a QMS solution with medical device experts ready to help guide you through the process in the most cost- and time-effective manner.
Greenlight Guru is a Medical Device Success Platform (MDSP) that comes equipped with the latest FDA and ISO best practices for medical devices built into every feature. It's never been easier to bring a medical device to market - get your free, personalized demo of Greenlight Guru now →
---
Looking for a design control solution to help you bring safer medical devices to market faster with less risk? Click here to take a quick tour of Greenlight Guru's Medical Device QMS software