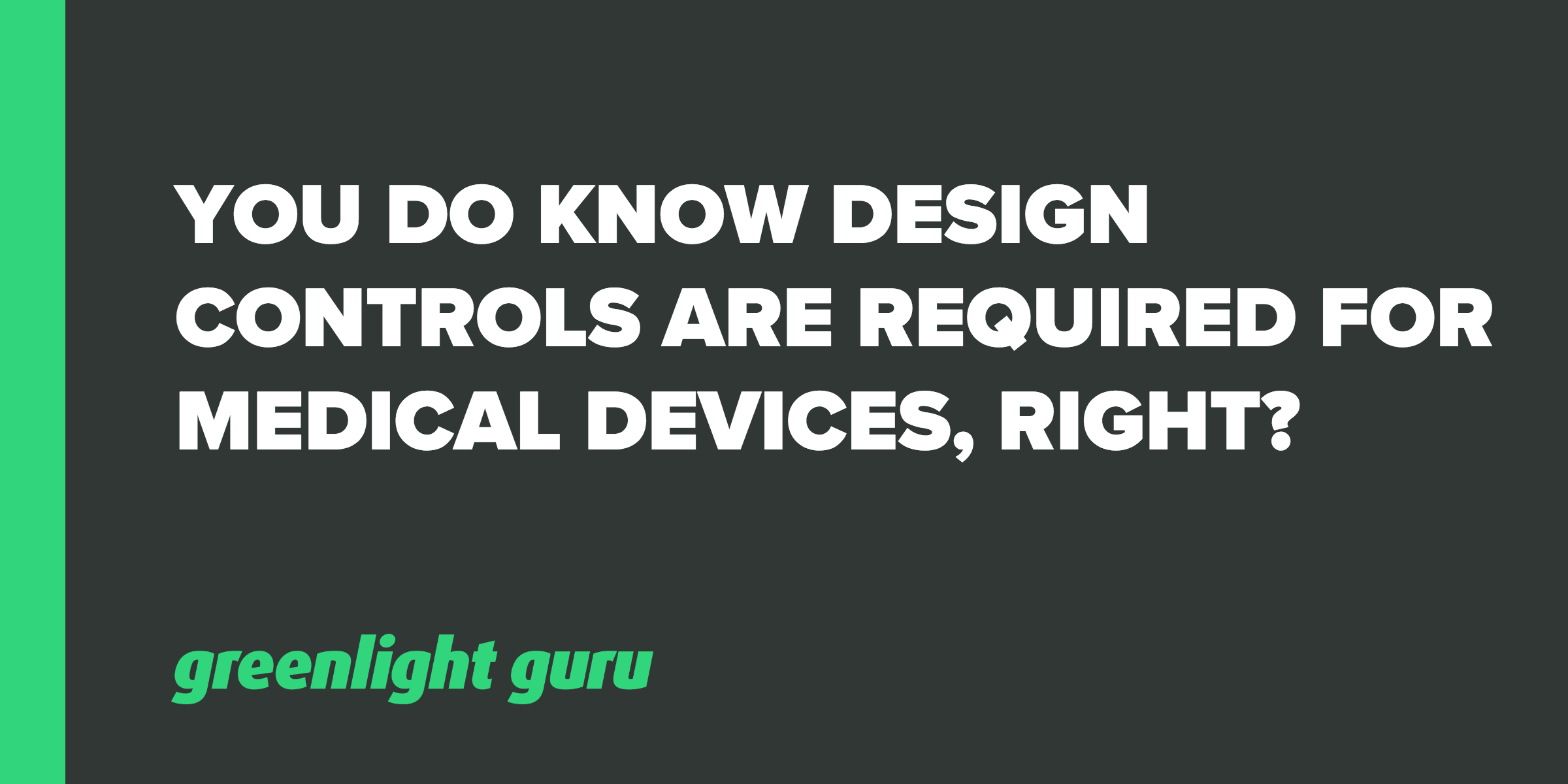 So you're developing a medical device? Congratulations!Medical device product development can be quite an interesting journey.
Aside from all the technical obstacles and challenges you are facing, at the end of the day, you also must satisfy FDA expectations, such as documenting Design Controls.
Before I get into what design controls are, you might be wondering whether your product idea really is a medical device.
And if so, you may wonder how FDA classifies medical devices.
FDA Device Classification - Overview
To keep it simple for now, there are three FDA classifications for medical devices. The FDA classification is more or less based on risk the device poses to a patient.
Class I - lower risk devices
Class II - moderate risk devices
Class III - highest risk devices
Each device classification has a slightly different FDA process. In all cases certain criteria must be satisfied, though, before bringing your medical device to market.
Class I devices generally do not require any formal FDA submission or clearance (I say generally, because as with most rules, there are a few exceptions).
Class II devices require you to provide a submission to FDA called a 510(k) submission. FDA reviews the submission and must give you formal clearance before you can market and sell your new device.
Class III devices are much more involved across the board. The path for FDA approval is as well. Class III devices require a Pre-Market Approval, or PMA.
Regardless of device class, FDA requires that you establish a Quality System, or set of processes and procedures, ". . .to help ensure that their products consistently meet applicable requirements and specifications . . ."
What About Design Controls?
First, you may be asking what are design controls?
Design Controls are documentation and records from the medical device product development process that demonstrate your device is safe and meets user needs and indications for use.
The Design Control process consists of:
User Needs
Design & Development Planning
Design Inputs
Design Outputs
Design Review
Design Verification
Design Validation
Design Transfer
Design Changes
All Design Controls are maintained in a Design History File (DHF).
Reading the FDA Design Controls regulations may not be all that clear. Another place you can gain a little more insight on expectations comes from FDA Design Controls guidance document.
Do Design Controls Apply to Your Medical Device?
You bet!
Design Controls represent a process that identifies how your product is to be used, defines important aspects of your product, proves that the product meets defined criteria, and proves your product meets end-user expectations.
Isn't this critical to getting your product launched successfully into the marketplace?
Some may argue that Design Controls are not strictly required for some Class I devices. While I understand this stance, I contend that there is a benefit by documenting Design Controls for Class I medical devices.
FDA Will Review Design Controls . . . Eventually
If you are a medical device company, you should expect to someday receive a visit from FDA. FDA is required to inspect all Class II and Class III medical device companies every two years.
What will FDA look at when they come?
Well, they will review your Quality System to ensure compliance. And you should count on FDA review Design History Files and Design Controls for your products to.
Aside from the other items noted about Design Controls above, ensuring your documentation meets FDA expectations is yet another, important consideration.
Greenlight Guru is the only quality management software designed exclusively for medical device companies. You can view our full platform and services here.