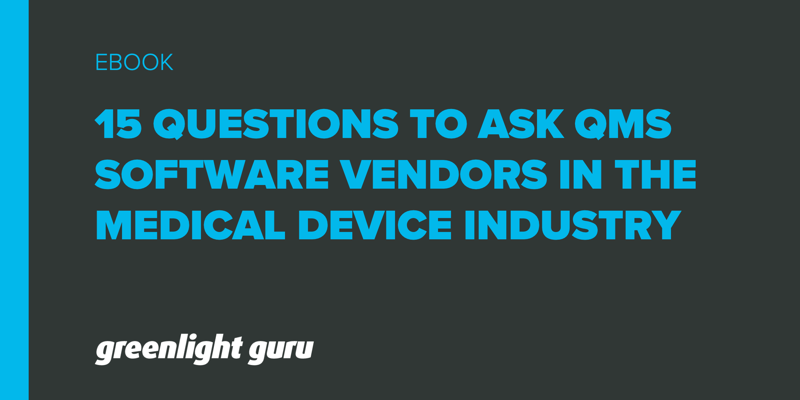 As a medical device company, you are expected to deliver innovative, life-changing medical device(s) while ensuring compliance and achieving true quality. This task bears loads of responsibility - all which must be kept and documented within your quality management system.
A quality management system (QMS) contains everything that internal teams, partners, and regulators alike need to know in order to get a product to market and achieve its intended purpose of delivering better outcomes to clinicians and patients. The choices you make around the QMS you decide to implement will resonate throughout your product's lifecycle.
In an increasingly digital world, medical device professionals find themselves bearing the burden of paper-based systems when they could be automating their processes with a purpose-built software solution.
As a medical device professional yourself, you have either realized the benefits of a software solution or been tasked with, advised, or ordered to find one. To put it lightly, selecting the wrong solution could jeopardize the success of your company, leaving your team frustrated with re-work, prolonged project timelines, and failure to maintain compliance.
Along the way of researching potential solutions, you find yourself in various conversations with vendors who spitball everything you need to know about their software. Before you can digest all the information, they ask "Do you have any questions for us?"
As you stare blankly at the long list of notes that you have been taking and items begin blurring together, and you say, "Not at this moment - no."
In order to avoid this scenario and help prepare yourself to ask prospective vendors the right questions, we have come up with fifteen questions medical device companies should ask quality management software vendors.
Asking these questions will uncover the necessary information needed to make the best decision for your company and adopt a turn-key software solution that gets devices to market faster while acting as a is a single source of truth for your product development and quality activities.


1. Is the QMS software purpose-built specifically for medical device companies?
As you begin your search for the right QMS software, you will familiarize yourself with the numerous software solutions that claim to get the job done but may not be built specifically for your needs.
General-purpose tools or QMS solutions sold into a broad number of industries fall into this category for medical device companies. Although they seem to be a potential fit initially, there are major burdens and hidden costs of implementing and validating these types of solutions.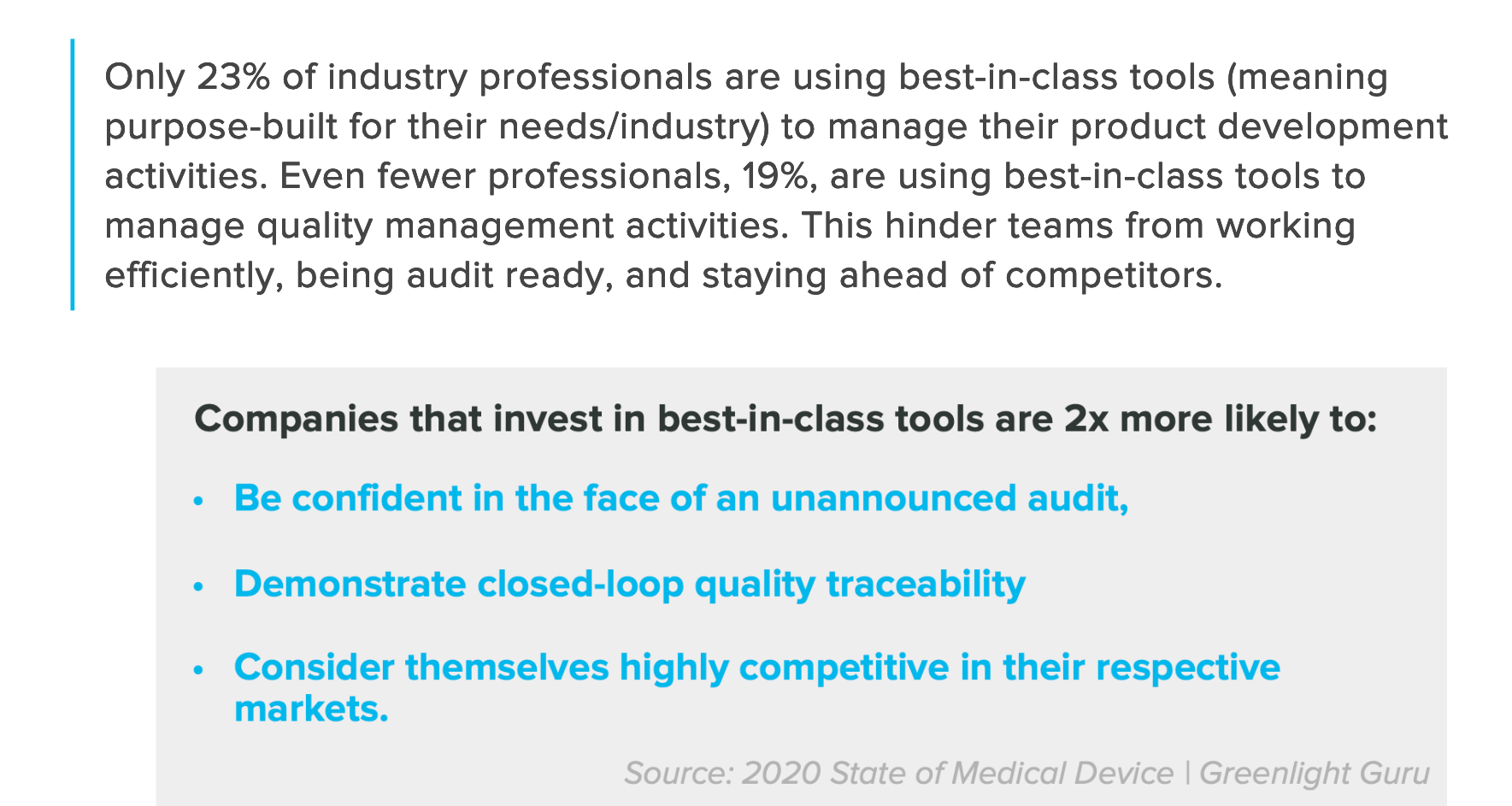 In addition to increased costs and prolonged implementation and validation times, these systems lack the built-in controls for FDA 21 CFR Part 820 and ISO 13485:2016 and additional guardrails that purpose-built solutions provide. Choosing a solution that has industry-specific knowledge built into the system will provide your team with necessary guardrails while supporting the long-term health of your QMS.
While researching potential solutions for your company, it is important to know:
What industry the solution was first intended for
What types of companies are using the solution
And what percentage of the software provider's customer-base are medical device companies.
Narrowing your search to purpose-built solutions for medical device companies will save your team time and resources throughout their quest, and ultimately help them make the best, informed decision for a system that truly meets your needs as a medical device company.
2. Does
the QMS software

align with all major medical device industry standards and market regulations? (Including EU MDR)

The regulations put in place for medical device companies are understandably stringent to ensure that medical devices on the market are safe and effective.

Keep in mind that your QMS plays a large part in complying with these standards and regulations. Failure to comply or keep up with changes in the regulations can leave you stuck with time-consuming re-work and added expenses for remediation efforts.

A key marker of operational excellence and efficiency for medical device companies is how well they are prepared to face unannounced audits and pending regulatory changes. For many companies, this is a major concern of theirs.

Noncompliance can be a large roadblock in your device's lifecycle - and a costly burden. One of the most commonly cited triggers for a 483 observation from the FDA is failure to comply with CAPA, along with issues around complaint records, process validation, design validation, and nonconformances.

It is important to adopt a software solution that aligns with major medical device industry regulations and standards like:
21 CFR Part 820
FDA's Part 11 and EU's Annex 11
ISO 13485:2016
ISO 14971:2019
EU MDR
MDSAP
By implementing a QMS solution that aligns with these standards, your company will become audit-ready, and maintain market competitiveness by staying ahead of regulatory changes.
3. Is
the QMS software

simple enough to get started quickly, but robust enough to meet the needs of a growing company?

Quality is the backbone of every medical device company. Just as important as it is to establish a solid foundation for quality, it is equally important to assure that the foundation is scalable as the company grows.

When searching for a QMS software solution, it is easy to get caught up in the functionalities that you need now or will need in the near future. Let's be honest - no company wants to invest tons of money outright in a robust QMS software solution that becomes too overwhelming to work with from the start.

It is important that you visualize the lifecycle of your QMS alongside the lifecycle of your device(s) and company. That is why it is beneficial to select a "right-sized" approach to adopting a QMS software solution in order to keep the two in alignment.

Establishing a modern QMS with a right-sized approach means that the software vendor will meet you where you are in the lifecycle of your business, then guide or grow with you from there.

One way to right-size your QMS is to take a crawl-walk-run approach. An example of this approach would be for those medical device companies that are starting with their product development activities, they can adopt document control, design controls, and risk management. Once they have reached the next stage of their product's lifecycle or gained additional capital, they can upgrade into advancing the quality of their device by adopting the necessary quality event workflows or post-market surveillance capabilities.

With additional offerings like QMS SOP's and templates that are audit-proven, companies can adopt these rather than starting from scratch. For some companies, having the option to either tweak your existing SOP's and procedures or adopt audit-proven templates, or a mix of both, will help you establish best-practice procedures that are in compliance with the major industry standards and ensure that your team is able to work efficiently and accurately within your QMS.

Whether it be an OEM, contract manufacturer, or design firm, starting with the essentials, then working your way into additional functionality will allow your team to have the tools they need to get up and running quickly and avoid overwhelming them with the overall system training and other non-value-add activities.

4. Are there purpose-built capabilities for managing Design Controls and Risk Management that are fully integrated in
the QMS software

?

Design controls and risk management are vital to one another throughout the production and lifecycle of a medical device. Many will fail to recognize the close connection between the two and create separate processes for managing both.

These companies fall behind by spending hours on managing documents, conducting design reviews, and retro-actively mitigating risk.

By adopting a software solution that has built-in capabilities for integrating design controls and risk, your team can visualize in real-time the relationships between individual design controls and associated risks.

For medical device companies offering SaMD solutions or physical devices with software components, confirm that the QMS solution you are evaluating includes a turn-key integration between design controls and their ALM of choice, such as JIRA, that comes validated and is Part 11 compliant.

With purpose-built capabilities, your team gains visibility into your devices design control traceability, risk mitigation, and a streamlined approach to planning, conducting, and documenting design reviews as changes occur.

Using a QMS software that integrates design controls and risk management ensures that your company will:
Improve product quality and speed to market.
Align design controls with the business process.
Mitigate risk throughout the design phase and device lifecycle.
Establish a foundation for demonstrating closed-loop traceability between design, risk, and post-market surveillance activities.
Support a culture of true quality.
Companies that have adopted this modern approach for their QMS find themselves saving hundreds of hours per year by using a purpose-built system that integrates design controls and risk with post-market quality events for full traceability of their design and risk processes.

5. Are there turn-key workflows for all major quality events available in
the QMS software

out-of-the-box?

Quality events such as CAPA, Nonconformance, Audit, and Customer Feedback are vital to maintaining and advancing the quality of your device, all while controlling risk and maintaining compliance.

Having turn-key, best practice workflows for each of these quality events will streamline your teams' efforts for each:
CAPA: Your QMS should allow you to streamline the CAPA process and easily trace them back to their root cause. This will help your team mitigate patient and business risk, while maintaining traceability to any course or event that triggered the need for a CAPA.

Change Management / Change Orders: Identify, assess, and track change, while ensuring that documents and records are reviewed and approved through traceable Change Management workflows. This will help your team track the effectiveness of change activities and assure full traceability within a single source of truth.

Nonconformance: A nonconformance workflow will enable teams with the tools to easily capture defect details, assess risk, and collaborate with the right team members or suppliers to quickly resolve the issue.

Audit: With an out-of-the-box audit workflow, teams can jump right in to effectively controlling and conducting internal, external, or supplier audits.

Customer Feedback: Having a robust Customer Feedback workflow supports your team in capturing both customer complaints and product feedback that are incorporated back into your device's design.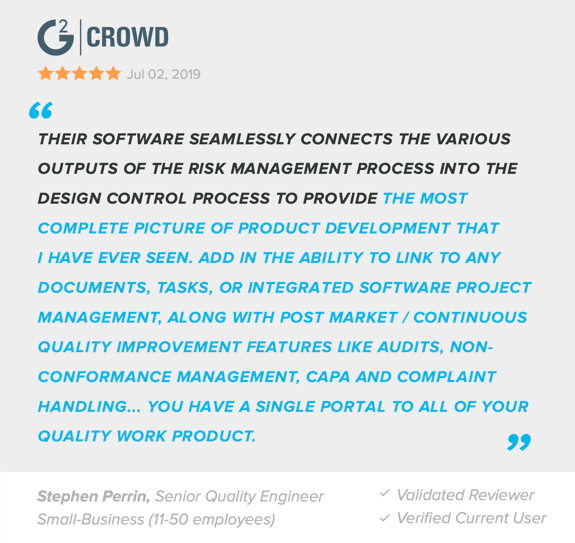 6. Does
the QMS software

streamline the ability to tie post-market surveillance activities back to design controls and risk in order to achieve Closed-Loop Traceability?

The medical device industry is moving towards closed-loop traceability (CLT) throughout the total product lifecycle. Closed-loop traceability is the ability to connect people, processes, and data seamlessly across the value chain. Example: product-related complaints or nonconformances can be traced back to specific design control elements, CAPAs, audits, or change orders they are associated.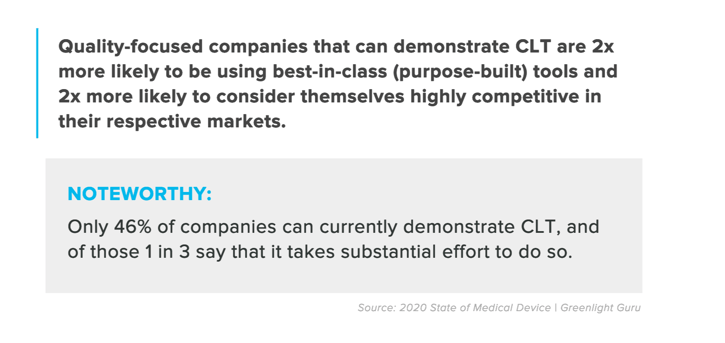 When adopting a software solution, you want to assure that it has the capability of automating and streamlining processes to ensure a closed-loop quality system with full traceability between your design and development activities and post-market surveillance activities, while also allowing you to effectively manage quality events that occur throughout the product life cycle.
With a closed-loop quality system, you will gain visibility into your quality processes to understand how they impact one another. This enables a proactive approach to assessing and identifying issues before they become systemic.
If your device's risk is impacted by a post-market quality event, traceability is key for identifying the root cause. A closed-loop system allows you to connect those processes for updating your Risk Management File to ensure you are delivering a safe and effective product while assuring that both design and development and quality processes are all risk-based and in alignment with ISO 14971.
Being able to demonstrate CLT is one of the best tactics for companies when it comes to ensuring quality and proving compliance. Those that can demonstrate CLT are far more likely to feel confident and perform well in audits.
Assure that your team is able to prove this end-to-end traceability, especially if your company is looking to comply with EU MDR as CLT is one of the foundational elements of the new regulations going into effect May 2020.
Ask your vendor how their solution enables their customers to tie all major medical device quality events back to design and risk activities and achieve closed-loop traceability.
7. Can
the QMS software

help my team achieve a truly paperless audit?

Managing, sorting, routing, and printing piles of papers from your QMS is a method of the past. The purpose of going digital is to avoid these scenarios and streamline your audit activities - while avoiding the conundrum of paper.

Adopting a cloud-based software solution will transition your team from a paper-based system into a robust document management workspace that supports a high volume of documents.

This will enable your team will be able to work collectively in the system to organize and share relevant documentation and prepare for upcoming audits.

The QMS software solution you elect to go with should also have built-in capabilities and workflows that allow your audit team to stay ready, by keeping up-to-date procedures and records at your fingertips.

When it comes time for your audit you can seamlessly work within your QMS to present the information to your auditor with ease.

Do not hesitate to ask your vendor for success stories about their customers achieving paperless FDA, ISO or MDSAP audits using their software solution.
Success Story:
After adopting Greenlight Guru's medical device QMS (MDQMS), Tonia Bryant, Director of Quality and Regulatory Affairs at Lucerno Dynamics, shares that preparing for audits is now a much more efficient process, allowing her to dedicate more time to strategic efforts.
Instead of taking days or weeks to prepare with a paper-based system, Tonia spent only a few hours preparing for their ISO Stage II audit and now has more time for strategic efforts.

Walking into the audit, all she needed was her laptop and a notepad. Tonia and her team at Lucerno are now able to identify, display, and share information digitally with their auditors.
In addition to achieving ISO 13485:2016 certification, this newfound efficiency will be critical in helping Tonia assure the QMS can support Lucerno's plan to grow into new international markets.
Read the Lucerno Dynamics case study to learn more →
8. Does the qms vendor have people with medical device industry experience that will be responsible for supporting my team?
Choosing a software provider is more than just that. It is choosing a partner and establishing a trusted business relationship. When you view your relationship with your software provider as a partnership, and not so much a transactional relationship, you will see endless benefits.
When analyzing software solutions it is important to know who is responsible for supporting your team throughout the implementation and continued use of the software, as well as their experience in the medical device industry. Depending on your own experience and knowledge, these industry experts can work as an extension to your team.
It is good to ask questions like:
Have you designed and/or launched medical devices?
Have you managed quality systems for medical device companies actively selling devices?
Have you experienced an FDA or Notified Body audit firsthand? Do you have experience in conducting audits?
Do you thoroughly understand ISO, FDA, and EU MDR regulations?
This will help you get a better feel for the scope of advice and additional services that the software provider can offer.
Companies will truly benefit from selecting a QMS software provider that has a team that has experience working in the medical device industry that can help guide system implementation, stay up to date on best practices, and navigate pending regulatory changes.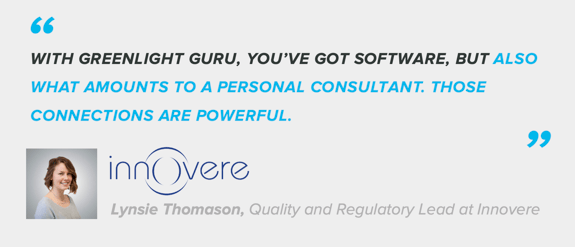 9. How quickly can the QMS software be implemented?
Software implementation can unknowingly consume a lot of time and energy after selecting the right partner for your company. That is why it is important to consider the total costs of implementing a software solution.
For those that elect to go with customizable solutions, it can MONTHS or YEARS to get those workflows correct and validated. For other solutions, the system's lack of intuitiveness may prolong onboarding timelines and require additional training.
Think about and ask software providers about the effort required to get started using the software and the average time-to-value for new customers. Knowing that software validation, onboarding/training, and other tedious details throughout implementation can be both time consuming and costly, it is fair to ask them how quickly your team can be up and running in the system.
Another thing to consider is the team behind the software:
Who will be training you on using the system?
How knowledgeable are they about the regulations and using a QMS?
Will they understand how the ISO 14971 standard for risk applies to your devices?
Other additional resources they may be able to provide are QMS SOP's and templates that are audit-proven across FDA, ISO, and MDSAP audit requirements. Although these may not be a necessity for your company, these offerings are beneficial to those looking to get their system up and running quickly with any necessary guidance, rather than starting from scratch.
Having experienced medical device professionals as your onboarding and support team can help you better understand how to use and leverage the system to your team's advantage.
As an out-of-the-box solution that comes with validation protocols and audit-proven SOPs, templates, and more, Greenlight Guru customers can be up and running with an audit-ready QMS in 30-45 days.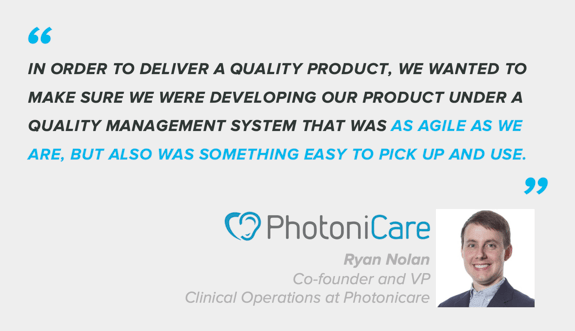 10. Will the QMS software help me be proactive and stay ahead of regulatory changes?
Knowing industry best practices is one thing, but adopting them and actively staying ahead of the industry is another.
Many regulatory changes coming in the near future are making these best practices a requirement for medical device companies. EU MDR is merely the tip of the iceberg in needing to demonstrate closed-loop traceability throughout the product lifecycle.
Ask your software vendor if their system and workflows not only align with current compliance requirements, but if they stay ahead of them by implementing industry best practices as regulation changes occur. This will enable your company to stay ahead of these changes and maintain or advance your market competitiveness.
As mentioned before, it is also a benefit to know the face behind the screen. Knowing the industry experience and knowledge of those who develop the software is an added plus for your company's peace of mind that the software is compliant with industry standards and following industry best practices.
Ask the software vendor if they are dedicated to keeping the software up-to-date and in compliance with changing regulations as part of your decision if they are a good fit solution for your company.

11. Am I going to have access to reliable, high-quality data from the QMS software?
In an increasingly digital world, data has become a cornerstone of operational success for medical device companies. Gaining visibility into your quality system with accessible data enables teams with measure efficiencies, business decision-making, and more.

That being said, it is vital that the solution chosen is going to give you the reliable data insights to the health and strategic positioning of your company, your device's quality, and the processes in place.
The ability to make data-driven decisions within your company will advance your team's capability to make informed decisions and work efficiently and effectively, while also giving you a leg-up against your competitors.
12. Is ongoing software validation included with the QMS software at no additional cost?
When adopting a software solution, it is important to consider the ongoing effort and costs associated with maintaining your QMS over time. One of the most notable ongoing costs of QMS software solutions is the time, money, and effort required to validate the software to 21 CFR Part 11 requirements.
Many software solutions that allow customization or configuration of their system's workflows, require re-validation and additional configuration when the software is updated or modified. It is important to ask what, if any, incremental costs are associated with software validation. These costs and time spent on re-validating can add up over time if the software provider is regularly updating and releasing new functionalities.
If you elect to go with a software provider that is dedicated to continually improving and updating their platform to meet the needs of medical device professionals, it is important to know what the standard protocol is when your vendor launches a new release of the software. Most importantly, you should know how validation should be handled and if they include a software validation package with the new release.
The ideal scenario would be to adopt a QMS software solution that includes validation protocol package at no extra cost to your company for each new release of the software.
With an out-of-the-box solution that includes a software validation package, companies do not have to worry about validation becoming a large cost center for them and their teams can spend their time on more value-added activities.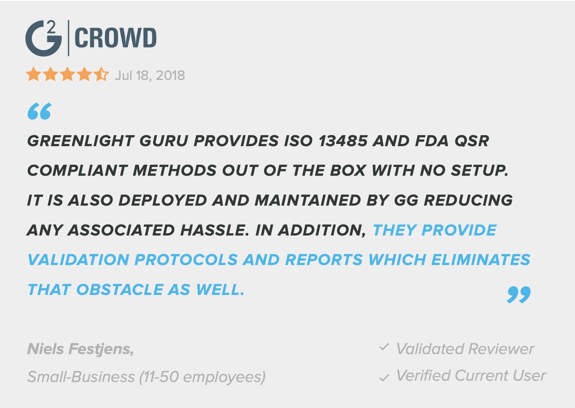 13. Is the QMS software application built with a secure, modern architecture?
Knowing they type of software architecture will help you better understand how your software is deployed, updated, maintained, and kept secure.
A secure, modern software application is typically built with a multi-tenant, cloud-based architecture.
Using software solutions built on a multi-tenant, cloud-native architecture is vital to ensuring that you are adopting a system that follows modern best practices for application architecture, data storage, backup, encryption, and provides high availability that can serve end users globally. These solutions also positively influences the effort and costs associated with validating the system to 21 CFR Part 11 requirements, which in turn impacts the total cost of ownership (TCO) associated with the solution.
According to LNS Research, the real difference maker is multi-tenant cloud offerings:
Cloud-based technologies create new opportunities to streamline validation. Through Cloud, industry leading vendors are providing pre-validated platforms, pre-validated functions, and pre-validated pre-configurations. There are several vendors that have invested in developing near-zero effort or even true no-effort validation environments. One approach comes from a multi-tenant SaaS (Software as a Service) platform that pre-validates its platform and completely avoids customizations and configurations through options management. Every customer is automatically validated to every update.
In addition to the benefits associated with system scalability, data security, and validation, solution providers with multi-tenant cloud applications are more likely to demonstrate a "Cloud Native" mindset that allows them to deliver new software capabilities at a rapid pace and innovate faster than QMS solution providers with single-tenant solution offerings.
14. Is any of the QMS software development outsourced to other companies or countries?
Outsourced software development presents limitations to both software providers and their customers.
The first major limitation is the software vendor's ability to truly understand the medical device industry's needs and translate them into the functionalities and capabilities of the software itself.
To ensure that your QMS software and processes are fully compliant with industry regulations, it gives peace of mind knowing that those who are developing the software understand the industry regulations, as well as benefits of having closed-loop traceability, integrated risk management, and more.
Another limitation includes the inability to continuously deliver new capabilities focused on the dynamic changes of the industry and the needs of medical device professionals in both product development and quality.
You want to be in a continuous feedback loop with your software vendor to ensure that the system is giving you both the functionalities to increase your efficiencies, but also keeping the guardrails in place to keep you in compliance with the industry regulations.
You also want to be proactive and understand how outsourcing development affects application data security. Who the work is being outsourced to and where they are located could impact the safety of your team's and device's data.
15. What is the Total Cost of Ownership (TCO) of the QMS software solution?
Total Cost of Ownership is the financial estimate to determine the direct and indirect costs of implementing a software solution - all-in, over multiple years.
When implementing QMS software, it is important to assess and account for the hard costs, as well as the soft costs.
Hard costs include those associated with the software implementation and recurring licensing fees, along with any incremental fees where you may end up being nickel and dimed for unavoidable changes.
Example: paying additional fees for software validation packages or support, paying for access to training content, etc.
Soft costs include those associated with time lost due to process inefficiencies, employee or consultant time dedicated to customize and configure, and employee or consultant costs to re-validate the software as customizations are updated or new software releases are deployed.
The overall health and longevity of your QMS depends on both these hard and soft costs. When communicating with QMS software providers, be sure to challenge them on the TCO of their solution and what the future of your financial responsibility regarding your QMS will be.

SCHEDULE A CUSTOM DEMO OF GREENLIGHT GURU'S MEDICAL DEVICE QMS SOFTWARE
As the only modern medical device QMS software solution built specifically for the needs of medical device professionals, Greenlight Guru stands the test of helping companies establish a foundation for quality that helps their businesses grow and succeed.
As you consider the different approaches to medical device QMS solutions, be sure to evaluate and ask software vendors these 15 questions in order to identify the right solution that will set your company up for success.
In the meantime, schedule a demo to learn how Greenlight Guru's QMS software enables companies to:
Achieve True Quality — Understand how Greenlight Guru helps medical device companies establish a foundation for quality that advances their company throughout the lifecycle of their device.
Deliver Safe Medical Devices to Market Faster — Bring quality medical devices to market in less time, for less money, while ensuring compliance and promoting transparency across the entire process.
Advance the Quality of Your Medical Devices and Control Risk —Stay ahead of regulatory changes by integrating risk and using quality as your multiplier to grow your business.
Embrace Industry Best Practices — Stay in compliance with industry-specific regulations by utilizing workflows aligned to FDA and ISO standards for medical device predefined processes.
Achieve Closed-Loop Traceability —Gain visibility into your QMS with full traceability between your design and development activities and post-market surveillance activities.
Being Audit-ready —Simplify audit preparation efforts and become a continuously audit ready organization. Achieve paperless audits by streamlining and tracing documentation to share with auditors in a single click.
SCHEDULE A CUSTOM DEMO OF GREENLIGHT GURU'S QMS SOFTWARE NOW →
---
Looking for an all-in-one QMS solution to advance the success of your in-market devices and integrate your company's quality processes with product development efforts? Click here to take a quick tour of Greenlight Guru's Medical Device QMS software →