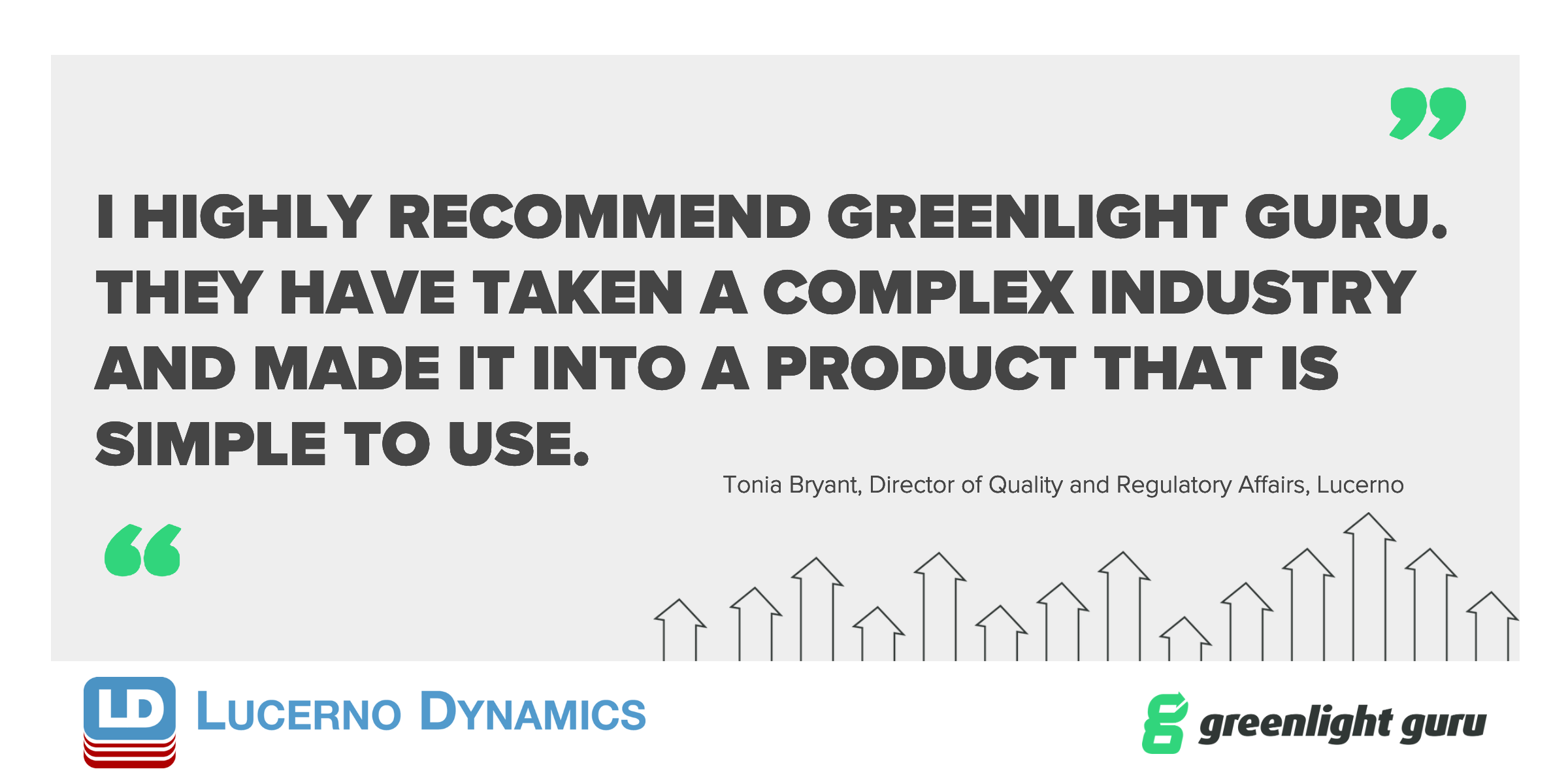 In a world of rapidly changing regulatory requirements, achieving new certifications, such as ISO 13485:2016, doesn't have to be a burdensome effort.
Medical device companies that choose to take a progressive approach to quality can use their quality management system (QMS) as a strategic advantage and foundation for growth. A QMS which scales with your company and simplifies navigating the continuously changing regulatory environment is a true advantage for companies that want to lead with quality and meet regulatory requirements.
Companies such as Lucerno Dynamics have taken a progressive approach to digitizing and automating their quality processes in order to smooth their path to ISO 13485:2016 certification. This is their story:
Lucerno is a medical device company based out of Cary, North Carolina with a line of Class I devices commercially available in the U.S., Australia and New Zealand. Their devices bear the CE Mark and the company looks forward to future distribution in the EU and other international markets.
Their unique medical device detects radio-pharmaceuticals that have been injected into a patient. Think of it as a radioactive scanner. The goal of the device is to determine whether a radiopharmaceutical was properly injected into a patient's vein or if some of it leaked into the surrounding tissue potentially skewing PET scan results.
We spoke with Tonia Bryant, Director of Quality and Regulatory Affairs at Lucerno, to learn more about their unique story. Tonia is responsible for managing Lucerno's documents, audits, CAPAs, quality control, complaints and regulatory compliance for every market they enter.
Challenges faced with finding a QMS Solution
In July of 2017, Tonia joined Lucerno in order to lead all quality and regulatory efforts including helping the company achieve ISO 13485:2016 certification. Prior to Tonia starting, Lucerno had hired an outside firm to conduct a gap analysis on the company's existing quality system. The gap analysis revealed some areas where the company needed to improve in order to comply with the ISO standards.
This is where Tonia stepped in to help and get Lucerno on the right path towards ISO 13485:2016 certification. When starting in this role, the current QMS system they had in place was described to her as a "paperless paper" system, which consisted of documents stored in Dropbox. It was brought to their attention that their current system lacked the structure and functionality necessary for adhering to the regulatory requirements.
One of the limitations Lucerno faced with storing their quality records in Dropbox was that there was no way to validate the system according to the FDA 21 CFR Part 11 and ISO 13485:2016 requirements.
Requirements for validation of QMS software can be found in Section 4.1.6 of the ISO 13485:2016 standard:
The organization shall document procedures for the validation of the application of computer software used in the quality management system. Such software applications shall be validated prior to initial use and, as appropriate, after changes to such software or its application.
The specific approach and activities associated with software validation and revalidation shall be proportionate to the risk associated with the use of the software. Records of such activities shall be maintained.
Knowing the essential and high-risk role that software validation would play in the team's ability to streamline quality and compliance activities, Lucerno began searching for a new solution that better met the regulatory requirements for medical device companies.
In addition to streamlining document control and complying with validation requirements, the team at Lucerno was in need of a solution that would be able to scale with them. Given Lucerno's plans to expand internationally, it was imperative for them to implement a quality system that would provide real-time value to their company with the ability to scale as they reach their milestones.
Choosing a QMS solution
Lucerno was under a tight timeline to find a fully connected electronic quality management system (eQMS). One critical factor in this quest was identifying a system that would help streamline the team's efforts to achieve ISO 13485:2016 certification. Lucerno was also looking for a system that was easy to validate and could support the regulatory requirements of the markets they were already in, including FDA 21 CFR Part 820 & Part 11.
An advantage of working with Greenlight Guru is that software validation is simple - Greenlight Guru provides a full validation package (IQ/OQ) with every major release of its software, making it nearly effortless for users to validate their system and show compliance with ISO and FDA system validation standards.
It was important for the team to find a solution that met all their needs and addressed aspects of quality beyond just document management controls. Design Controls and Risk Management capabilities were areas they were also looking to streamline with a new eQMS solution.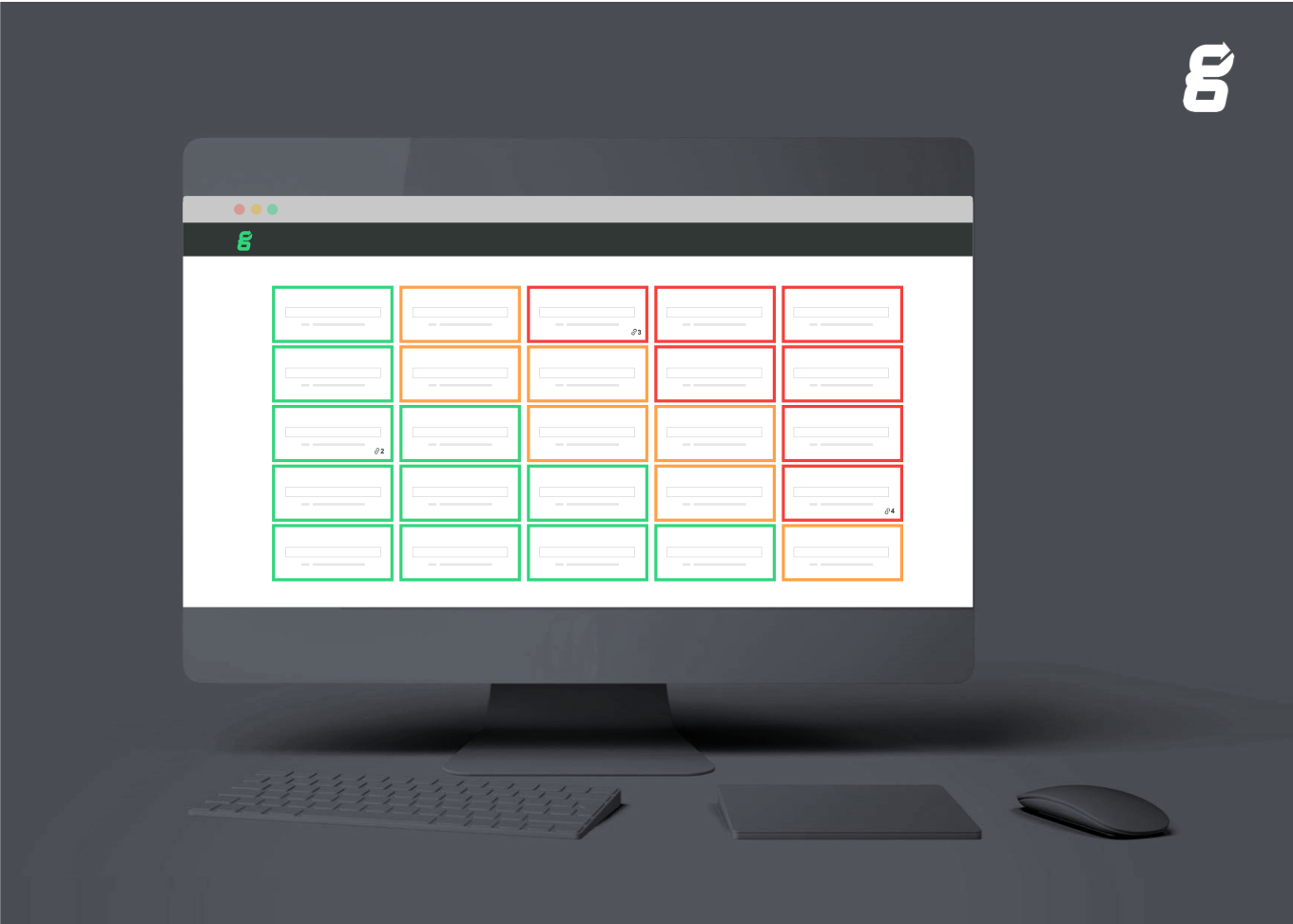 General purpose electronic document management and eQMS software tools do not allow medical device companies to tie product development activities like Design Controls and Risk Management with post-market quality processes in a closed-loop system.
After talking with eight companies and viewing four software demonstrations, there was one quality system that stood out amongst the rest: Greenlight Guru.
Implementing Greenlight Guru
During the implementation phase, Lucerno was on a very tight schedule to meet an internal audit date.
They had a week and a half to get over one thousand documents uploaded into their new QMS software, as well as validate the system. The Greenlight Guru customer success team worked diligently with the Lucerno team and through a collective effort, the team was able to meet this demanding deadline.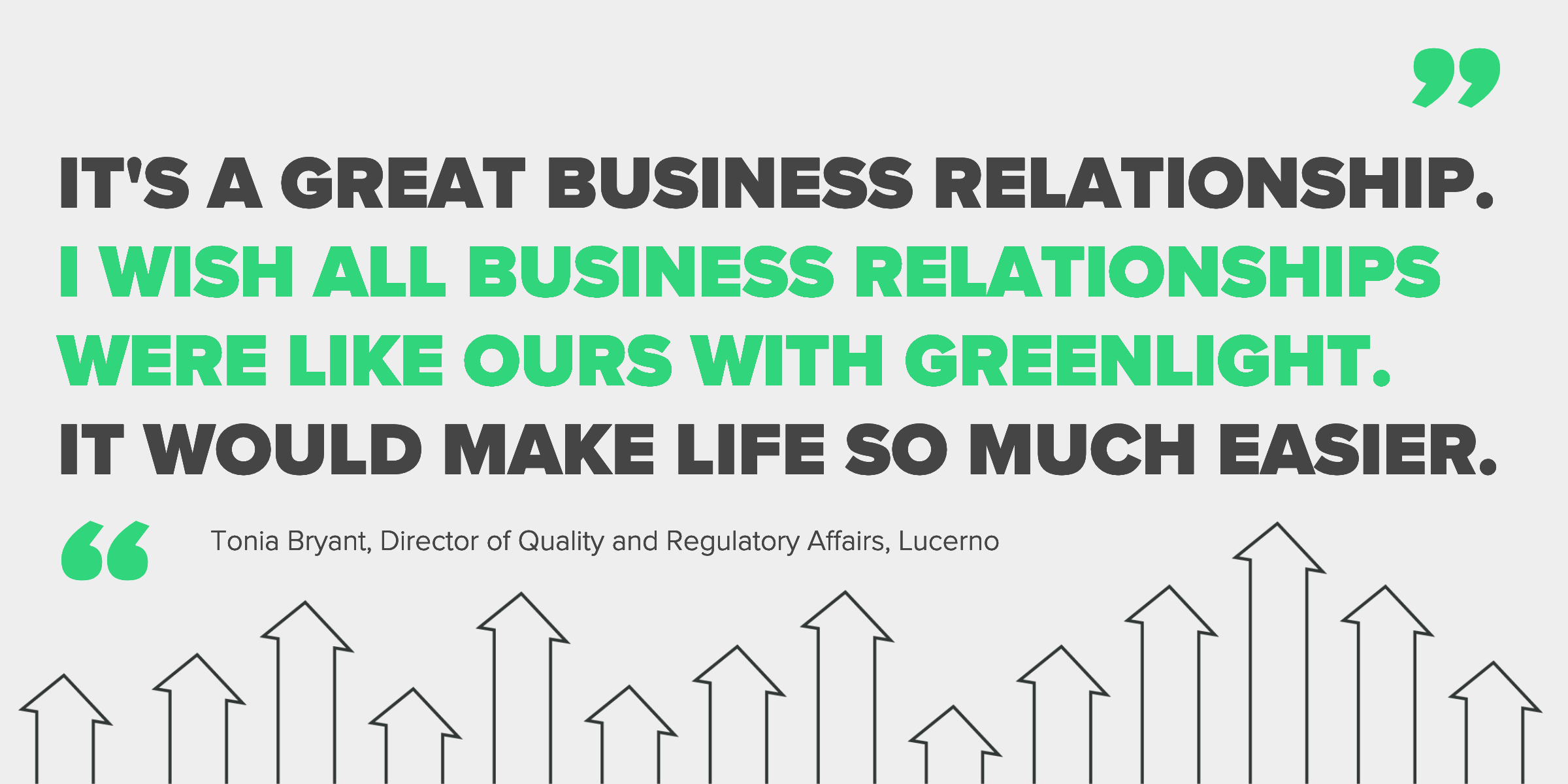 The end result was a very successful internal audit. The auditors that were hired to perform the internal audit complimented their quality management system, as they were thoroughly impressed with how easily records could be found and the demonstration of end-to-end traceability.
Tonia noted that implementing Greenlight Guru has had a positive influence on their quality culture, as well. Rather than causing a disruption in their existing routines, they found integrating the software actually made things easier and more efficient compared to their previous Dropbox system.
Tonia says, "I can link everything together [in Greenlight Guru], and that's a huge benefit...It would have been a pain to keep additional spreadsheets just to try to tie everything together."
Not only is Tonia's life easier as a result of using Greenlight Guru on a day to day basis, but all employees at Lucerno have been able to quickly learn how to use the software as they bring new team members on board.
Simplifying the ISO 13485:2016 audit process with Greenlight Guru
Before Lucerno, Tonia worked for an in-vitro diagnostics company that relied on an entirely paper-based quality management system. She recalls preparation for audits required a lot of manual paper shuffling which took days, even weeks, leaving her stretched for time, unorganized, and unengaged with the auditors.
Compared to the burdensome audit prep Tonia had become accustomed to, she has experienced a night and day difference since adopting Greenlight Guru. For Lucerno's most recent audit, all Tonia needed was her laptop and a notepad - the requested documentation was easily automated and provided to the auditors.
With Greenlight Guru, preparing for audits is now a much more efficient process, allowing Tonia to dedicate more time to strategic efforts. Instead of taking days or weeks to prepare with a paper-based system, Greenlight Guru has allowed Tonia to spend only a few hours preparing for their upcoming ISO Stage II audit.

Greenlight Guru has simplified the process of finding and sharing requested information with auditors. This efficiency has further moved Tonia and her team at Lucerno towards ISO 13485 certification. The days of manually managing, sifting through file cabinets, and printing out reams of documents for auditors is now a thing of the past.
Tonia and her team at Lucerno to identify, display, and share information digitally with their auditors.
A scalable medical device Success Platform
One thing Lucerno values most is that Greenlight Guru helps make business easier for them.
Greenlight Guru allows them to have a "right-sized QMS" - one that can scale with them as they grow. This means that Lucerno Dynamics is set-up to manage plans of any future device development or expansion into additional markets.
Tonia notes that Greenlight Guru listens to the voice of their customers and incorporates their feedback into the software. For Lucerno, it is not just about the software and efficiencies gained. It is equally as much about having a partner that is easy to do business with and shares in the successes of their customers.