At an early-stage medical device company, team members may find themselves wearing multiple hats throughout the production of their device. Some of those hats require documenting product development and quality activities, which can be quite tedious at times and only allow you to move so fast.
Photonicare realized that this was the case for them. Their team was always wearing different hats in order to maintain their agility. For a team that wants to stay nimble and keep quality at the forefront of what they do, implementing a paper-based quality system may seem like a retroactive solution.
They believed such a solution would ultimately lead to more inefficiencies and time-spent on manually documenting product and quality activities where quality could slip through the cracks.
Photonicare knew this was something they wanted to avoid, which ultimately led them to search for a cloud-based, purpose-built solution that would contribute to improving their internal team efficiencies and maintaining their agility.
BETTER TOOLS, BETTER TREATMENT DECISIONS, BETTER CARE
Photonicare is working to provide physicians with better tools to make better treatment decisions and provide better care for children who suffer from ear infections. Today, the device being used to diagnose ear infections is called the otoscope.
This device is only capable of visualizing the surface of the middle eardrum, while the infection lives behind it. With a nearly 50% misdiagnosis rate, using this device to diagnose ear infections has led to unnecessary surgeries and antibiotic use in children.
Photonicare's device, the OtoSight, uses ultrasound-related technology to visualize the middle ear for physicians to confidently diagnose middle ear infections.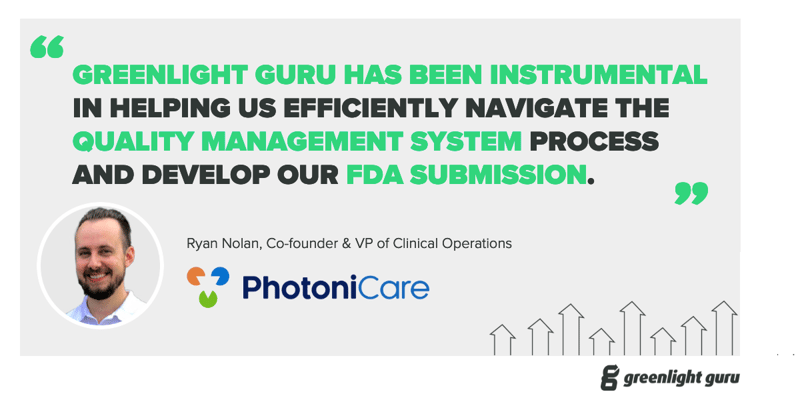 QUEST TO IMPROVE EFFICIENCIES WITH an Agile Medical Device QMS Platform

As an early-stage company, the team at Photonicare is always looking for ways to improve their efficiencies while maintaining their agility. Ryan Nolan, Co-founder and VP of Clinical Operations, recalls their antiquated way of doing things in the beginning when it came to documenting things on paper.
As a result of having to wear multiple hats and juggle competing priorities at a startup elsewhere, they reached a point where their documents weren't as organized as they wanted them to be.
Knowing this antiquated way was a time-consuming solution for managing documentation and quality processes, Ryan and the team at Photonicare began searching for a purpose-built solution that was as agile as their team.
EASY TO USE SOLUTION THAT ALIGNS WITH FDA & ISO REGULATIONS

Heather Howard, Biomedical Engineer II at Photonicare, recalls a prior experience working at a company that was utilizing a paper-based system to manage their product development and quality activities. "I would never want to go back," Howard says. Managing the logistics of hard copies resulted in scrambles of:
"Where is that document?"
"Who lost it?"
"Who has the document that I have been trying to get people to sign off on for two weeks?"
She also recalls how their design controls were documented. Everything existed in two or more files that had to be cross-referenced, then double or even triple checked.


The team at Photonicare reached out early on in order to identify whether Greenlight Guru's Medical Device Success Platform (MDSP) would be intuitive and nimble enough to improve their internal efficiencies. During the process, Photonicare also discovered the value of in-app controls and guidance from medical device industry experts that assure they would produce a high-quality FDA submission.

After deciding to go with Greenlight Guru, their team is now able to see all of their design controls in one place and can identify existing holes that need to be filled. Heather, and the team at Photonicare, truly appreciate using an MDSP because it gives them a much clearer picture of what they have completed and what they need to do next.

Heather also shares that Greenlight Guru has been a huge help as they have been generating TONS of documents as they've ramped up their development efforts. Since much of their activity has been geared towards preparing their FDA submission, Heather finds value in being able to route documents electronically for necessary signatures so that she can focus on higher-value day-to-day activities.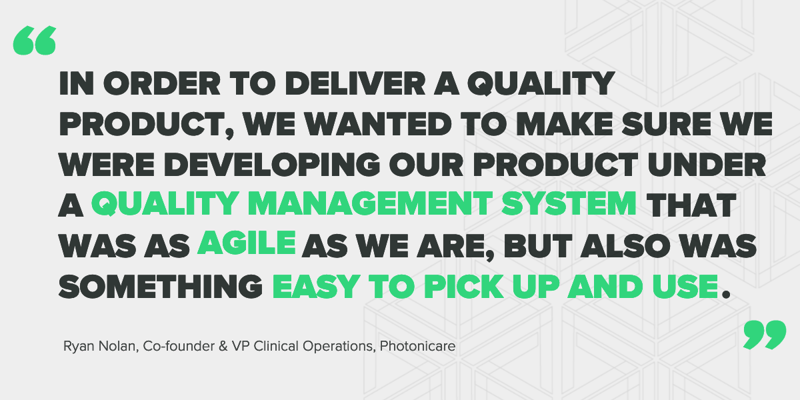 ACHIEVING 510(K) CLEARANCE & PREPARING FOR AUDITS with Fully Traceable MDSP
Coinciding with the Photonicare team's agility, the streamlined processes and activities provided by Greenlight Guru's MDQMS has enabled their team to focus and prioritize more value-add activities, while also seamlessly moving through their FDA submission and achieving 510(k) clearance for their OtoSight device in January 2020.
For Photonicare, implementing an MDSP was extremely easy - especially with the help they got from the industry experts on the Greenlight Guru Customer Success team. Ryan highlighted that having these experts at their disposal to talk through their processes helped them jump-start their documentation efforts and see their product through.
Heather describes the benefit of having a pre-existing Design History File (DHF) in Greenlight Guru as a "huge relief." By eliminating the countless number of hours to manually prepare their DHF has really helped their team focus on the quality of their FDA submission and not so much the assembly of documentation.
Ryan believes that partnering with Greenlight Guru has been a competitive advantage for Photonicare - allowing them to get through different stages of development and regulatory submission at a much faster pace than a paper-based system would have.
Looking ahead into their product launch strategy and timeline, the team at Photonicare understands the value of having a fully traceable MDSP. As they approach the initial launch of their device and begin to scale, they anticipate Greenlight Guru will be immensely helpful when they experience future FDA or ISO audits.
They can now avoid the worry of things that may have fallen through the cracks. When auditors come knocking at their door, their team is confident that they can easily access and very clearly present relevant information with Greenlight Guru.
RECOMMENDING GREENLIGHT GURU: INTUITIVE SOFTWARE & EXPERTISE WORTH LEVERAGING

In addition to the software, the fantastic customer support provided by medical device industry experts is one of the primary reasons both Heather and Ryan recommend Greenlight Guru's MDSP. Leveraging this knowledge base has been extremely helpful for the productivity of the Photonicare team.
Receiving input from industry experts has been essential as they navigate the industry regulations and requirements, as well as preparing their product submission and achieving 510(k) clearance.
Without Greenlight Guru's intuitive MDSP and guidance from industry experts, Photonicare believes they would not have been able to accomplish as much as they have within the given timeframe. Photonicare is looking forward to continuing their partnership with Greenlight Guru as they grow their business and stay ahead of regulatory changes.