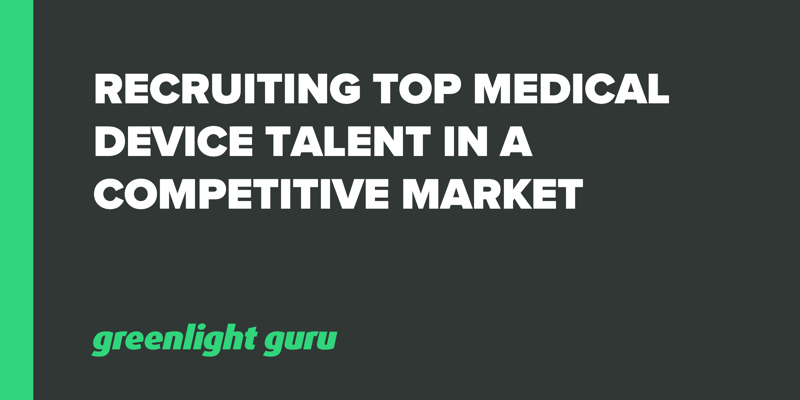 While robust growth in the medical device industry has seen more people coming into the field, it's still highly competitive when it comes to recruitment.
The sorts of specialist skills required to limit the pool of candidates and of course, your competitors are looking for them too. Top medical device talent has a lot of options so you have to be on your game to attract them.
Here, we're looking at some tips and strategies that can help you recruit top medical device talent at your company:
FREE UNLIMITED JOB POSTINGS: Enjoy unlimited job postings for 90 days on the Global Medical Device Job Board by becoming a newsletter subscriber. Click here to sign up.
Key considerations for medical device recruiting
There is a growing demand for specialized industry talent, so your task in attracting them to your business is unlikely to be easy. Some of the key considerations are similar to how people evaluate jobs in other industries, too. For example:
Salaries and benefits. Median wages have been on the rise and it's important to keep up so that you will be competitive. MedTech conducts frequent salary surveys and you can also get an idea from organizations that research salaries across industries, such as Payscale. Benefits are also a consideration - for example look at leave and insurance benefits on offer.

Your value proposition for employees. It's not just about how much you can pay them but whether they are likely to enjoy the work and to really get something from being there. For example, you need to be able to answer the question, "what makes this a good place to work?"

Potential employees are interested in things like your company culture, how people work together and whether there are opportunities for advancement. Of course, it could also be about the type of work you're doing - people tend to want to align with companies that work on issues they are interested in or care about. It's not unheard of for someone to turn down a bigger salary in favor of working on a project that aligns better with their values.

How meaningful is your work? Related to that last point, people often come into the medical device field with aspirations of helping to cure diseases or save lives. It's important to highlight how you are making a difference in your recruiting materials. People often want to get behind a cause.

What are current employees saying about you? Candidates make use of employer reviews more often now that they're readily available online. Any of your employees could be leaving reviews anonymously whenever they like, so keeping on top of the employee experience in your workplace is important. If you can do so, having some featured "employee stories" where people talk candidly about working for you can be helpful.

Consider instituting an employee referral program. Many great candidates are found because they're connected to someone you already know. Your current employees went to school with them or met them at a conference - you can get a sort of fast track to great candidates by asking for referrals.
This correlates well to a previous episode of the Global Medical Device Podcast that covered the topic of hiring for medical device roles, during which Jon Speer's guest Mitch Robbins highlighted some key statistics that are important to keep in mind. The first is that 46% of new hires fail within 18 months, while the second is that 81% of people lie about themselves during job interviews.
Could the two be related? Probably. It makes the robustness of your recruitment process even more important.
Recruiting for different types of medical device technical talent
Finding the right candidates requires a robust recruitment and selection process. You need to begin with a good definition of your requirements and the skills and experience needed. Let's dive into some of the various roles so you can align your recruitment strategies accordingly to each.
R&D and engineering roles
Your R&D or engineering roles are often among the most competitive to source. The specialist knowledge is highly sought-after and candidates often have their pick of a few companies to choose from.
A good place to start is defining your selection criteria. For example, should they have Six Sigma or CQE (Certified Quality Engineer)? How much knowledge and experience do they need of relevant FDA and ISO standards?
Promote the medical devices you are working on, the problem/s they solve and what stage they are at with R&D. This helps to clarify the skills needed and what the applicant can expect.
Quality assurance and regulatory affairs (QA/RA) roles
Your quality assurance and regulatory affairs professionals can make a huge difference when it comes to getting medical devices to market. Their knowledge and practices will impact how quickly you can get approvals and how successful you are at working with FDA (U.S.) and Notified Bodies (Europe).
In fact, Article 15 of EU MDR/IVDR includes a set of requirements that apply specifically for a person responsible for regulatory compliance. This confirms the importance of regulatory affairs roles in the medical device industry and that it's no longer simply a nice to have but a need to have.
Some of the top questions QA/RA professionals want to know about include salaries, required skill sets and job satisfaction. In fact, job satisfaction often rates higher than the salary in the scheme of importance.
Most QA candidates will also want to know about the resources and systems they'll have at their disposal as these hugely impact their efficiency in their roles. For example, a manual system of paper-based folders and chasing up signatures across different locations is inefficient and tends to be unappealing in an age where we have the technology to streamline our systems.
Sometimes it's a question of how much autonomy they will have in the role, too. Will they be able to come in and devise systems and processes as they see fit to succeed in their jobs?
Manufacturing roles
There is a huge skilled labor shortage for manufacturing roles, and it is impacting all sectors, including medical device manufacturing. By some estimates, 2 million manufacturing jobs will be vacant in the US by 2025.
One challenge is changing a prevailing attitude toward manufacturing roles - that they require little skill or competence to do. Medical devices require highly skilled tradespeople, often with a background of work-based training, an apprenticeship program or an associate's degree. If you can provide work-based training or apprenticeships, this is one strategy for boosting your pool of available talent.
You could also work with any training programs in your area. Offer tours and work experience, while promoting your business at job fairs or events. Being known as a manufacturing employer is a good way to have candidates come looking for you.
Incentives for continued education can be another way to boost your pool of manufacturing talent. For example, you might reimburse tuition for upskilling or work with a local community college to grant college credits for work experience.
"Be innovative" seems to be a predominant message when it comes to recruiting for manufacturing roles. "Old ways" may be ineffective in a competitive market.
Advisors and consultants
Regulatory consultants or advisors can be crucial, especially when you don't have the internal knowledge and experience. There are many excellent consultants you can choose from, so one of the first things we would do is due diligence of their resumes. What recent submissions have they worked on? What references do they have?
Secondly, you have to be able to get along with the person. You'll be working with them closely so you need to be comfortable with them as an extension of your team.
You should also look at how much experience they have with the FDA and how up-to-date they are with regulations. If you're entering other markets, you probably want someone who is able to guide you through those as well.
Lastly, your consultant should have sustainable systems that are able to scale with you. Your regulatory needs should be met well after they've finished their contract.
Medical device recruitment strategies to gain a competitive advantage
Your team really can be your competitive advantage, so your recruitment strategies should work on gaining the best talent. One thing to be aware of is the potential for crossover talent, especially within consumer technology. Your competitors aren't just other medical device companies, they could exist within other technological areas.
This means that it's important to keep pace, to keep an eye on those markets and know what they're offering. As mentioned earlier, salaries, benefits, company culture and development opportunities should be monitored.
Staying on top of regulatory requirements and changes in the markets you sell in can also reflect back on recruitment. Essentially, staying ahead keeps you in the game and able to employ the best talent. Having to go back and rework can shift resources and set you back. Suddenly, your new project is on hold because you're doing remedial work.
Finally, a strong focus on quality as the heartbeat of your company can give you a competitive edge in terms of attracting the best people. Quality teams build quality products that deliver quality outcomes. The best talent wants to be working for companies like that so your quality reputation can be a strategic recruitment advantage.
FREE UNLIMITED JOB POSTINGS: Enjoy unlimited job postings for 90 days on the Global Medical Device Job Board by becoming a newsletter subscriber. Click here to sign up.

Bolster your medical device recruiting efforts with an industry-specific solution
A top-performing medical device company needs the best people and the best systems. An industry-specific QMS is one way to keep your company competitive.
Greenlight Guru is purpose-built for the medical device industry and allows you to create robust systems that your team will find easy to follow. Top talent wants to work with top systems, so this is a win for your team, too.
To find out how Greenlight Guru can help you recruit top talent, visit the Global Medical Device Job Board.
---
Looking for a design control solution to help you bring safer medical devices to market faster with less risk? Click here to take a quick tour of Greenlight Guru's Medical Device QMS software