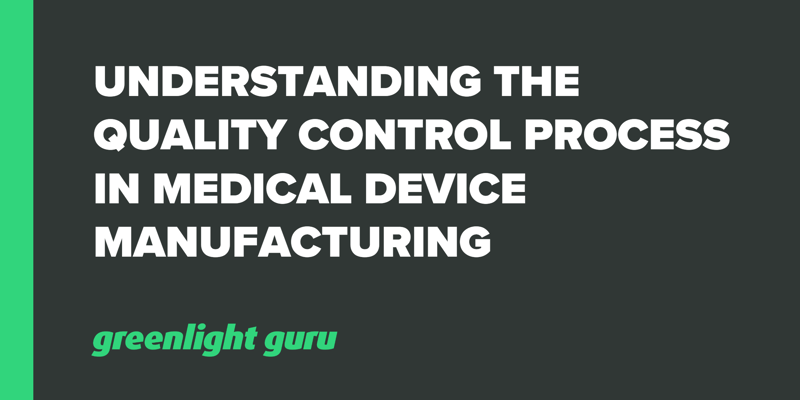 The goal of any medical device is to improve the lives of its users.
But what happens if a product doesn't work the way it should? What if a device malfunctions or causes harm to a patient? How can we be sure the devices used in medical care operate correctly and are safe to use?
Enter the need for a quality management system (QMS). When medical devices are manufactured, they must be reviewed using thorough and appropriate measures as part of a quality control system, a vital component of which is the quality control process.
Let's take a close look at what quality control means to medical devices, why it's important, and how to better evaluate your own quality control process for medical device manufacturing.
BONUS RESOURCE: Click here to download a free checklist to help guide you as you evaluate your quality control process.

What does a quality control process for medical devices look like?
By definition, the quality control process is both reactive and product-focused. In manufacturing, these processes occur during and after production, as well as prior to being shipped to end users. A quality control process tests individual products or batches of a product to confirm they are in-line with product expectations as well as free of flaws or defects.
In medical device manufacturing, quality control teams use a variety of methods and metrics to root out nonconforming products. The three main areas of focus for any quality control process are:
Acceptance criteria: quality control staff are required by FDA to establish a formal document detailing how they will determine whether products conform to product specifications. Quality control staff are also responsible for documenting said acceptance and tracking which products or batches met this criteria and which did not.

Product testing: quality control staff are expected to inspect, test, and verify whether a product is ready for shipping. Under FDA's quality system regulation, medical device manufacturers have the freedom to design their own quality control tests, but FDA requires detailed documentation that proves the efficacy of this verification.

Corrective and preventive action (CAPA) management: These investigative events are triggered when quality control staff find a nonconforming product, perform a root cause analysis, and discover a systemic flaw that led to the nonconformance.
Who is involved in the quality control process?
ISO 9001 defines quality control as, "A part of quality management focused on fulfilling quality requirements." The international standard goes on to identify key areas of requirement for quality control processes, one of which is competence; this would include things like employee knowledge, skills, experience, and qualifications.
If quality is made possible by quality management systems, then it's equally true that quality control cannot happen without quality control professionals.
The primary role of quality control is inspection, such as checking devices for cracks or broken components. However, medical devices are often complex; ensuring these products are not defective requires a team of well-trained, competent, and diligent inspectors, equipped with an extensive knowledge as dictated by the aforementioned acceptance criteria document.
Quality control vs quality assurance
One important distinction to make is the difference between quality control and quality assurance. Though they are both part of the same quality management system, their roles and responsibilities could not be more different.
Quality assurance prevents flaws in the way a medical device is manufactured. Quality assurance happens throughout the medical device manufacturing process. Quality staff look for problems in processes that might result in nonconforming products.
For quality control, however, the primary area of concern is the product rather than the process. Quality control testing doesn't begin until a batch or lot of medical devices is ready for shipment, at which time this specialized team is responsible for inspecting and giving final review of the batch or lot to ensure that the devices are ready for sale.
Why do you need a quality control process?
The number one reason your medical device company needs quality control processes is because the health and safety of patients depends on it. When medical devices malfunction, the results can be disastrous. While rare, a worst case scenario can soon arise without the proper quality control process in place, such as:
An implantable insulin pump fails to administer the correct level of glucose, putting patients at risk of diabetic shock

A spinal surgery tool has a chemical leak that could cause paralysis

A defibrillator with a broken electrical component renders it unable to deliver a lifesaving charge.
All of these are real-life examples of medical devices which were recalled due to improper quality control processes. However, even beyond the importance of protecting users, there are business-level needs for the quality control process.
One area of important note is the regulatory requirements needed to bring a device to market. Quality control is a vital part of any quality management system, as outlined in the international standard ISO 13485:2016. Quality management systems are universally required by regulatory bodies, including FDA and under the EU's Medical Device Regulation.
Another reason for quality control processes is the sheer financial impact that lax quality has on medical device companies. One McKinsey study found that poor quality costs the medical device industry $26 billion to $36 billion annually. This occurs both directly, such as remediating failure, as well as indirectly, through loss of materials or a delay in time-to-market.
How to evaluate your own quality control process
No matter the size or age, every medical device company needs to be thinking carefully about how it approaches quality. This sort of quality planning can be carried out in many ways, such as with high-level ideas about quality management or the establishment of an actual quality system.
However, the activities involved in quality control are often more tangible, such as on-site inspections of physical products. So, what exactly should you be looking at when evaluating your own medical device company's quality control process?
Establish a quality management plan
ISO 13485 specifically requires the development of a quality management plan, a document which defines the, "quality practices, resources, and activities relevant to devices that are designed and manufactured."

Doing so will help to shed light on what is being tested by quality control, how the roles of quality control fit within the entire QMS, and which responsibilities are required for each team member and department.
Collaborate with product developers for quality control insights
Building off the same spirit of collaboration, quality control processes can greatly be improved by discussing device specifics with the design team. Few better understand the inner workings of a product than your engineers, and they will be able to give clarification to the device inputs as well as reveal any gaps in your quality control tests.
Write descriptive acceptance requirements

The quality control process is all about establishing strong acceptance criteria. This document contains exact specifications for a device to be considered fit-for-sale, so it's important to evaluate the language being used for defining the features your quality control team is testing.

Requirements should be written clearly and unambiguously; however, they also need to avoid information overloads, which could potentially cause testers to unnecessarily flag a product as nonconforming.

Create thorough documentation

Much like any portion of the medical device life cycle, documentation is imperative to the quality control process. This is demonstrated in regulatory requirements like FDA's 21 CFR Part 11 - which explicitly requires quality control testing documentation.

It's also important you're documenting the inevitable changes that occur throughout the device lifecycle. Be sure you're utilizing a traceability matrix to keep track of all changes to design, inputs, outputs, and user needs.

The changes in your traceability may affect your acceptance criteria. Keep records of all acceptance criteria updates and be sure to train quality control staff on new processes.
BONUS RESOURCE: Click here to download a free checklist to help guide you as you evaluate your quality control process.

Enhance your quality control processes with the right QMS solution
For medical device manufacturers that take quality control seriously, leveraging the best QMS software is essential.
Greenlight Guru's medical device-specific QMS software is designed to support a genuine quality approach to medical device design, manufacturing, and post-market activities while providing built-in compliance with all quality control regulatory guidelines from around the world.
Interested in learning more? Contact us today for a free demo!
---
Looking for a design control solution to help you bring safer medical devices to market faster with less risk? Click here to take a quick tour of Greenlight Guru's Medical Device QMS software