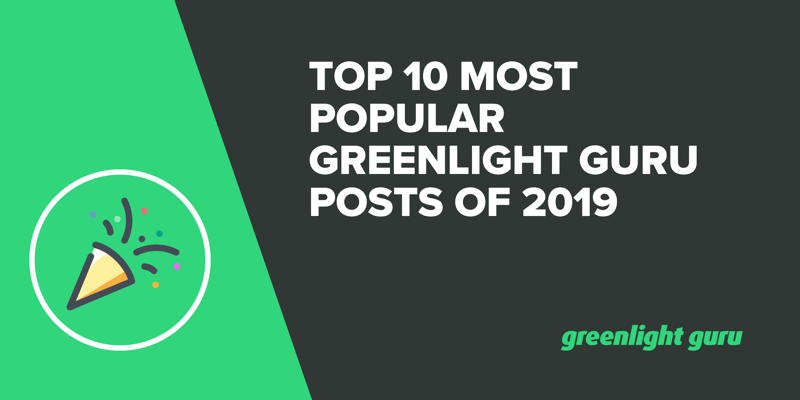 Thank you for helping make 2019 another big and exciting year for Greenlight Guru!
We had many things to celebrate over this past year...
We launched a second podcast series, MedTech True Quality Stories. The Greenlight Guru team traveled nationwide to host our first industry conference series tour, The Greenlight Guru True Quality Roadshow. Our customers enjoyed multiple product releases of our medical device QMS (MDQMS) software solution, most notably with our new Digital Design Reviews and Change Management capabilities. And we published hundreds of valuable pieces of free content for the medical device community.
Below is our annual list of the most popular resources we published in 2019. Which content was your favorite from 2019? Let us know in the comments section or send us a note!
Enjoy!
Top 10

BLOGS of 2019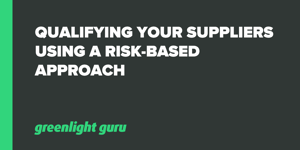 The risk-based approach you use for supplier management should be looked at as a top-down approach to how you do everything within your medical device company. We offer actionable best practices and advice to device makers for mastering this process.
Read the full blog post here →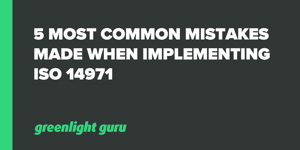 ISO 14971 is the medical device industry globally recognized standard for risk management, yet many device makers struggle with implementing risk within their QMS. We've come up with the 5 most common mistakes companies make when it comes to ISO 14971.
Read the full blog post here →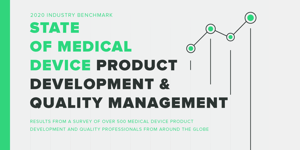 This original research report shares the results of survey responses from over 500 medical device product development and quality professionals across the globe to offer key insights and findings regarding the current state of the medical device industry.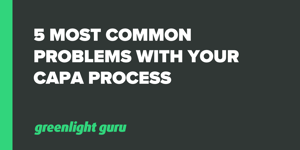 The corrective and preventive action process is often an area that medical device companies struggle with. We covered five of the most common issues medical device companies have when issuing and managing CAPAs for their medical devices.
Read the full blog post here →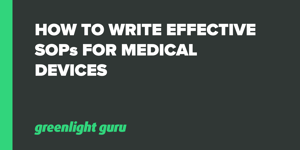 The standard operating procedures (SOPs) for medical devices help to ensure consistent quality of products, processes and procedures within a company. This article shows device makers how to write these important artifacts effectively.
Read the full blog post here →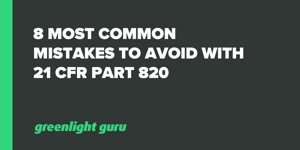 Medical device companies selling into the US market must be in compliance with FDA 21 CFR Part 820, the quality system regulation for medical devices. In doing so, companies must avoid these 8 most common mistakes along the way.
Read the full blog post here →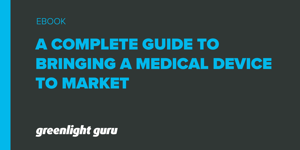 A complete guide for manufacturers seeking guidance on how to plan for and execute a successful commercialization strategy for bringing a medical device to market and maintain regulatory compliance across global markets.
Read the full blog post here →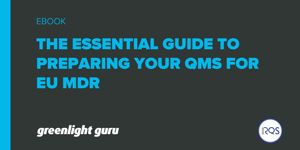 This is the essential guide for medical device companies selling products in Europe that need help with preparing their quality system for transitioning to the new requirements of EU MDR and maintaining compliance once the new regulation goes into effect.
Read the full blog post here →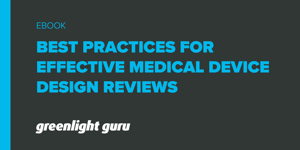 Learn our recommended best practices and tips for device makers to better understand and conduct proper design reviews, which will ultimately improve product development and ensure the safety and efficacy of the medical device.
Read the full blog post here →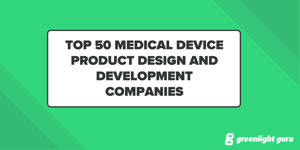 To help medical device companies choose the best fit for a product design and development partner, we've developed a list of the top 50 firms from around the world that specialize in these services for the medical device industry.
Read the full blog post here →
---
Top 5

Webinars of 2019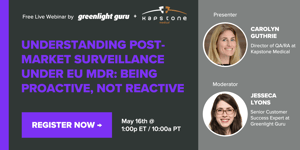 Understanding Post-market Surveillance under EU MDR: Being Proactive, Not Reactive presented by Carolyn Guthrie of Kapstone Medical.
Access the free on-demand webinar here →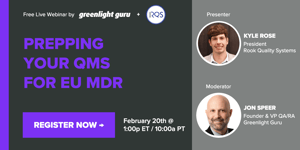 In our free webinar on "Prepping your QMS for EU MDR" presented by Kyle Rose of Rook Quality Systems, participants learned which critical steps are needed to prepare their QMS for the upcoming EU Medical Device Regulations in 2020.
Access the free on-demand webinar here →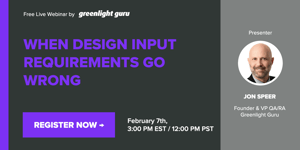 Greenlight Guru's very own, Jon Speer presented When Design Input Requirements Go Wrong to webinar participants, in which he covered some of the most common mistakes medical device companies make when defining design requirements and best practices to avoid them.
Access the free on-demand webinar here →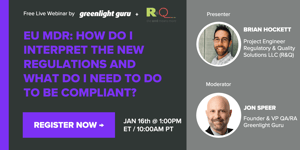 EU MDR affects all device manufacturers doing business in Europe. Brian Hockett of R&Q presented "EU MDR: How Do I Interpret The New Regulations And What Do I Need To Be Compliant?" to industry professionals, offering valuable guidance on the topic.
Access the free on-demand webinar here →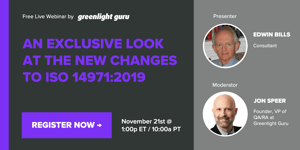 The most attended webinar in medical device history, "An Exclusive Look At The New Changes To ISO 14971:2019 And ISO TR 24971:2019", presented by Edwin Bills, an author of the latest version of the standard, gave viewers an inside look at the important changes to the industry standard for risk management.
Access the free on-demand webinar here →
---
TOP 5

Podcasts OF 2019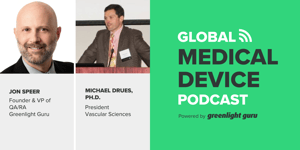 Design verification can be a difficult stage for medical device companies to carry out effectively. Mike Drues joins Jon Speer to discuss the nuances of design verification as it relates to quality and design controls of medical device development.
Listen to the full episode here →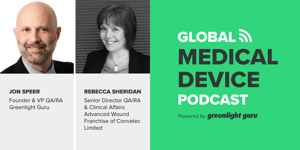 When it comes to EU MDR, a majority of device makers have felt some level of doom, gloom, concern, or fear. Episode guest and former regulator herself, Rebecca Sheridan joins the show to share some positive insights and updates regarding EU MDR and IVDR.

Listen to the full episode here →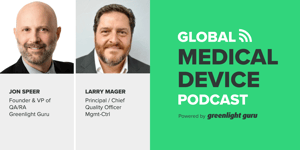 This episode features guest Larry Mager, who describes the difference between quality management system (QMS) and quality systems management (QSM), and offers tips to help device businesses become more efficient in order to benefit patients.
Listen to the full episode here →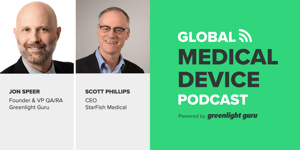 It's critical for both startups and established companies to remain focused on the value proposition of its device product development efforts. Scott Phillips joins the show to offer advice on how to approach value proposition based on the stage of your business.
Listen to the full episode here →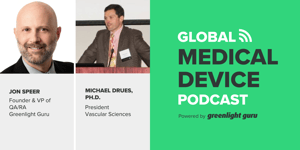 FDA recently issued a statement about the potential impact of artificial intelligence (AI) and machine learning (ML) in healthcare. Mike Drues and Jon Speer discuss nuances, regulations, and implications to consider with AI and ML medical devices and software.
Listen to the full episode here →
---
Have a friend or colleague that would enjoy our content? Give them the gift of knowledge this holiday season and pass along this free content:
Just Click the button to share it with them via email:
Share it with your network on LinkedIn:
---