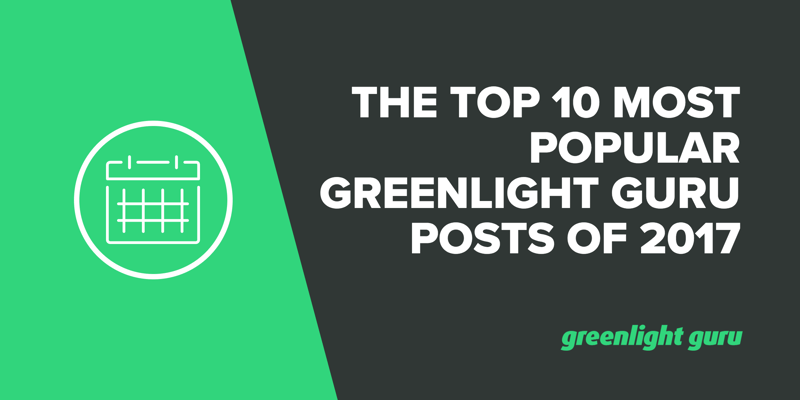 Thanks for helping make 2017 another big and exciting year for Greenlight Guru filled with tremendous growth!
The highlight of our year was the release of our new postmarket quality management workflows, learn more here.
What was yours? Let us know in the comments!
Below is our annual list of the top 10 most popular blog articles we published in 2017.
Plus our added bonus sections our top 5 most popular webinars and top 5 most popular podcasts.
Enjoy!
Our Top 10 Most Popular Medical Device Articles of 2017
1. Ultimate Guide to Corrective and Preventive Action (CAPA) for Medical Devices
2. 5 Things the Medical Device Industry Should Expect in 2017 (And How You Can Prepare)
3. The Ultimate Guide to Preparing Your FDA 510(K) Submission
4. EN ISO 14971:2012 Risk Assessment Explained in 5 Minutes... Using the Grossest Example Ever?
5. What Is CAPA In the Medical Device Industry?
6. Technical File vs. 510(K) vs. Design History File: What Medical Device Developers Should Know
7. 4 Key Compliance Issues for Medical Device Companies
8. EU-MDR and EU-IVDR Are Live - Here Are Some Important Items You Should Know!
9. Design Validation vs. Clinical Evaluation: What's the Difference?
10. 8 Tips to Comply with FDA 21 CFR Part 11
Our Top 5 Most Popular Free Medical Device Webinars of 2017
1. How to Create a Risk-based CAPA Process
2. The Top 10 Most Significant Changes Introduced by the New EU MDR
3. How to Prepare for a Successful Medical Device Design Transfer
4. 8 Steps You Should Be Taking To Implement an EU-MDR Compliance Program
5. Understanding the Medical Device Single Audit Program (MDSAP) & How to Prepare for It
Our Top 5 Most Popular Medical Device Podcasts of 2017
1. The Intersection of Medical Device Usability and Risk Management
2. How Competitive Regulatory Strategy Differs from Regular Regulatory Strategy
3. Understanding the Difference Between a General Wellness Device and a Regulated Medical Device
4. Significant Risk vs. Nonsignificant Risk Devices - What's the Difference?
5. Comparing FDA Submission Types: 510(k) vs. De Novo vs. 513(g) vs. Pre-Submission
Have a friend or colleague that would enjoy our content? Give them the gift of knowledge this holiday season and pass along this free content!