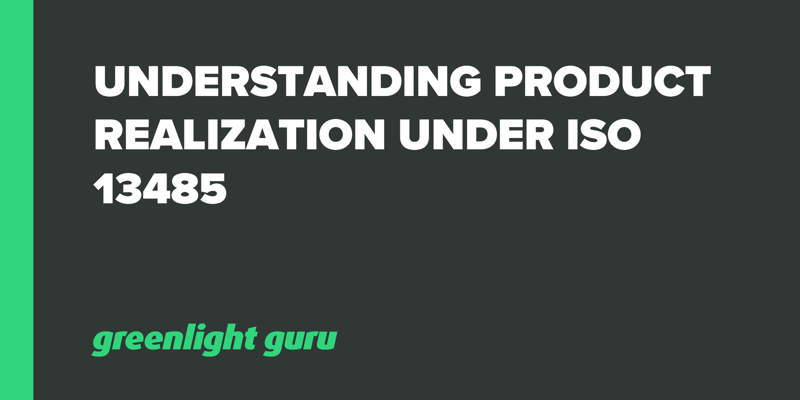 Medical devices always begin the same way: as an idea. And while ideas are an invaluable resource, they are not enough to take a blueprint or sketch to a marketable, potentially life-saving device.

So, how do we track and improve the process of taking a device from its idea to its release? The answer is with product realization.
BONUS RESOURCE: Click here to download your free copy of our previously confidential FDA QSR + ISO 13485 Internal Audit Checklist.
What is product realization for medical devices?
Product realization describes the collection of processes involved in a product's life cycle, from its conception to its completion. This term is all-encompassing, and touches on every stage of design, development, manufacturing, packaging, shipping, and equipment maintenance.
Product realization for medical devices is defined in ISO 13485:2016 as a mandatory requirement for a quality management system (QMS). Through a product realization framework, companies can set standards and apply various controls as needed to ensure quality.
When used properly, product realization gives companies a more accurate and clearer picture of what a product will be. By setting quality standards for all departments and development stages, management can objectively determine if the product was designed, built, and delivered accurately as well as the general efficiency of the process.
One of the guiding principles of product realization is upholding the importance of customer needs and requirements, which must be thoroughly defined and clearly documented alongside any product requirements. Product realization connects this customer perspective to every activity a team goes through. Some examples of this impact are:
Requiring design teams to consider the needs of all users, not just end users

Defining standards for vendors and suppliers

Shaping the manufacturing process to be built around creating the right product

Identifying considerations for packaging, labeling, and shipping procedures
The documentation aspect of product realization also contributes to the risk-based approach mandated in ISO 13485:2016. Though it was previously only required for design and development activities, product realization planning and documentation is now required for all areas throughout the product life cycle.
What is product realization in ISO 13485?
The guidelines for product realization can be found in Section 7 of ISO 13485. Over the course of six subclauses, the medical device QMS standard goes into great detail outlining not just the conceptual aspect, but its practical applications as well.
While each of these subclauses could be its own post, for brevity purposes, let's take a look at the guiding principles and expectations of each product realization section of ISO 13485.
7.1 planning of product realization
Planning is probably the most time-consuming step in product realization; it's also one of most overlooked and underappreciated. However, with adequate time and focus, a product realization planning document can set an organization up to maximize success.
Planning your product realization requirements should include:
Quality requirements for the product

Definitions of every process involved in design and development

Detailed descriptions for product verification and validation

Standards for measurement, monitoring, storage, distribution, and traceability

Expectations for company infrastructure, employee qualification, and employee training
7.2 Customer-Related Processes
The second subclause of product realization is all about connecting things back to customer needs and expectations. This section mandates organizations to fulfill all customer needs, whether those are explicitly stated by clients, necessary for an intended use, or required by regulatory standards. It also covers the best practices for communication of customer feedback.
Fulfillment of these needs to extend beyond the development and manufacturing stages. According to the ISO 13485 standard, a customer-related process extends further to delivery, post-delivery activities, and user training requirements. Lastly, Section 7.2 identifies the importance of routine review by management.
7.3 Design and Development
Section 7.3 can be seen as a continuation of the previous two sections, as it applies the documentation process to all steps involved in product realization. This occurs by identifying inputs, monitoring outputs, and applying relevant controls wherever needed in order to ensure maximum quality.
This is also one of the lengthiest sections in the product realization clause, as it includes definitions and requirements for:
Intended use

Acceptance criteria

Product validation and verification

Design and development transfer

Design and development files

Control of Design changes
7.4 Purchasing
Supply chain management is a critical aspect of product realization. Whether suppliers are contracted to provide materials of production, handle assembly and manufacturing, or deliver finished goods, the purchasing section of product realization requires companies to set the acceptance criteria for evaluating, selecting, and auditing those vendors.
ISO 13485 elaborates by mandating the criteria used to be based on the supplier's:
Ability to meet organization requirements,

Performance and quality

Impact on product quality

Corrective and preventive action standards
7.5 Production and Service Provision
This is another area of product realization that involves the application of controls, or more specifically, the application of production controls. According to ISO 13485, the production process should be planned, executed, monitored, and controlled so that it meets your specifications.
These steps are crucial to ensure you can successfully scale and repeat the process with the same standard of quality.
7.6 Control of Monitoring and Measuring Equipment
The product lifecycle and process of bringing your device to market will require a host of measuring and monitoring activities to certify that your guidelines are being followed. Section 7.6 of ISO 13485 addresses the activities involved and criteria required to objectively evaluate these steps.
The standard demonstrates a need for calibration or verification in accordance with documented procedures, as well as to assess and record the validity of the previous measuring results when the equipment is found to be nonconforming.
Tips for planning the product realization process
The planning of your product realization process is instrumental to its success. When a lack of time or resources are given to these early-stage discussions, it results in rushed products, neglected customer needs, elevated business risks, and, the ultimate offense, sacrificed quality.
On the flip side, proper planning of product realization really unlocks your company's potential for greatness in products. Think of all your teams and departments; these are talented and driven individuals, all independently capable of contributing to the spirit of true quality medical devices. Product realization breaks down those silos and ties them all to the most important individual of all: the user.
To help you get started, here are a few tips for proper planning of the product realization process.
Define all of your customers
Medical devices may be designed for individual patients, but they're not the only ones who will interact with these devices. Consider other customers beyond just the patient and end user for your product, too. This can include regulatory agencies, distributors, purchasing organizations, and shipping and logistics resources.
Plan for communication with customers
Don't expect your customers to voluntarily communicate their needs and requirements to you. There's a good chance you will have to extract this critical information from the various customer types for your products. Creating and monitoring the proper channels for customer feedback and complaints should be a part of this step as well.
Precisely define the intended use and indications for use
Understanding a device's intended use and its indications for use is a step that is missed time and time again. It's understandable, as this may seem like an easy question with an obvious answer.
However, establishing these definitions has a major impact on design, development processes, regulatory submissions, and reimbursement strategies. Be sure not to rush this, and instead reflect on who's using a product, and how they are interacting with it.
Track your design with a traceability matrix
A well-constructed traceability matrix will show the flow of information from customer requirements throughout the design and development process. In turn, this helps to connect the dots along a product lifecycle, the result of which can mean more innovation and happier users.
The most common approach for implementing a traceability matrix is to use a spreadsheet. Keeping a traceability spreadsheet up to date throughout design and development and product realization will require hundreds of hours of time per project per year. However, this can be avoided with the addition of the right eQMS solution.
BONUS RESOURCE: Click here to download your free copy of our previously confidential FDA QSR + ISO 13485 Internal Audit Checklist.
Strengthen your design controls with Greenlight Guru
With Greenlight Guru, we have constructed a workflow within our Medical Device Success Platform (MDSP) to easily capture and document customer requirements and other design and development items. This functionality also streamlines the traceability process, giving you back valuable time to focus on more value-add tasks and activities.
Ready to learn more? Contact us today for your free personalized demo.
---
Looking for a design control solution to help you bring safer medical devices to market faster with less risk? Click here to take a quick tour of Greenlight Guru's Medical Device QMS software