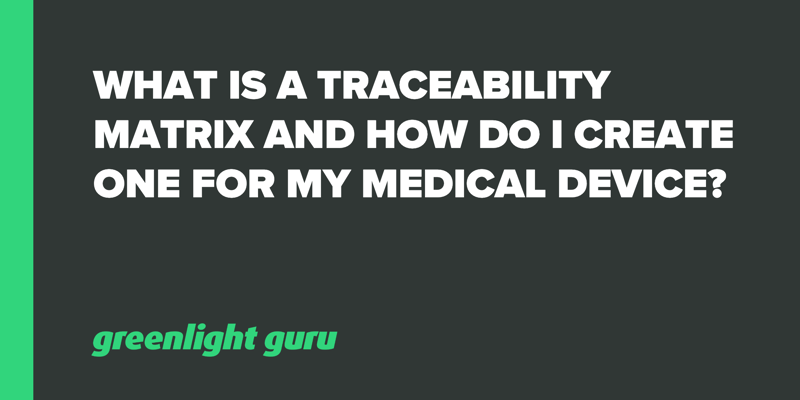 You've probably heard a traceability matrix is something you need as part of your medical device QMS, but do you know what that actually means?
Maintaining a traceability matrix throughout the design and development cycle of your medical device is important because it gives you a high-level view of the connections that exist between User Needs & Specifications and how these will be validated and verified, respectively.
Medical device manufacturers should understand the importance of a traceability matrix and how it can ensure your device reliably and effectively meets the needs of your intended user. Best practices for Design Control traceability are enshrined in ISO 13485:2016:
7.1 Planning of Product Realization
c) required verification, validation, monitoring, measurement, inspection and test, handling, storage, distribution and traceability activities specific to the product together with the criteria for product acceptance.
And:
7.3.2 Design and Development Planning
e) the methods to ensure traceability of design and development outputs to design and development inputs.
The ability to demonstrate traceability also plays a very important role in the submission of your device. Here's what you need to know about what a traceability matrix is and how to create one...
FREE RESOURCE: Click here to download a PDF of 5 steps you can follow to create a traceability matrix for your medical device.
What is a traceability matrix?
A traceability matrix is a visual representation of the relationships and linkages between key areas of your design process, for example, your User Needs, Design Inputs, Design Outputs, Design Verification, and Design Validation.
The underlying importance of the traceability matrix is that it helps to ensure your team can gain quick insights into relationships in your design as well as ensure everything is accounted for and nothing is missed during the Design Control process.
For example, a traceability matrix can help you quickly determine how a particular design input relates to user needs, how a design change can impact your design validation process, and how any change can impact your testing and verification processes.
When done effectively, a traceability matrix will allow a medical device manufacturer to see a clear path between the resulting physical product and the design history, including evidence of quality controls and that the goals you have set have been met.
A traceability matrix is also an excellent internal tool for project management purposes. It can help you trace and define complex needs and expected outcomes. This bird's eye view of your design process allows your team to manage projects more effectively than ever before.
Greenlight Guru Visualize is a QMS solution that's designed specifically for medical device companies to achieve closed-loop quality system traceability. Visualize allows teams to seamlessly understand, interact, and connect quality system data in a single, network view to demonstrate closed-loop traceability with simplicity.
Click here to learn more about Greenlight Guru Visualize
How to create a traceability matrix
How do you create a traceability matrix? There are a few key steps required:
Define your goals in the form of User Needs. This is the "why" of the design. "Why did we add this feature? Because the user needs the device to do X." For example, "The user needs a device that is portable." Ideally, these User Needs will come from actual users.

Translate your User Needs into Design Inputs. This should be a measurable requirement. Instead of using ambiguous terms such as "lightweight," or "small," Design Inputs should be both measurable and attainable. For example, "The device must be X lbs +/- Y lbs." There may be other Design Inputs that come out of a User Need asking for a device to be "portable" as well, such as battery-operated power, or geometry requirements.

Define Design Outputs that meet your Design Inputs. Design Outputs show that you have incorporated the Design Inputs into your design. For example, if the Design Input requirement states that a device must be a certain size, this may be included in a drawing which would become one of the Design Outputs.

Define how you will verify that your design has met the specification. This could be shown in the form of released drawings that show the geometry and tolerances of the device, or through testing.

Define how you will validate that your design has met the User Need. This closes the loop and shows how your design has fulfilled the original User Need. Validation may include clinical or simulated performance evaluations, which is why it is important to use terms in your User Needs that are not too ambiguous.
A traceability matrix can be created using Excel or some other spreadsheet tool; however, this method can present several challenges.
First (and probably the most obvious), it's a manual system meaning that all information has to be keyed. This takes a lot of time and effort and can quickly become unwieldy as the design of your device grows.
Secondly, as with most manual systems, this approach is prone to error. It's relatively easy for mistakes or oversights to happen. This often happens when teams wait until the last minute to create their traceability matrix. You don't want to find yourself in a position where you're needing to manually reconstruct something that should have been done months earlier.
Meeting traceability requirements for your medical device
Documentation is the cornerstone of traceability. If it isn't documented, then it didn't happen. For example, your device outputs must be traceable back to design inputs.
Several medical device companies still find themselves on the receiving end of warning letters as a result of general traceability requirements not being met. This might appear in the form of "failure to establish and maintain a design history file" or "failure to show that all design inputs have been verified."
An expectation of FDA is that you can provide proof of documented traceability analysis or a traceability matrix linking product design requirements, design specifications, risks, controls and tests.
The bottom line is that everything must be recorded and you need a systematic approach to traceability to meet requirements for compliance. You need to be able to show relationships that prove the safety, effectiveness, risk mitigation and testing related to your medical device.
Some tips to help you meet traceability requirements include:
Start creating your traceability matrix as soon as you green light a project.

Work as a cross-functional team where possible.

Have clearly defined responsibilities when it comes to the various design control activities such as drafting verification protocols or developing product specifications.

Conduct regular design reviews to track the status of design control activities.
FREE RESOURCE: Click here to download a PDF of 5 steps you can follow to create a traceability matrix for your medical device.
Get the most out of your traceability matrix with a medical device QMS solution
The best possible way to have an effective traceability matrix is through a visual QMS software solution that automates important connections throughout the entire quality ecosystem, making it easy for you to demonstrate closed-loop traceability.
A purpose-built medical device QMS software is the best solution and Greenlight Guru delivers. Our QMS features state-of-the-art design control management software with a powerful, flexible, multi-level traceability matrix that you can customize according to your project needs.
See how Greenlight Guru can streamline the creation and navigation of traceability by getting your free demo today →
---
Looking for a design control solution to help you bring safer medical devices to market faster with less risk? Click here to take a quick tour of Greenlight Guru's Medical Device QMS software