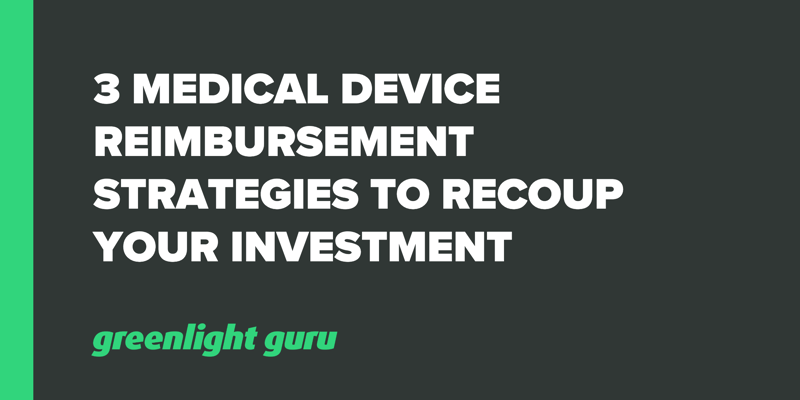 Anyone who works in the medical device industry will tell you that quality and patient care is of the utmost importance. The ultimate reason why your products exist is to improve the quality of life.

At the end of the day, however, the medical device industry is still a business. Products need developing, and companies need funding. Whether that money comes from a Series A funding round or angel investors, the simple fact is that investors generally like to know when they'll see a return.
That's exactly why reimbursement strategies can be so helpful for fledgling startups looking to bring their medical device to life so it can fulfill its purpose.
Reimbursement strategy often plays a role in what device companies ultimately decide to develop. Made up of three distinct parts - coding, coverage, and payment - reimbursement is the lifeblood of industry success. Researching potential reimbursement and financial return options should be part of your earliest activities when building your regulatory strategy.
Manufacturers should know that if their device won't be eligible for reimbursements from government agencies or private insurance companies, it will be a lot less appealing to many potential buyers. That's not just bad news for a bottom line; it also means patients are missing out on a device that could greatly improve their quality of life.
In order to ensure the market viability of your medical device, let's walk through three important considerations of your reimbursement strategy that will benefit not just your company and investors' bottom line but also the main beneficiary of your device: the patient.
FREE eBOOK: Learn how to establish a reimbursement strategy that helps you achieve commercialization by downloading this PDF of our guide to bringing a device to market.
Understand applicable reimbursement codes for your medical device
Medical coding is a standardized, alphanumeric sequence used to describe medical devices and how they're used by providers. While there are multiple types of coding systems the most essential kind you need to know for your reimbursement strategy is CPT codes.
Current Procedural Terminology (CPT) codes are uniform and regularly used by physicians and providers; but more importantly, they're also used by federal aid programs like Medicare and Medicaid, as well numerous private insurance groups all over the United States.
Within the CPT language, there are three main categories that will be vital for you to know.
Category 1 codes are used to denote a procedure or treatment that matches the CPT Approval Process criteria, which requires the service have FDA approval or clearance, be performed with a frequency appropriate for the intended clinical use; remain consistent with current medical practice; and have well-proven and documented clinical efficacy in U.S. peer-reviewed literature. An updated list is released each year on January 1st.

Category 2 codes act as a supplement, specifically to document performance and measurement, as well as the general quality of care by professionals. You'll find releases of new codes three times per year, in March, July, and November.

Category 3 codes act as temporary shorthand for technologies considered "emerging" and are utilized for collecting data, as well as tracking KPIs. They are distributed twice a year in January and July, however the Category 3 codes should remain active for five years following release.
A comprehensive understanding of these codes may be impressive memorization, but being strategic with this knowledge takes going the extra mile.
Determine if your device is unique enough that no current code truly captures its impact or functionality. If so, it may be worthwhile to pursue a new CPT code change proposal. This can be financially lucrative in a competitive market sense, making it difficult for global competitors to catch up to you.
Don't let external factors derail your reimbursement strategy
It's common for early stage medical device companies to have competing priorities and areas of focus, which ultimately distract and prevent the company from achieving the major key milestone of commercialization.
For reimbursement, it may seem like this process is just a final checkpoint on the pathway to market, but the reality is far less linear. In fact, your strategy for medical device reimbursement can have a great impact on several early lifecycle stages of your medical device, so it's important to stick to a carefully thought out plan and avoid any detours along the way.
As indicated by the aforementioned CPT codes, there are certain criteria you must account for early on when planning out your reimbursement strategy. For instance, a certain amount of data collection and dissemination is necessary with new clinical studies for device reimbursement.
Make sure your team pays close attention to relevant timelines and collaborations needed with clinical testers, data scientists, and technical writers so that you can plan ahead and avoid costly delays.
Build strategic relationships with payers involved in reimbursement process
Even with the perfect product and deep comprehension of all applicable codes for your medical device, reimbursement can still fall outside your control. Once you reach the coverage and payment portions of reimbursement, things tend to hinge on the payer.
This is an area that can be quite fickle. Sometimes there are extenuating items of coverage criteria that may be difficult to comprehend for users. Another scenario to hedge against is learning that a payment rate is too low for a medical facility to consider it a viable option.
This is where you may want to consider spending additional time developing relationships with the medical facilities where your device will be used. This can be a great way to gain a competitive advantage and help you work from ahead in aligning your reimbursement strategy to the goals of your customers. You may also want to work with consultants or experts who have a proven track record of helping other companies do the same.
In the US, payers can be composed of multiple payer groups, such as Medicare, Medicaid, and private insurance companies. Once your startup team has identified an adequate target market for your device, push them to develop insights based on comprehensive indications and demographics.
There are some reimbursement scenarios that may be much more appealing to medical facilities than others; however, there are some regulatory programs that you can leverage to tilt the scales in your favor.
The Centers for Medicare & Medicaid Services (CMS) provides companies with the option of applying for a New Technology Add-on Payment, which can cover up to 50% of the cost of the new device or technology, or 50% of the overall incremental costs associated with the new technology costs in in-patient settings.
FREE eBOOK: Learn how to establish a reimbursement strategy that helps you achieve commercialization by downloading this PDF of our guide to bringing a device to market.

Execute your medical device reimbursement strategy and recoup your investment in record speed
Like any regulatory strategy, a reimbursement strategy requires a commitment to strong record-keeping and documentation of the proof required for reimbursement payout.
Your best method to effectively execute your reimbursement strategy is to have an electronic Medical Device Success Platform (MDSP) that serves as the single source of truth for managing all reimbursement documentation.
Greenlight Guru offers the only MDSP built exclusively for the medical device industry and can facilitate and fast track the reimbursement process so all necessary stakeholders see returned funds in record time.
See how Greenlight Guru can help you execute your reimbursement strategy with ease by getting your free demo of our software today!
---
Looking for a design control solution to help you bring safer medical devices to market faster with less risk? Click here to take a quick tour of Greenlight Guru's Medical Device QMS software