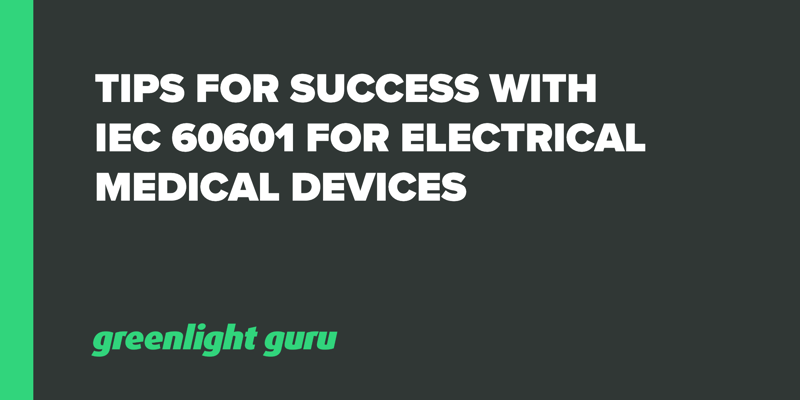 Does your company develop electrical medical devices?
The standard IEC 60601 is different from other regulatory compliance processes, so it can be challenging for medical device developers who play in this space.
You'll find that you need to take different requirements into account, depending on the intended end-use of your device. Let's dive into some key insights about the 60601 approval process and our recommended tips for success when implementing these processes:
Free Bonus Giveaway: 5 Additional Tips to Help Your IEC 60601 Submission
What makes 60601 different from other medical device standards?
60601 is one part of putting together a technical file or a 510(k) submission. It's about more than electrical safety - it covers mechanical safety, labeling and risk management too. The standard is a heavy document, covering about 4500 pages.
One thing that tends to drive medical device developers crazy about it is that it jumps around - you won't find all of the requirements in one spot because it refers you to different areas, and other standards. The series of standards includes things like usability, EMC, home use and usage in other places.
DESIGNING your device for use in Multiple environments
The environment where your device will be used is a big variable. One consideration could be that your device is intended to be used by patients in their home environment. Another consideration might be if your device is used in the ambulatory environment out in the field. There is a new standard specific to this environment which is more stringent than that for the home environment.
This is part of the reason why 60601 is such a large standard and seen as being so complicated by medical device developers - it has to account for the many different environments in which a medical device may be intended for use.
Preparing a timeline for the 60601 process
The testing process for 60601 can be long and difficult. How can you prepare yourself for success when it comes to formal testing and regulatory submissions? Here are a few recommended steps you should take:
Put a project plan together.
Who will be doing what? What resources will you use? What are your various testing times? What documentation needs to be prepared prior to testing? All of this should be in your plan so you are able to give yourself some buffer time. It's rare for a lab to not come back to you with questions, so make sure to give yourself at least a 2 - 4 week buffer.


Know upfront what standards within 60601 apply to your device.
If you go to a test lab without knowing this, they'll probably tell you that you need to be prepared for testing of other standards that you aren't prepared for, which will hold up your project. Look at the scope and definition within the scope, as this will tell you what applies to your product.


Classify your product to the 60601 standard by learning the definitions of common applicable terminology in Part 1.
For example, applied part, means-of-protection, portable, creepage, clearance, transportable, mobile, moving part, trapping zone, fire and flammability rating, ingress protection rating, essential performance, single fault conditions, and many more.


Put an isolation diagram together early in the project.
If your design doesn't match the diagram, you'll have to redesign the product or the diagram. The isolation diagram is all about patient and operator protection from the power supply in your device. Usually you can't redo power supplies as they're fixed, so it's important to consider the isolation diagram early in the design.
Know your device's MOOPS (Means Of Operator Protection) and MOPPS (Means Of Patient Protection), and consider these in your risk assessment early in your design.


Determine your requirements for a test lab.
For example, local lab or quick turnaround required where you don't care where the lab is. Certain labs can be more helpful than others for designers new to 60601.
Differences between safety labs
A critical consideration is the various types of test labs that exist. Without a firm understanding of the options out there, you could be looking at further expenses and time needed for retesting. It's important to understand the differences between the different types of labs so that you can choose wisely.
NRTL - Nationally Recognized Test Labs are specifically for the US and administered by OSHA. These have been approved through auditing to say they have the right equipment and knowledge to test under certain standards.


CB Scheme - accredited by IECEE. It is a good idea to use labs that are both NRTL & CB Scheme accredited for IEC 60601. It's not typically recommended that companies pay for the additional expense of CB scheme reports and certificate.

Typically, with a CB Scheme safety test lab you will get a good test report but still may not satisfy the regulators request for NRTL administered tests. Find out more about what the regulators in your intended market are looking for. An example is the FDA's Accreditation Scheme for Conformity Assessment that can be found here.


EMC Testing - This is recommended to be done prior to the final certification safety testing and not typically done by NRTLs. Some EMC Testing labs know medical standards very well, but a lot don't. You should know this going in and ask the right questions to make sure you've chosen an appropriate test lab.
Tips for early product development
People often tend to think about IEC 60601 too late. Think about planning as early as alpha and beta design phases, not shortly before production. Unless you know the standard well, most people will run into issues with 60601. Testing can easily take 6 - 12 weeks for the basic standard, so not being prepared can add a lot of extra time to your project timeline.
Consider "pre-testing" your device at the test lab using a prototype, especially for EMC testing. This will give you more time to make changes to your product to ensure the safety of your device before submitting it for certification testing.
Even the most experienced engineers have to make adjustments after testing their device for the first time. Many test labs offer pre-testing at a lower cost since less documentation is required. This can save you from very expensive design changes and timeline changes late in the project.
An important part to understand early on is the essential clinical function and essential performance of your device. Where does the product fall in the range of those clinical functions? What are the essential performance characteristics of your device? You need to know this as it impacts your risk assessment and test plan.
Comprehensive, structured documentation including design controls, design reviews, and risk management file will need to be included in the documentation that you send to the certification lab. Your risk management file can take one person over a month of time to put together, and this is after completing your ISO 14971 risk management process.
Compliance is determined by reviewing your risk management file against the particular issue (e.g. labeling, electric shock …). This should be well defined before you do your test plan. Risk management is of heavy emphasis across the standards and you'll need to be familiar with all that apply. Do this early!
Why 60601 is vital to keep in mind
If you find yourself agonizing over 60601, it's important to remind yourself that this standard has evolved over time with the purpose of ensuring that your product is safe for the patients and operators who use it. This is something that we can all agree is essential for medical devices.
As products evolve, safety will have to evolve as well. For example, software has become a big deal and with the stories coming out talking about hackers, it's important to meet standards for networking and cyber security. At the moment there is very serious discussion about how hacking can affect patient safety.
As a matter of fact, the home use market has been exploding with devices containing software. Proper risk management is an absolute key to nailing down the safety of your device from the very beginning and the FDA will want to see meticulous records of your risk documentation.
Free Bonus Giveaway: 5 Additional Tips to Help Your IEC 60601 Submission
Final thoughts
IEC 60601 is a complex standard that trips up many medical device developers. For my part, I'd encourage manufacturers to work with trusted partners who are familiar and have experience with the 60601 standard, and to do so early on. It could save you a lot of additional time and money just by ensuring you're on the right path early.
---
Looking for an all-in-one QMS solution to advance the success of your in-market devices and integrate your company's quality processes with product development efforts? Click here to take a quick tour of Greenlight Guru's Medical Device QMS software →