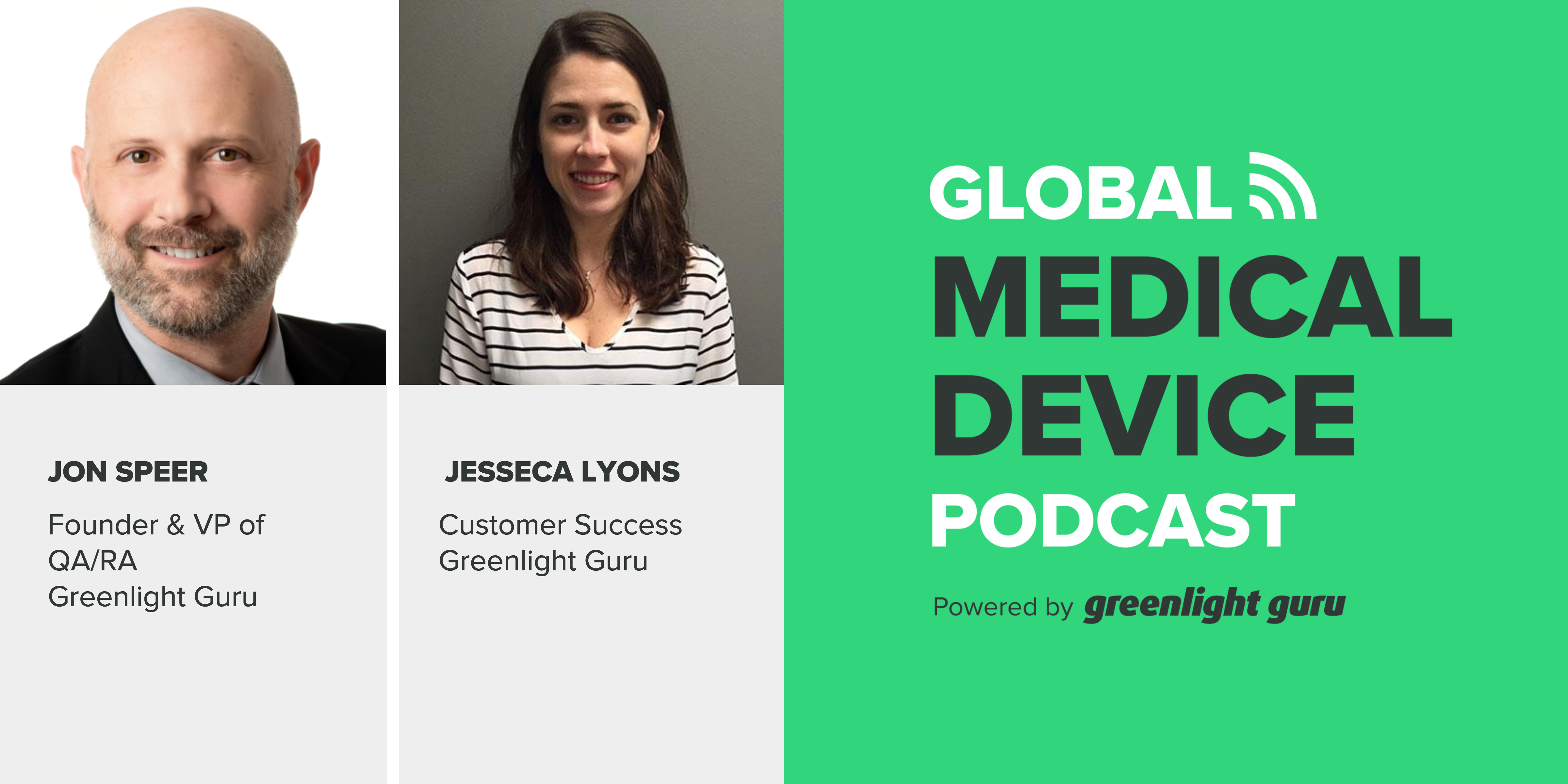 On today's episode, we're introducing the newest addition to the Greenlight Guru team, Jesseca Lyons.
Jesseca is a 2007 graduate of Rose-Hulman Institute of Technology and has worked in the medical device product development for nearly 10 years.
She worked in custom integration at Beckman Coulter, then worked on getting medical devices transferred to manufacturing at CRI, a medical device contract manufacture.
Jon and Jesseca are discussing FDA inspections.
Listen Now:
Like this episode? Subscribe today on iTunes or SoundCloud.
"It doesn't matter your size, shape or how long you've been around. You'll go through an FDA inspection." – Jon Speer
No one looks forward to having the FDA come to inspect their facility, but you always need to be ready for it, as you might be subject to an inspection as frequently as every two years.
We want to put your mind at ease by giving you information on how to best prepare for FDA inspections, which can take a minimum of five to seven days.
"The FDA seems to find the one piece of information you wish they wouldn't." – Jesseca Lyons
Some of the topics you'll hear about it in today's podcast include:
Jesseca talks about her role at Greenlight Guru, which is making sure the customers are successful, in whatever form that takes.

Why FDA inspections are high-stress.

How to prepare for an FDA inspection.

What to expect during your inspection?

Why the FDA nearly always finds potentially questionable items.

How to react if you receive a 483 warning letter.

What to do in order to resolve issues found during your inspection.

What FDA data is available to the public.
Now if you liked today's episode, then I know you're going to find the free webinar we have coming up valuable. It's titled, "How to Avoid and Respond to FDA 483's and Warning Letters."
You can register for the webinar here.
---
About The Global Medical Device Podcast:


The Global Medical Device Podcast powered by Greenlight Guru is where today's brightest minds in the medical device industry go to get their most useful and actionable insider knowledge, direct from some of the world's leading medical device experts and companies.
Like this episode? Subscribe today on iTunes or SoundCloud.
---