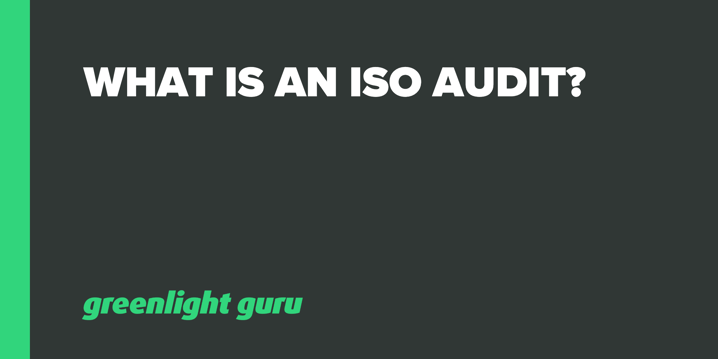 When it comes to medical devices, compliance isn't based on the honor system.

Medical devices are highly regulated for a reason. One seemingly-tiny flaw or overlooked aspect of design can result in serious injury to the end user.
That's why no matter what market you're in, your medical device company will have to operate according to certain regulations and requirements.
Depending on where you intend to sell your device, you'll undergo audits or inspections of your company's quality management system (QMS) to ensure that your company is developing and manufacturing safe and effective medical devices.
In order to sell your medical device in markets around the world like Europe or Canada, you'll need to comply with ISO 13485:2016, the international standard for medical device quality management systems, in order to obtain ISO certification. The way in which you receive this certification is by passing an ISO audit.
Here's what you need to know about ISO audits and how you can navigate these important regulatory events for conformity to the standards applicable to your product:
FREE DOWNLOAD: Get your free FDA QSR & ISO 13485:2016 Internal QMS Audit Checklist. Click here to download.
ISO audits: what are they?
ISO stands for International Organization of Standardization, an independent, non-governmental organization that issues standards designed to facilitate global commerce and keep consumers safe.
An ISO audit is simply an on-site verification by an auditor that the processes and procedures you have in place conform to ISO standards. Passing an ISO audit is a stamp of approval—it shows regulators, healthcare providers, and patients that your claims about product quality can be independently verified by a third party.
Who performs ISO audits?
ISO audits are performed by auditors from a notified body—an independent organization that has been established to assess the conformity of a medical device to applicable standards and requirements before it can be placed on a given market.
It's important to note that these audits are not conducted by regulatory bodies, such as the Food and Drug Administration (FDA) in the US. Though ISO certification is necessary to sell your device in many markets, it is still technically a voluntary standard.
If you want to sell your medical device in both the US and the EU for instance, your QMS will need to conform to ISO 13485:2016 and meet FDA's quality system regulations, 21 CFR Part 820. There is plenty of overlap between the two, but it's essential you understand who is auditing your company and how to meet their unique expectations during an ISO audit and/or FDA inspection.
What ISO standards are commonly used in the medical device industry?
There are many ISO standards used in the medical device industry, including but not limited to:
While all the standards regarding medical devices are important, the two most critical to the success of your device and the health and welfare of its end users are ISO 13485 and ISO 14971, the international risk management standard for medical devices.
These two standards are closely related, and the 2016 version of ISO 13485 specifically references risk management and emphasizes a risk-based approach to quality management.
What does an ISO 13485 audit involve?
You should expect your ISO audit to include four main steps:
An off-site review. This may be conducted prior to the on-site audit of your quality system and processes, and is used to ensure that your company is ready for the on-site audit.

Determination of conformity. In this step, auditors will assess whether your QMS conforms to the requirements set forth by ISO 13485:2016.
Objective evidence of standard operating procedures and records. Documentation of your quality system is great, but it isn't sufficient to pass an audit. ISO auditors will also want to see the processes you have in place to ensure quality is paramount at every stage of the product lifecycle.

Physical verification of conformity. Finally, auditors will verify conformity with these processes through interviews with key stakeholders and observation of your facility. Be prepared for them to look around the site and interview employees to determine whether your company is compliant or simply paying lip service to quality.
What is an ISO certification audit?
The ISO certification audit ensures compliance with all the elements of a given standard—in this case, ISO 13485:2016.
This is the audit you must pass in order to obtain your ISO certification and sell your product in markets which require compliance with ISO 13485:2016. The certification expires after three years and your company must be recertified at that time.
What is an ISO surveillance audit?
An ISO surveillance audit is a formal review that takes place between certifications. Surveillance audits happen at least once a year, but may occur twice a year.
ISO auditors are generally focused on whether your company is still meeting the necessary ISO requirements and upholding applicable QMS standards. They will also touch on any issues observed in previous ISO audits as a means of ensuring your company has taken the proper steps to correct them.
How to prepare for an ISO audit
As soon as you think you want to sell a medical device in Europe, Canada, or any other market that requires ISO certification, you should get your copy of the ISO 13485:2016 standard and conduct a gap analysis to understand where the gaps exist between your current QMS procedures and the applicable ISO 13485:2016 requirements.
However, there are also two internal activities that ISO 13485:2016 requires you carry out regularly: internal audits and management reviews. Done correctly, they will provide invaluable preparation for an external ISO audit.
Prepare with internal audit using ISO audit checklist
Internal audits are chances for your company to monitor and ensure the effectiveness of all your quality management processes. Each process—like those involved in design controls, for instance—must be audited at least once a year according to a documented schedule.
Remember, internal audits are not optional. They are mandated by ISO, and it's a good idea to perform them throughout the year, rather than waiting until the end of the year and treating them as a checkbox activity.
Internal audits are only an effective method of preparation if they are taken seriously. An internal audit checklist helps ensure that your internal audits are comprehensive and thorough without becoming an untenable burden to everyone within the company.
You can start by breaking your checklist into sections, such as design and development, management, and purchasing controls, and then auditing the various processes within each section.
You can also take advantage of downloading the free ISO 13485:2016 audit checklist from Greenlight Guru.
Perform management reviews regularly
Management reviews focus on the bigger picture as opposed to internal audits, which are focused on individual processes. The purpose of a management review is to ensure that executive management is involved in evaluating key processes and operations involved within the company's quality management system.
While management reviews are required once per year, it's a good idea to do them at least twice a year in preparation for external ISO audits as well as for internal accountability and process improvements.
FREE DOWNLOAD: Get your free FDA QSR & ISO 13485:2016 Internal QMS Audit Checklist. Click here to download.
Conduct internal and external ISO audits with ease for ongoing conformity
Passing an ISO audit is about more than just compliance. It's about a proactive focus on True Quality within your entire company. Unfortunately, paper-based, legacy QMS tools make it extremely difficult to keep the focus on quality. Too often, managing the myriad documents and spreadsheets using general-purpose tools eats up time and energy that could have been spent elsewhere.
That's why Greenlight Guru built a Medical Device Success Platform (MDSP) specifically for medical device companies to simplify these historically complex processes. Our cloud-based software comes out-of-the-box with the only risk management solution that aligns with ISO 14971:2019, ISO 13485:2016, and FDA QSR best practices built into every feature.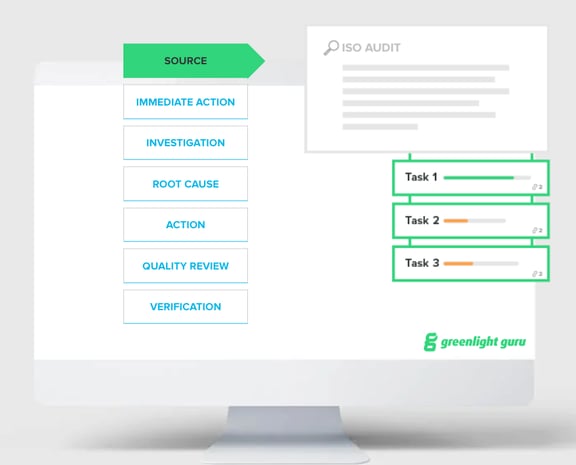 Greenlight Guru Audit Management Software
Additionally, our MDSP comes with a dedicated Audit Management workspace that allows teams to demonstrate full traceability and auditability throughout the system.
Head into your next ISO audit with confidence by getting your free demo of Greenlight Guru today.
---
Looking for a design control solution to help you bring safer medical devices to market faster with less risk? Click here to take a quick tour of Greenlight Guru's Medical Device QMS software