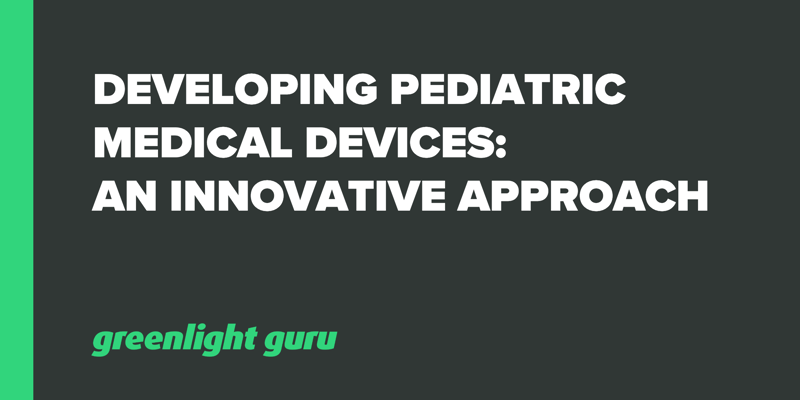 The design and development of pediatric medical devices continue to be a challenging field.There are far fewer pediatric devices than adult devices on the market, often forcing pediatric specialists to find alternative ways of treating children using devices made for adults.
There's a critical need for additional focus on design and development of pediatric medical devices, but the challenges associated often deter manufacturers from accepting such risks. An innovative approach is required so that pediatric patients can have access to the fit-for-purpose devices they need.
To make the case for why an emphasis should be placed on increasing development efforts around pediatric medical devices, it's important to know what resources are available and the innovative approach that's needed. Let's take a look at what you need to get started for developing pediatric medical devices:
What to consider when developing pediatric medical devices
The bulk of challenges associated with developing pediatric medical devices is market-driven. Of course, we all want children to get the best possible care available, but the relative market size is small compared to that for adults, which is one reason some device makers avoid it.
There are also technical challenges in creating devices for children. For example, growth rate is rapid in this patient group, which may pose potential long-term problems such as implantable devices that require monitoring over time to determine their overall safety and efficacy. As a result, pediatric devices can require more time and money spent on clinical testing to ensure their safety.
In terms of innovation, connected devices and remote monitoring are seeing a surge, which could start to carry over in pediatric applications. One recent example is a monitoring pediatric device, developed by Vitls Inc, that enables accurate monitoring of patient vitals in real-time.
There's also the fact that devices should account for "kids being kids." They're often more active than adults which can lead to unique challenges for the durability and safety of the device.
FDA acknowledges pediatric device challenges as well as the reluctance manufacturers may feel with pursuing these specialized products. In 2007 the Pediatric Medical Device Safety and Improvement Act (PMDSIA) was passed to increase the number of pediatric devices approved by the FDA.
The PMDSIA also led to the introduction of the Pediatric Device Consortia (PDC) grant program, which promotes the design of devices for pediatrics. The primary mission of the program is to bring new pediatric devices to the market to address unmet clinical needs.
Besides funding, each consortia participating in the program can also dispense advice to manufacturers, including assistance with clinical trials, regulatory strategy, value proposition validation, grant-writing, prototyping, and testing.
It's also worth noting that some pediatric devices may qualify for the Humanitarian Device Exemption (HDE) program from FDA, which provides a shorter regulatory pathway for devices intended to treat rare conditions or diseases. This is one creative avenue to consider for bringing a device to market that serves a narrow patient group, such as pediatrics, more quickly.
Using real-world data to design pediatric devices
Another challenge for pediatric medical devices is a dearth of evidence. Many studies are conducted on patients of ages 18 or older, especially for high-risk devices. This means that pediatric use is often off-label.
Clinical evidence should ideally be reflective of the spectrum of pediatric patients and the developmental differences that can impact the use and effectiveness of medical devices. Pediatric patient studies tend to be small and there are often gaps in terms of the stages of development of those studied.
Using real-world data is one way to bypass this hurdle, of which is deemed acceptable by FDA. There are real-world evidence guidance documents published by FDA detailing recent use cases of real-world data. This essentially means that data generated in the course of routine clinical care can be used for research studies.
Real-world evidence (RWE) is clinical evidence derived from the analysis of RWD. It can be generated with different design studies or analyses, such as randomized trials or observational studies.
Examples of real-world evidence include:
Electronic health records (EHRs)

Claims and billing activities

Product and disease registries

Patient-generated data including in home-use settings

Data gathered from other sources that can inform on health status, such as mobile devices.
Regulatory response to pediatric medical devices
The FDA defines pediatric sub-populations as the following:
Neonates - from birth through the first 28 days of life

Infants - 29 days to less than 2 years

Children - 2 years to less than 12 years

Adolescents - aged 12 through 21 (up to but not including the 22nd birthday).
You can access a list of resources FDA has published that relate to various guidance and articles on pediatric medical devices to learn more.
FDA is fully aware of the challenges this article has highlighted around pediatric medical devices, making it clear that they consider pediatric populations as separate to adult populations when it comes to analyzing the safety and efficacy of pediatric devices.
While adult data may be able to be extrapolated at times, FDA stresses that caution must be applied in any assumptions that the data will be applicable to children. The 2016 guidance document, Applying Human Factors and Usability Engineering to Medical Devices states:
If intended users include a pediatric population, the testing should include a group of representative pediatric users; when a device is intended to be used by both pediatric and adult users, the FDA views these as distinct populations.
FDA is committed to supporting the development of safe, effective devices for the pediatric population, evidenced by dedicated pediatric programs. You can access information detailing FDA's pediatric program as well as their premarket assessment of pediatric medical devices. The outtake below is a key insight into how they view pediatric populations:
Because the pediatric population represents a particularly vulnerable group, specific measures are needed to protect the safety of pediatric study subjects. Adult devices may be inappropriate for use in pediatric subjects for a variety of reasons, or may require specific design changes and/or specific labeling to accommodate their use in pediatric subjects. We recommend that you consider the following when you develop devices or plan a clinical trial for devices intended for pediatric subjects:
Height

Weight

Growth and development

Disease or condition

Hormonal influences

Anatomical and physiological differences from the adult population

Activity and maturity level

Immune status.
Accelerate innovation of pediatric technologies
While innovative approaches to pediatric devices still lag adult medical devices, targeted initiatives like the Pediatric Device Innovation Consortium (PDIC) are helping to pave the way and support innovation in pediatric devices.
As the manufacturer, you need the best QMS software to help you stay on track with producing a safe, effective pediatric device. Greenlight Guru is the only medical device QMS purpose-built for the medical device industry and we're here to help you achieve True Quality for your pediatric device. Get your free demo of our QMS software today →
---
Looking for an all-in-one QMS solution to advance the success of your in-market devices that can integrate your post-market activities with product development efforts? Click here to take a quick tour of Greenlight Guru's Medical Device QMS software →