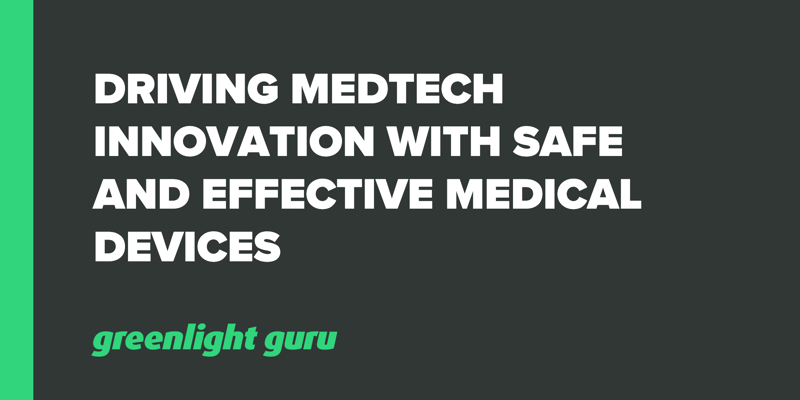 In the medical device industry, innovation is a complicated subject.
A manufacturer that wants to bring a new and innovative medical device to market is, of course, setting out on a mission to improve the quality of life for countless people.
However, patient safety is paramount to regulatory bodies like the US Food and Drug Administration (FDA), and an innovative technology could face a more stringent and often lengthier regulatory process in order to ensure the safety of end users.
This can put innovative medical device manufacturers in a bind. If their product is especially innovative, it will likely need to go down a longer (and more scrutinized) path to regulatory approval.
And unfortunately, investors tend to shy away from long, difficult, and uncertain investments. Yet a less innovative product may not capture the interest of those very same investors, as the potential payoff isn't as attractive.
Still, innovation in medtech is essential. And there are ways to balance patient safety, regulatory requirements, and market demands to bring truly innovative medical devices to market.
FREE ON-DEMAND WEBINAR: Access the free recording and slides from our webinar showing you how to navigate the Breakthrough Device Designation & Safer Technologies Program application processes.
Determine your case for medtech innovation
Though it may seem obvious, the first step in creating an innovative medtech product is making sure there's a need for it in the market.
Take Greenlight Guru customer Photonicare, for instance. Photonicare's device, the TomiScope, is meant to replace the current tool doctors use to diagnose ear infections in children, the otoscope. The otoscope has been around for decades without any major improvements, and the rate of misdiagnosis using otoscopes is around 50%—which leads to the overuse of antibiotics and unnecessary surgical procedures.
Photonicare identified a common problem (the misdiagnosis of ear infections), determined that the root cause was the device physicians were using, and set out to build something better. And there are many other opportunities just like this to drive innovation within the medtech industry.
If you don't already know the exact problem you're trying to solve, there are a number of ways you can seek out issues that may require innovative solutions:
Talk to medical professionals on the frontlines, like doctors and nurses, who use medical devices to diagnose and treat patients every day. What are their frustrations? What do they think about your ideas for new devices?

Salespeople are often overlooked during this process, but they receive feedback directly from end users, and they likely have valuable information on how devices are used in real-world settings.

Check customer reviews and complaints on similar devices that exist to see if there's a common problem to solve.
This is by no means an exhaustive list, but it should help you to begin gathering data and get a better understanding of whether an innovative solution is required.
Understand the regulatory journey and the options for your device
In the US, there are many pathways to bringing a medical device to market. Some of these programs have been around for decades, while others have recently been established by FDA to promote medtech innovation.
The most commonly used pathway to market for medical devices is the premarket notification (510(k)), which follows a comparison-based clearance process where manufacturers must prove their device is substantially equivalent to another legally marketed device, known as a predicate device.
Another premarket submission process, known as the Premarket Approval (PMA), is most commonly used for Class III devices. The PMA process involves a rigorous FDA approval process.
There's a regulatory pathway that's been gaining popularity in recent years, called De Novo. Devices that take this route have no predicate device they can claim substantial equivalence to, so FDA uses a risk-based methodology to grant these "novel" devices access to the US market.
In addition to these three commonly used, albeit outdated, regulatory pathways, FDA has recently launched two new programs that aim to make it easier for companies to bring innovative devices to market while staying compliant with FDA regulations.
The first is the Breakthrough Devices Program, which gives manufacturers a potential fast-track to FDA clearance. To be eligible for this program, the device or combination product must provide more effective treatment or diagnosis of a life-threatening or permanently debilitating ailment, among other requirements. Companies that choose this expedited route to market have access to specialists from FDA and a speedier review process.
The other new program from FDA is known as the Safer Technologies Program (STeP). Similar to the Breakthrough Devices Program, STeP is intended to help manufacturers bring innovative medical devices to market in a more timely manner. STeP is intended for devices that treat or diagnose less serious diseases or conditions than devices that are eligible for the Breakthrough Devices Program.
Both of these new regulatory programs have the potential to fast-track the marketing process for medical devices, and I would encourage manufacturers with eligible devices to look into these programs.
Find early adopters for your innovative medical device solution
Innovation, especially medtech innovation, often faces an uphill battle.
Early adoption of new technology is often slow moving, followed by a surge in popularity once the product is tried and tested, and then sees a dip as it fades in popularity. This journey is known as the innovation adoption curve, as shown in the diagram below.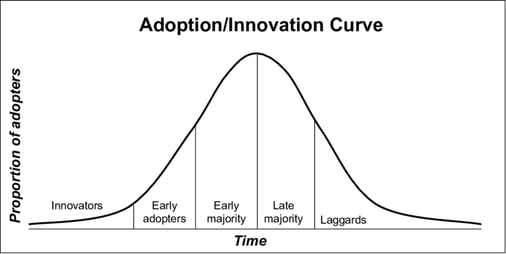 Adoption Innovation Curve (Adapted from Rogers, 1995)
New medical devices are no exception to this adoption curve. They need early adopters to build positive publicity, gather data, and demonstrate the product's safety and effectiveness.
In healthcare, clinicians tend to be cautious adopters of novel devices, which is why it helps to establish buy-in from key opinion leaders (KOLs) in your device's niche area. Their use and advocacy of your product will help spread the word about your product while giving others the confidence they need to try your product.
Your KOL will depend largely on the type of device you are developing. For instance, if you're creating an optometry device, perhaps a tenured optometry professor who regularly publishes peer reviewed articles in industry publications may be an excellent KOL to target.
Once you've found the KOL to champion your medtech invention, reach out to them with a detailed description of your device and your goals. Be clear about how they can help you—for example, a review in the KOL's publication or a testimonial video.
You should also be sure to make a strong case for the innovative nature of your device. What makes it different from other medical devices on the market? What problem(s) does it solve? In short, why should they (and their followers) care?
Just because you've created an innovative medical device doesn't mean you'll get immediate buy-in from others. The time you spend accelerating your medical device's adoption curve is nearly as important as the time you spend developing it in the first place.
FREE ON-DEMAND WEBINAR: Access the free recording and slides from our webinar showing you how to navigate the Breakthrough Device Designation & Safer Technologies Program application processes.
Put your medtech innovation efforts into high gear with a medical device QMS solution
Bringing a medical device to market is a years-long journey that requires intense commitment and attention to detail.
Unfortunately, too many medical device manufacturers waste precious time attempting to make legacy, general-purpose QMS tools work for them.
The smartest, fastest way to get your medical device into the hands of end users is to use a QMS that is designed specifically for the medical device industry. Greenlight Guru's Medical Device Success Platform streamlines the go-to-market process, automating time-consuming documentation and quality processes, so you can focus on designing innovative medical devices that improve the quality of life.
If you're ready for QMS that's built with your needs in mind, then get your free demo of Greenlight Guru today.
---
Looking for a design control solution to help you bring safer medical devices to market faster with less risk? Click here to take a quick tour of Greenlight Guru's Medical Device QMS software