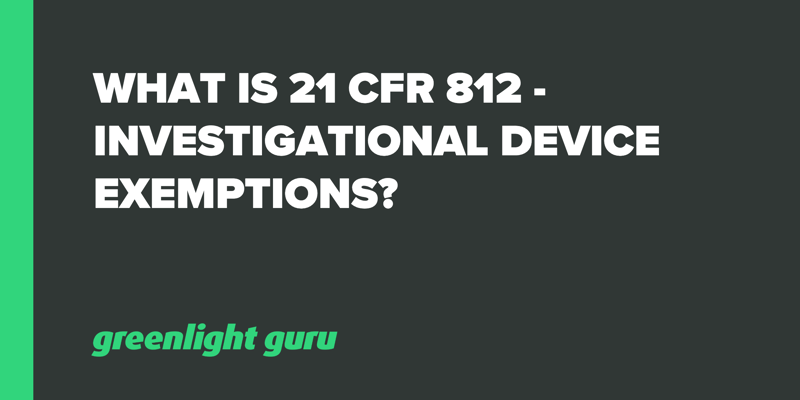 Could your medical device qualify for an investigational device exemption (IDE)?
The IDE program from FDA allows you to test your device on subjects where the device is not yet approved to be sold on the US marketplace. An IDE allows a device to be used in a clinical study setting for the purpose of collecting safety and effectiveness data that may be required by FDA.
There are various criteria that must be met under 21 CFR 812, the regulations from FDA for investigational device exemptions. Let's take a closer look at the specific IDE requirements of 21 CFR 812, how the IDE program works and how investigational devices need to navigate the IDE process:
How investigational device exemptions are regulated under 21 CFR Part 812
The purpose of an IDE under 21 CFR Part 812 is to encourage the discovery and development of useful devices, with the proviso that "protection of the public health and safety" is preserved. FDA wants revolutionary new devices to be tested, as long as safety and ethics are kept a priority.
Which devices generally qualify for an IDE? It comes down to clinical study requirements needed for some device submissions as well as the type of risk, significant or nonsignificant, associated with the device.
IDE for clinical studies
In general, PMA applications require clinical studies as part of its go-to-market process, although a small number of 510(k) applications also need clinical studies, too.
Here are some examples of clinical study cases in which an IDE is most likely NOT required:
If your study is not for any indication outside of what the label already says

If your study is not intended to support any significant change in labeling

If you have a diagnostic device that complies with all of the following statements:

The diagnostic device complies with the labeling requirements of 21 CFR 809.10(c), AND

The testing is non-invasive, AND

The testing does not require invasive sampling procedures that present Significant Risk, AND

The testing does not introduce energy into the subject, AND

The testing is not used as a diagnostic procedure without the confirmation of the diagnosis by another medically established diagnostic product or procedure.
Significant risk vs. nonsignificant risk
FDA has a set of criteria for determining significant risk and nonsignificant risk. Depending on which type of risk a device is classified as, different requirements from 21 CFR Part 812 will apply. The criteria can come down to interpretation (like many other things with medical devices!), and the key is to be able to back up your interpretation with evidence.
If your device does require an IDE and is classified under the significant risk category, it must meet all requirements under the 21 CFR Part 812 regulations. If it is classified as nonsignificant risk, it will need to meet an abbreviated set of those requirements.
How device risk determines which 21 CFR 812 requirements apply
The next obvious question is, how does FDA distinguish between a significant risk device and a nonsignificant risk device?
Significant risk devices
Under 21 CFR §812.3, a significant risk device is an investigational device that:
(1) Is intended as an implant and presents a potential for serious risk to the health, safety, or welfare of a subject;
(2) Is purported or represented to be for a use in supporting or sustaining human life and presents a potential for serious risk to the health, safety, or welfare of a subject;
(3) Is for a use of substantial importance in diagnosing, curing, mitigating, or treating disease, or otherwise preventing impairment of human health and presents a potential for serious risk to the health, safety, or welfare of a subject; or
(4) Otherwise presents a potential for serious risk to the health, safety, or welfare of a subject.
Additionally, significant risk devices are required to have both FDA and IRB (Institutional Review Board) approval prior to commencing a clinical study.
Nonsignificant risk devices
FDA considers investigational devices with nonsignificant risk to be:
[D]evices that do not pose a significant risk to the human subjects. Examples include most daily-wear contact lenses and lens solutions, ultrasonic dental scalers, and Foley catheters.
Investigational devices that carry nonsignificant risk require only IRB approval, and not that of FDA, before commencing a clinical study.
Learn more about how FDA distinguishes between these two types of risk in the guidance document, Significant Risk and Nonsignificant Risk Medical Device Studies.
Who determines the risk?
The sponsor of the IDE application makes an initial determination as to the level of risk associated with a device. FDA defines a sponsor as:
...a person or other entity that initiates but does not actually conduct the investigation. An entity other than an individual (e.g., a corporation or an agency) that uses one or more of its own employees to conduct an investigation that it has initiated is considered to be a sponsor, not a sponsor-investigator, and the employees are considered to be investigators. The sponsor of an IDE must be located in the United States (see 21 CFR 812.18).
Once the sponsor has provided key information related to an investigational device, it undergoes IRB review and an initial risk determination is made. If there is any disagreement among IRB members, the IRB must inform the clinical investigator and often the sponsor, too.
What is the IDE application & approval process under 21 CFR Part 812?
The required elements of an IDE application are laid in 21 CFR Part 812 and consist of thirteen steps. These steps include methods, plans and investigational reports. The application itself is relatively extensive in terms of the required steps to be taken by the manufacturer.
Upon IDE approval, manufacturers must comply with a set of requirements in order to conduct their investigation according to IDE regulations under 21 CFR 812:
One thing to consider which may alleviate some aspects of the IDE application process is taking advantage of FDA's Pre-submission program. This early interaction with FDA can ensure that a sponsor properly understands the IDE application process and IDE requirements under 21 CFR Part 812. It's also an opportunity for FDA personnel to better understand the technology.
FDA endorses this by stating: "Increased interaction between the FDA and sponsors may speed the regulatory process and minimize delays in the development of useful devices intended for human use."
You can learn more about the FDA Pre-Submission process here.
How IDE manufacturers can simplify compliance with 21 CFR Part 812
Thanks to 21 CFR 812, an Investigational Device Exemption allows manufacturers to conduct clinical studies on devices where otherwise the risk would prohibit patient use without FDA approval. It's a creative way to legally gather the required clinical data necessary to show that your device is safe and effective.
As with any other sort of medical device application, it's crucial that you have an easily accessible and reliable QMS that can safely and securely store all IDE records of device studies and provide ongoing support throughout the IDE process.
Greenlight Guru's QMS software is specifically built for medical devices and can easily support and facilitate the entire IDE process. Compliance with 21 CFR Part 812 is simplified with Greenlight Guru, allowing manufacturers to bring safe and effective devices to market faster. Get your free demo of Greenlight Guru today.
---
Looking for a design control solution to help you bring safer medical devices to market faster with less risk? Click here to take a quick tour of Greenlight Guru's Medical Device QMS software