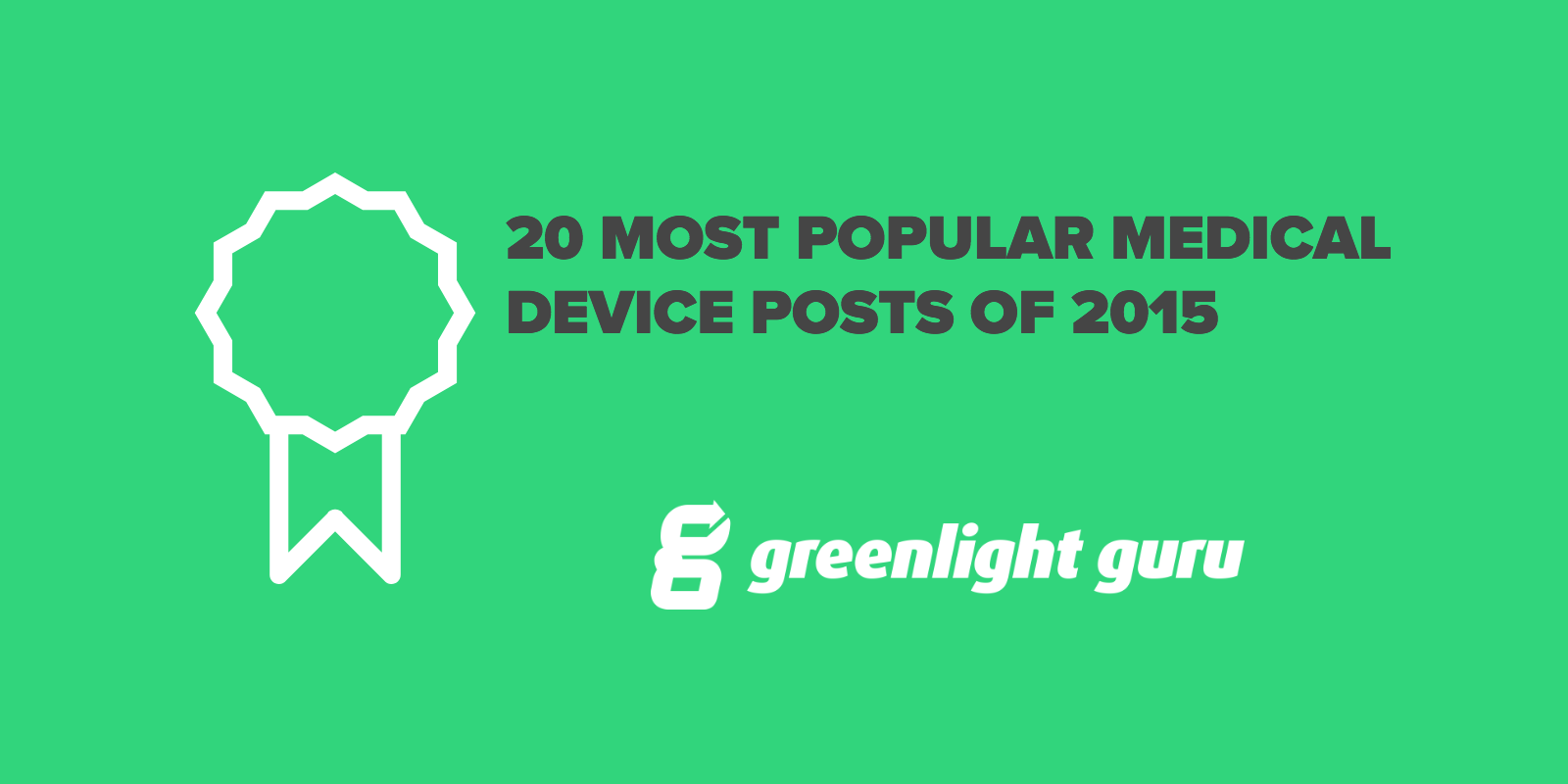 2015 was a huge year for Greenlight Guru!
A lot happened.
From publically launching our product in February, to being named one of the "20 Most Promising QMS Solution Providers" in July, to shaking up the eQMS landscape with the releasing our Risk Management module in September, to seeing our team more than double in size, it has been an exciting ride.
(p.s. if you'd like to join us, we're hiring)
And somehow, in the midst of all that, our founder and VP of QA/RA, Jon Speer, managed to publish over 85(!) pieces of content between both our blog and guest posts on leading industry publications like MedCity News, QMed, Med Device Online and many more.
I guess summarizing our best content of the year is, in a way, an attempt to wrap it all up.
I've broken our 20 most popular posts into two categorizes; those articles published originally on our blog and those articles originally published as guest posts.
Alright, so without further adieu, these are the 20 most popular posts published by Greenlight Guru in 2015.
(I also added 5 bonus posts at the bottom.)
Most popular on our blog….
1. The Ultimate Guide to Design Controls for Medical Device Startups
2. The Definitive Guide to ISO 14971 Risk Management for Medical Devices
3. Understanding ISO 14971 Medical Device Risk Management
4. The Beginner's Guide to Design Verification and Design Validation for Medical Devices
5. A Brief Introduction to Medical Device Risk Management (Plus 5 Tips)
6. 5 Tips to Help Your FDA 510(k) Submission (checklist included)
7. How to Flush $400,000 Down the Drain Fighting the FDA
8. A Step-by-Step Guide to Determine How Your Medical Device Will Be Classified
9. The Art of Defining Design Inputs and Design Outputs
10. Design Reviews – Are More or Less Better?
Most popular guest posts….
1. 15 Items Medical Device Startups Need to Address (MedCity News)
2. Why Medical Device Startups Need to master Juggling and Balancing with Focus (MedCity News)
3. 4 Medical Device Quality System Musts for Startups (MedCity News)
4. Stop Treating Risk Management & Design Controls as Checkbox Activities (Med Device Online)
5. 4 Reasons Your Risk Management Approach is Wrong (MedTech Intelligence)
6. 3 Tips for Managing Your Medical Device Design History File (Medical Design Technology)
7. The Medtech Adventures of Eddy the Engineer (QMed)
8. 3 Steps to Getting Your Medical Device Startup Off the Ground (MedCity News)
9. Top Three Document Management Tips for Medical Device Companies (Quality Digest)
10. 7 Steps to Respond to FDA 483 Inspection Observations (MedTech Intelligence)
Bonus posts...
1. Sandstone Diagnostics Case Study: Moving from a Paper-based QMS to Greenlight Guru
2. How Smart Medical Device Startups Avoid FDA Disasters [Panel Recap]
3. How to Avoid a Medtech Documents & Records Scavenger Hunt
4. Paper System Are the Riskiest Way to Manage Medical Device Projects
5. LITG Case Study: Easily Documenting Design Controls to Accelerate Product Development
What post was YOUR favorite?