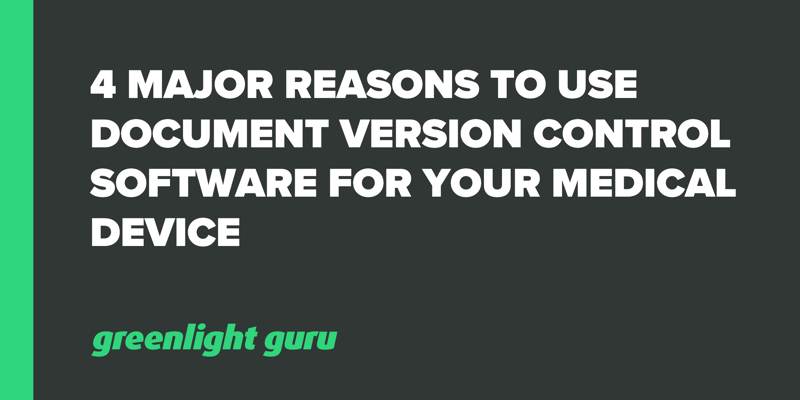 With the incredible volume of documentation required by the FDA and ISO, using a document control system is a virtual no-brainer for any company in the medical device industry.
What's often overlooked by new and experienced device makers are the benefits associated with a feature-rich document management system that's specially built to facilitate FDA and ISO compliance.
Document version control is one of the essential features that sets amateur-ish or insufficient document management systems apart from the ones that the most successful medical device companies use to get to market faster, reduce costs, mitigate risks, and solidify great returns for their investors.
Document version control is about more than maintaining good records – it's a feature set that saves you time and adds tremendous value to your business, while protecting you from costly and inconvenient audit mishaps.
Let's discuss some of the ways you can turn document version control software into a major advantage for your medical device company.
FREE DOWNLOAD: Click here to learn how your organization can benefit from a formal document management solution.
#1. Document Version Control Facilitates Timely Editing and Revisions
Collaboration is an essential process in a business that requires extensive documentation of processes and quality, both from an engineering and human resources standpoint.
The ability to access progressive versions of the same document ensure that your business always knows where its latest documents are, and who is working on them.
Authorized users can check out a document from your company's virtual repository, make updates or modifications, and even set up review tracks before checking the document back in.
Checked-in documents are immediately ready for editing or review by other team members – no endless emails exchanging documents or boxes of print-outs necessary. Real-time collaboration reduces project latency and helps your business run smoother.
#2. Document Version Control Enables Ready Access to all Data
When there are several individuals or groups working on the same documents, sharing the files through email or Dropbox (or in a file folder), how will you know where the latest version is? How will anyone know? Is everyone writing down their name and the date of their editions?
Version control software ensures that you can always find the latest version (or any other version) of any document needed to inform you or an auditor about your business.
Document version control requires authors to check-out files, and it updates version histories automatically, so you'll always have the most up-to-date version available, and you'll know who made the changes that you're seeing.
The result is total availability and transparency of documentation throughout your business.
#3. Detailed Version Histories Enhance Document Security
A cloud-based document management system is already a significant boon to document security for your medical device business. With cloud storage, there's no risk of data simply disappearing in case someone loses or breaks their computer or misplaces a box full of documents.
Document version control enacts a further layer of security for your business's intellectual property – not only are you protected from loss of data, but accidentally deleted or erroneously modified documents are easily restored to their previous state.
Even if someone gained access to your system with the intention of destroying your vital proprietary data, it would be impossible. A detailed document version history stored in the cloud is the ideal security solution when data loss would be a total disaster for your business.
#4. Document Version Tracking Facilitates Audit Requirements
The increase in documentation requirements by the FDA and ISO have made paper record-keeping totally impractical, and medical device companies are quickly transitioning to cloud-based documentation for design controls and other compliance requirements.
Document version tracking helps to facilitate audit requirements for both organizations in several ways:
21 CFR Part 11
FDA 21 CFR Part 11.10(e) – Title 21 of the Code of Federal Regulations deals with laws for food and drugs, defining the scope and powers of the United States FDA.
Part 11 indicates that companies who use electronic records must use "secure, computer-generated, time-stamped audit trails to independently record the data and time of operator entries, and actions that create, modify, or delete electronic records."
A document version tracking system is an ideal means of adhering to this regulation and avoiding any warning letters after your FDA audit. Many critical documents require signatures from your team members, and this legislation is meant to ensure that signatures provided electronically are legally valid.
21 CFR Part 820
FDA Part 820.40 – Manufacturers are required to designate an individual to review and approve changes to documentation, including recording the date and providing a signature to indicate when the change was approved.
Further, each manufacturer is meant to keep records of changes to documents. The records must include descriptions of the change, what documents were involved, and a signature of approval. Following best practices in document management helps avoid many of the headaches associated with these requirements for medical device companies with managing change.
An effective document version control software automatically records the creation and modification of any document, streamlining constant FDA compliance throughout the document-change process.
ISO 13485:2016
ISO 13485:2016 – ISO 13485:2016 lays out the latest requirements for quality management standardization practices in the medical devices industry. Companies can apply the standards here to improve their brand image and practices, save costs, and improve customer satisfaction.
The standards of ISO 13485:2016 are rigorous and create a need for extensive record-keeping – your auditor will verify your compliance with medical medical device QMS requirements by reviewing any or all of the documentation required by ISO 13485, as it pertains to each type/model of medical device you manage.
Document version control software ensures that you'll be able to find the most up-to-date version of any document or file requested by ISO auditors, speeding up the auditing process and helping you towards your valuable ISO certification.
ISO 14971:2019
ISO 14971 – This standard deals with risk management in medical devices and is recognized in the US, EU and many other parts of the world. As with other standards mentioned here, manufacturers must produce, continually modify, and securely store the documents within their quality management system for compliance.
Manufacturers must be able to show proof of benefit-risk analyses for all risks, that risks have been reduced as far as possible without adversely affecting the benefit-risk ratio, and appropriate safety information.
Again, the ability to track and store live versions of these documents ensures that they will be available in their most up-to-date form, with approval from the designated person, on the day of your audit.
Choosing A Document Version Control Software Solution
When considering which quality management system solution to choose from for managing your document version control, medical device companies should go with a system that is designed specifically to address their unique needs.
Greenlight Guru's medical device QMS (MDQMS) software allows manufacturers to easily access up-to-date documents with a click of the mouse, so you can say goodbye to chasing down stakeholders and documents during an audit or inspection.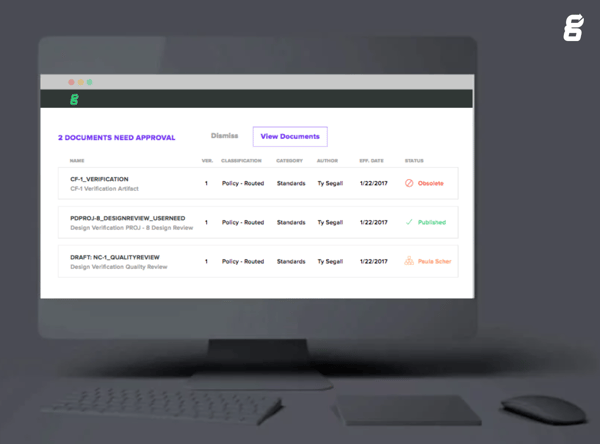 Our purpose-built QMS software comes out of the box with complete version control, Part 11 compliant e-signatures, flexible review and approval workflows, role-based security, and more. Get your free demo of Greenlight Guru's advanced document management software by clicking here.
FREE DOWNLOAD: Click here to learn how your organization can benefit from a formal document management solution.
Final Thoughts
Document version control software is a requirement for any medical device manufacturer that's serious about saving time, maintaining document security, and getting to market quickly.
Version control features facilitate collaboration, ensure immediate access to current versions of all documents, and are virtually required for many types of non-voluntary FDA and ISO compliance.
---
Looking for a design control solution to help you bring safer medical devices to market faster with less risk? Click here to take a quick tour of Greenlight Guru's Medical Device QMS software →