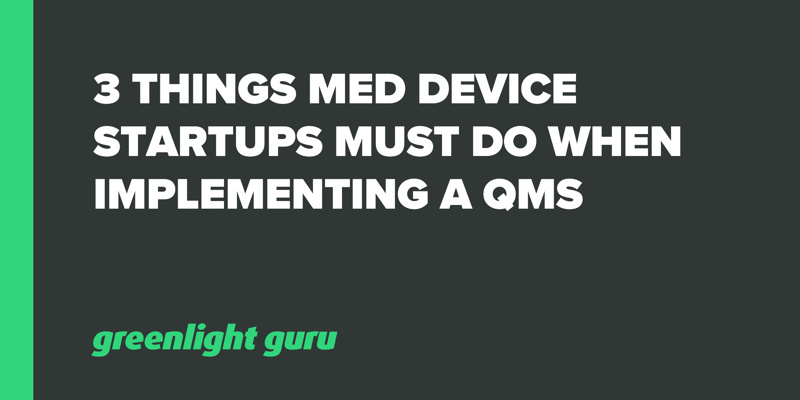 I often hear early-stage medical device companies say they're not ready for a quality management system (QMS).
"It's too early to get bogged down with those details."
"We don't even have our prototype done yet."
"We're just not ready for design controls."
And while I understand and empathize with that way of thinking, the truth is that delaying the implementation of a QMS will come back to bite you later. The earlier you can implement a QMS, the easier your life will be down the road when you're making changes to your product, being audited, or exploring an acquisition.
It's all about starting with the end in mind.
FREE TOOLKIT: Access 22 checklists, templates & eBooks with actionable best practices and tips, specifically for medical device startups — all in a single download by clicking here.
1. Understand the role a quality system plays in bringing a medical device to market.
There isn't one single, best way to implement a QMS. It isn't like building furniture from IKEA, where you have to follow a set of specific instructions if you want to sit down safely when you're done. If you're an early-stage company with one prototype, the QMS you use will look very different from that of a late-stage company with several products in their portfolio.
A QMS is simply a system that documents all the procedures and processes you use in the design, manufacture, and distribution of your device. This includes risk management, supplier management, product labeling, complaint handling procedures, and much more.
Practically every major market for medical devices requires manufacturers to implement and maintain a QMS. In the US, companies must comply with FDA's Quality System Regulation (QSR), which can be found in 21 CFR Part 820. However, the FDA enforces that compliance through formal inspections, so it's essential that your QMS is prepared to withstand scrutiny at all times.
In Europe, ISO 13485 is the standard that manufacturers follow when implementing their QMS. For all but the lowest-risk device class, demonstrated compliance with ISO 13845 is necessary to obtain the CE marking that allows a product to be sold in the EU.
2. Make the connection between high quality data and the success of your product.
I want to be very clear—implementing a QMS is not about compliance.
It shouldn't be viewed as an obligation or a set of hoops to jump through. Your QMS is an integral part of creating a safe, effective medical device that stays on the market and improves the quality of life for as many people as possible.
Waiting to implement your QMS until you have a prototype or you're in clinical trials is inefficient because it forces you to backtrack and generate the data that should have been captured along the way. And while playing catch up is possible, it puts you in an extremely vulnerable position when you're in the hot seat of an FDA inspection.
Keep in mind, FDA isn't the only entity that will care about whether your data is up to par.
A partnership or acquisition can easily be derailed by a lack of data. These key stakeholders will want to see objective evidence that shows you're controlling your data in an unimpeachable manner.
And if you can't demonstrate the high quality data standing between you and an investment, it plants a seed of doubt in investors' minds. They see your data, but there is no audit trail to back it up. That's risk they now have to assume if they move forward with your company. This can lead to investors offering a lower valuation or partners walking away from a deal.
On the other hand, you'll instill confidence in those same stakeholders if you can show them a well-structured QMS that will pass an audit with flying colors.
3. Choose a QMS that will scale with your company.
A lot of the resistance to implementing a QMS comes from a perception that all quality management systems are too cumbersome and inflexible for a smaller company to handle. But this couldn't be further from the truth.
You don't have to start by building out every workflow of your QMS at once. You don't need to implement everything in ISO 13845 or 21 CFR 820 immediately. In fact, you shouldn't. Identify early on which aspects of the QMS you must have in place to get started, and then create a plan for how it will evolve as you grow.
For example, if you're bootstrapping your QMS, you might start out with some document controls and a few policies on design controls, risk management, and supplier management. Peer review might be as simple as having the engineers stop, review what they're working on, and then document that they've done that and up-rev the documentation.
It's unrealistic to expect a small startup without the necessary resources to implement an enterprise-style QMS. You can start with a lean QMS as long as you're doing what's right for patients and stakeholders. And remember, if your QMS feels onerous, then it's probably not the right size for your company.
FREE TOOLKIT: Access 22 checklists, templates & eBooks with actionable best practices and tips, specifically for medical device startups — all in a single download by clicking here.

Bring safer medical devices to market faster with the only medical device success platform.
If your medical device company is still in its infancy, it can be tempting to wait on implementing a formal QMS—especially if you've heard they can be difficult to construct or manage later on.
But a one-size-fits-all QMS isn't your only option. Greenlight Guru's Medical Device Success Platform (MDSP) allows you to build the perfect QMS for your business. Better yet, it provides you with an easily navigable visual representation of your entire QMS and each of its functioning components, allowing you to demonstrate full closed-loop traceability.
Don't let QMS dread keep you from acting. Get in touch with us today to get your free demo!
---
Looking for a design control solution to help you bring safer medical devices to market faster with less risk? Click here to take a quick tour of Greenlight Guru's Medical Device QMS software