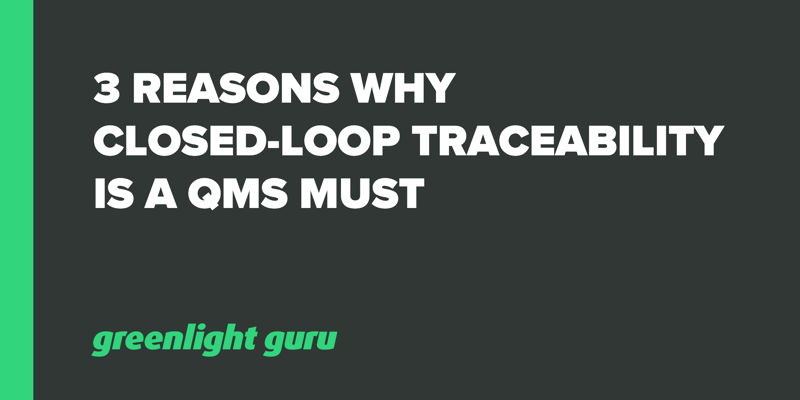 There is a growing expectation in the medical device industry of manufacturers to demonstrate closed-loop traceability of all quality system processes.
In the US, for instance, identification and traceability is a requirement of FDA's quality system regulation where manufacturers must establish "procedures for identifying product during all stages of receipt, production, distribution, and installation to prevent mixups." This is to ensure that companies are closing the loop between all pre- and post-market activities.
A connected system that closes this loop between processes is known as closed-loop traceability (CLT).
The issue for medical device companies is that the regulatory bodies that uphold compliance requirements are putting a renewed emphasis on manufacturers' ability to demonstrate CLT. And many are unable to do so.
According to our 2020 State of Medical Device Product Development and Quality Management Report, nearly half of respondents stated they cannot demonstrate closed-loop traceability.
To be fair, CLT is much easier said than done. Without a purpose-built quality system equipped with capabilities to achieve full life cycle traceability, cross-referencing items between multitudes of spreadsheets and documents could take weeks—if not months—with no guarantee of effectiveness.
Here are three reasons why closed-loop traceability is a function your QMS must be able to perform.
Closed-loop traceability simplifies complex documents and records
As the complexity of your QMS grows, so will the need for having traceability of all documents and records related to your medical device. The number of interconnected relationships, however, is simply too massive for legacy systems to process and do so effectively.
Our industry benchmark report showed that achieving traceability involves a substantial amount of time and effort:
Over half of respondents said that ensuring traceability throughout the total product lifecycle is a major pain point.

Of the respondents that can demonstrate CLT, one in three say it takes substantial effort to do so.
The complexity that quality managers must work through in achieving traceability can be costly—even beyond the upfront investment. The more complex your system, the more error-prone manual traceability becomes. One small mistake can ripple throughout your QMS.
The best QMS software automates closed-loop traceability and removes the unpredictability associated with a teams' own interpretation of their quality data. A quality system that provides CLT enables teams to focus on more value-added activities rather than manual, disconnected document management.
A QMS with closed-loop traceability transforms a pile of documents into a system of trackable, viewable relationships. You can save your brain some effort by automatically visualizing all the relationships between your data—some of which you might otherwise miss.
Greenlight Guru Visualize is a revolutionary feature recently added to the medical device QMS (MDQMS) software platform that provides a network view of a medical device company's quality system through machine learning and natural language processing capabilities.
Visualize removes the complexity and burden of achieving closed-loop traceability by allowing companies to see, understand, explore, and communicate data within their quality system in an intuitive, visual format that no other quality management solution can provide.
FREE DOWNLOAD: Learn how you can achieve closed-loop traceability through Greenlight Guru Visualize in this one pager PDF.
Closed-loop traceability improves root cause determination
Every stage of the product life cycle presents an opportunity for potential points of failure to occur. What separates good teams from great teams is their access to a quality system where they can achieve closed-loop traceability of every process associated with their medical device.
Closed-loop traceability can be viewed as the connective tissue between a quality system's product records and quality processes. When this important function is achieved, root cause determination of quality events is dramatically improved, leading to effective resolution of the issue and all of its associated linkages.
Quality systems that don't provide this level of traceability are inherently disconnected, which can breed misaligned teams and inefficient processes. Without closed-loop traceability, enormous time and effort will be required to adequately determine the root cause of a quality event.
A quality system with CLT capabilities enables strongly supported root cause determinations to be made based on data-driven decisions. These solutions provide full connectivity and visibility of quality data in real-time, allowing teams to efficiently determine the cause of any issue and take swift measures to resolve it. This allows for teams to proactively monitor and mitigate risk throughout the total product life cycle.
Greenlight Guru Visualize provides a pop-up visual traceability map powered by Machine Learning and Natural Language Processing capabilities, which can be generated on-demand to show all linked and related items throughout the medical device QMS software.
Visualize allows teams to view their data on a granular level in order to establish meaningful relationships between related items to make the best root cause determination for addressing issues.
Closed-loop traceability streamlines audit and inspection prep time
Preparing for an upcoming audit can be stressful. For many, preparation efforts may include sleepless nights and long work days leading up to the audit, and if it doesn't go as planned (or intended from the manufacturer's standpoint) these efforts become remedial in dealing with citations, fines, and recalls. There's a strong likelihood that this is the likely scenario when depending on legacy tools to manage audits.
Our benchmark report found that of the companies using legacy tools, fewer than 20% feel confident that they could pass an unannounced audit or inspection. This is a problem.
If FDA finds a non-compliant process during an inspection—announced or unannounced—you could be issued a 483 form observation. From there, you have just 15 days to respond. Form 483 observations can evolve into warning letters, which can amount to millions of dollars in corrective fees and take months to fully resolve.
Without the ability to demonstrate CLT throughout your quality system, you're left without the critical means to provide what's most needed when it's needed the most. Furthermore, you're dependent on others doing their job right and left hoping every procedure was documented and followed correctly.
Closed-loop traceability allows you to trace any record or document requested by an auditor or inspector. Rather than running off to dig for documents, everything you need is available with the click of a button.
Greenlight Guru Visualize lets you see your quality system like never before, with granular insights that can be gathered for any project or quality event, with filtering and layering capabilities based on the information most relevant to you.
FREE DOWNLOAD: Learn how you can achieve closed-loop traceability through Greenlight Guru Visualize in this one pager PDF.
Achieving closed-loop traceability has never been easier
There's a growing expectation in the medical device industry that manufacturers must demonstrate closed-loop traceability throughout every product life cycle stage of their quality system.
Teams will be more efficient in accomplishing this when given the right tools that make doing so an effortless task. The benefits of such purpose-built tools stack up and compound.
Greenlight Guru's MDQMS makes achieving closed-loop traceability easier than ever with capabilities built into the platform that enable teams to take a proactive, preventative approach to managing and visualizing the connectedness of their quality system.
See it for yourself by scheduling a live demo of our MDQMS software today.
---
Looking for an all-in-one QMS solution to advance the success of your in-market devices that can integrate your post-market activities with product development efforts? Click here to take a quick tour of Greenlight Guru's Medical Device QMS software →