Experienced medical device professionals can agree that investing in quality early on and putting it at the forefront of building a company can give you a competitive advantage. Whether it be an early-stage company or one with a device already on the market, taking a quality-first approach by establishing a robust electronic Quality Management System (eQMS) will set the foundation for scalable growth and propel your company towards success.
After acquiring a product [from Stryker], the experienced team of medical device professionals at Critical Care Diagnostics (C2DX), Inc. knew they had to ensure 4 things to be successful:
Establish a quality-first approach to the company's culture

Complete the acquisition and continue delivering a high-quality device

Quickly implement an electronic quality management system that could act as a foundation for both their initial needs and future growth

Provide the same customer experience customers had grown to expect from Stryker
C2DX, INC: PUTTING QUALITY FIRST TO DELIVER A GOLD STANDARD PRODUCT FOR MONITORING COMPARTMENTAL PRESSURE

After previously starting and operating two medical devices companies, Kevin McLeod, CEO of C2DX, Inc., came across the opportunity to acquire a product used for diagnosing Compartment Syndrome - known as the STIC Intra-Compartmental Pressure Monitor System. This device has been used for over 30 years and has clinical data supporting why it is the Gold Standard tool used by physicians to promptly diagnose and monitor compartmental pressure in patients.
The team at C2DX, Inc. values quality and views it as the backbone of their organization. They know that quality is about more than just product quality and that it touches everything in the business - and it started with a solid quality system. To ensure customer satisfaction and deliver a Gold Standard product, C2DX, Inc. prioritized quality first when starting the company.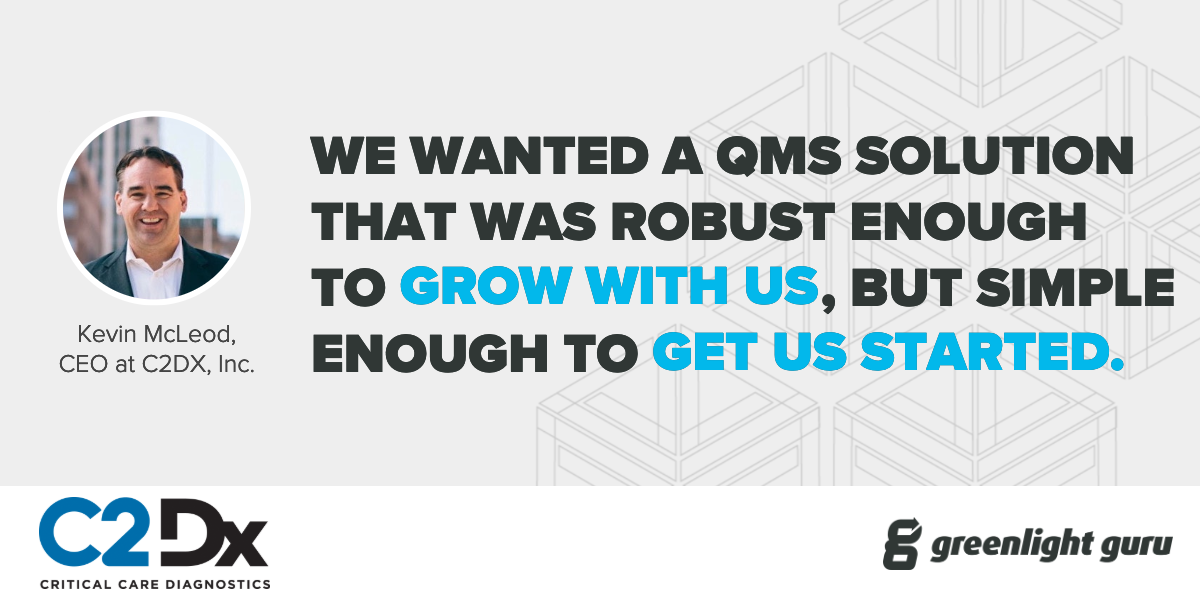 identifying the NEED FOR DIGITAL QUALITY SOLUTION THAT WILL SET THEM UP TO SCALE

Knowing that quality is the backbone of a medical device company, the team at C2DX was determined to find a quality solution that would create a solid foundation for their company.
Amy Papranec, VP of Operations, came to C2DX, Inc. after her 27 years at Stryker and work as an Executive Mentor at MATTER, a healthcare incubator in Chicago. In her prior role with MATTER, she witnessed early-stage medical device companies adopt manual processes, limiting them from further growth. After seeing the impact of manual processes on small companies, Amy knew that investing in quality up-front and establishing a robust quality system would be a differentiator for C2DX, Inc.
"It was very critical that we needed a good system coming out of the gate - one that we could get implemented quickly." - Amy Papranec, VP of Operations
Ryan Eggleston, Director of QA/RA at C2DX, Inc., came on as a consultant initially and before joining the team full time. From his prior experiences in quality, Ryan knew that implementing a QMS was not always as seamless as planned. He had first-hand experience with the cultural shift of using an electronic solution at a company, as well as the responsibility of monitoring and documenting procedures around the use of that system.
Amy, Rick Huyser (VP of Engineering) and the rest of the team at C2DX, Inc. knew the advantages of investing in an electronic quality management system (eQMS). They were confident that by implementing a scalable quality system, they would continue to deliver a high-quality device and focus their time and efforts on growing the company.
setting A SOLID FOUNDATION FOR QUALITY WITH AN MDQMS
Getting quality right from the start was very important for C2DX, Inc. They were in need of an out-of-the-box solution that would act as the cornerstone of how they managed quality moving forward. After recognizing the value of an investment in a robust quality system, C2DX, Inc. elected to go with Greenlight Guru's medical device QMS (MDQMS).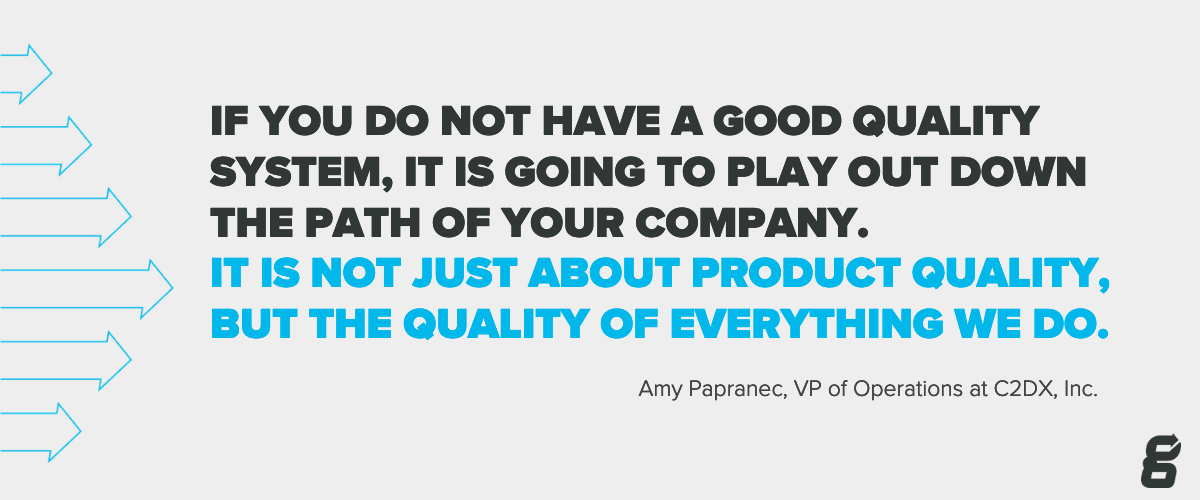 For C2DX, Inc., implementing Greenlight Guru was a quick and easy process due to the intuitiveness of the software. They were able to fully implement an audit-ready electronic quality system within 30 days.
"Greenlight Guru provides a great foundation. We don't have to reinvent the wheel. We don't have to spend a lot of energy on developing a quality system - it's about growing our quality system." - Amy Papranec, VP of Operations
After 27 years of experience in the medical device industry using predominantly paper, Rick Huyser, VP of Engineering at C2DX, Inc., realized that the transition to using an MDQMS was a big upgrade from carrying around binders of documentation. He led the implementation of Greenlight Guru and was pleased by the intuitiveness of the system and its efficiency when uploading documents, making revisions, and gathering signatures.
Rick also values having a fully validated system. It is a huge advantage that "enables their team to focus on value-added activities" leading up to audits and the launch of their device in new markets.
STREAMLINING PROCESSES AND IMPRESSING AUDITORS

From day one, the team at C2DX, Inc. was able to easily adopt Greenlight Guru and incorporate its use into their daily activities from document management to post-market quality event workflows such as audits and non-conformances. Leveraging Greenlight Guru helped facilitate design transfer to contract manufacturers after they acquired the product, made training and bringing on new hires easier, and expedited their audit preparation efforts.
"There is a seamless integration between all of the modules - and once you understand how one module works you can really understand how the whole system then works." - Ryan Eggleston, Director of QA/RA
Along with MDQMS software, C2DX, Inc. also purchased Greenlight Guru's audit proven Standard Operating Procedure (SOP) templates, which allowed them to efficiently review and update their quality procedures. Through Greenlight Guru, Rick was able to instantly publish these procedures in their MDQMS and route them for signatures from distributed team members that were working in different locations at the time.
In addition to streamlining their efforts to manage quality, C2DX, Inc. was also able to make significant progress towards their target timelines by getting FDA approval within 30 days and experiencing successful audits for MDSAP and ISO certifications - all after implementing the system only weeks before.
After experiencing his first truly paperless audit, Ryan confidently accredits the timeline of their successes to Greenlight Guru. Amy recalls that, during these audits, the auditors were thoroughly impressed by their quality system and its efficiency. When she asked auditors how their results compared to other companies like themselves, the auditors commented that there was no comparison because they were a step ahead of the rest by using a software solution like Greenlight Guru.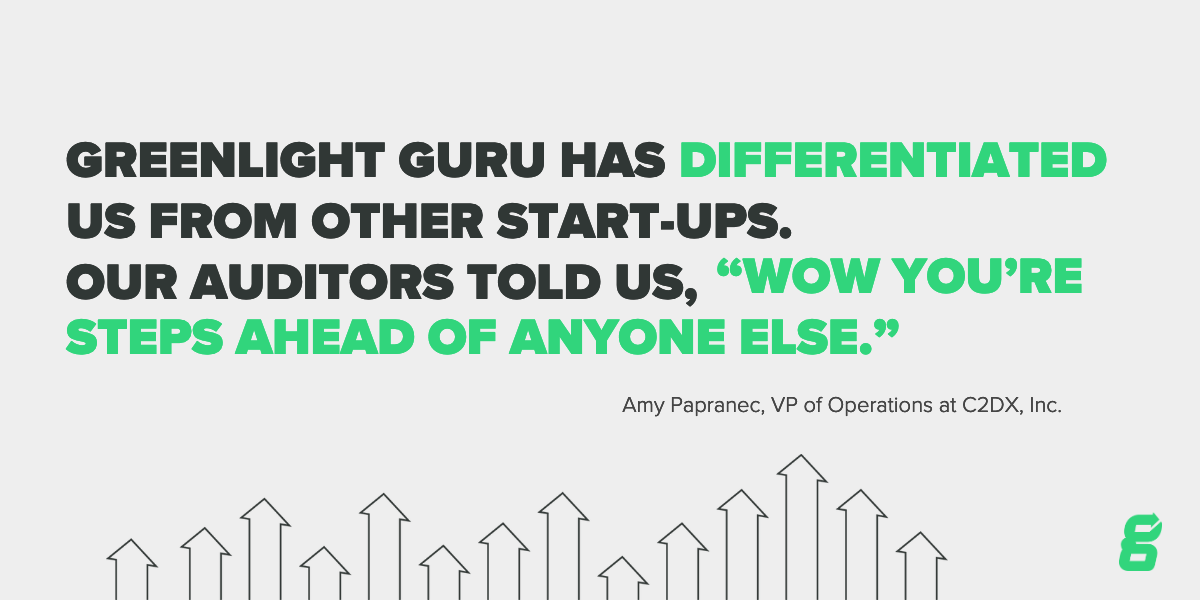 RECOMMENDING GREENLIGHT GURU: EASE OF USE + EXCEPTIONAL SUPPORT
Each person at C2DX, Inc. has varying reasons for why they would recommend Greenlight Guru. Ryan assures that his peace of mind is attributed to Greenlight Guru's fully integrated and easy to use MDQMS, making it stand apart from the rest. From their projects, and risk controls, to ongoing management of their in-market device, Ryan values the seamless integration throughout the whole system that enables them with full life-cycle traceability.
Aside from the intuitive, easy-to-use software, both Rick and Ryan value the relationship between C2DX, Inc. and the Customer Success team at Greenlight Guru.
Ryan explains, "Working with Greenlight Guru does not feel like a transactional relationship, rather it feels like a partnership." Rick knows that he will always receive prompt support from the team if he has a question about functionality and appreciates their efforts to continuously evolve the software and include their requests and/or feedback.
Prioritizing and investing in quality at the beginning of their journey has provided C2DX, Inc. with a solid foundation for managing quality that supports the growth of their company as they plan to scale. Greenlight Guru has enabled them with a purpose-built solution that meets their needs for delivering high-quality products. C2DX, Inc. is primed for their next stage of growth, whether that be to acquire additional products or develop devices of their own.
---