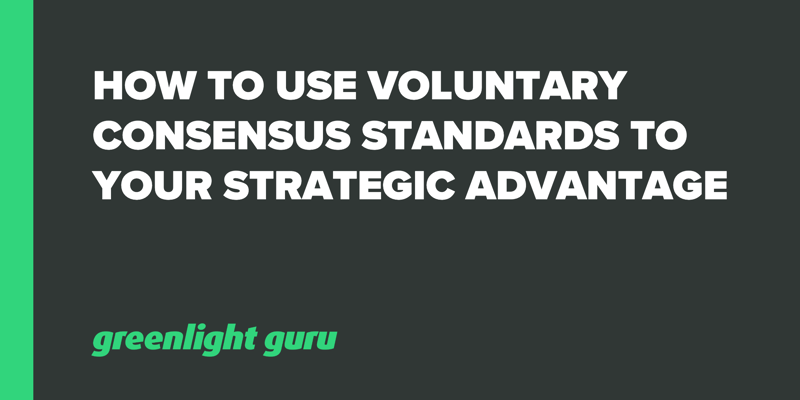 If we were to say that it's okay if you don't follow all relevant standards when you develop your medical device, you'd probably think we were a bit crazy, right?
Well here it is - it's okay if you don't follow all relevant standards when you develop your medical device!
Not all standards in all markets are required. Some standards are voluntary, such as being ISO 13485:2016 certified for a device only being marketed in the US. This means you can (sometimes) choose to comply with standards...or not.
Of course, the enforcers of those rulebooks ultimately get the final say on whether your medical device will be authorized for market distribution and sale, so this isn't something to consider lightly.
In fact, the FDA and other regulatory bodies have been known to give voluntary consensus standards certain sanctions by citing them in laws, regulations and codes. As the manufacturer, it's important to understand how these standards can impact your regulatory strategy and why any of it actually matters.
Let's take a look at some of the specific ways in which you can use medical device voluntary consensus standards to your strategic advantage.
What are voluntary consensus standards?
Voluntary consensus standards are developed by national and international bodies and contain precise criteria that are meant to be used as guidelines in the development of products and processes.
Some examples of these standard bodies in the medical device industry include:
Voluntary consensus standards are important to consider in terms of the priorities of the target market for your device. For example, the American Academy of Orthopedic Surgeons (AAOS) expects certain standards to be met in order to qualify for their endorsement of any medical device. AAOS also supports the participation of orthopedic surgeons in the development of such standards.
Below is a statement from the AAOS that highlights reasons why medical device developers should be concerned with voluntary consensus standards:
The AAOS firmly believes that clinical orthopaedic contributions to the development of standards for orthopaedic devices will ensure the protection of our patients' vital interests in the consensus development of these standards. Orthopaedic surgeons participating in the development of medical and surgical device standards must consider patient safety above any other factor considered in the consensus process.
In other words, stakeholders from your target market may be involved in the development of certain voluntary consensus standards, so they are worth your consideration.
FDA recognized voluntary consensus standards
FDA recognizes that voluntary consensus standards can be a valuable resource for the medical device industry and its stakeholders. In their published guidance document, Appropriate Use of Voluntary Consensus Standards in Premarket Submissions for Medical Devices, FDA states:
The use of consensus standards can increase predictability, streamline premarket review, provide clearer regulatory expectations, and facilitate market entry for safe and effective medical products. Consensus standards provide a consensus approach to certain aspects of the evaluation of device safety and effectiveness, such as testing methods, acceptance criteria, and processes to address areas such as risk management and usability. The use of consensus standards can also promote international harmonization.
In 1996, it was codified into law that policies could be used by federal agencies to improve internal management using voluntary consensus standards developed by other bodies.
This new law meant that government-developed standards may not always be required, as long as those voluntary consensus standards are not inconsistent with the law or otherwise considered to be impractical.
In 2018, FDA issued an updated guidance document on the appropriate use of voluntary consensus standards, which outlines five attributes that consensus standards should meet to gain CDRH recognition:
Openness to all interested parties during the standard's development processes and procedures;

Balance in the standard's development process in terms of input from a broad range of stakeholders;

Due process in terms of documented, transparent and publicly available policies and procedures during the development of standard;

The appeals process in place for impartially addressing procedural appeals;

Consensus in terms of general agreement among stakeholders regarding the standard's final iteration.
FDA provides a public database in which all recognized consensus standards can be found. Requests for new or changes to existing consensus standards can be made to FDA for their assessment of whether it can be added to their recognized list. You can initiate a request by navigating to the "Submitting a Request for Recognition" subsection of FDA's Standards and Conformity Assessment Program page.
Once FDA has assessed a request to recognize a consensus standard, it will issue a decision letter. This may be a determination to grant full recognition, partial recognition or non-recognition.
This determination is based upon scientific, technical or regulatory criteria. If the ruling is for partial recognition, FDA will identify which components of a standard are not recognized.
Appropriate use of voluntary consensus standards
As the term "voluntary" implies, consensus standards are not mandatory for medical device premarket submissions to FDA, that is, unless the standard has been incorporated by reference into a regulation. This means that you may choose to use appropriate consensus standards, or address issues relevant to approval and clearance in another manner.
One thing to remember is that the use of consensus standards usually only satisfies a portion of a premarket submission. This means that you may need to provide additional information to prove the safety and effectiveness of your medical device.
It's important to acknowledge and understand all FDA requirements for your submission.
FDA provides two appropriate ways for manufacturers to use consensus standards in premarket submissions:
Through the declaration of conformity in accordance with section 514(c)(1)(b) of the FD & C Act;

Through general use of consensus standards.
Declaration of Conformity
The purpose of a declaration of conformity is to acknowledge or demonstrate conformance with a FDA recognized standard that assists your company in meeting premarket submission requirements. This conformance should reduce the amount of supporting data and information you are required to submit.
FDA expects that all necessary testing required by the consensus standard will be performed and conformance to the consensus standard will be met prior to the premarket submission. If you are using a consensus standard with your submission, you need to submit a Declaration of Conformity that meets FDA's criteria.
The elements of a Declaration of Conformity are listed below:
Name and address of the applicant/sponsor responsible for the DOC

Product/device identification, including product codes, device marketing name, model number and any other unique product identification data specific to the DOC in question

Statement of conformity

A list of standards for which the DOC applies including, for each standard, the options selected, if any

The FDA recognition number for each standard

The date and place of issuance of the DOC

Signature, printed name, and function of the sponsor responsible for the DOC

Any limitation on the validity of the DOC (e.g., how long the declaration is valid, what was tested, or concessions made about the testing outcomes).
It's important to note that if your device type is not included within the scope of that standard, you as the submitter must explain why that consensus standard is appropriate for your device.
General use of consensus standards
General use refers to situations where you might choose to conform to a consensus standard either in part or in whole, but without submitting a Declaration of Conformity.
There are many potential reasons for not submitting a Declaration of Conformity, but some of the most common include:
The manufacturer has simply chosen not to submit a DOC

The manufacturer has made deviations from the consensus standard methodology relative to what the FDA has already recognized

The manufacturer has chosen to use a consensus standard that is not yet recognized. They might do this if there is no recognized standard yet for the device type.
If you are citing general use of consensus standards, FDA recommends that you include the basis of such use, including underlying information or data to support the use of the standard.
A solution for leveraging voluntary consensus standards
How can you use voluntary consensus standards to demonstrate compliance and get to market faster?
One way you can leverage voluntary consensus standards and provide the necessary proof required by FDA is to have the best QMS software with supporting functions that can complete the necessary tasks in a streamlined, compliant manner.
The best QMS solutions are automatically kept up-to-date with version control document management will ensure you're not scrambling to find appropriate documentation or evidence of reviews.
Greenlight Guru is the only QMS software for medical devices that incorporates the latest regulatory requirements and best practices from standards and regulations around the world to help you bring safer, higher quality medical devices to market faster.
Get your free demo of our QMS software today to see how Greenlight Guru can help you leverage consensus standards and ensure true quality outcomes for your medical device.
---
Looking for an all-in-one QMS solution to advance the success of your in-market devices and integrates your post-market activities with product development efforts? Click here to take a quick tour of Greenlight Guru's Medical Device QMS software →