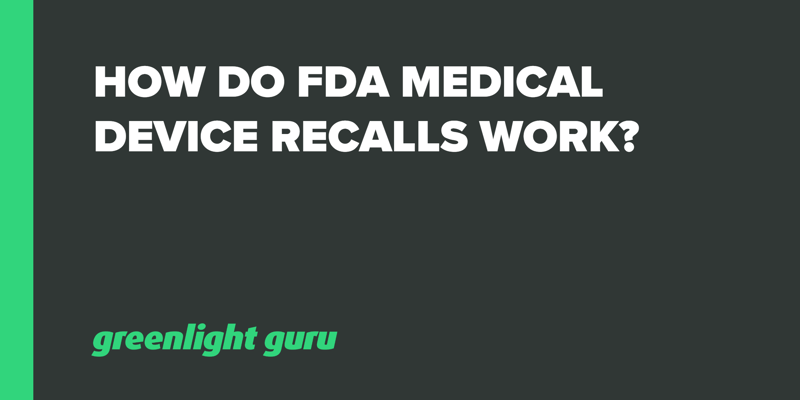 For medical device companies, few things are as valuable as the public's trust.
Medical device manufacturers and distributors have a responsibility to protect public health and safety from defective, misleading, or dangerous products. When problems occur with devices, companies should quickly identify if a recall is needed, develop a solution, and make sure to be transparent throughout the entire process.
That's precisely why the recall process is standardized and monitored by a regulatory body like the FDA. But how do FDA medical device recalls work, and what kind of guidance does the agency provide to medical device manufacturers and importers? Let's take a deeper look at what to expect in FDA medical device recall guidance.
WANT TO BECOME A MEDICAL DEVICE INSIDER? Get VIP access to the best medical device content, checklists/templates & events delivered to your inbox every week by subscribing to our newsletter now!

What is FDA's involvement with medical device recalls?
Although the FDA oversees much of the regulatory process, most medical device recalls begin on the manufacturer's side. Despite the name, recalls don't always mean an immediate removal from use; in fact, recalls can take on the form of a variety of "corrections" such as:
Inspection

Calibration

Basic repair

New labeling

Performing additional tests

Notifying patients

Monitoring users feedback
Medical device recalls are usually conducted voluntarily when manufacturers discover a problem with a device. However, FDA can require a recall if a medical device company refuses to address hazardous product malfunctions. Thankfully, this is not a very common occurrence.
What is the FDA medical device recall process?
Once notified, FDA will begin by completing a Health Hazard Evaluation, which closely investigates the extent of danger involved with the recalled product. In doing so, FDA will consider many points of concern, including:
Any documented disease or injuries from the use of the device.

Any risk to specific segments of the population, e.g., children, surgical patients, pets, livestock, etc.

Assessment of the likelihood of occurrence of the hazard.

Assessment of the after-effects of the hazzards, both immediate or long-range
Once the Health Hazard Evaluation has been completed, FDA will then determine a new classification for the hazardous device -- Class I, II, or III.
Class I - a situation in which there is a reasonable probability that the use of, or exposure to, a violative product will cause serious adverse health consequences or death.

Class II - a situation in which use of, or exposure to, a violative product may cause temporary or medically reversible adverse health consequences or where the probability of serious adverse health consequences is remote.

Class III - a situation in which use of, or exposure to, a violative product is not likely to cause adverse health consequences.
With the device classification established, the next step for FDA regulations is to evaluate the company's review strategy. Per FDA definition, a review strategy will need to address the following areas:
Depth of recall to specify how deep into the distribution chain (consumer, retail, or wholesale) the recall should extend.

Public warnings to alert the public of the recalled product and its serious hazard to health. This is reserved for the most urgent situations where alternate methods for preventing a product's use are inadequate.

Effectiveness checks to verify that all consignees (at the recall depth specified by the strategy) have received notification about the recall and have taken appropriate action.
As the medical device company completes its review strategy, FDA requires routine communication and status updates regarding progress.
Finally, the recall may be terminated only when FDA determines that all reasonable efforts have been made to remove or correct the product in accordance with the recall strategy and, "When it is reasonable to assume that the product subject to the recall has been removed and proper disposition or correction has been made commensurate with the degree of hazard of the recalled product."
What FDA guidance exists for medical device recalls?
Voluntary medical device recalls are largely covered under 21 CFR 7, with most of the guidance covering the processes outlined in the section above. However, there are a few additional areas of consideration and guidance for FDA medical device recalls.
Recalls can have a negative impact on a medical device company's ability to do business. With these difficulties in mind, the FDA guidance on quality management systems, 21 CFR 820, provides some additional advice to minimize the impact of recall action.
This advice includes:
Prepare and maintain a current written contingency plan for use in initiating and effecting a recall in accordance with 21 CFR 7.

Use sufficient coding of regulated products to make possible positive lot identification and to facilitate effective recall of all violative lots.

Maintain such product distribution records as necessary to facilitate location of products that are being recalled. Such records should be maintained for a period of time that exceeds the shelf life and expected use of the product and is at least the length of time specified in other applicable regulations concerning records retention.
Mandatory FDA medical device recalls are covered under 21 CFR 810, which outlines the steps the FDA will follow in exercising the medical device recall authority provided under section 518(e) of the Federal Food, Drug, and Cosmetic Act.
Again, these instances are quite rare, and only occur if FDA finds a "reasonable probability that a device intended for human use would cause serious, adverse health consequences or death." If it does take place, though, the procedures for mandatory FDA medical device recalls include:
An order to cease distribution of the device;

A process to immediately notify health professionals and device user facilities of the order

Additional notices to instruct these professionals and device user facilities to cease use of the device.
The final area of consideration for medical device recalls is in 21 CFR 806, which covers reports of corrections and removals. Medical devices, particularly those classified as
Software as a Medical Device (SaMD), often undergo routine upgrades and maintenance.
However, because manufacturers and importers are required to make a report to FDA of any correction or removal of a medical device, this can cause unnecessary recalls.
For that reason, FDA medical device recalls classified as Class III are exempt from reporting requirements, specifically any actions that improve the performance or quality of a device and are not taken to reduce a risk to health posed by the device. These would include market withdrawals, routine servicing, and stock recoveries.
WANT TO BECOME A MEDICAL DEVICE INSIDER? Get VIP access to the best medical device content, checklists/templates & events delivered to your inbox every week by subscribing to our newsletter now!
How to plan for FDA medical device recalls with the right eQMS
Though medical device recalls may be a routine part of the industry, partnering with the right eQMS can make all the difference. Greenlight Guru is the only software with the latest FDA and ISO best practices specific to medical device companies built into every feature. Advanced Document Management helps you connect all the required communications of a device recall and keep records related to the recall responses.
Additionally, Greenlight Guru's Intelligent Document Management uses AI and machine learning capabilities to identify documents, product development artifacts, and quality processes impacted by a change. That means not only better results during a recall, but potentially avoiding them in the future.
Ready to get started? Contact us today for your free demo!
---
Looking for a design control solution to help you bring safer medical devices to market faster with less risk? Click here to take a quick tour of Greenlight Guru's Medical Device QMS software