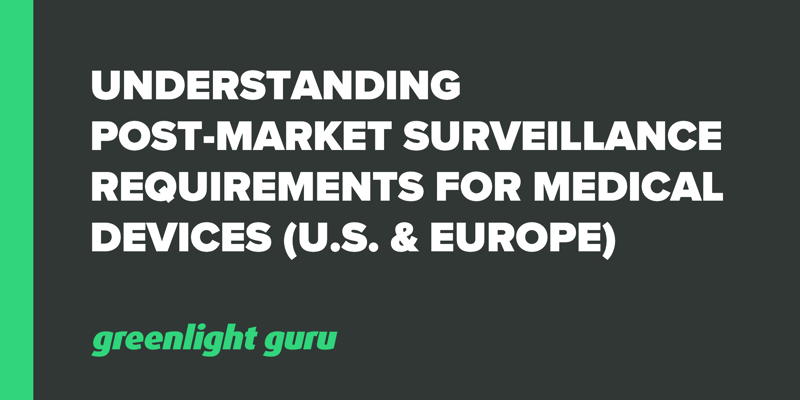 As leaders of medical device companies, our goal is always to create devices that are safe and effective for the end user. We want our devices to do some good for our customers, and we definitely don't want to cause harm.
Sometimes though, despite our best intentions, situations do happen where a medical device we created is involved in a significant adverse event. In those cases, our job is to look at what happened and try to learn something from it so we can avoid repeating the same mistakes.
To achieve this, we need a system of reporting so that we can generate feedback on our medical devices, including reports of adverse events that involve them - we need post-market surveillance (PMS).
We also need to be reporting these events to the relevant regulatory bodies - they want to know that we're taking the requisite steps to continuously improve our business and manufacturing practices to avoid recurrent problems with our devices.
Post-market surveillance is now a heavily emphasized requirement in both the American and European medical device markets, especially following the release of the European MDR requirements (not to be confused with the United States FDA's eMDR - more on that later).
This article reviews the key requirements for post-market surveillance and the procedures for compliance in both the United States and European markets. We'll break down how an effective PMS system collects feedback, allowing you to make the improvements that enhance customer safety and the effectiveness of your medical device.
FREE WEBINAR SLIDES + RECORDING: Click here for the full webinar recording and slides of Post-Market Surveillance under the EU MDR.
Changing Regulatory Landscape of Post-Market Surveillance
Post-market surveillance was discussed in 2005 by the now defunct Global Harmonization Task Force (GHTF), a voluntary group of representatives from medical device regulatory agencies and the regulated industry.
A report was produced by GHTF which defined the specific tasks needed for post-market surveillance in the industry and discussed how the requirements for each task could be harmonized across regulatory environments. This report was later updated by the International Medical Device Regulators Forum (IMDRF) to elaborate on reporting guidelines for adverse events.
Europe's Medical Device Directive (MDD) did not contain any specific guidance in regard to post-market surveillance, however its replacement Medical Device Regulation 2017/746 (MDR) defines PMS as:
All activities carried out by manufacturers in cooperation with other economic operators to institute and maintain a systematic procedure to proactively collect and review experience gained from devices they place on the market, make available on the market, or put into service for the purpose of identifying any need to immediately apply any necessary corrective or preventive actions.
In the United States, the term PMS is used explicitly to grant the US FDA the authority to require manufacturers to perform studies of high-risk devices which have been granted 510(k) clearance or PMA approval.
Recent initiatives introduced to collect and review data on medical devices include TPLC (Total Product Life Cycle) and IDEAL (Idea, Development, Exploration, Assessment, and Long-Term Study). The FDA collects reports from medical device manufacturers, importers, and end user facilities through its electronic MDR system.
All conformity assessment standards, including ISO 13485:2016, now require manufacturers to maintain a PMS system regardless of how their medical device is classified. Let's dive a little deeper and look at how both the FDA and European Commission are addressing PMS requirements in their respective regulations.
PostMarket Surveillance Requirements — FDA 21 CFR Part 822
A quick search through 21 CFR Part 820, the statute law that mandates quality management systems for medical device companies, yields no results for post-market surveillance requirements, so are United States manufacturers off the hook?
Not even close.
In May of 2008, the FDA transferred control of the 522 Postmarket Surveillance Studies Program to the Division of Epidemiology of the Office of Surveillance and Biometrics (OSB)/Center for Devices and Radiological Health (CDRH).
These bodies continue to develop the program, which helps ensure that well-designed post-market surveillance studies are conducted effectively and efficiently by medical device manufacturers.
Below, we summarize the key requirements of post-market surveillance in the United States today. For more information, you can view 21 CFR Part 822, which details the requirements for PMS in the US.
The FDA has government authorization to require post-market surveillance for class II and class III medical devices that meet one of four criteria:

Failure of the device would be reasonably likely to have a serious adverse health consequence

The device is intended to be implanted in the human body for over one year

The device is intended to be a life-sustaining of life-supporting device used outside of a user facility
The FDA can order post-market surveillance as a response to adverse event reports, to assess safety and effectiveness of devices that have undergone limited pre-market testing, or to obtain more information on device performance in real-world clinical practice.

The FDA will issue an order for post-market surveillance, requiring the manufacturer to submit a PMS plan. The plan must contain elements that help satisfy the rationale for the original PMS order. Typical inclusions in a PMS report are listed:

Background of the device, regulatory history, description, and indications for use

Purpose of the PMS plan

PMS plan objectives and hypothesis

PMS design

Patient population (include inclusion and exclusion criteria for patients)

Statistically justified sample size calculation

Primary and secondary endpoints, including definitions, success criteria for the study, a list of expected adverse events of complications, and an agreement to collect unexpected adverse events

Descriptions of the follow-up schedule, length, and assessment procedures

Relevant data collection forms and description of data collection procedures and statistical analysis

Reporting schedules for interim and final reports

Interim and final data analyses

Milestones/timeline elements
On May 16th, 2016, the CDRH published a guidance document with its latest recommendations for post-market surveillance. The document is non-binding, but closely matches current regulatory requirements and incorporates best practices to give manufacturers a blueprint for success in the PMS process. You can view this guidance document here.
Post-Market Surveillance Requirements — EU MDR
Despite industry-wide harmonization efforts with respect to PMS, Europe is still doing things a little differently. The newly legislated European MDR requirements took effect in May 2017, and they introduce a number of new requirements for manufacturers when it comes to post-market surveillance.
Importantly, EU regulations require manufacturers to produce a PMS plan as part of their technical documentation. The plan must be implemented to produce PMS reports (PMSRs) or Periodic Safety Update Report (PSURs) depending on the class of the device.
PMSRs apply to class I medical devices under the MDR, and to class A and B devices under the new in-vitro diagnostic regulation (IVDR) mandate. PMSRs should present results and conclusions of data gathered from the post-market surveillance plans, alongside the rationale and description of any corrective and preventive actions taken.
PSURs apply to class IIa, IIb and III medical devices under the MDR and class C and D in-vitro devices under the IVDR. PSURs are identical to PMSRs with a few additions - manufacturers must publish the conclusion of the Benefit/Risk determination, main findings of the post-market clinical or performance follow-up, sales volume, and estimated user population characteristics and usage frequency.
A compliant PMS plan should consider information concerning serious incidents, records of non-serious incidents, available data on side-effects, information from trend reports, any feedback or complaints provided by users, distributors, or importers of the medical device, and publicly available information about similar devices.
Annex III of the MDR 2017/745 lists the following topics to be covered in the PMS plan:
A systematic and proactive process for collecting information (user feedback, reports, etc.)

Appropriate statistical and analytical methods of assessing collected data

Threshold values for assessing risk-benefit and effective risk management

Appropriate methods and tools for investigating complaints and other experience collected in the field

Methods for managing events subject to the trend report

Protocols for communicating effectively with the competent authorities, notified bodies, economic operators, and users

Reference for procedures to fulfill the manufacturer's obligations for PMS system, PMS plan, and PSUR

Procedures and systems for implementing Corrective Actions when required

Effective tools to trace and identify devices for which corrective actions may be needed (traceability of potentially defective products in case a recall is needed, for example)
FREE WEBINAR SLIDES + RECORDING: Click here for the full webinar recording and slides of Post-Market Surveillance under the EU MDR.
Final Thoughts
Regulators are becoming much more focused on post-market surveillance and risk management in the medical device industry. Whether you're seeking regulatory compliance in the United States or European market, standards are quickly harmonizing and it's important to establish a compliant PMS system to ensure that you can sell your device around the world.
On top of that, post-market surveillance is just part of doing good business. An effective PMS strategy alerts you to potential flaws in the design or implementation of your device, exemplifying your company's commitment to the end user, enabling ongoing improvements and outcomes.
---
Looking for an all-in-one QMS solution to advance the success of your in-market devices and integrates your post-market activities with product development efforts? Click here to take a quick tour of Greenlight Guru's Medical Device QMS software →