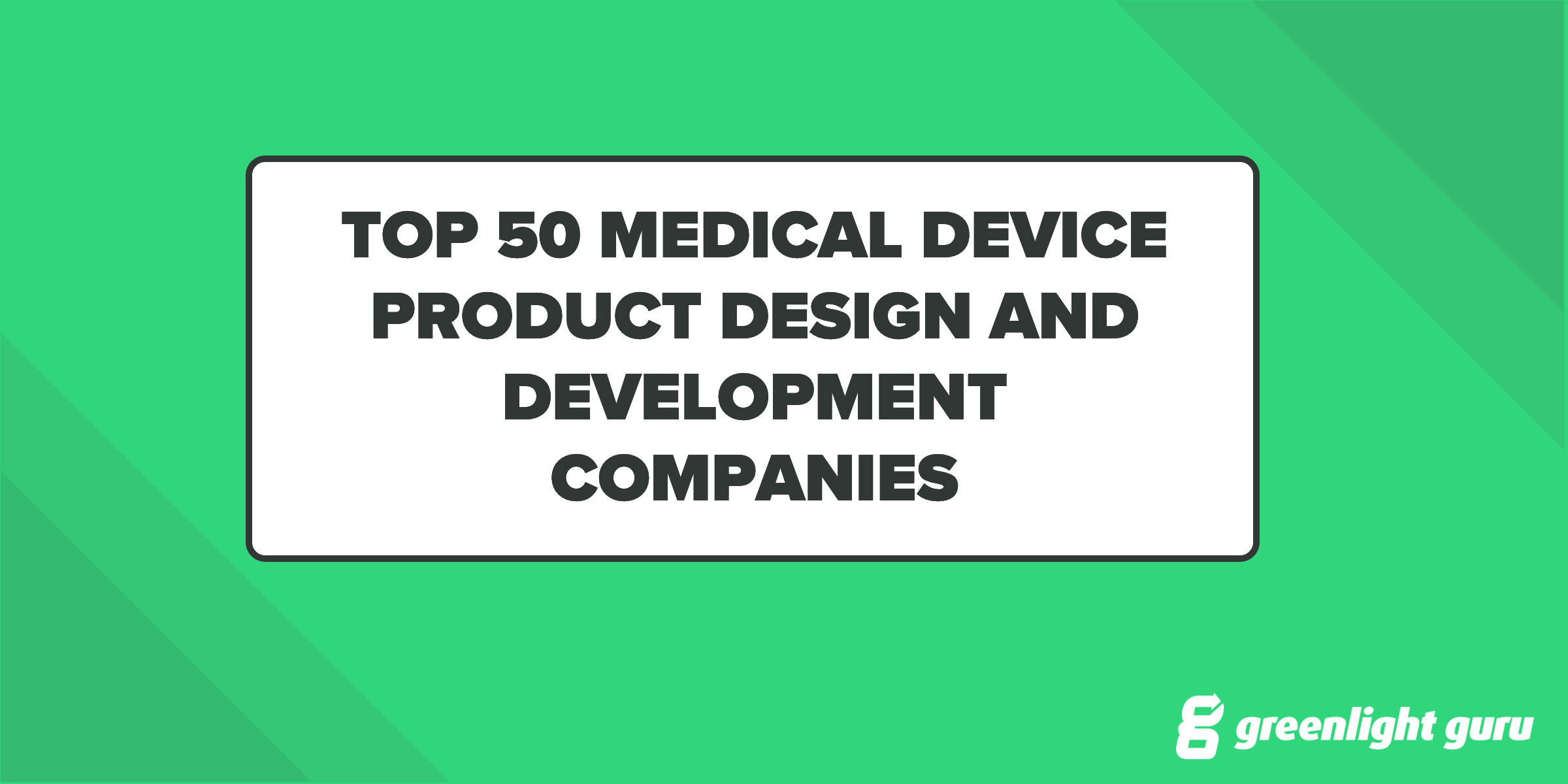 Medical device companies have to overcome many significant challenges when bringing a new product to market. Along with the exorbitant costs throughout the product design and development process and into manufacturing, device makers must also ensure compliance with the regulations specific to the market in which they plan to sell their medical device.
If you have an idea for developing a new medical device, something intended to improve the quality of lives, it is your responsibility as the device maker to develop that product with the highest quality possible. This means the resources that contribute to the process should be qualified and capable of achieving this outcome. There are a number of design and development companies that specialize in these services to help companies turn their great ideas into a functional, compliant and commercially viable products.
To help you find a reliable and capable partner in this area of expertise, we've put together a list of our top 50 firms from around the world that offer these specialized services to medical device companies.
Free Download: Want a PDF copy of this list? Click here to download your free version of the Top 50 Medical Device Product Design and Development Companies.
Ximedica
Website: http://www.ximedica.com
Location: Providence, Rhode Island
Ximedica is a medical device product realisation firm with a 25-year history of delivering innovative devices across diverse product categories, including endoscopic devices, laparoscopic devices, emergency care systems, infusion and drug delivery systems, ultrasound and medical imaging devices, oral appliances, remote patient monitoring, in-home diagnostics, dental products and more.
Ximedica delivers the services that medical device companies need to bring their product from the initial ideation stage, through product design and development up to product validation and launch, all while complying with FDA regulations and conforming to the relevant ISO standards required for medical device quality systems.
Global Center for Medical Innovation
Website: https://gcmiatl.com
Location: Atlanta, Georgia
The Global Center for Medical Innovation (GCMI) is the Southeast's first and only comprehensive medical device innovation center, dedicated to accelerating development, building businesses and improving health. GCMI opened its doors in April 2012 and to date has worked with over 50 different startups, clinician innovators, university tech transfer offices and academic researchers to design, engineer, prototype, and facilitate commercialization of a broad range of innovative medical devices.
GCMI's core team of designers and engineers collaborate closely with startups, clinicians, researchers, new product development teams and medtech entrepreneurs to accelerate time to market while reducing costs. The independent, 501(c)(3) non-profit organization has a robust and ever-growing network of experts, including intellectual property, regulatory, quality systems and investors, to help bring ideas from concept to market.
HS Design
Website: https://hs-design.com
Location: Morristown, New Jersey
HS Design (HSD) is an award-winning product design and development company focused on strategic medical and scientific device design. Services offered include opportunity definition, brand strategy, development planning, user research and human factors testing. At its core, there is extensive expertise in user experience design (designing humanized usable systems), industrial design and User Interface (products that are functional, beautiful and intuitive), new product prototyping, and the design of instructional materials. This coupled with extensive in-house specialties in mechanical engineering, embedded software systems, and electrical engineering allows HSD to offer robust services for a diverse range of medical device companies.
Medical device companies can benefit from HSD's experience from user research, ideation, design for manufacturing to product realization. The firms collaborative approach is evident in its over 40 year history of successful medical device development. As an ISO 13485 certified design firm, HS Design serves large fortune 100 corporations as well as novel start-up medical and scientific companies.
Jabil
Website: https://www.jabil.com
Location: Worldwide group of companies
The Jabil group of companies represents a worldwide organization of innovation, engineering and design firms, collaborating to deliver value across the life cycle of every product touched by Jabil. Jabil companies collaborate to deliver value throughout the product life cycle, leveraging 20+ worldwide manufacturing locations and a sophisticated global supply chain to accelerate the development of technologies and reduce time-to-market for partnered products.
The group includes Nypro Healthcare, a firm whose track record in innovation has taken numerous products from the concept stage through to full-scale production. Radius Innovation and Development, another Jabil company, provides regulatory and compliance services along with conceptual engineering and mechanical design services for medical device companies.
Flex
Website: https://flex.com
Location: American HQ in San Jose, California with 100+ locations worldwide
Flex is one of the largest product design and development companies in the world. The firm boasts approximately 200,000 employees in 100 different locations across 30 countries, collaborating to deliver innovative and effective product designs, quality engineering, outsourced manufacturing services, logistics, and supply chain management services for client companies in all markets.
Flex has developed its own IoT platform that makes it easier for partnered medical device companies to deploy connected medical devices while keeping in compliance with the privacy, security and regulatory requirements reflected in today's global marketplace. This unique capability, along with the organization's experience with launching and scaling digital health solutions, has positioned Flex at the forefront of connected medical device product development.
Plexus
Website: https://www.plexus.com/en-us
Location: Neenah, Wisconsin
Established in 1979, Plexus is a truly global company of nearly 18,000 employees providing product design, outsourced manufacturing, supply chain management and after-market product support services for clients in a variety of markets. Plexus applies its special capabilities in electronics to design and engineer high-quality and commercially successful medical devices for its customers.
Plexus is an experienced developer of medical devices with applications in diagnostic imaging, drug delivery, electronic surgical devices, hospital and in-home monitoring, food safety, laboratory automation and therapeutic devices. The firm was recognized by General Electric as their supplier of the year for 2014, and by Qiagen as their 2016 supplier of the year.
Design and Industry
Website: https://www.design-industry.com.au
Location: Sydney, Australia
Design and Industry is a certified industrial design and product development consultancy with a 30-year track record of delivering commercial success and quality products for their clients. The firm employs a staff of over 50 industrial and mechanical engineers in Sydney and Melbourne, Australia, and has won over 170 awards for excellence in design and engineering.
D+I engineers have worked with multinational corporations such as Siemens Healthcare, Universal Biosensors and Stryker on a plethora of successful commercial projects. Recent product releases include the Signos Person Ultrasound, the smallest commercially available ultrasound system, and the Cochlear Nucleus Aqua+, the only waterproof behind-the-ear cochlear implant. D+I offers product design and development support from the strategic planning stage through to production.
Cambridge Design Partnership
Website: https://www.cambridge-design.com
Location: Cambridge, United Kingdom
Cambridge Design Partnership is a full-service product innovation and realisation firm that provides end-to-end services, including research for innovation, product design, brand innovation and packaging, technology development (including wireless and connected devices), electronics and mechanical engineering and manufacturing.
Cambridge Design Partnership offers decades of experience in innovation, with product releases that include drug delivery systems, diagnostic devices and surgical equipment. The organization's commitment to quality is exemplified by its ISO 9001 certificate, an accreditation that covers all processes including stakeholder research, usability engineering, product design, software engineering, and manufacturing development. The firm promises time and cost savings for medical device companies who integrate Cambridge as an external partner into their own QMS.
Kapstone Medical
Website: http://www.kapstonemedical.com
Location: Charlotte, North Carolina
Kapstone Medical promises its customers a professional, thorough, responsive and pragmatic service, personalized solutions, rapid execution and a relentless commitment to quality. The firm offers full-service end-to-end product realisation for customers ranging from established medical device companies to first-time medical device entrepreneurs and inventors.
Kapstone helps medical device companies develop products with services that include early-stage conceptualization, project management and engineering. The firm leverages 3D printing capabilities to assist with prototyping and can provide support for regulatory planning, 510(k) submissions, CE mark attainment and quality system development and maintenance. Kapstone's expertise in commercialization of medical devices includes distribution, intellectual property strategy and licensing.
StarFish Medical
Website: https://starfishmedical.com
Location: Victoria, B.C., Toronto, ON.
StarFish Medical is a medical device contract manufacturing company with a track record of creating breakthrough products in a variety of specialty areas. StarFish Medical uses its technical capabilities and precisely refined processes in product definition, technology development, product development and quality management to take medical devices from the ideation stage through product design and definition and into a first prototype. StarFish Medical also provides regulatory support and full-product manufacturing services, making them a robust end-to-end partner for medical device development services. A Canadian company, StarFish Medical holds offices in both Ontario and British Columbia and assists with regulatory issues for both Canada and the United States.
Celestica
Website: https://www.celestica.com/home
Location: Toronto, Canada (HQ) with sites around the world.
Celestica offers creative manufacturing and supply chain solutions that cater to the specific needs of the medical device development industry. Celestica's core capabilities include complex electro-mechanical systems and ultra-high-volume automated manufacturing of single use medical devices, but the firm has also delivered products in surgical instrumentation, in vitro diagnostics, diagnostic imaging and patient monitoring.
Celestica began in 1994 with two facilities and 800 employees and has since expanded its operation to over 35 sites, employing 28,000. The firm offers end-to-end product design and development services, including product ideation, prototype engineering, manufacturing and select after-market services.
Orchid Orthopedic Solutions
Website: http://www.orchid-ortho.com
Location: Mason, Michigan
Orchid Orthopedic Solutions is a world-leading provider of outsourced design and manufacturing services for orthopedic medical devices. The firm specializes in orthopedic implants, instruments and technologies that facilitate joint reconstruction, spine health, sports medicine applications, post-trauma recovery and dental applications.
Orchid's manufacturing capabilities include dye casting, injection molding, complex instrument assemblies, sterile packaging, forging, implant coatings and machining. The firm has completed manufacturing projects for knee, femoral and tibial components, acetabular cups, hip femoral stems, hip resurfacing, joint implants and cast instrumentation.
Delve
Website: https://www.delve.com
Location: San Francisco, Madison, Philadelphia, Boston
Delve is a strategy, design and engineering firm with a 50+ year track record of innovation. Nearly 75% of its business comes from the healthcare space and, in the last two decades, Delve has completed 1,200 medical device projects for clients ranging from startups to Fortune 500 companies. The firm has designed and engineered products such as the Dexcom G6 continuous glucose monitor to give patients with diabetes a painless way to apply a sensor to their bodies, the massive SC360 proton therapy system to treat cancer patients with life-saving radiation, and the EXOGEN, the only FDA-approved bone healing device, to expedite recovery using ultrasound radiation.
Delve has achieved ISO 13485:2016 certification and is committed to working in accordance with all FDA regulatory requirements. It follows a streamlined design transfer process, ensuring that a successfully engineered device can be profitably and smoothly manufactured once the design has been finalized. Delve's expertise in technological change and procedural improvements enhance patient experiences, improve clinical productivity, reduce development cycles and cost, and ultimately increase revenues.
Team Consulting
Website: https://www.team-consulting.com
Location: Cambridge, United Kingdom
Team consulting are experts in the design and development of medical devices. Serving medical device companies such as Haselmeier, Meridian Medical Technologies and Sensile Medical, Team Consulting offers expertise in product and user experience design, engineering, human factors analysis and testing, science and project management.
The recipient of numerous industry awards for excellence in design, Team Consulting's design capabilities include user research, opportunity definition, product life cycle analysis, concepting, CAD development, physical and interaction prototyping, and visualization. The firm also possesses extensive in-house engineering expertise, offering rapid prototyping, design-for-manufacture, a full suite of electronics & software engineering services and a fine-tuned systems engineering process.
Recent product successes for Team Consulting include a collaboration with Organox to innovate a new system for keeping transplant livers alive, a bluetooth-enabled sleep apnea mask and monitor, and a range of innovative drug delivery systems.
Planet Innovation
Website: https://planetinnovation.com
Location: Box Hill, Australia
Planet innovation is a product design and contract manufacturing firm that specializes in designing medical devices for compliance with European and American standards and regulations. The firm maintains a rigorous QMS that is certified to ISO 9001 and ISO 13485 and has extensive experience delivering biomedical devices for the FDA-regulated United States marketplace.
When it comes to product design execution, Planet Innovation specializes in regulated biomedical products and connected devices. Its capabilities include industrial design, systems and software engineering, optics, project management and manufacturing. Recent award-winning collaborations featuring Planet Innovation include the GERI IVF imaging incubator created with Genea Biomedx and the Apas Independence, an automated culture plate reading instrument created in collaboration with Clever Culture Systems.
Donatelle
Website: https://www.donatellemedical.com
Location: New Brighton, Minnesota
Donatelle is a medical device design and development, and contract manufacturing firm that boasts a 50-year history of helping innovative companies create and commercialise new products in the medical device market. Services available with Donatelle include product development, prototyping, injection molding, liquid silicone molding, precision machining, packaging, process validation and more.
The versatility of Donatelle's service offerings is matched only by the firm's diverse capabilities in medical device innovation. Engineers at the firm have worked on pacemakers and implantable heart monitoring systems, ventricular assist devices, microfluidic diagnostic instruments, medication pumps and other drug delivery products, orthopedic and surgical technologies and more.
Years of experience along with versatile expertise and capabilities make Donatelle a valuable product design partner for medical device companies.
Bressler Group
Website: https://www.bresslergroup.com
Location: Philadelphia, Pennsylvania
Situated in the heart of downtown Philadelphia, the Bressler Group has been innovating new and effective medical devices for the past 45 years, earning over 100 design awards and 230+ product patents in the process. The firm deploys a multidisciplinary approach to successful product design, which incorporates design & innovation strategy, digital and physical design, technological innovation, user research, product brand language and engineering analysis and optimisation.
Bressler Group has developed hundreds of medical device products in collaboration with its clients, including therapeutic and life support equipment, patient monitoring devices, laboratory and diagnostic equipment, consumer devices, infusion pumps, injection devices and more. The firm's versatility makes Bressler Group a valued partner for medical device companies innovating in all product categories. The firm's capabilities do not include in-house manufacturing, although production management and consultancy services are offered.
Biomerics
Website: http://biomerics.com
Location: Salt Lake City, Utah
Biomerics is a versatile product design and development partner in the medical devices space with capabilities in product design, engineering, and manufacturing. The firm manufacturers many proprietary products in-house, including a range of medical polymers, coatings, advanced catheter capabilities, extrusion technologies and device assembly solutions that are sold to medical device companies or OEM providers.
The engineering team at Biomerics implements a multi-step stage-gate design process, ensuring that all design, manufacturing and regulatory requirements for each new medical device are satisfied. The team provides world-class testing labs, process development and product validation services that help medical device partners around the world build safer and more effective products while reducing their time-to-market.
Integrated Computer Solutions
Website: https://www.ics.com
Location: Waltham, Massachusetts
Integrated Computer Solutions is a medical device design company that is building the next generation of connected, wearable and IoT-enabled medical devices with a focus on software development. The firm has developed expertise in the key technologies that underlie embedded and mobile medical devices, including Qt, Qt Quick and QML, OpenGL, Android, Web, Motif, QNX, Ubuntu, C++ and Yocto. The firm focuses on enabling excellent digital experiences for customers through embedded device creation and cutting-edge User Experience design, two of the firm's core capabilities. ICS has delivered custom hardware and real-time operating systems for a variety of medical device applications, including drug infusion pumps, respiratory devices and medical imaging.
Freudenberg Medical
Website: https://www.freudenbergmedical.de
Location: Kaiserslautern, Germany
Freudenberg medical is a global product design and development firm with offices in California, Massachusetts, Minnesota, Indiana, Costa Rica, Ireland, China and Germany. With each production location having achieved compliance with the ISO 13485 medical device quality standard, Freudenberg has demonstrated a world-wide commitment to delivering quality products for its customers.
The firm offers medical device services that fit into four general categories:
Medical device product design and development
Manufacturing solutions, including product launches, growth, maturity and product extension
Lean project management with a focus on waste reduction
Quality and regulatory services that include FDA-registered facilities in three countries, ISO Class 7 & 8 Clean rooms, and electronic record-keeping.
Freudenberg provides upwards of 80 million custom molded components per year to manufacturers of in vitro diagnostic devices.
Synectic
Website: https://synectic.net
Location: Boston, Massachusetts
Synectic is a medical device product design and development company with locations across the Eastern United States, including Boston, Philadelphia, New York and New Jersey. The firm works with medical device inventors and start-up companies, providing mission-critical product development services that include user needs establishment, device specifications generation, intellectual property review, legal and regulatory compliance, clinician feedback studies, and clinical trials.
The skilled and experienced team at Synectic also offers a machining and prototyping service and can ramp up your product into full-scale production with the facilities of its parent company, Mack Molding. The end-to-end product design and manufacturing capabilities of Synectic mean that your project can be handled in-house from conception and ideation through to market release.
Novo Engineering
Website: https://novoengineering.com
Location: San Diego, California
Novo engineering implements a quality management system with a five-phase product development process that extends from the initial product concept development through to manufacturing transfer, facilitating rapid development of Class I, II and III FDA-regulated devices. The Novo team offers a full suite of product design services, including risk and hazard analysis, device verification and software validation testing, design control and DHF documentation and full regulatory compliance with ISO, IEC and the FDA QSR.
In addition to their expertise in medical device compliance, Novo has developed specialized capabilities in the development of certain types of devices, including autoinjectors and pen injectors, insulin pumps, wearable drug delivery devices and RFID tagging and detection (IoT-enabled devices).
Sunrise Labs
Website: https://www.sunriselabs.com
Location: Bedford, New Hampshire
Sunrise Labs employs a team of over 65 engineers delivering full product development and engineering services to medical device companies in the United States. With in-house quality processes that comply with the stringent requirements of ISO 13485, Sunrise Labs applies its expertise to projects and companies of all sizes and promises to deliver cost-effective design solutions with a focus on time-to-profit.
In addition to its product development and consulting activities, Sunrise Labs is a prominent thought leader in medical device technology and commercialization. It regularly publishes white papers on its website detailing its insights into the world of medical device product development.
Nectar
Website: https://nectarpd.com
Location: Long Beach, California
Nectar is a California-based product design and development firm with the resources to support medical device companies in creating and commercialising new products. The firm offers a range of services that include the development of marketing and design strategy based on market research and business insights, a user-centered approach to design that emphasizes human factors, and an integrated engineering approach that incorporates mechanical, electrical and software/firmware specializations into a safe and effective medical device product.
Nectar has collaborated with some of the biggest names in the medical device industry, including Nuvasive, Benechill Inc. and KOS Pharmaceuticals.
Tiller Design
Website: http://www.tillerdesign.com
Location: Rozelle, Australia
Tiller Design is an Australia-based product design, development and commercialisation company. The firm offers design services that include pre-development guidance, feasibility and proof-of-concept studies and prototyping, strategic design consulting, IP generation and user-focused design activities such as human factors, user experience and user interface design.
Tiller's specialized services for medical device companies include the development of software firmware and electronics, product certification and document control. The firm also facilitates outsourced manufacturing in high and low production volumes, as well as providing quality assurance and select after-market services. The work of Tiller Designs has propelled its partner companies and their products to hundreds of millions of dollars in market capitalization.
Research Collective
Website: https://research-collective.com
Location: Tempe, Arizona
Research collective offers outsourced medical device human factors and user experience product research and design. Medical device companies rely on the unique experience and niche expertise of Research Collective to establish valid device usability testing criteria, design user testing and human factors research projects, identify use-related product issues and develop solutions. The team at Research Collective has conducted successful human factors research and design projects for high-profile clients such as Bard, Boston Scientific, Medtronic, Mayo Clinic and GE Healthcare.
Research Collective also maintains a database of prospective research participants and can recruit research participants from the general population, or from special populations, to support your clinical research efforts.
Novo (Canada)
Website: https://www.fromnovo.com/en
Location: Laval, Quebec
Novo is a collaborative product design, development and engineering studio based in Laval, Quebec. Services offered by the firm include product architecture development, human factors analysis, visual positioning, design guidelines and material, coating and finish specifications for medical device products.
The firm also offers a unique prototyping service that includes concept generation, sketch communication and ideation workshops designed to accelerate time-to-build for your initial product prototype. Novo is a valuable early partner for medical device companies looking to develop an initial idea into a feasible product design that can be pitched to investors.
Velentium
Website: https://www.velentium.com
Location: Katy, TX and Lafayette, CO
Velentium is a professional engineering firm that specializes in the design and manufacturing of therapeutic and diagnostic active medical devices. They have experience working with all sizes of clients, ranging from startups seeking seed funding to established Fortune 500 companies. Their mission is to transform medical device companies' IP into a safe and secure product that will change lives for a better world.
Karten Design
Website: https://kartendesign.com
Location: Marina del Rey, California
Karten Design is a California-based product design and commercialization consultancy that has partnered with medical device companies over the past 30 years to deliver design and innovation support and services. The team at Karten take a holistic approach to design that includes effective design strategy, thorough design research, thoughtful industrial design, and elegant mechanical engineering. Karten also incorporates elements of visual design into each project, including the development of packaging and on-brand marketing materials for each new product.
Karten's client list includes some of the most recognizable global medical device companies, including Biotronik, Boston Scientific, Abbott, Axonics, Baxter, Medtronic, Kohler and P&G.
Insight Product Development
Website: https://insightpd.com
Location: Chicago, Illinois
Insight product development leverages its deep experience in medical devices and drug delivery systems to deliver exceptional product design and development services to a clientele that includes Hill-Rom, Boston Scientific, Millipore and ConMed Electrosurgery. The firm's service offerings include design strategy, advanced research and development activities, design for manufacturing/commercialisation, connected medical devices and accompanying software platforms, design research, human factors and usability research and testing, user experience design and engineering services.
In addition to its high-profile medical device clientele, Insight Product Development offers start-up services and even hosts an accelerator program for new medical device companies at its lab and office space in Chicago. The firm has helped new medical device start-ups like ivWatch and Somna Therapeutics to commercially successful product launches.
RND Group
Website: http://rndgroup.com
Location: Indianapolis, Indiana
RND group claims to deliver the best FDA-compliant software in the world and offerings software development support services for its partners in the medical devices market. RND functions as an extension of your existing product design team, one that can manage the software development process for your product from end-to-end, ensuring a high-quality product that is delivered on-time and on-budget, and a smooth path to regulatory acceptance.
RND's stated areas of expertise include FDA Part 820 and Part 11 compliance, ISO 13485, HIPPA and IEC 62304 compliance, software lifecycle management, the development of software applications for compatibility with mobile, Mac, Windows and embedded device, project management, software verification and requirements management. The firm's recent clients include Convergent Dental, Rheonix, Inc., and InstantLabs.
HaA Design
Website: http://www.haapd.com
Location: Wakefield, Massachusetts
HaA is a full-service product design and development firm with a focus on medical devices. Founded in 1999, the firm started out in California before relocating to Boston and later opening offices in Seoul and Taipei. In its 20-year history, HaA design has worked with some of the biggest names in international medical devices, including P&G, Johnson & Johnson, CVS and Boston Scientific. The firm has also won numerous awards for design and holds over 100 patents.
HaA service offerings include product research and strategy, brand and logo development, industrial and interface design, engineering, prototyping, testing, quality documentation and manufacturing. Product development services at HaA design are augmented by the firm's strategic partnerships with twig + fish Research Practice, Full Spectrum Software, Newgrange Design and LTK Technologies.
Naglreiter Device Development
Website: http://nmddo.com
Location: Miramar, Florida
Naglreiter Device Development is a full-service medical device product design firm that provides outsourced engineering and management services for clients that range from Fortune 500 companies to those with under 50 employees. Clients of Naglreiter can choose from a range of services, beginning with short-term, offsite product and management support up to full on-site product incubation services.
Nalgreiter offers a range of specialized services for medical device developers, including expertise in neurovascular, peripheral vascular and cardiovascular products, arthroscopic and invasive surgical tools and heart valve repair/replacement. The firm works to minimize capital, quality system and human resource investment costs for its partners by offering its expertise in medical device design along with efficient and experienced management services.
Sterling Medical Devices
Website: https://sterlingmedicaldevices.com
Location: Rochelle Park, New Jersey
Sterling medical devices is a product design and engineering firm that focuses exclusively on the medical devices market and has contributed to the development of over 500 medical devices. One of Sterling's key strengths is the diversity of projects that its engineers have delivered to market. The firm has designed a huge variety of products, ranging from blood diagnostic systems, catheter systems and breathing pacemakers to a mobile application that helps diabetics keep a glucose diary.
Sterling's core capabilities include medical device technology, project management, human factors engineering and regulatory compliance.
Boston Engineering
Website: https://www.boston-engineering.com
Location: Boston, Massachusetts
Boston engineering takes pride in its 20-year track record of breakthrough medical device innovations, successful commercial product releases and satisfied customers. The firm offers full-service product design and development capabilities that span the entire product life cycle, including the creation and maintenance of design history file documentation, design verification and validation activities, QMS implementation and more.
Boston engineering's product innovations include a high-tech electrostatic wound-healing bandage and blood filtration process equipment. Most recently, Boston engineering helped prototype a new type of drug infusion pump that would reduce medication errors and improve patient care outcomes. The firm also designed a new type of endoscope that was awarded five patients, earned a CE marking certification and is available for sale in the European marketplace.
Kablooe
Website: https://kablooe.com
Location: Minneapolis, Minnesota
As a full-service product research design and development firm based in Minneapolis, we help our clients strengthen their depth and breadth of product development expertise, overcome lack of product development bandwidth, and leverage our Design Driven Development Process™ to get results. We specialize as a medical device developers, but we have the expertise to help clients create anything.
EG-Gilero
Website: https://eg-gilero.com
Location: Morrisville, North Carolina
EG-Gilero is a medical innovation company with tooling, testing and manufacturing facilities in Rochester, New York, a medical device design and development lab and manufacturing operations in North Carolina, and overseas tooling/manufacturing operations in China and the Dominican Republic. The firm provides outsourced product design and development services, as well as contract manufacturing, to its customers in the medical device market.
EG-Gilero offers end-to-end product design services, beginning with human factors research, concept development and prototyping. The firm also performs device classification, assists with the preparation of 510(k) submissions and executes on packaging design and development and product testing for its customers.
EG-Gilero has collaborated on product releases with some of the biggest names in pharmaceuticals and medical technology, including Pfizer, Bayer, Braeburn and Cardinal Health.
Omnica Corporation
Website: http://www.omnica.com
Location: Irvine, California
Omnica Corporation is a U.S.-based full-service product design and development company that focuses on developing medical devices, in vitro diagnostic devices and laboratory instrumentation. The 28-person design team employed by Omnica provides a range of services that stretch across the entire product life cycle of a medical device. From initial feasibility studies to robust prototyping capabilities with modelmaking, machining and silicon molding, Omnica has all of the resources required to take your medical device product from the initial ideation process to a production-ready stage.
Omnica's impressive client list includes Johnson & Johnson, MiniMed, Lucent, Medtronic, Abbott Molecular, Baxter, Accucore, Qualisys and other high-profile medical device companies. In addition to serving the biggest medical device developers in the world, Omnica also partners with medical device start-ups and medium-sized firms to design and deliver innovative products.
Johari Digital Healthcare Ltd.
Website: https://www.joharidigital.com/oem
Location: Rajasthan, India
Johari Digital is a global MedTech company with 40+ years of expertise in medical device manufacturing. The manufacturing facility is in compliance with MDSAP, ISO 13485:2016 and FDA (21 CFR 820) standards and processes. Their services range from design to development, electronics and mechanical engineering, prototyping, system integration, packaging and supply chain. Additionally, Johari also helps clients with regulatory and compliance support to quickly take their product to market.
Johari caters to its global clients from a 65,000 sq. ft, state of the art medical device manufacturing facility in India along with an R&D Center in Europe.
Johari's versatile product development and manufacturing portfolio includes innovative life science products, diagnostic devices, and therapeutic devices. The company provides Contract Manufacturing solutions to global MedTech giants as well as innovative start-ups. Their facility is equipped with advanced capabilities to manufacture complex to high-volume products.
Banner Medical Innovations
Website: https://www.banner-medical.com
Location: Carol Stream, Illinois
Banner medical innovations is an ISO-certified supplier of components and services to the medical devices market with a focus on providing processing capabilities, reducing supply chain complexity and reducing risk though the medical device commercialization process.
Services offered by Banner Medical Innovations include an extensive on-hand inventory of medical-grade materials that can be incorporated into production (stainless steel, titanium, cobalt chrome, etc.), raw material processing, packaging and labeling, traceability documentation and FDA 510k audit and approval process consultation.
Banner medical specializes in the design and manufacture of orthopedic devices, spine implants and instrumentation, surgical instruments and dental implants.
Design Solutions
Website: https://www.design-solutions.com
Location: Chanhassen, Minnesota
Design Solutions enables therapeutic, diagnostic, analytical and biotechnology companies with professional, comprehensive and cost-effective medical product development engineering services.
From concept generation to manufacturing, Design Solutions provides an unmatched technical skill set that implements proven medical device design and product development methodologies, along with a flexible business platform, while maintaining the highest level of quality assurance throughout the process.
QURE Medical
Website: http://qure-med.com
Location: Twinsburg, Ohio
QURE Medical has provided engineering assistance and supportive product design services to a diverse clientele in the medical device marketplace. The firm uses the latest software technology for 3D modeling and finite elements analysis to progressively iterate on product designs while driving down costs.
In addition to providing support throughout the product development and regulatory compliance processes, QURE furnishes medical device companies with a variety of components that can be integrated into their products. Proprietary silicon tubing, fluid management products, drug delivery products, medical surgical tools and consumables and consumer healthcare products, as well as a variety of other customer molded solutions make up QURE's robust product line.
Medical device companies value the partnership of QURE for their expertise in developing and diverse manufacturing and sourcing capabilities.
Product Creation Studio
Website: http://www.productcreationstudio.com
Location: Seattle, Washington
Product Creation Studio is a full-service product design and development company that focuses on medical devices and products. The firm offers a range of services across six defined categories – development strategy, product design, experience design, product engineering, innovation management and manufacturing support. The firm delivers on these services by combining its expertise in electrical and mechanical engineering, industrial design, firmware, quality assurance, project management and usability engineering.
Product Creation Studio has successfully performed product development work for high-profile brands such as Gilead, Liposonix, Intel, Johnson & Johnson, and Precor.
Creation Technologies
Website: https://www.creationtech.com
Location: Burnaby, Canada
Creation technologies is a full-service product design and development and OEM firm with end-to-end design and manufacturing capabilities and a focus on the medical devices market. The firm's service offerings include both turnkey and partial product design and development services, product prototyping and accelerated design transfer, lean manufacturing, product traceability, fulfillment and logistics for complex systems with robust supply chains, product lifecycle management and select after-market services.
Creation Technologies holds numerous quality and regulatory compliance certifications from ISO and other organizations, indicating its commitment to delivering superior results for its clients.
Lumenous Device Tech
Website: http://www.lumenous.com/design
Location: Santa Clara, California
Lumenous device tech is a product design and development company that offers engineering support and outsourced manufacturing services to its partners in the medical devices market. Lumenous boasts an impressive track record of innovative product releases, including:
The first industrialized stent cutting system
The first ever laser-micromachining of nitinol
The first medically viable super-elastic, yet balloon-expandable, nitinol stent development
In addition to providing services in-house, Lumenous helps medical device companies coordinate third-party adjunct services such as analytical lab testing, finite element analysis, fatigue testing, and clinical or preclinical product studies. From a manufacturing standpoint, Lumenous Device Tech possesses the capabilities for laser cutting, shape-setting, electrochemistry, quality systems engineering, supply chain management, metrology and quality assurance.
Battelle
Website: https://battelle.org
Location: Columbus, Ohio
Helping medical device companies accelerate their medical product development timeline, from ideation to evaluation to commercialization, Battelle is redefining what's possible when it comes to device security, drug delivery, usability testing and human centric design, and neurotechnology. Their multidisciplinary, cross-industry teams advance innovation by integrating world-class expertise across a wide range of science and engineering disciplines. Whether you need help with development and design, rapid prototyping and testing, or support for FDA approval, Battelle can help you move from concept to the marketplace with confidence.
FearsomE
Website: www.fearsome.co.uk
Location: Glasgow, United Kingdom
Fearsome collaborates with the world's foremost medical and industrial product companies, advancing customer discoveries into market-ready products. Product strategy and innovation are the organization's key strengths, with a focus on neurosurgery, medical wearables, healthcare diagnostics, and optimal use and safety. They offer true end-to-end service, starting with an idea and continuing through production setup, certification, marketing, and launch campaigns. Fearsome is strategic, business-focused, and practical. Since establishing in 2002 they have a team of specialists with complementary skill sets and wealth of experience. With substantial studio, workshop, laboratory and testing facilities situated in Scotland and operating across the UK, Europe and USA. Their quality systems are mature and audited by LRQA to ISO 13485.
DK Engineering
Website: https://dkengineering.com
Location: San Diego, California
DK engineering is a full-service product engineering firm that provides design services for a number of markets, including medical devices, smart machines and kiosks, digital and 3D printing, industrial and commercial products and defense. The firm leverages a diverse range of technical capabilities and medical device design services that result in innovative and safe products with exceptional performance.
Many of the world's leading medical device companies have chosen DK engineering as a reliable partner for product engineering, including Alcon, Bausch and Lomb, BD, Cardinal Health, Haemonetics, Nuvasive and TruMed Systems. DK's engineering acumen, expertise in regulatory compliance and portfolio of innovative medical products make them a valued partner for medical device companies.
Benchmark
Website: http://www.bench.com
Location: Tempe, Arizona
Benchmark is an American-based provider of manufacturing solutions with production facilities in ten countries and capabilities across markets, including industrial engineering, test & instrumentation equipment and medical device development. Throughout its 40-year history in medical innovation, Benchmark has contributed innovative products in fluid management, optical and radiological imaging and surgical robots, along with connected medical devices that will revolutionize the health care. Benchmark specializes in designing and manufacturing electronic systems and has worked with high-profile clients such as Medtronic and Sun Microsystems. The firm offers full-service product design and development capabilities that extend from product innovation to manufacturing.
Worrell
Website: https://worrell.com
Location: London, United Kingdom
Worrell is a global design firm that specializes in healthcare innovation and strategy. Since 1976, Worrell has served medical device and pharmaceutical companies with expertise in ethnographic research, human factors, and design and development programs. Working on the front lines with patients and healthcare professionals, Worrell uncovers unmet needs to bring new drug delivery, medical device, and digital health solutions to the market.
Nordson Medical
Website: https://www.nordsonmedical.com
Location: Boyle, Ireland
Nordson Medical is a versatile solutions provider for medical device companies, with operations in Ireland, Israel, Mexico and the United States. The firm offers a selected of ready-made components and technologies that are ready-made and can be incorporated into new product designs. Nordson also offers an outsourced product design and development service that engages a six-step process:
Concept Feasibility
Design Input
Design Process
Design Outputs
Human Use Build
Design Transfer
Nordson medical has aligned its product development practices and procedures with the FDA's design control guidelines, ensuring that the medical devices it designs meet established user needs and are effective and safe for the end user.
Marturion
Website: https://www.marturion.co.uk
Location: Northern Ireland, United Kingdom
Marturion is an independent team of over 30 experienced people, comprising not only engineers but also quality managers, technical workshop staff, efficient administrative officers and a marketing team. They offer excellence in design of the latest electronic circuit technology and associated embedded software – this is also now supplemented with extensive workshop services for prototyping and testing together with a small MDD compliant production facility within which manufactures small batches of product for clients.
DeviceLab
Website: https://www.devicelab.com
Location: Tustin, California
DeviceLab is a medical device design and development company. DeviceLab is ISO 13485 certified and has been in business for over 20 years. Our track record includes over 100 successful significant projects and many smaller ones over 400 in total. This track record emphasizes our understanding of stringent FDA requirements and ISO standards. We specialize in Wearable Medical Devices, LED and Lasers products, IVD Diagnostics, Patient monitor and Imaging systems.

We design devices for use at home, Point of Care (POC) or hospital environment. We have won an MDEA Gold Award and finalist considerations. We work with early-stage to Fortune 100 companies. Our experience and expertise enable us to create market-driven designs and deliver new or newly enhanced products for maximum market impact quickly and cost-effectively.
Priority Designs
Website: https://www.prioritydesigns.com
Location: Columbus, Ohio
Priority Designs brings over 25 years of product development experience to the medical device industry. Our full-service capabilities span the entire product development process, from initial human factors and usability, to design and development, to verification and validation.
The medical design team includes biomedical engineering, human factors and usability researchers, designers, soft goods experts, and prototyping specialists. Our pragmatic approach to product development assures your product meets the needs of the users, development team, and ultimately, the FDA.
Precision Systems
Website: http://www.psi-software.com
Location: Horsham, Pennsylvania
Comprehensive experience in FDA software development for medical devices to provide the most up-to-date development technologies, ensuring efficiency and flexibility for future requirement changes. Gaining a competitive edge within this aggressive marketplace mandates efficiency at every stage from design to implementation. Help clients maintain their market position, offering continuous technical support and consulting whether creating a whole new system of custom software or reengineering an outdated or problematic system.
RBC Medical Innovations
Website: https://rbccorp.com
Location: Lenexa, Kansas
For more than 20 years, many of the top medical device companies and dozens of start-ups have come to RBC Medical Innovations for the design and development of their products. More importantly, they count on RBC to deliver products they are proud to put their name on, which explains why a large percentage of our business is repeat and from referrals.
Free Download: Want a PDF copy of this list? Click here to download your free version of the Top 50 Medical Device Product Design and Development Companies.
Our ultimate list of product design and development firms servicing medical devices ends here – but the possibilities for you and your new medical device idea are virtually limitless. Use our list of the top 50 design and development companies to choose a partner that can help you develop a safe and reliable medical device that achieves regulatory compliance, surpasses your company goals, and ultimately improves the lives of the patients who use it.
---
Looking for a design control solution to help you bring safer medical devices to market faster with less risk? Click here to take a quick tour of Greenlight Guru's Medical Device QMS software →