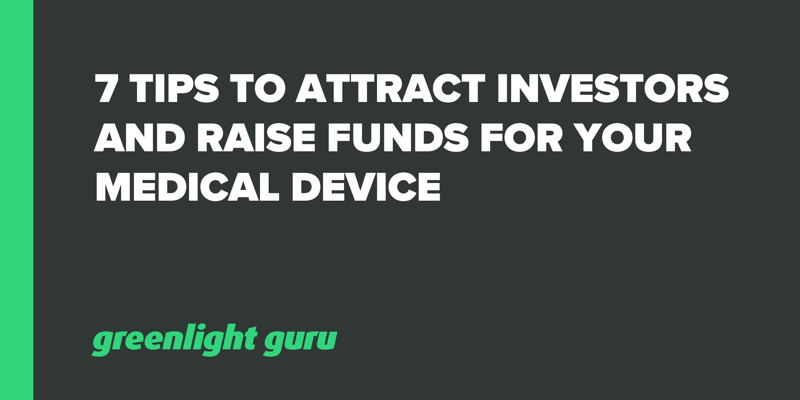 Is your medical device company in the midst of raising funds or planning to begin the process? There are many stages of the fundraising process you may find yourself in, each of which present their own unique set of unique challenges.
If you're one of these companies, chances are you're seeking guidance on how to best position yourself for success in your fundraising efforts. Keep reading to learn about 6 tips to help you "wow" any investor and secure funding for your medical device:
FREE CHECKLIST: Make sure you know what medical device investors want to see. Click here to download our free checklist to help you prepare.
#1. Build the business case for your medical device
In order to secure funding, you're going to need to do more than just have that wonderful idea for a product. The good news is, you don't need to author an elaborate, drawn-out business plan in order to capture the interest of potential investors.
Instead, one of the most impactful ways to create a compelling business case is by conducting thorough market research, and then build a prototype to show proof of concept.
Market Research
Start by defining basic, core information about your medical device. Here are a few helpful questions you can ask yourself to get started:
Why is my medical device necessary?
Is there a proven clinical need for my medical device?
Are there existing medical devices on the market similar to mine?
Who will be the end-user(s) of my medical device?
Who will purchase my medical device?
What is the market size for my medical device?
Proof of Concept Prototype
In order to move your medical device from an idea to a proven concept that will garner attention from investors, you should consider building a prototype. It does not have to be demonstrated in its final, go-to-market state, but it does need to prove the concept of your device.
When done effectively, prototypes can be very useful for communicating the vision of your medical device during product development. It can allow external stakeholders, including investors, to better understand the long-term goals and vision of your product.
#2. Establish a solid regulatory strategy
Around 80% of medical device companies in the US have 50 or less employees. The industry is full of small size companies and startups that, by nature, often require funding to cover the development costs of producing a medical device.
From our experience, one of the biggest challenges companies face is needing help with putting together an executive summary of their regulatory strategy.
Why? This is a valuable asset that companies can use to extract information from to highlight key milestones and deliverables when pitching to potential investors. The goal is being able to demonstrate two key things:
You have the knowledge and experience necessary to secure funds.
You understand how to position their product to elicit interest from investors.
The medical device industry is constantly changing; some of these changes may impact you directly, depending on the market you are selling into. There have been substantial changes made to regulatory requirements for medical devices, most notably with ISO 13485:2016, EU MDR, and the new version of ISO 14971 set to be released in late 2019.
Generally speaking, FDA has not made any significant changes to its 21 CFR Part 820 regulations; however, there are rising expectations, from both FDA and investors alike, for regulatory compliance amongst device makers.
Regardless of whether FDA instates a new set of regulations for medical devices or not, it's of extreme importance for companies to establish a solid regulatory strategy to assure compliance. This plan can play a large role in potential investors valuation and ultimate decision of whether or not to fund your medical device.
#3. Leverage the Pre-submission Pathway to Market
The vast majority of 510(k) submissions are rejected by the FDA the first time around, for a variety of reasons. Because of this, some companies may find themselves considering the pre-submission pathway. If you choose this route, we strongly suggest including a line item in your budget to allow for the necessary time to prepare your submission.
In doing so, you'll remove the guesswork and hypothetical discussions around the timeline to get your product to market. The pre-submission pathway can provide you with a unique opportunity to gain early insight from FDA on what is expected with your submission. This valuable information can help you prepare accordingly in order to meet those expectations.
Some companies choose to go through this process very early on in development, perhaps even before having a prototype. Why would they do this? To establish credibility with investors; when they're able to say, "We've already met with the FDA." This can be a big value proposition.
This recommended method, when done right, will yield more certainty as to whether your device will receive market approval. In the eyes of a potential investor, being able to demonstrate that you've already had a discussion with the FDA and gone through the pre-submission process is a definite point in your favor.
While you may not be able to guarantee the final outcome, you can offer valuable information about what's been agreed upon in your discussions with FDA and provide sound estimates of time and costs.
#4. Document your design controls and risk management with a right-sized QMS
We had one investor purchase Greenlight Guru's QMS software for several medical device companies in his investment portfolio. He shared interesting points around his investment firm's process upon meeting with new device startups.
They would start by reviewing the company's business plan, their device technologies, and final exit strategy for either bringing a medical device to market or getting acquired. His team would then put together their valuation based on the information gathered during their meetings with the prospective company.
According to this investor, one of the biggest things they would look for was whether the company had proper design control documentation and risk management files in place. If they found these key processes to be missing, or if the company had no regulatory strategy defined, the deal just ripened from a M&A position.
Why? Because that meant they could offer a lower valuation to that company since there was new added risk to the technology they would be acquiring. He anecdotally referred to this valuation cut as the "$20 million haircut" due to lack of proper design controls and risk management within the company's QMS.
Design controls serve as proof that you have designed a safe product that meets user needs and requirements, making this process a QMS must, regardless of company size, product lifecycle stage or exit strategy. Risk controls are part and parcel with design and development and equally important to the safety and efficacy of your device.
In your QMS, we recommend establishing processes around your risk management that align with ISO 14971. You will also be generating a large number of documents and records during product development, so make sure you also have proven and effective processes in place for document management.
As you're building your business case, above all else, you need to implement proper processes around your design controls, design history file, and risk management file. These are prudent engineering best practices, which will improve the valuation of your company and chances for securing funds for your medical device.
#5. Know investor types and what they want
The end goal of just about every investor is to make money, while minimizing their risk. Typically, investors are concerned with 3 types of risk:
Technical Risk - Does the idea work?
Business Risk - Is there a market for it?
People Risk - Does the company have the right people to do the job?
However, it's still important to familiarize yourself with the different types of investors you may come across, each with their own set of business drivers.
Say you meet with an investor who is only interested in companies that have completed a 510(k) submission. There's one thing you can likely assume off the bat - this is a low-risk investor. They're looking for safe investment opportunities with companies that bring little risk to the table.
On the other hand, there are investors who opt for a high-risk, high-reward approach to new investment opportunities. They may be willing to invest based on prototypes and ideas, rather than established processes and plans or submission paperwork. These types of investors understand that a regulatory submission may be aways off, but are willing to accept the high risk in order to get in on the deal early.
#6. Regulatory events can serve as key milestones
There are a number of regulatory events that can serve as key milestones for fundraising, but submitting your 510(k) may not be one of them. Historically, this has always been used as a key point for getting the attention of investors. Given the high rejection rate of first-time 510(k) submissions, it may not be the most reassuring event, particularly for those "low-risk" investors we mentioned.
One of my pet peeves is the phrase "first in-human," that companies often tout. In my opinion and observation, many of these companies have been quite reckless. They rush to conduct human studies, without the due diligence or the prudent engineering that should have been done prior. Some race all over the world to conduct these studies, looking for loose regulatory environments.
Is human data necessary when attracting investors? Not always. In fact, most 510(k) products don't require clinical data to get approval from FDA. However, don't disregard the fact that other organizations might require clinical data from products in order to be sold in their market. For example, certificates of free sale (CFS) often require this for exporting medical devices.
It's important to demonstrate to early investors that you have a strategy in place. Do you require clinical data? If so, why, and how do you need to go about it?
One suggestion is to try to overlap clinical trials with human factor studies, for example. This can save time and money. It shows investors you are considering all of the possibilities. A holistic, purposeful approach will usually be a winner.
#7. Allocate your resources wisely
When it comes to implementing a QMS, we strongly recommend "right-sizing" it with your company. Right-sizing your QMS simply means building out your QMS as you go. Depending on your business objectives, it may not make sense to implement a fully loaded QMS with all the bells and whistles. Instead, you should only implement the key processes necessary to fulfill your specific quality and regulatory needs.
As I mentioned in the third tip, the QMS processes most commonly needed during product development are design controls, risk management, and document management. Depending on whether you'll be outsourcing anything, you will need supplier management processes in place, as well.
You likely have limited resources, so it's important to focus on the crucial processes necessary for the growth of your company. Think of it as triaging your processes by assigning each with degrees of importance to the health of your QMS. If you identify that X is vital to your quality needs, start there; then wait until you have the empirical evidence to support implementing Y and Z.
This type of pragmatic approach will be very attractive to potential investors. Through demonstrating your capital efficiency and familiarity with the processes and quality needs of your medical device, you can establish a valuable sense of trust with investors.
FREE CHECKLIST: Make sure you know what medical device investors want to see. Click here to download our free checklist to help you prepare.
Final thoughts
Our biggest piece of advice to medical device companies comes from the answers to these questions...
What would it take for you as an individual to put the stamp of approval on your device? What would make it okay to be used on a loved one or myself?
Your response and position on the matter is important. How you plan to achieve the optimal outcome for your final product and how success will be measured is critical information to know.
Put yourself in the shoes of an investor. What do they need to see to write the check? You need to demonstrate that your technology is worth funding and that your team has the knowledge and skills to deliver what is promised.
If you can provide assurance to an investor that your device will fulfill its intended purpose to one day be used on their loved ones, then there's a good chance you will be able to secure funding for your device to make that happen.
---
Looking for a design control solution to help you bring safer medical devices to market faster with less risk? Click here to take a quick tour of Greenlight Guru's Medical Device QMS software →