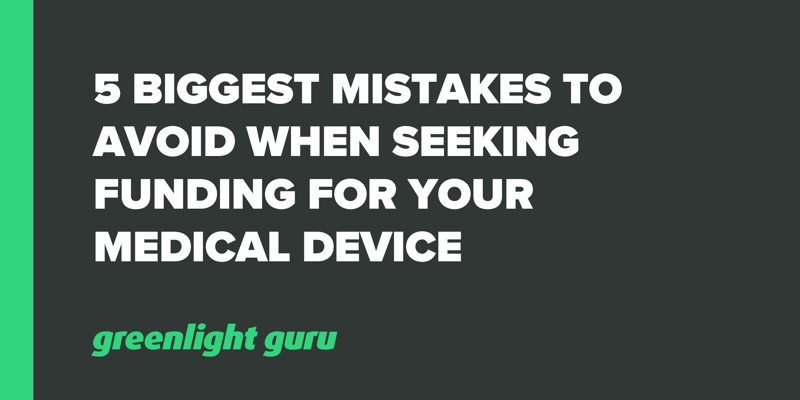 It doesn't matter how great your medical device concept is—you'll need some funding to get your idea off the ground.
But device creators often approach funding with a narrow perspective. They see their product only for its inherent strengths, so they fail to communicate critical regulatory and operational considerations to investors. Without a full picture of the product, investors are unlikely to be receptive to this approach by funding the medical device.
To keep your funding from flatlining, we talked to three industry experts about their fundraising experiences. Let's dive into what they shared about the common pitfalls some of them fell into and how others were able to solve or avoid them altogether.
FREE RESOURCE: Click here to download our checklist to help you during the fundraising process and increase your chances of securing an investment.
Making top-down assessments
You probably have an idea about who your target market is, along with how big that market is. But that doesn't mean either of these figures are accurate. You still need to do proper market research to back up these assumptions.
Aaron Call is the founding principal of Jaunt LLC, a management consulting firm that helps medical device companies secure funding. He has witnessed many companies make the mistake of performing inaccurate top-down forecasts.
These entrepreneurs assess their assumed market size, look at how they believe their product will perform, and conduct a hasty top-down assessment showing what looks like incredible revenue growth, but the problem with this model is that there is no proof that any of these assumptions are correct, from the true size and opportunity in the market, to stakeholder opinions and preferences.
Top-down assumptions are fine when you're still in the ideation phase, but they're by no means a basis for major decision-making. After all, top-down assumptions are exactly that: assumptions.
Instead of making broad market assumptions and working down, research the persona type of the target end user of your device and work your way up from there. Your device could have the potential to save lives, but it's still a product. You need to treat it like one.
Use comprehensive research and analysis to understand the behaviors of the target individuals within that segment and build a bottom-up strategic plan. Investors want to be confident that they are going to put money into your product machine and be assured that they will get a significant profit out. They need to see the market need, the market opportunity, and your plan to tackle both.
Investors are busy, so it's important you have a succinct presentation that shows you've done your market research. Buyer personas, forecasted market reach, and even potential marketing costs all signal to investors you've done your homework.
Thinking all investors want the same thing
Investors ultimately want to make money. But this doesn't mean all investors are looking for the same thing. Unfortunately, it's easy to think profitability should be your primary focus when pitching to investors. In reality there are three areas of risk investors typically look out for:
Technical Risk: Investors want to know if the device actually works before considering anything else.

Business Risk: It's important to prove your device has a market with buyer demand, otherwise it'll be a poor return on investment.

People Risk: Investors need to know that your device is backed by a competent team of manufacturers behind the scenes who know how to deliver a quality product.
While accounting for the aforementioned risks will help you and your device stay on the right path, investor interests still vary. This is why it's important that you also do your homework on your prospective investors ahead of time.
Some investors are high-risk/high-reward investors. These investors are willing to gamble on devices that might not pan out but also have the potential to be financial successes. These investors will be most impressed by presentations that highlight the potential of the device and what kind of market success is ahead.
This same approach won't work for investors that like playing it safe, versus investors that only invest in prototypes, and so on.
Address the three risk types listed above, but most importantly, know who you're presenting to. Not all investors want the same thing, so find and appeal to those specific interests as best you can.
Oversimplifying the regulatory process
Overconfidence in your ability to breeze through the regulatory process is dangerous. Regulatory processes are rarely simple, and all deserve due time and respect.
Kevin Coker, CEO of Proxima Clinical Research, works closely with hundreds of device manufacturers and says he regularly sees this overzealous misstep.
"One of the biggest mistakes we see is oversimplifying the regulatory process," Coker says. "This usually manifests in a single investor slide, typically toward the end with a very simple GANTT chart that shows the company applying for FDA submission (usually in the next few months of the date they are speaking).
Anyone that's been through the FDA approval process before knows it's complex at best, and unpredictable and bumpy at worst. The last thing you want is to tell investors you'll be launching by X date, only to run into roadblocks with regulatory compliance.
"Going through the FDA is tough regardless of how simple the device is," Coker says. "Investors are smart. They will ask questions."
Don't bluff your way through explaining the regulatory process. Conduct research to form a detailed, reliable road map for securing regulatory approval.
"Hubris is the wrong strategy at this stage of the pitch," Coker says. "Arrive at your fundraising opportunity prepared to speak extensively on the details of the [regulatory] journey, from concept to regulatory approval to the complete path to market."
Ignoring FDA pre-submission
Investors want to see you're taking the process seriously and have a device that will actually make it to market. For device manufacturers in the United States, this means getting sign-off from FDA.
FDA approval is one of the largest hurdles for any device manufacturer. Securing approval as early as possible tells investors you've made it over what is likely one of the toughest steps of your journey.
Typically, FDA requires a medical device to be virtually finished before allowing it to enter the US marketplace. But, fortunately, there is a workaround for incomplete products—the FDA pre-submission process. It allows device makers to build a relationship with FDA and begin charting a path toward 510(k) clearance or other applicable pathways.
During the pre-submission process, manufacturers work with an FDA representative to see if the device is headed in the right direction for approval. This representative will tell you exactly what's expected of you during your official product submission to FDA, reducing the chances you have any surprises when a final decision is made on whether your device will be given market entry.
While the pre-submission process doesn't guarantee approval, it does help you better prepare and reduce the likelihood of wasting time (and money) with submission after submission.
Failing to see your actual customers
It's easy to love the device you're creating. But this love can blind you to whether you understand what the customer wants.
Ronny Bracken is an R&D executive and principal at Paladin Biomedical Consultants, LLC, where he's worked with numerous medical device companies. Ronny's seen the above mistake play out numerous times in his line of work:
"Understand what the customer wants, because chances are you'll understand whether you got the right product or not, or the right technology or not," he shared with listeners on an episode of the Global Medical Device Podcast.
The issue of failing to see your customers carries two major ramifications: time and money wasted. On the flip side, the solution is two-pronged.
First, take a hard look at the people buying your product—not just the patients using your product. Knowing your audience, the people buying the product, allows you to craft a product they want. This information also allows you to signal to investors that you're creating a product with a marketable audience that you've properly researched.
"Hospitals, care providers, and insurance companies are the ones you truly need to sell to," says Bracken. "Figure this out as early as possible."
Once you understand this audience and what they're looking for, take a hard look at your product. If your device doesn't meet their needs, it's time to consider stepping away before you dive into the rabbit hole of funding.
"You need to cut bait early if you don't think that you've got something there," Bracken says. "Otherwise, all you're going to do is burn up all your money."
Nobody wants to fail. But if you're going to fail, it's best to do it early, while you still have more time and money available. Trying to secure funding for a device that has little to no demand can be expensive and damaging to your reputation.
And remember, failure is a great teacher. You may scrap a product early on and use the lessons from that experience to build a viable medical device in the future.
FREE RESOURCE: Click here to download our checklist to help you during the fundraising process and increase your chances of securing an investment.
Take steps to secure funding for your medical device with Greenlight Guru
There are a lot of moving parts when it comes to funding a medical device. Investors are looking for the complete package, and dropping the ball in any one of the previously mentioned areas could cost you investors and, ultimately, your shot at bringing your medical device to life.
Greenlight Guru, the only medical device-specific quality management software helps device makers turned investment seekers stay on track. The QMS solution allows you to streamline all of your go-to-market needs and project management tasks, giving teams full sharing abilities to show relevant documents and data points to key stakeholders of your choosing.
Investors will be much more apt to offer funds knowing that their investment is secure from a compliance standpoint, since Greenlight Guru stays up to date on the latest regulations and standards across global markets.
In addition, the solution now includes Intelligent Document Management powered by Halo℠, which incorporates artificial intelligence (AI) technologies that mitigate risk and improve quality.
It takes a lot of work to be the complete package, but with Greenlight Guru at your side, you'll be well on your way to wowing investors and securing funds for your medical device.
Get your free personalized demo of Greenlight Guru now →
---
Looking for a design control solution to help you bring safer medical devices to market faster with less risk? Click here to take a quick tour of Greenlight Guru's Medical Device QMS software