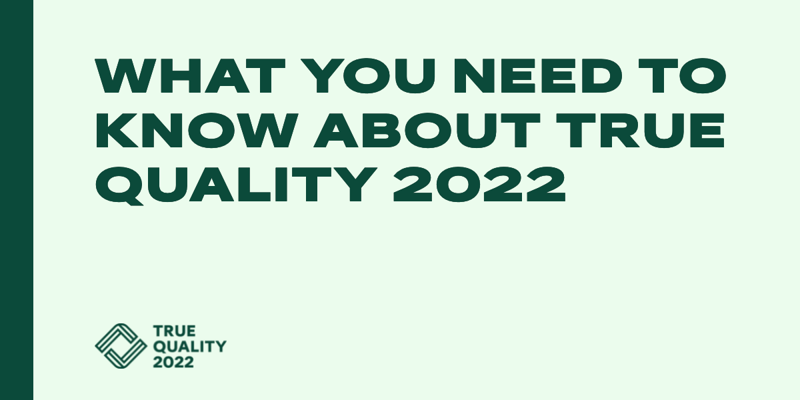 Here at Greenlight Guru, we've long since been a champion of quality over everything.
That's why we're so excited to announce True Quality 2022, a conference designed specifically for medical device professionals at innovative companies, being held June 6-8 in San Diego, CA. The two and a half day event will consist of educational sessions, curated networking, and inspiring speakers—all tailored to medical device professionals like yourself.
We know calendars can fill up quickly, so we've come up with our top ten reasons why True Quality 2022 is the can't-miss medtech event of the year.
#1. Medical device startup isolation is real
Maybe it's the odd hours, the hyperfocus on solving ultra-specific problems, or the long process of securing funding, but bringing a device to market can leave many who work in this industry feeling isolated.
Even your family and friends may not seem to understand the pressures you're under. At its worst, it can feel like you have nowhere to go to celebrate your wins, vent your frustrations, and find comfort in knowing you're not alone. Until now.
True Quality 2022 is a chance to connect with the thriving and future-forward medical device community that so many of us call home. Rather than relying solely on small, local professional circles, True Quality 2022 aims to craft a space where medical device entrepreneurs can connect and learn to scale together.
#2. Emerging medical device companies are the true innovators
All too often, medical device conferences cater to mid-to-large sized organizations. While that may be fine and good for the usual cast of characters, this industry is all about innovation—the exact kind being driven by medical device startup culture.
So, we thought: why not one for the up-and-comers and rising stars? That's precisely why True Quality 2022 is an event born with emerging medical device companies in mind.
True Quality 2022 is set to be the destination for medical device professionals around the world looking to level-up their quality efforts.
Attendees can engage in numerous speaker sessions covering regulatory deep dives, reviews of industry best practices, highlights on medical device technology trends. Each participant, in-person or remote, will benefit from discovering the tools needed to scale in 2022, and staying connected to the one thing that drives all of us: an inspiration to continue improving the quality of life.
#3. Class is in session at True Quality 2022
For our industry, a lifelong love of learning is practically a prerequisite. In fact, the medtech gold standard ISO 13485 promotes "continuous learning and improvement" as one of the hallmarks of a quality management system. Perhaps that's because quality isn't a checkbox activity, it's a brass ring that keeps us reaching towards True Quality in every facet of the product lifecycle.
At True Quality 2022, our diverse and thorough speaker series connects quality and regulatory leaders and executives, paving the way for a new generation of medical device leaders to spearhead medtech innovation.
Whether you're a CEO looking to grow the company faster or navigate a new market, or a QA/RA manager looking to master and execute a bulletproof quality and regulatory plan, there's a seat at the table for you.
#4. Demystify medtech trends with expert guest speakers
The medtech industry speaks in many different tongues, both in terms of language and subject matter expertise. While we all want to be a part of innovation, not everyone is up to date on the countless technological trends that drive our work. With that in mind, True Quality 2022 is the perfect opportunity to deep dive into the details and specs of medtech trends.
Between the rising technological advancements in software as a medical device (SaMD), digital health, and artificial intelligence (AI), to the evolving state of our industry amidst COVID-19, there are plenty of achievements worth celebrating, lessons to learn, and things we still aren't sure about.
Whether that means comprehensive reviews of complex regulations or a chance to dive into the weeds with experts in specific fields, True Quality 2022 is the ultimate opportunity to leverage the technology of tomorrow, today.
#5. Keep up with ever-changing medical device regulations
Whoever said that the only constant is change must have been referring to the world of medical device quality. Industry regulations continue to tighten around the globe, and navigating those waters is paramount for anyone looking to bring a new device to market.
In the past two years alone, we've seen the implementation of new medical device legislations both in the EU and UK, updates to FDA regulations regarding SaMD, and expanded requirements for numerous standards such as ISO 13485 and ISO 14971.
With these changes in mind, those presenting at True Quality 2022 will take a global perspective covering the most up to date news and trends in an effort to improve medical device quality across the US, EU, Canada, Australia, and other regions around the world.
Learn from global regulators and industry experts who've found repeated success helping manufacturers, such as you, understand and follow regulations and standards with ease.
Get your ticket to True Quality 22 and, in turn, get the inside scoop on today's regulatory landscape and learn perspectives and key insights on what may be coming in the future and how it could impact your role.
#6. Regulatory strategy is your roadmap to global markets
In order to execute a global market strategy it's essential to ensure compliance with the unique requirements specific to each of your target markets. At True Quality 2022, our expert speakers will provide an overview about regulatory strategy, considerations for quality management, and cross-functional implementation of regulatory strategy within organizations.
These sections will go very high-level, such as step-by-step guidance on compliance necessities, such as documentation best practices and communicating with regulatory bodies. But they'll also get very granular, allowing speakers to get you zoomed in on complex topics like implementing MDR 2017/745 or the IVDR 2017/746.
Of course, all of this will be presented by medical device entrepreneurs, executives, and leadership teams with the focus on quality positioned as a deep dive into building and leading your company, and learning how to leverage quality as a strategic advantage to protect your brand and impact the top and bottom lines.
#7. True Quality 2022 has something for everyone
Achieving True Quality in medical devices isn't the responsibility of just one department. This shared pursuit for True Quality requires the buy-in and engagement of each stakeholder involved, which cultivates a culture of quality from design, manufacturing, quality and regulatory assurance, and executive leadership.
This is especially true for startup and scale-ups, where the smaller company size often results in employees wearing more than one hat throughout the medical device lifecycle.
At True Quality 2022, there is value to be gained by medical device professionals of all types, including those in executive and management roles, quality professionals and management, regulatory affairs and management, clinical affairs professionals and management, and R&D engineers and management.
#8. Hear medtech advice from those who have lived it
Everyone needs guidance, no matter what stage your medical device company is at. But with so many unique challenges in medtech, doesn't it make sense to get that advice from professionals who have successfully navigated the same roads you're traveling now?
At True Quality 2022, we invite you to hear the true tales of medtech trailblazers and pioneers as they share actionable advice from real-world experiences, helping you to identify and avoid the hidden pitfalls that are found at all stages, from premarket to postmarket, of a medical device.
These stories are designed to help guide you towards future imagination, implementation, and innovation of True Quality medical devices.
#9. Location, location, location!
True Quality 2022 will take place in San Diego, California, a thriving life sciences sector and home to a sprawling medical device community and a popular hub for medtech investors. Its ideal 70 degree weather and miles of beaches and attractions are the cherries on the top.
In addition, San Diego boasts a world-renowned research community that receives billions in funding and is supported by a collaborative network, specifically created to drive growth while both producing and attracting an ever-growing highly skilled talent pool. This puts it at the heart of medtech innovation.
#10. Connect with medtech innovators as a True Quality 2022 sponsor
Marketing to medical device manufacturers? Looking to align your brand with the True Quality 2022 movement? Interested in reaching an audience of your peers or establishing new partnerships and business connections? Consider becoming a sponsor of True Quality 2022.
Since the beginning, Greenlight Guru has been dedicated to educating the medical device industry, simplifying industry best practices, and fostering a culture of True Quality. The progress we've made has only been possible through the trust we've built with the global medical device community over the years.
Through these relationships we've built the #1 blog in the medical device industry with over 150,000 loyal subscribers, the #1 podcast in the industry with more than 250,000 listeners, and the #1 webinar with an average of 1500 participants per event.
Don't miss out. Join Greenlight Guru for True Quality 2022!
Whether you're spearheading your company's regulatory strategy, interested in sharpening your quality assurance skills, or just looking to engage with other like-minded medical device professionals, this is the event for you. Tickets are limited, so make sure to secure your spot at True Quality 2022 today!
---
Looking for an all-in-one QMS solution to advance the success of your in-market devices and integrates your post-market activities with product development efforts? Click here to take a quick tour of Greenlight Guru's Medical Device QMS software →