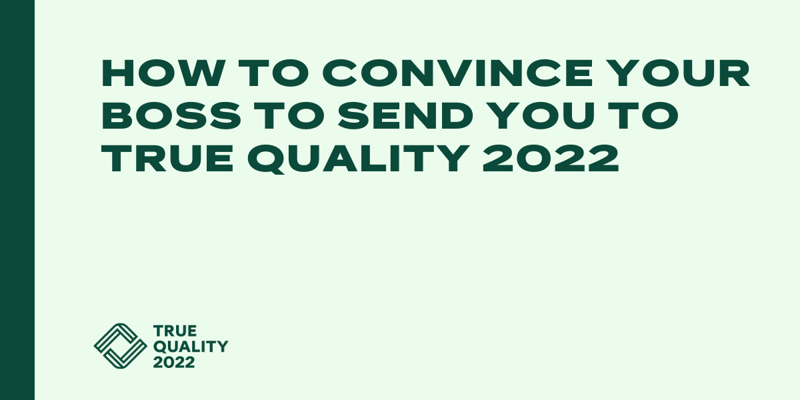 True Quality 2022 is a must-attend experience for medical device professionals at early-stage companies.
Whether you're pursuing commercialization right now or you intend to do so in the future, True Quality 2022 should be at the top of your list for conferences to attend this year.
The only question is: How do you make sure you actually go?
There are always costs involved in attending a conference. There are tickets and travel and lodging, of course, but there's also the cost of you being OOO for a few days. In an early-stage company it can feel like it's always all hands on deck—and getting your boss's approval to jet off to a conference for a few days isn't always that simple.
The networking and educational opportunities at True Quality will more than make up for your absence, but if you're not sure whether your boss will give you the go ahead, here are a few tips on how to convince them:
BONUS RESOURCE: Click here to access a free, customizable sample letter to your boss to help you make the formal request for tickets to True Quality 2022.
Get your facts straight: familiarize yourself with the conference details
Getting approval to attend any conference hinges on clear and regular communication with your boss. Mentioning that there's a conference you want to attend this summer and leaving it at that is a sure-fire way to end up staying home. Instead, give your boss all the details they need to make an informed decision.
Here's what you can tell them:
True Quality 2022 will be held June 6-8 in San Diego, California.

It's highly recommended for medical device professionals at emerging companies: executives, QA & RA, clinical affairs professionals, R&D engineers, and management.

The conference consists of five themes that revolve around True Quality and how it helps companies bring safe and effective medical devices to market.
Know your "why": what sessions do you want to attend or speakers do you want to see?
As it's a new conference, your boss may not be familiar with True Quality 2022 when you first bring it up—and that unfamiliarity can lead to some initial skepticism on their end.
The best way to get past that skepticism and get their approval is to have a clear and coherent "why" behind your ask.
For True Quality 2022, that shouldn't be too hard. The conference is a nonstop sequence of incredible speakers, interactive events, and curated networking. Pick a few of these from the schedule that pique your interest and articulate what you think you'll learn from them—and how you'll incorporate those lessons into your job and share them with the company. With so much to choose from, you shouldn't have a difficult time articulating your "why."
In fact, the harder question to answer about True Quality 2022 is, "Why not?"
Show the value: what's the ROI of attending?
Let's face it—you're not going to be able to crunch the numbers and show your boss that sending you to True Quality 2022 will result in a 20% reduction in your product's time to market.
Everyone's experience and what they bring back with them will be different depending on the themes they attend, the people they meet, the conversations they have, and a thousand other variables.
However, there are a number of qualitative benefits to attending that are pretty much assured:
This is one of the best networking opportunities you will have all year. Period. We built True Quality for people just like you: medical device professionals at emerging companies. You're going to meet people who are in the same position you are or were there recently—and you're going to do it in person instead of over Zoom.

You're going to be learning from some world-renowned experts in the medical device industry. Whether you're interested in regulations, trends and new technology, scaling your business, or bringing your first device to market, you'll be learning from people with an incredible depth of knowledge. I can guarantee you'll head back to work with some incredible insights to share with the team.

Everything ties back to the most important competitive advantage you can have: True Quality. There is a real difference between companies who think about compliance as a checkbox activity and those who make True Quality an imperative in every aspect of their business. It's not a wishy-washy ideal. It's the best (maybe the only) way to get the safest and most effective medical devices to market fast.


Put it in writing: give your boss a formal request
True Quality is a multi-day conference with a long list of speakers and events, and I realize it's a lot to lay on someone in a single conversation.
So, put it all in writing. Sending your boss a formal request shows them you're serious about attending, you know why you want to attend, and you know what you hope to take away from the conference. Plus, you can quickly break down all the information your boss needs to make an informed decision about the conference:
Give them the basics of the conference and explain what it's about and how it's structured.
Talk about your goals for attending, the benefits for you professionally, and what you hope to bring back and share with the team.
Include a breakdown of the cost so there are no surprises when it comes time to book travel and lodging.
Is that a little overwhelming? Well, we've got a template for you that should help get you started on your formal request. You can thank me in person at True Quality 2022.
BONUS RESOURCE: Click here to access a free, customizable sample letter to your boss to help you make the formal request for tickets to True Quality 2022.
Don't miss out. Join Greenlight Guru for True Quality 2022!
Whether you're spearheading your company's regulatory strategy, interested in sharpening your quality assurance skills, or just looking to engage with other like-minded medical device professionals, this is the event for you. Tickets are limited, so make sure to secure your spot at True Quality 2022 today!
---
Looking for an all-in-one QMS solution to advance the success of your in-market devices and integrates your post-market activities with product development efforts? Click here to take a quick tour of Greenlight Guru's Medical Device QMS software →