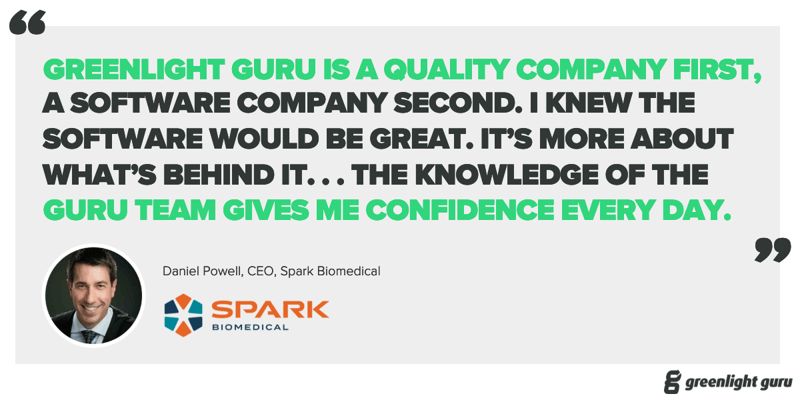 "Having partners with common values is just as important as the product or services themselves." Daniel Powell, CEO
---
Bringing a medical device to market is a long, difficult process for even the most experienced of medical device companies.
The sheer enormity of the task is one of the reasons that medical device companies often look for partners to help them accomplish their goal of putting a safe and effective medical device on the market—and keeping it there.
But a strong partner ecosystem is more than just a handful of signed contracts. If you ask Daniel Powell, he'll tell you that it feels more like his partners are all part of his team.
Spark Biomedical: Fighting the Opioid Epidemic
Powell, the CEO of Spark Biomedical, Inc., is uniquely positioned to understand the benefits of working with a partner ecosystem in which everyone is aligned around quality and culture.
An industry veteran with more than 20 years of experience in the medical device space, Powell started Spark in 2018. He had witnessed the magnitude of the opioid epidemic in the US and the lack of effective options for tackling withdrawal symptoms.
This inspired his mission to ensure that fear of withdrawal wouldn't stop people from overcoming their addiction. Instead, Powell and his team wanted to empower people to eliminate opioids from their lives by providing a withdrawal process with as few symptoms as possible.
In fulfilling this mission, Spark partnered with several medtech companies, including Galen Data, Velentium, and Greenlight Guru to help build the Sparrow Therapy System™—a wearable neurostimulation device for treating opioid withdrawal. The clinically proven Sparrow Therapy System offers patients facing opioid withdrawal an FDA-cleared, drug-free, targeted therapy option for tackling this daunting problem.
Building a Quality IQ
Powell began his work in the medical device industry at St. Jude Medical—and it was at St. Jude that he had the defining experience of his career. During his tenure there, the company was issued a warning letter from FDA.
"I watched seven years of product development and advancements put on hold to focus on quality problems," Powell says. "I was a product manager, so I lived and died by bringing new product ideas to the engineers. My value there just sort of ceased."
The warning letter time period was difficult for Powell, but it left him with a deep appreciation of the importance of quality management to a medical device company.
So, when Powell started Spark, he made a decision: Never underestimate the importance of quality management. "The warning letter built a huge 'quality IQ' for me. I told the team, 'We're going to run this like a Class III company, even though we're Class II.' And one of my first purchases was Greenlight Guru."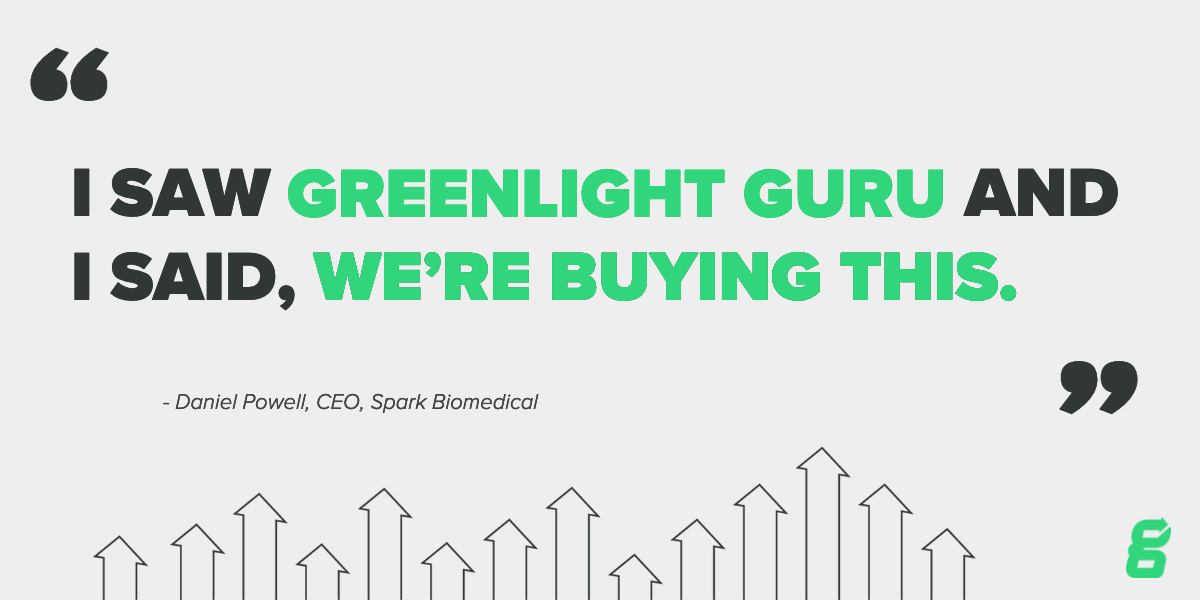 A Commitment to Quality
Powell first came across Greenlight Guru while at a previous company. He wasn't certain the team was doing design validation correctly, and finally he decided to Google, "What is design validation?"
He came across an article on the subject by Greenlight Guru founder Jon Speer, and from there he was hooked. After seeing a demo of Greenlight Guru's software, Powell knew it was lightyears ahead of paper or manual QMS options.
"The startup I previously worked at tried to do a paper QMS and then tried to configure something cheap. It sort of worked, but it was miserable. I saw Greenlight Guru and I said, 'We're buying this.'"
Given his previous experience, Powell knew exactly who to call when he started Spark Biomedical. And the benefits of Greenlight Guru for a small team like the one at Spark have been enormous.
"I don't have someone configuring my QMS. It's done. I don't have to have it validated. We don't have to make up procedures. It just lets us focus on what we need to do, which is build the product."
As Powell likes to tell his peers at other medical device companies, "Greenlight Guru's software is extremely expensive on day one, and dirt cheap on day two. This is a year's worth of someone's salary already done, implemented, and ready to go."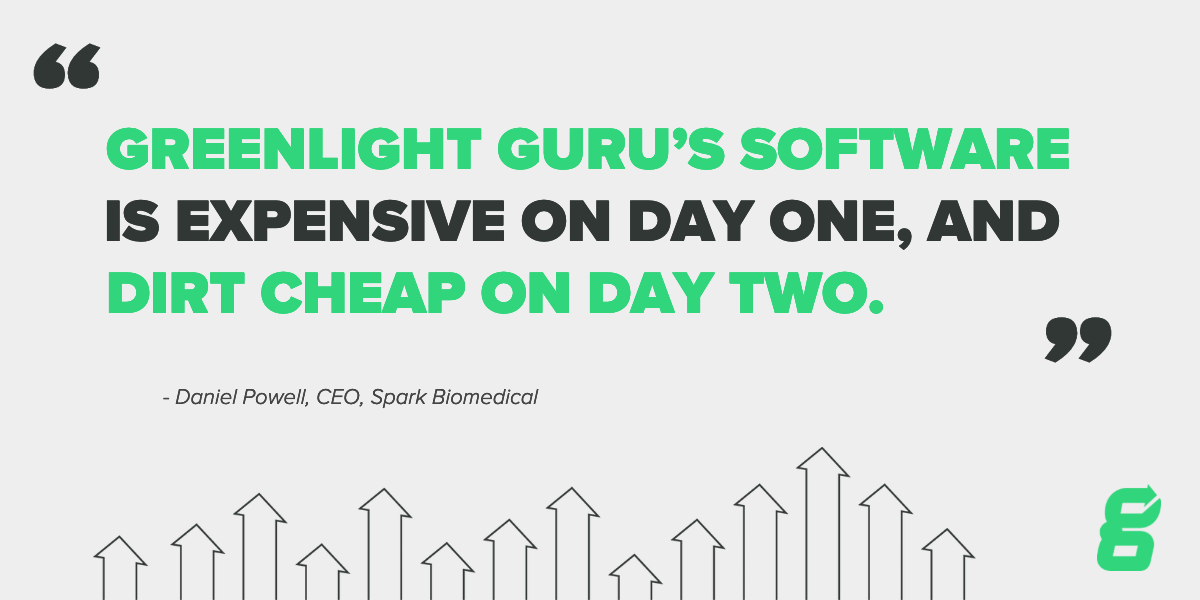 Building a Partner Ecosystem
Powell had his QMS figured out, but Spark Biomedical needed more than that to build the product they wanted to. That eventually led him to two companies in Greenlight Guru's partner ecosystem: Galen Data and Velentium.
The first step was finding a partner for cloud services and app development. While at St. Jude, Powell had learned how difficult it can be to build a cloud infrastructure from scratch, and he knew Spark would outsource this work.
Galen Data, a solution for medical device-to-cloud connectivity and data analysis, happened to be right down the street and Powell and Chris Dupont, CEO of Galen Data, hit it off immediately.
But before working on cloud services, Spark needed the app. And fortunately, Galen Data was up to the task. "They wrote the Sparrow Clinician app that is currently on the market. And they were incredibly patient. Our hardware took a year and they worked with us throughout our delays."
That hardware delay was how Powell came to partner with Velentium. He was searching for a new engineer to get the hardware for the Sparrow Therapy System to the finish line. A former colleague of Powell's introduced him to Velentium, an engineering firm specializing in the design and manufacture of medical devices.
It turned out that Velentium's CTO, Randy Armstrong, had designed an implantable device that Powell considered "bulletproof." With that sort of track record, Velentium was an easy choice.
The Benefits of Partnerships
The partnerships with Galen Data, Velentium, and Greenlight Guru started paying dividends almost immediately.
When Powell sat down with Velentium, he had a timeline for hardware development in mind. But Velentium challenged Spark.
"They outlined a more aggressive timeline than I did, and then went after it and got it done. Our next investment tranche was gated by FDA submission, and Velentium made sure we made it to the finish line before we ran out of money."
No one is slowing down, either. It took 18 months for Spark's first-gen product to be fully compliant and approved for market. But now, with a larger team and strong partnerships, the timeline for their second-gen product is just nine months. "That's pretty dang efficient," Powell notes.
Speed is great, but so is quality. And Spark's partnerships have paid off there, as well. A recent internal audit turned up just a handful of minor findings—a testament to the focus on quality that Powell and his partners have committed to.

Advice for New Medical Device Companies: Choose the Right Partners
Powell's early experience with an FDA warning letter was a crash course in the importance of quality. It also helped him understand where a company should focus its resources.
For Powell, finding the right partners early on is a strategically important move for future growth. He knows many startups decide to use a paper QMS because it's cheaper at that moment in time. "Companies have limited cash flow so they decide to keep running quality on paper so they can focus on other things."
But in the long run? "It is always going to be more expensive to do a manual or paper QMS. It's just always going to cost you more. "
Powell is adamant that his partnerships with Greenlight Guru, Galen Data, and Velentium have been key to his company's success. "It's been really cool to build out and be in this ecosystem of people you know and are friends with," he says. "I know it's a special time in my career to be a part of this."
A vibrant partnership ecosystem is crucial to the success of medical device companies. But ideally, every partner should have an unfailing focus on quality. That's one of the reasons Spark's partnership with Greenlight Guru has been so productive: both teams consider quality to be their most important asset.
As Powell puts it, "Greenlight Guru is a quality company first, a software company second. I knew the software would be great. It's more about what's behind it. And the Guru team's knowledge gives me confidence every day."