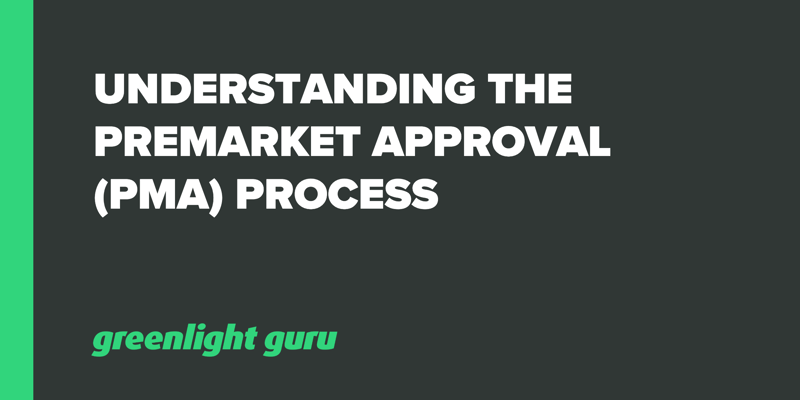 Before any medical device can hit the US market, FDA must first evaluate the product's potential risk to the public. This is done in part through a risk-based classification process.
Lower-risk, Class I devices require only General Controls, while those with a higher risk and identified as Class II are subject to Special Controls, which garner more regulatory scrutiny and oversight to ensure quality and efficacy.
But, when a medical device reaches the Class III level which indicates the highest risk, FDA uses its most stringent regulatory control: the Premarket Approval process.
FREE DOWNLOAD: Click here to get your PDF copy of our myth-busting PMA tips.
What is Premarket Approval from FDA?
Premarket Approval (PMA) is a thorough and exhaustive process of affirming the quality and safety of Class III medical devices. These high risk, high reward products are cutting-edge medical devices designed to address the most dire of health conditions.
These may include items such as pacemakers, cochlear implants, implanted prosthetics, or high-frequency ventilators. Regardless of the intended use, though, FDA has identified some key characteristics of Class III products. According to FDA, Class III medical devices are:
Devices which support or maintain a person's life

Have substantial importance in preventing an impairment

Ones permanently implanted in the body

Products which otherwise present an unreasonable level of risk and/or fatalities
However, with great potential and ability comes great responsibility. Class III devices pose the most significant risks to the patient, as compared to the two other classification types. Class III products often are the first of their kinds, and this innovation often means there is no predicate with which to demonstrate substantial equivalence.
Class II device manufacturers have the ability to seek exemption from premarket notification requirements through a 510(k) application; but without another already-established device model to point to, that's not the case for Class III device companies. Unless the product is shown to be substantially equivalent to a cleared device, a PMA submission is required by FDA.
What's required in a PMA submission?
Although it carries great significance, the actual process of submitting the premarket approval application is surprisingly informal. While there is no actual PMA form, FDA does expect a few things to be in order with a premarket approval submission.
A neatly constructed table of contents and cover letter

A concise but thorough abstract section which summarizes all major points and broadly describes the information contained throughout the PMA

Published results of laboratory studies on human subjects, both clinical and non-clinical.These must be separated out into individual sections to avoid data contamination.

Indications for use to briefly describe the disease the device will treat

Device description that communicated in a straightforward, yet fully informed manner

Description of any possible alternative practices or uses for the device

References to any and all standards met during design and manufacturing. This means both regulatory and voluntary, self-imposed standards.

Conclusions drawn from the studies and marketing research

Disclosure of any trade or secretive information/materials used throughout; each piece of information known to be secretive by the author must be identified in copy at least once in the text

Any relevant updates to the device, marketing plan, or production
Assembling the necessary data, insights, and design requirements will likely take several rounds of internal revisions. That's why it's so helpful to lean on your subject matter experts. That's exactly why Greenlight Guru offers in-house gurus with 10+ years of regulatory and quality assurance expertise in the medical device industry.
using the PMA pathway to your competitive advantage
The average premarket approval for Class III devices is a costly and long lasting process. According to statistics from Drugwatch, Class II devices following the 510(k) application spend an average of $31 million to bring a product to market, those facing PMAs typically spend $94 million. On top of that, it can take an average of 274 days to gain approval.
But instead of going with the flow, we'd rather help you save money and shorten your necessary runway with a few helpful hints for the PMA process.
Don't describe a product, tell your story. Your rhetoric, pacing, and tone should all be part of the same narrative arc. Remember, the PMA does have some subjective points available.

Use the MAUDE database to search extensively for any potential predicates that can allow you to avoid the PMA process entirely and opt for a 510(k) instead.

Check to ensure you're not including too much information in your submission! Avoiding unnecessary tests is one way to save huge costs and time.
FREE DOWNLOAD: Click here to get your PDF copy of our myth-busting PMA tips.
Simplify your premarket approval & accelerate time to market
There's no doubt that the PMA process is crucial, nor is there any misconception regarding its routinely high costs and approval time for releases. FDA will be watching most if not all of your moves during the review process and there are unique regulations and practices that change from device to device. In short, there's very little room for error, at any point in the process.
That's why if you're even considering bringing a high-risk, Class III medical device to market in the US, you need a quality management system in place. And nowhere will you find a better end-to-end QMS solution than Greenlight Guru's Medical Device Success Platform.
Take the stress of intense regulatory fineprint off your plate with the only QMS software that aligns with the latest FDA and ISO industry best practices built into the platform.
To start a conversation with our team, check out our free demo now.
---
Looking for a design control solution to help you bring safer medical devices to market faster with less risk? Click here to take a quick tour of Greenlight Guru's Medical Device QMS software