Is my QMS ready for the product launch of my medical device? Which quality processes should I implement to prepare for my product release into the market? We'll help you prepare your QMS to support all processes involved with your upcoming product launch and mitigate risk along the way.
How to Implement a World-class Medical Device QMS using the 5 Phase S.M.A.R.T Methodology
In this playlist you'll learn how to establish a world-class medical device QMS using our proven 5 phase S.M.A.R.T methodology designed to help you through each stage of your product life cycle. This is episode five of seven from this playlist brought to you by The Greenlight Guru YouTube Channel with Jon Speer.
Episode 5 Transcription:
Hi and welcome everyone. I'm Jon Speer, founder and VP of QA/RA at Greenlight Guru.
How do you make sure all the elements of your QMS are in place to support and enable a successful product launch? Well, that's exactly what the fourth phase of our S.M.A.R.T methodology will help you do.
This episode will cover the Release-phase, where you'll learn the specific processes that need to be implemented to prepare your QMS for a successful product launch. I'll be sharing tips to help you avoid delays to market. I'll also offer actionable best practices you can follow to ensure the preparedness of your QMS during manufacturing and market release.
In the previous video, we went over the Approve-phase on how to position and optimize your QMS to approve the transfer of your medical device into manufacturing.
If you've made it to the Release-phase, you should be familiar with the first three phases of our S.M.A.R.T methodology for building a world-class medical device QMS. But if you haven't watched those episodes, go do that now. And make sure you are subscribed to our YouTube channel so you never miss a new episode!
You should have the following quality processes in place by the Release-phase:
Process Validation
Software Validation
Calibration
Preventive Maintenance
Handling and Storage
Distribution and Installation
Servicing
Complaint Handling
Adverse Event Reporting and Medical Device Reporting
Corrections and Removals
Customer Feedback
Analysis of Data
Internal Auditing
Quality Manual
At this stage your design history file, or commonly abbreviated as DHF, is complete and all design controls have been addressed and documented. Your completed DHF should reflect compliance with the design controls mandate and your design plan.
Your product design will also be completely transferred to manufacturing by this stage. Product risks should have been vetted and reduced to acceptable levels. During this stage, you should identify potential harms associated with hazardous situations and persons affected. A risk management report should be documented and approved. The risk management file should be ready for the production and post-production stages of product realization.
Here are some common myths about the Release-phase:
Myth No. 1: "Once a DHF is completed and transferred to manufacturing, there is no need to keep it current and up-to-date."
Reality: A best practice during the Release-phase is to ensure your design controls and DHF are maintained as "living" throughout the entire product life cycle. This means keeping it updated beyond the development phase as well. Your DHF should always be an accurate representation of the product you're delivering.
An outdated DHF could result in four-eighty-three observation or warning letter, if it's discovered during an inspection. FDA requires all changes to be assessed from a design control perspective. You must verify and validate any changes before implementing them in production. Design control records must support that, otherwise it will end up very fragmented.
You should also ensure your risk management file is maintained and living. A best practice is to keep the contents of the product Risk Management File together in a single location for ease of access and use. This is very difficult to manage and maintain using a paper-based approach. You can search far and wide for a QMS solution that is compliant with ISO one-four-nine-seven-one, but you'll find there is only one: Greenlight Guru. That's part of the reason we built it.
A Risk Management File contains evidence of:
Risk Management Plan
Risk Analysis
Risk Evaluation
Risk Controls
Evaluation of Overall Risk Acceptability
Risk Management Report
Production and Post-Production Risks
This asset ensures that production and post-production events are factored in and properly assessed according to defined risk management practices. Unfortunately, very few medical device companies actually do this well. But, follow these recommendations and this can be one area in which your world-class QMS stands out from competitors.
Now that you understand how to build a QMS during your go-to-market, you're ready for the next step of releasing your medical device into the market.
All of which means we're ready to go over the final stage of the five-phase S.M.A.R.T methodology, the Track-phase. See you in episode six as we will review the most effective ways to track and measure your QMS and products after successfully entering the market.
---
Watch next: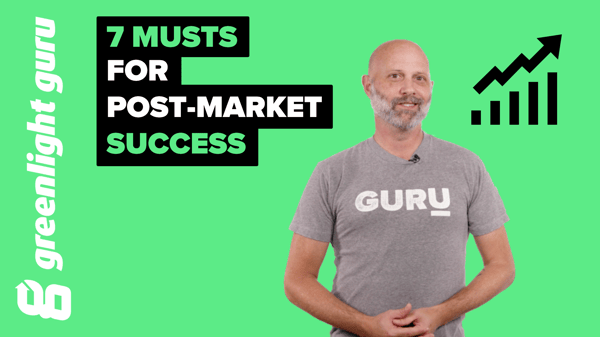 Watch episode six of our playlist, How to Implement a World-class Medical Device QMS using the 5 Phase S.M.A.R.T Methodology: 7 Ways to Track QMS Effectiveness using Medical Device Post-market Quality Processes (Track Phase)