How can I prepare my QMS to approve my medical device for manufacturing from a design transfer? Learn the key quality processes to establish in your QMS in the final stage of product development and how this proven approach will prepare your QMS for a successful product launch.
How to Implement a World-class Medical Device QMS using the 5 Phase S.M.A.R.T Methodology
In this playlist you'll learn how to establish a world-class medical device QMS using our proven 5 phase S.M.A.R.T methodology designed to help you through each stage of your product life cycle. This is episode four of seven from this playlist brought to you by The Greenlight Guru YouTube Channel with Jon Speer.
Episode 4 Transcription:
Hi and welcome everyone, I'm Jon Speer, founder and VP of QA/RA at Greenlight Guru.
Preparing your QMS for a seamless approval process to transfer your device into manufacturing can be challenging for even the most experienced device maker.
In this episode I will explain how you can navigate this important step through proven best practices to help you through the process. While in the Approve-phase, you'll be preparing your QMS for a successful transfer to manufacturing. You'll also define and implement a few additional quality processes that will connect in your world-class QMS.
Our last video covered the Make-phase, where you learned how to build your QMS to support the processes needed during product development. If you haven't watched the previous episodes, take a moment to do that. And make sure you're subscribed to our channel so that you never miss out on hearing about new videos!
Now let's dive into the Approve-phase of our S.M.A.R.T methodology in building your world-class medical device QMS.
By right-sizing your QMS, you should only be implementing the processes necessary for your stage in development. As a general rule of thumb, I recommend planning out your manufacturing during the design output phase of your project.
You will want to involve your manufacturing team in discussions early on. These resources can provide valuable insight into the viability of your design outputs, from a manufacturing perspective.
Here are the quality processes you should have in place by the Approve-phase:
Training
Purchasing
Device Master Records, or DMR. Design outputs are the "recipe'' for your device. Your outputs will go on to form the basis of the DMR once you reach manufacturing.
Production and Process Controls
Labeling and Packaging. Labeling doesn't just refer to the label on your device. It can also be instructions for use, marketing materials, and anything else used in conjunction with your device to describe it to the end-user or regulators. You'll want to familiarize yourself with all FDA requirements for a Unique Device Identification System. In Europe, the new MDR requires that any device sold must be issued a unique identification number, to help with the exchange of information. This also includes product registration, declaration of conformity, economic operators, vigilance reports, and post-market surveillance.
Receiving, Incoming, In-process and Final Inspections. While most people don't look forward to them, audits and inspections are meant to ensure you're delivering a safe and effective product to market. Instead of spending weeks preparing for an audit at the expense of productivity, it's best to be audit-ready at all times.
Identification and Traceability
Device History Record
Change Management
Non-Conforming Materials
CAPA
Management Responsibility
Here are some common myths about the Approve-phase:
Myth No. 1: Regulatory submissions must include all details of manufacturing processes.
Reality: A regulatory submission is primarily design-based and focused. And the goal is to assess the safety - and in some cases efficacy - of a medical device with respect to stated indications for use. This is demonstrated through sound design controls and risk management.
For some medical devices, biocompatibility and sterilization may be applicable. In order to address these items, some manufacturing processes may need to be established. Generally speaking, providing these details is not included with a regulatory submission.
Myth No. 2: You have to wait until you receive clearance or approval from FDA before you can begin manufacturing.
Reality: According to FDA's 21 CFR Part 820, you don't have to wait at all. In fact, the wording in this regulation shows that it's expected you'll be moving into manufacturing while awaiting a response to your submission.
I recommend considering two important factors while awaiting on your response. First, the likelihood that product design will need to change as a result of regulatory review and second your company's aptitude for business risks
This part usually involves a balance. There will likely be some manufacturing elements that you can improve as you wait. You may be able to finalize tooling or start manufacturing of some components prior to receiving a decision on your submission
Here are the best practices for Approve-phase:
Strive to be in a position to start selling your product the day your device receives market clearance or approval.
Assemble a distribution team to help with the actual selling process. This group can often provide marketing support and help organize other events, such as conference exhibits and product training courses.
Implement the world-class QMS processes we've laid out thus far
Use and follow the 'Refuse to Accept' checklist guidance from the FDA. Make sure to review this document thoroughly.
That concludes the Approve-phase. Through this point, you've learned how to create, implement and improve your world-class medical device QMS. You should be prepared now to transfer your device to manufacturing.
In the next episode, we'll discuss the fourth phase of S.M.A.R.T, the Release-phase. I'll show you how to use your QMS during manufacturing to prepare your medical device for its debut release into the market.
---
Watch next: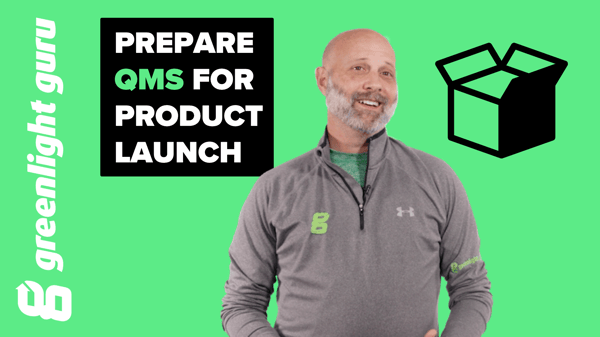 Watch episode five of our playlist, How to Implement a World-class Medical Device QMS using the 5 Phase S.M.A.R.T Methodology: How to Prepare your QMS for a Successful Medical Device Product Launch (Release Phase)