Which quality processes should I establish first when implementing a medical device quality management system (QMS)? Learn how to leverage your best people, processes, and technology in order to successfully implement a medical device QMS using our S.M.A.R.T methodology.
How to Implement a World-class Medical Device QMS using the 5 Phase S.M.A.R.T Methodology
In this playlist you'll learn how to establish a world-class medical device QMS using our proven 5 phase S.M.A.R.T methodology designed to help you through each stage of your product life cycle. This is episode one of seven from this playlist brought to you by The Greenlight Guru YouTube Channel with Jon Speer.
Episode 1 Transcription:
Hi everyone, Jon Speer here, founder and VP of QA/RA at Greenlight Guru and today I'll be introducing a proven methodology that you can use for implementing a world-class medical device quality management system for your medical device company.
I'm talking about the "S.M.A.R.T" system, a 5-phase QMS implementation system that I've developed and perfected over my 20+ years in the medical device industry, which has allowed me and our customers to successfully launch hundreds of products into the market.
I'll show you how you can easily implement this system at your own company, regardless of whether this is your first time going through the medical device product realization process or if you already have a quality system implemented.
You will walk away from watching this video with a solid understanding of the 3 core tenets that serve as the foundation of the SMART methodology: People, Processes and Technology.
Before we get started, make sure you subscribe to this channel! That way, when we release our next video, you'll be the first to know.
Now let's expand upon those 3 core foundational tenets I mentioned earlier. In order for my 5-phase system to properly function as a world-class medical device quality management system, you MUST LEVERAGE THE BEST:
People

Processes

Technology
It's imperative that you have quality People that are willing to put the time in like you and watch educational videos, such as this.
The Processes at work will be explained at length as I go through each of the 5 phases of our S.M.A.R.T. QMS System, but just know that the phases are representative of the Processes.
The third and final MUST is Technology. When I say technology, I'm referring to a digital solution that enables those people and processes for optimal performance, and powers the QMS engine to make it world-class.
When done right, this system will become the guardrails to protect against potential threats and ensure the future success of your medical device.
Companies that use a paper-based or general purpose system to manage their quality and regulatory processes are exposing themselves to many potential threats that could hinder productivity and result in costly damage.
Companies that leverage the best Technology for their people and processes through the S.M.A.R.T. system, adopt solutions such as, Greenlight Guru's MDQMS software. This software solution is purpose-built for medical device companies to manage their quality systems, stay compliant with all applicable regulations and achieve True Quality.
Companies that implement Greenlight Guru's Medical Device QMS, or MDQMS for short, are able to easily improve in their day-to-day functions and streamline processes by using a Technology that provides:
Alignment with medical device industry regulations and requirements, including FDA 21 CFR Part 820 and Part 11, ISO 13485 and 14971; and EU MDR.

Workflows and best practices integrated to improve overall efficiency;

Intuitive user interface and usability;

Quick and easy implementation and training;

Technical and customer support to address medical device industry needs; and

Expertise to ensure the MDQMS solution continues to align with changing industry regulatory needs.
In order for the S.M.A.R.T methodology to successfully function as your world-class medical device quality management system, you must utilize a Technology that will enable the People who use it and optimize the Processes that it's built to manage. When done effectively, the overall output will be the production of a safe, effective medical device.
ONE MORE THING before you go. There are 2 main cornerstones of my QMS philosophy that I want to make sure you understand so that this methodology will work for you:
The first is, keep your QMS simple.
It should meet the intent of regulations and sufficiently describe your company's processes. No more. No less.
And the second is, right-size your QMS.
Your QMS should be tailored to the size and type of company you are. The model that will help you do this is the S.M.A.R.T system, which I'll be covering in the remaining videos of this playlist.
I hope you now have a firm understanding of the foundation which this methodology is built on - the people, processes and technology. And how these 3 core tenets must collectively function in each of the 5 phases of this methodology for it to be successful.
I'll be sharing tactical best practices and advice to help you implement a world-class medical device quality management system. The purpose of this playlist is to:
Give you confidence and peace of mind about upcoming FDA or ISO audit or inspection because you know the system you implemented is world-class and always ready for an audit;

Get you to market faster, with less risk and less headaches. There's literally millions to be made or lost depending on when you get to market. I'm going to enable you to hit those aggressive deadlines you have;

Allow you and your team to spend more time doing your actual job, instead of low value-add activities like chasing down signatures and maintaining document revisions.
Thanks for watching and I'll see you in episode two to kickoff the first phase of the S.M.A.R.T methodology, the Scope-phase.
---
Watch next: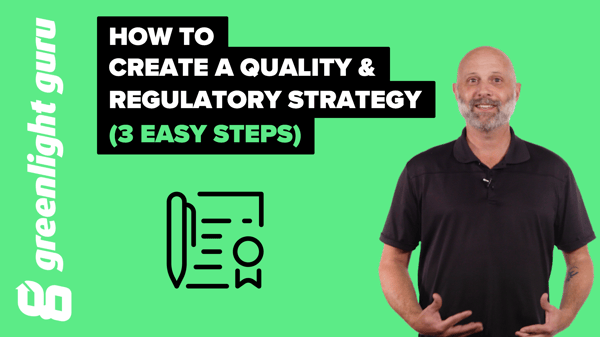 Watch episode two of this playlist, How to Implement a World-class Medical Device QMS using the 5 Phase S.M.A.R.T Methodology, 3 Easy Steps To Establishing A Quality And Regulatory Strategy For Your Medical Device (Scope Phase)