How do I know which regulations apply to my medical device? What should I include in my quality plan to ensure ongoing compliance and success of my medical device? We'll show you how to establish a solid quality plan and regulatory strategy that will guide your QMS processes throughout the total life cycle of your medical device.
How to Implement a World-class Medical Device QMS using the 5 Phase S.M.A.R.T Methodology
In this playlist you'll learn how to establish a world-class medical device QMS using our proven 5 phase S.M.A.R.T methodology designed to help you through each stage of your product life cycle. This is episode two of seven from this playlist brought to you by The Greenlight Guru YouTube Channel with Jon Speer.
Episode 2 Transcription:
Hi and welcome everyone. I'm Jon Speer, founder and VP of QA/RA at Greenlight Guru.
How should you approach defining a quality plan and regulatory strategy for your medical device?
An established strategic plan will serve as a critical component of both your premarket and postmarket activities. However, the process of actually establishing this plan can be challenging for many companies.
This episode will kick off phase one of our SMART methodology: the Scope-phase. The goal of this video is to simplify difficult quality and regulatory concepts. I will also provide actionable steps for you to establish a strategic plan. I'll cover regulatory expectations and share helpful tips for staying up-to-date on the latest regulatory changes.
We covered some really important concepts in our last episode. So if you missed it, go back and watch episode one. And while you're at it, make sure you subscribe to our channel so that you never miss another episode again!
You'll start by defining your quality and regulatory plan. This will help you map out the next steps for implementing a world-class medical QMS.
First things first: you'll need to determine which regulations will apply to your device. Product classification determines the regulatory requirements you must meet in order to legally market your product.
Determining your product classification will help you better gauge the costs associated with marketing your medical device. It will also help to give you a general idea of the scope of your overall project.
Your device classification will dictate how you draft your regulatory strategy and quality plan. Your plan will guide your product development and design control efforts.
Hopefully you're starting to see the dots connecting. And why planning early is key to the success of your world-class QMS.
Let's take a moment to address some common myths of this phase and lay them to rest once and for all.
MYTH #1: Start-ups don't need to implement a QMS until they receive regulatory clearance or approval.
Wrong. It's important to implement certain key processes of your QMS early on in the design and development phase. Make sure you establish processes around managing your documentation, design controls and risk at the least.
MYTH #2: Once I establish my QMS, I don't need to re-evaluate it.
Wrong. The intent behind a world-class QMS is to enable a state of continuous process improvement. Adopting this mindset will allow you to easily adapt to changing regulations that may impact your medical device down the line.
Speaking of regulations, let's switch gears to address the regulatory landscape of things. ISO 14971 is the globally harmonized standard for medical device risk management. Why is this standard important and what does it have to do with the Scope-phase of S.M.A.R.T?
As you implement your world-class MDQMS, the concept of a risk-based QMS is important to understand. All of the processes we'll cover from here on out are connected to risk.
Another important one to know is ISO 13485, which is the global standard for medical device QMS. It states that all quality processes must be "risk-based." FDA has publicly announced plans to adopt the ISO thirteen-four-eight-five standard.
The agency is also placing great emphasis on risk-based activities by directing device makers to reference risk guidelines from ISO 14971. So make no mistake here, risk MUST be considered early on in your regulatory strategy.
I now want to highlight a few key things you must do during the Scope phase:
You must perform a GAP analysis. Can you identify any changes that need to be made to your processes? The results of your GAP analysis will be important for scoping your project. Check out the description of this video to find some of our free gap analysis tools that will help you accomplish this task with ease.
You must leverage internal and external audit findings and results. Many companies spend a lot of time on internal audits, but don't actually get any value from them. This is usually because they're treated as checkbox activities. Take advantage of the valuable information you can gain from these findings, which can help you identify gaps, issues, and opportunities for continued improvement in your QMS.
You must also create a quality plan. Your quality plan should include descriptions of the project overview, phases, expected outcomes, required resources, and so on. These will be used for defining the scope of your QMS initiatives.
I'll leave you with a key takeaway before we head into episode three on the Make-phase of S.M.A.R.T. Think of it as a mantra of sorts.
Your world-class QMS should achieve two primary missions: First, align with applicable regulations, and second describe company processes that enable the people and technology.
Thank you for watching this episode regarding the Scope Phase. Don't forget to subscribe so you can be alerted as new videos are released. In the meantime, head over to our website to learn more about how we can help you!
---
Watch next: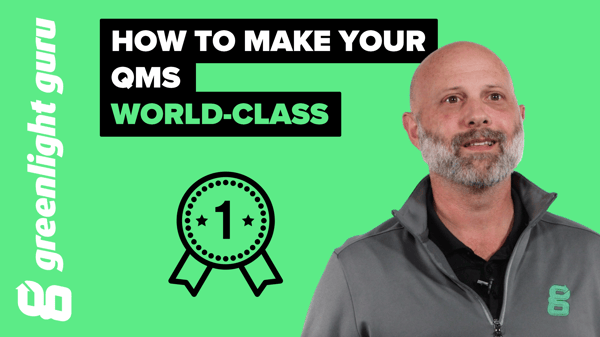 Watch episode three of our playlist, How to Implement a World-class Medical Device QMS using the 5 Phase S.M.A.R.T Methodology: Integrating Design Controls & Risk Management to Streamline Product Development (Make Phase)