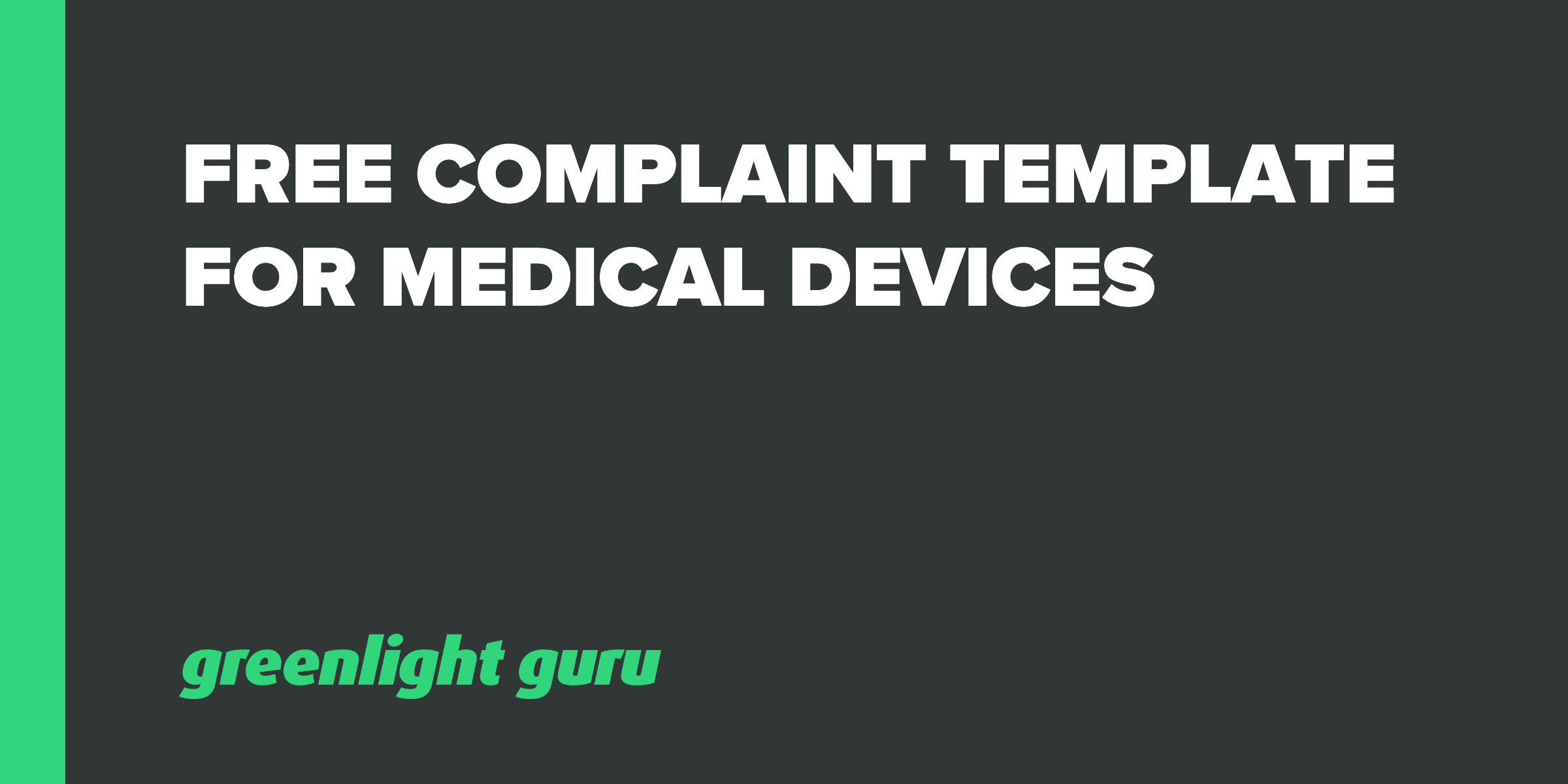 One of the major post-market responsibilities of medical device companies is handling customer complaints. However, unlike the complaints department at most businesses, medical device professionals are legally obligated to handle complaints in a certain way.
The legal requirements of complaint handling are laid out in 21 CFR Part 820.198 from FDA's quality system regulation and Clause 8.2.2 of ISO 13485:2016. The goal of these requirements is to ensure that all complaints are handled appropriately, but for some medical device professionals, these requirements may lead to some confusion. For example, all complaints are feedback, but not all feedback is a complaint.
In this post, we'll walk you through the complaint handling process, provide you with a free complaint template, and explain how you can start automating your complaint process today with the right tools.
Free Download: Click here to download 3 free templates for Complaints, CAPA, and Nonconformances.
Explaining the Medical Device Complaint Process
In order to ensure that you are compliant with all applicable regulations related to complaints, it's important to have a consistent complaint handling process. This will reduce errors and increase your effectiveness, all while keeping you within the bounds of legal requirements.
Most complaint handling processes will start with a dedicated intake phase. The purpose of intake is to gather as many facts as you can about the situation. You will want to determine things like:
Is this complaint reportable? (We'll talk more about that later)

Was it caused by error?

Was there abnormal use that led to this error?
Once you've finished your intake process to uncover the basic facts of the case, you need to investigate. The depth of your investigation will depend on the nature of the complaint. In some cases, the initial investigation will lead you to conclude that no further action is necessary. This may be the case if the investigation proves there was no harm involved.
If the investigation reveals the complaint involves harm of any kind, you will need to report such findings to the appropriate regulatory authorities and perform a root cause analysis to determine the source, or cause, of the harm.
complaint-related information to collect
For the FDA specifically, there is specific information and documentation required for you to investigate a complaint, which includes:
Name of the product involved

Date the complaint was received

Identification or control numbers on the product (e.g., UDI, UPC and other control numbers)

Contact information for the complainant, including name, address, and phone number

Nature and details of the complaint

Dates and results of the investigation

Any corrective action taken

Any reply to the complainant
As you reach the end of your investigation and have generated all supporting documentation required, consider taking these additional steps for both reportable and non-reportable incidents prior to closing the complaint:
Updating risk management files.

Contacting customers regarding new part(s), refund, and/or request for changes to specs, harms, documents, etc. (if applicable)

In some cases, taking action to mitigate further harm to patients or users.
Once you've assembled all of this information, if you determine that no further action is required, you can close the case. If you'd like to learn how this process can be automated, take a tour of Greenlight Guru's QMS software platform.
Which complaints are considered reportable incidents?
Like we said earlier, all complaints are feedback, but not all feedback are complaints. Additionally, not every complaint will require reporting the complaint to relevant bodies. Here is a list of incidents that are considered reportable across most regions of the world:
Death or serious injury (or potential to have caused such) to the patient

Device output questioned by a medical practitioner after patient management

Error affecting proper patient identification

Specific system malfunctions or use errors

Fire or visible smoke

Use of a product outside its "intended use" labeling

Receipt of a user FDA MedWatch Report
If your complaint is a reportable incident, it's important that you collect all of the information and documentation required by the regulatory agencies. Making sure that you have the correct process in place to collect this information is key, yet many of these processes are not optimized to support this function in general-purpose and legacy quality systems.
Learn about Greenlight Guru Quality Event Automation in this one-pager PDF and how this capability automates your post-market quality management by letting you incorporate customized workflows with specific, detailed steps that follow your company's protocol.
Medical device complaint handling across global markets
If you determine a complaint is reportable to regulatory authorities, a report must be made. In the US this is referred to as "medical device reporting." In Europe it's referred to as "medical device vigilance." In Canada it's known as "mandatory problem reporting."
Regardless of the market, reporting is required when you become aware of information from any source that suggests your product may have:
Caused or contributed to a death or serious injury, or

Malfunctioned in such a way that, if it were to happen again, there would be a potential for injury or death.
If you decide not to report something, it is absolutely vital that you document the reasons why you made this decision. When in doubt, report it and document your process every step of the way. Using the best QMS software from Greenlight Guru will streamline your team's process for completing the necessary actions to properly address and manage your complaints.
Free Download: Click here to download 3 free templates for Complaints, CAPA, and Nonconformances.
Free Complaint Template for Medical Device Manufacturers
If you're handling complaints for your medical device, you should use a software solution or reliable template to ensure that everything you're doing is legally compliant. That's why we put together a free template for complaints that you can download here.
You can also learn more about Greenlight Guru's Complaint Management Software and get a free demo to see how our medical device QMS (MDQMS) software automates this process for you.
---
Looking for an all-in-one QMS solution to advance the success of your in-market devices and integrates your quality processes with product development efforts? Click here to take a quick tour of Greenlight Guru's Medical Device QMS software →