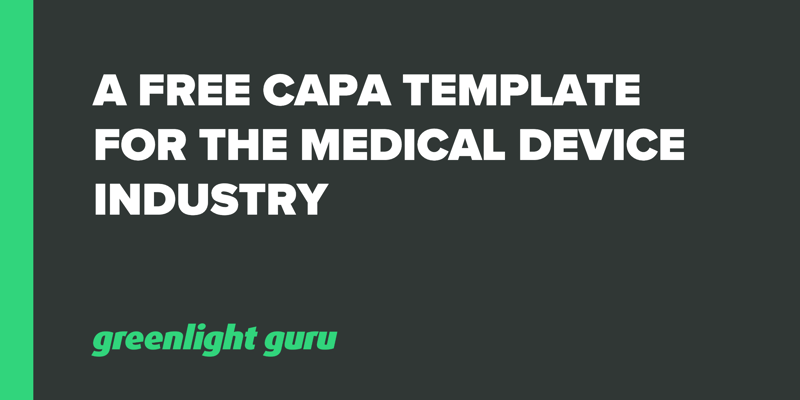 If you're a medical device professional, you've likely heard the acronym "CAPA" before. For those who aren't familiar, it stands for "Corrective and Preventive Action," and it's a process that lives under FDA 21 CFR 820.100.
The purpose of CAPA is simple… Correct and prevent systemic issues. However, if you are staring down the barrel of opening a CAPA, the task of writing one may feel like a far cry from simple.
That's why we've developed a free CAPA workflow template specifically for medical device professionals that's easy to use and will save you a ton of time. You can download our free CAPA Workflow Template here, or continue reading to learn why a well formulated CAPA workflow is so important for closing out a CAPA!
Free Download: Click here to download 3 free templates for CAPA, Nonconformances, and Complaints.
What is Corrective and Preventive Action? (CAPA)
We've covered CAPA for medical devices in an in-depth guide , but it bears repeating… It's kind of a big deal.
FDA requires that all medical device manufacturers have clearly documented procedures for corrective and preventive action in the following seven areas:
Analyzing processes, work operations, concessions, quality audit reports, quality records, service records, complaints, returned product, and other sources of quality data to identify existing and potential causes of nonconforming product, or other quality problems. Appropriate statistical methodology shall be employed where necessary to detect recurring quality problems;
Investigating the cause of nonconformities relating to product, processes, and the quality system;
Identifying the action(s) needed to correct and prevent recurrence of nonconforming product and other quality problems;
Verifying or validating the corrective and preventive action to ensure that such action is effective and does not adversely affect the finished device;
Implementing and recording changes in methods and procedures needed to correct and prevent identified quality problems;
Ensuring that information related to quality problems or nonconforming product is disseminated to those directly responsible for assuring the quality of such product or the prevention of such problems; and
Submitting relevant information on identified quality problems, as well as corrective and preventive actions, for management review.
Clearly, there are a ton of requirements related to CAPA, so it's easy to see why it would be a focus for FDA inspections; there's a major safety component involved with ensuring corrective and preventive actions are taken where necessary. That's why you shouldn't introduce any new, unnecessary risks with producing a poorly written CAPA procedure.
What is a CAPA Report?
A CAPA report is the end product of your CAPA process. This document should clearly outline which issue was identified, which corrections occurred, which corrective actions were taken to remedy the issue, which preventive actions will be taken to ensure non-recurrence of the issue, and how all actions were verified as effective.
When done well, CAPA reports are the backbone of your quality system. If you fail to produce a high-quality CAPA report, however, overall quality will suffer as a result. We recommend using a CAPA process template, such as the one offered as a free download in this blog, or choosing the best QMS software solution like Greenlight Guru that is purpose-built to improve your CAPA management.
Why Should You Use a CAPA Workflow Template?
If you're wondering why a CAPA workflow template is important, consider the value of your time. If you had an unlimited number of hours in the day, I'm confident that you could build a world-class CAPA process. Unfortunately, you don't, and you're likely on a deadline.
CAPA report templates are perfect for the busy medical device professional who is more interested in building a world-class medical device than a world-class CAPA report. This free template will save you time and help you understand the necessary information and tasks to streamline your CAPA process. Greenlight Guru Quality Event Automation can automate your CAPA workflow process, learn how in this free one-pager PDF.
Free Download: Click here to download 3 free templates for CAPA, Nonconformances, and Complaints.
Download Your Free CAPA Report Template for the Medical Device Industry
Are you ready to get to work and find the root cause of your issue? If so, you can download your free CAPA Process Template here.
---
Looking for an all-in-one QMS solution to advance the success of your in-market devices and integrates your quality processes with product development efforts? Click here to take a quick tour of Greenlight Guru's Medical Device QMS software →