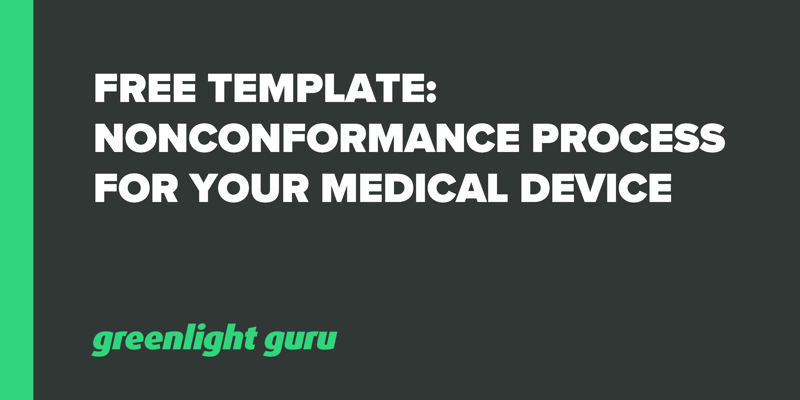 Eventually, every quality professional is going to have to deal with nonconformance. In the medical device industry, there are too many moving parts for everything to go perfectly 100% of the time. The most effective QA professionals are the ones who are world-class at handling nonconformances to mitigate risk and eliminate problems at the source.
If this is your first time dealing with a nonconformance, you probably have a lot of questions. You're in the right place. In this post, we'll break down what a nonconformance report is, why it's important, and how you can use quality event templates and automation to ensure that your nonconformance process is truly world-class.
If you want to learn how Greenlight Guru can automate your nonconformance workflow in your QMS, get a free demo of our nonconformance management software.
Free Download: Click here to get 3 free quality event templates for Nonconformances, CAPA, and Complaints.
What is a Nonconformance in the Medical Device Industry?
21 CFR 820.90 lays out a lot of information regarding quality systems, including what a nonconformance is and what you need to do about it.
Put simply, a nonconformance is any time a product or process doesn't follow the specifications or document process. Usually, nonconformances are found during verification, inspection, or testing activities, but can extend to process documentations experienced in everyday operations..
Nonconformances can come from a variety of sources. Maybe you received a different part from a supplier than the ones you ordered. Maybe the software your device relies on encounters a bug. Maybe a specific product doesn't match your specifications.
Sometimes, nonconformances will have a material impact on patient safety, while other times it may cause no harm. In both situations, however, it's important that you follow key steps to document the nonconformance.
This is why a great nonconformance process is so important. Having a robust workflow in place will save you time, mental energy, and give you peace of mind that your end users are safe from potential harm. Click here to download our free nonconformance template.
7 Essential Steps of a Nonconformance Process
So, what does a world-class nonconformance process look like? Put simply, it follows seven essential steps. Every great nonconformance workflow should:
Identify the nonconformance

Control the nonconformance

Investigate the nonconformance

Perform root cause analysis and determine if a CAPA is required

Take action, including rework and/or disposition of product (if applicable)

Monitor actions for effectiveness, including any rework activities

Generate documentation
Remember, this is a retrospective document. The goal of this document is to ensure that the nonconformance is uncovered, understood, and under control. You don't want to sugarcoat it. You want to understand the details and ensure that no patient harm could result from this issue. You also want to monitor your next steps to make sure the action that you took was effective.
Check out this previous guide we published on how to write a nonconformance report.
Finding a Nonconformance Report Template That's Relevant to Medical Devices
A simple Google of the phrase "nonconformance report template" will yield a ton of results, very few of which will work for a medical device company. Nonconformance exists in a ton of industries, especially those that are well-regulated.
That's why we recommend finding a nonconformance process template that's specific to medical devices. Every nonconformance may be a little different, but this template will both help ensure that your process is FDA and ISO-compliant, and will make your life easier in the long-run.. Instead of trying to parse what may be relevant for your medical device company, you can simply download the template and start investigating.
How to Automate Your Nonconformance Process
Many medical device companies are focused on finding ways to automate their quality event processes. This includes nonconformances.
At Greenlight Guru, our nonconformance management software is leveraged by medical device companies around the world to automate their nonconformance process. By focusing more on automation and less on manual assignments for each new nonconformance, you reduce human error and add additional checks and balances. This makes your quality system more effective and helps your team bring safer devices to the market faster with less risk.
Learn why hundreds of companies worldwide are making the switch to automating their nonconformance process within Greenlight Guru.
Learn how Greenlight Guru Quality Event Automation can automate your nonconformance workflow process in this one-page overview.
Free Download: Click here to get 3 free quality event templates for Nonconformances, CAPA, and Complaints.
Free Download: Nonconformance Template for Medical Devices
If you need to write a nonconformance report today, the fastest way to get started is with our free nonconformance template. You can download your free nonconformance template here.
---
Looking for an all-in-one QMS solution to advance the success of your in-market devices and integrates your quality processes with product development efforts? Click here to take a quick tour of Greenlight Guru's Medical Device QMS software →