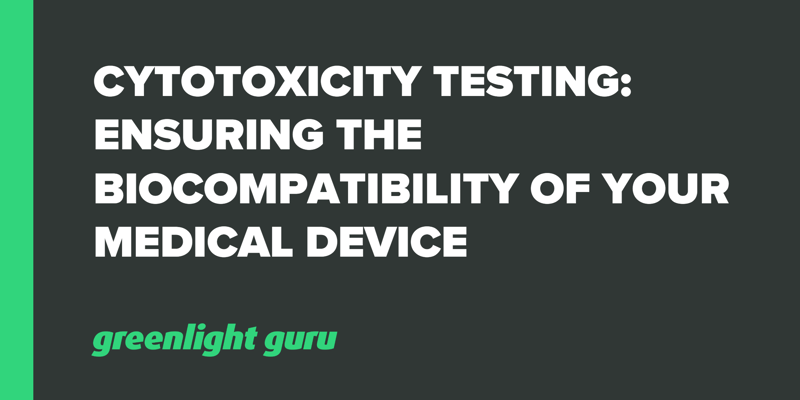 Biocompatibility testing is one of the fundamental means of ensuring medical devices are safe for patients. As its name suggests, biocompatibility testing determines whether a material is compatible with biological material, i.e., a patient's body.

With the continued growth of implantable medical devices, biocompatibility testing has become more important than ever. However, implantable devices aren't the only ones that require testing; any device that comes into contact with human tissue needs to be tested for biocompatibility.
There are a number of tests used to determine biocompatibility, but in this article, I'm going to cover one in particular: cytotoxicity testing.
FREE RESOURCE: Click here to download your free PDF copy of our Biocompatibility Testing Selection Criteria Chart.
What role does cytotoxicity testing play in medical device manufacturing?
Cytotoxicity testing is one of the "big three" biocompatibility tests, which also include irritation and sensitization testing. These three tests are required for all medical devices that have contact with human tissue.
The purpose of cytotoxicity testing is to determine the toxicity of medical devices and their materials by exposing them to tissue cells in vitro and observing the effects. Generally, the tests are performed in vitro on cultured mammalian cells, such as those of mice.
The human body has a number of measures in place to protect cells from cytotoxins and pH imbalances, so by performing the tests on cells existing in vitro—without these defense systems—labs ensure a high degree of sensitivity in the tests.
The implication for medical device manufacturers is clear—the device and its materials will need to meet high safety standards to pass a cytotoxicity test. In fact, Thor Rollins of Nelson Labs has said that cytotoxicity accounts for roughly 93% of the biocompatibility failures they see during testing.
What are the different cytotoxicity testing methods?
Cytotoxicity tests fall into two groups: qualitative and quantitative.
Qualitative method
There are three types of qualitative tests, the results of which are determined by using a microscope to look for signs of cytotoxicity, such as changes in the size or configuration of cells or inhibited growth. These are judged on a scale of 0–4, with a score of 0 indicating no reactivity to the test material and a score of 4 indicating severe reactivity.
The three qualitative tests are as follows:
Elution: The most popular qualitative testing method, elution is also known as testing by extraction. During the test, a fluid extract of the test material is placed in contact with the cultured cells, which are then incubated for three days and evaluated for any signs of cytotoxicity.

Indirect Contact: Also known as the Agar Diffusion method, this test places a layer of agar between the material being tested and the cultured cells. The layer protects the cells from the physical effects of contact with the material being tested, but allows extractables from the material to pass through to the cell cultures.

Direct Contact: During the direct contact method, the test material is placed in direct contact with the cultured cells. This method is generally used for low-density materials like contact lenses.
Quantitative method
The quantitative method is known as the MTT Assay. The MTT method is a colorimetric assay, and it can be performed using either extracts or direct contact. This test is graded based on the percentage of cells that are inhibited or die after contact with the test material.
Ultimately, the type of device and the materials you use will determine which cytotoxicity testing methods you should use. However, both ISO and FDA offer guidance on cytotoxicity testing for medical device manufacturers, which brings us to our final section about the regulatory side of this topic.
What you need to know about ISO 10993-5 and FDA regulations on biocompatibility
Ensuring the biocompatibility of medical devices is both an incredibly important and highly nuanced subject. In fact, the ISO 10993 family of standards, which is focused on the biological evaluation of medical devices, contains more than 20 standards.
The specific standard for cytotoxicity testing is ISO 10993-5 Biological evaluation of medical devices — Part 5: Tests for in vitro cytotoxicity. ISO 10993-5 is also an FDA consensus standard, which means FDA will accept a declaration of conformity with the standard from a medical device manufacturer.
Additionally, FDA recently put out a guidance document outlining how ISO 10993-1 should be applied by medical device manufacturers. ISO 10993-1 is the first standard in the ISO 10993 family, and it covers evaluation and testing within a risk management process. However, section VI of the FDA guidance document provides clarification on when the various cytotoxicity testing methods should be used.
Although your device may not need every biocompatibility test on the books, it's safe to say you will need to perform cytotoxicity testing of some kind before your medical device can go to market.
FREE RESOURCE: Click here to download your free PDF copy of our Biocompatibility Testing Selection Criteria Chart.
Stay up-to-date with the latest FDA and ISO standards with Greenlight Guru
The medical device industry is on the cutting edge of technology. This makes it an exciting industry to work in, but it also means that standards, guidance, and even regulations often have to change to accommodate new technology.
At Greenlight Guru, our Medical Device Success Platform (MDSP) is always up to date with the latest regulations and standards. In fact, it's the only software with the latest FDA and ISO best practices specific to medical device companies built into every feature.
Shift your focus from reactive compliance to True Quality. Get your free demo of Greenlight Guru today.
---
Looking for a design control solution to help you bring safer medical devices to market faster with less risk? Click here to take a quick tour of Greenlight Guru's Medical Device QMS software