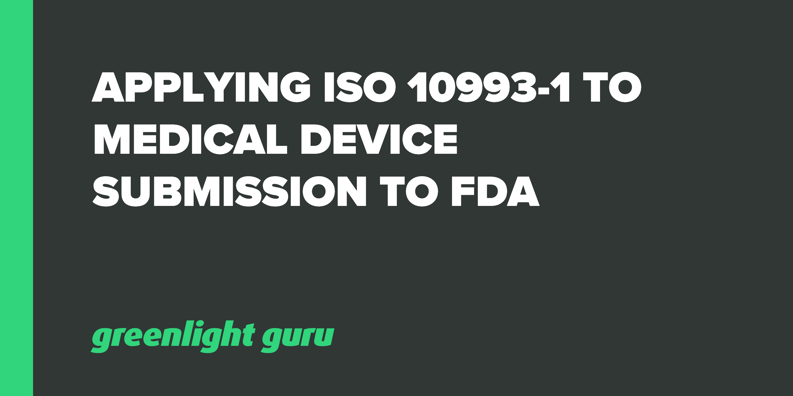 ISO 10993-1 is the medical device industry's globally recognized standard for biological evaluation of medical devices and protection of humans is its primary goal.
Biological evaluation for medical devices is equally complex as it is critical for meeting high safety standards that ensure proper testing is conducted and all known risks are mitigated.
Specifically, FDA recognizes this standard and, in 2020, published a guidance document for recommended Use of International Standard ISO 10993-1 to help manufacturers understand biocompatibility testing considerations and apply risk-based biocompatibility evaluations, in accordance with the standard, in product submissions for entering the US market.
Here's what you need to know about the biological evaluation process outlined in ISO 10993-1 and how to apply those requirements for your product submission to FDA to enter the US market:
FREE RESOURCE: Click here to download our free biocompatibility testing selection criteria chart to help complete your risk assessment.
Assess biological risk
Conducting a biological risk assessment is an essential first step of demonstrating the biocompatibility of your medical device, in accordance with ISO 10993-1, and should be done within the framework of a risk management process.
A biological evaluation should involve a comprehensive risk assessment of your:
medical device,

material components of the device,

manufacturing processes, and

clinical use of the device, including anatomical location as well as frequency and duration of exposure.
Knowledge gaps and other significant findings discovered during the first phase of the biological evaluation process will then need to be compiled into a biological evaluation plan (BEP). Your BEP will serve as your initial risk assessment and guide you in addressing known risks, typically done by way of biocompatibility testing and/or further evaluation.
FDA provides a framework for the development of biocompatibility evaluation endpoints, including examples of some suggested endpoints. Some medical devices may require evaluation of different endpoints, or a combination.
FDA expects manufacturers to objectively explain why and how potential risks have been assessed. Include this information both within your BEP that you share with FDA as part of the pre-submission process, if possible. While a pre-submission is not required, it is strongly recommended as it offers many benefits to manufacturers.
Conduct biological testing
The second step to follow after you've identified and documented all known risks in your BEP is to address those risks by following the requirements from ISO 10993-1 for biological testing. At this stage, it's especially important to understand all biological components of the device and exactly how it will interact with the human body.
Prior to the publication of ISO 10993-1, it was acceptable for manufacturers to run through a checklist of tests, but now, both ISO and the FDA expect clear justification that proves adequate biological testing has been done and all identified risks have been addressed. In order, biological testing must be conducted.
Biological testing and evaluation are most commonly carried out via:
Written evaluation based on scientific literature and any clinical use of the materials.

In vivo or in vitro biological tests.

Chemistry tests along with toxicological risk assessment.
Medical device biocompatibility testing is a commonly practiced way to mitigate risks. This type of testing determines the potential for an "unacceptable biological response" to occur, and the impact to end users, from medical devices and component materials.
For example, if a component touches the skin of its user, does it have the potential to cause any reaction or harm? In other words, biocompatibility testing serves to control and limit the risk of medical devices and materials, or processes involved, when used on end users.
You will also need to engage an appropriately qualified testing facility to conduct the necessary tests you have identified. Remember, you need to be able to justify the testing based on the risk assessment - if this is outside of your team's expertise, it can be well worth hiring a trusted partner to help you through this process.
Biological testing isn't something to leave until the last minute: it should be considered right from the onset of the product lifecycle, and certainly well before you are ready to send in your product submission for regulatory review.
Create biological evaluation report
The third step you'll want to follow when applying the requirements from ISO 10993-1 is to create a biological evaluation report. This is a final report that summarizes the overall biological risk evaluation and assessment, substantiated by data and objective evidence.
What should you include in your biological evaluation report?
Supporting data from any literature you've used;

Assessment of data from testing;

Gap analysis for any available information for biological safety;

Rationale for why additional information isn't needed.
You also need to include a formal statement confirming the biological risk analysis and risk controls that have been completed. This report will be used to demonstrate that your medical device will not cause any undue risks to patients or any intended users during the course of its use.
FREE RESOURCE: Click here to download our free biocompatibility testing selection criteria chart to help complete your risk assessment.

How Greenlight Guru simplifies ISO 10993-1 compliance and helps you mitigate medical device risk
An underlying theme of ISO 10993-1 and the related FDA guidance document is being able to demonstrate the safety of a medical device through objective evidence from risk-based biological testing and evaluation methods.
You need to show this evidence to regulatory authorities in a number of formats, such as your risk assessment conclusions, test results, and rationale for medical devices that do not require testing. Because of this, it's on you, as the manufacturer/sponsor, to keep highly organized documentation that is easily accessible upon request as your biocompatibility evidence vault.
Quality and reliability are two key factors to look for in the type of QMS medical device manufacturers need. You need a document repository that is easily traceable and kept up-to-date. Access to documented evidence should be available with just a few clicks - and that's exactly what you get with Greenlight Guru, the only quality management solution built exclusively for the medical device industry.
Greenlight Guru aligns with the latest ISO, FDA, and other regulations and standards, helping you conduct testing with ease and mitigate risk without the hassle. Get your free demo of Greenlight Guru today.
---
Looking for a design control solution to help you bring safer medical devices to market faster with less risk? Click here to take a quick tour of Greenlight Guru's Medical Device QMS software