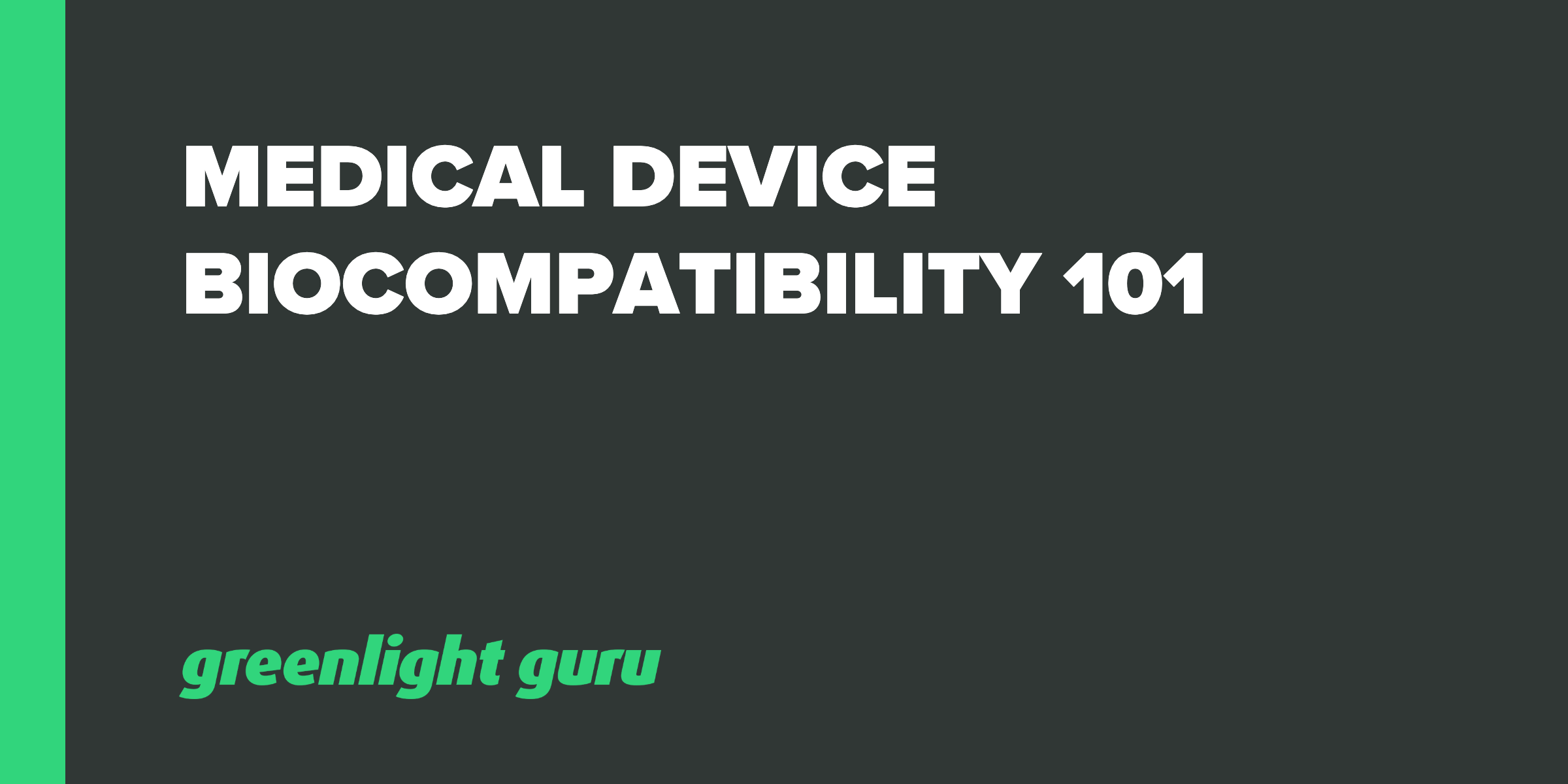 Medical device biocompatibility can be confusing, challenging, even frustrating for device professionals.
There often seems to be a battery of testing requirements, even for materials that you know have been used on other devices. Testing can be expensive and time-consuming, which is all the more reason to go into it knowing what to look out for.
This article will provide an introductory overview of medical device biocompatibility, answering some of the most common questions asked by manufacturers:
FREE DOWNLOAD: Click here to get a printable PDF of the biocompatibility evaluation flow chart.
What is medical device biocompatibility and does it apply to my device?
First things first, biocompatibility refers to testing to determine the "potential for an unacceptable adverse biological response resulting from contact of the component materials of the device with the body."
For example, medical devices shouldn't, either directly or through the release of their chemical components, cause adverse local or systemic effects. A local effect could include skin irritation or burns, while a systemic effect could include illness such as cancer, reproductive system effects or developmental effects.
The guiding standard for biocompatibility is ISO 10993, and the FDA has released a guidance document outlining how ISO 10993 should be applied by medical device developers. One difference in how the FDA and ISO standards are applied to biocompatibility as compared to historically is an emphasis on a risk-based approach.
Device manufacturers must first spend time understanding their devices and how they interact with the body to determine where risk factors lie. Traditionally, it was acceptable to just run through a checklist of tests. Now, FDA is quite insistent on tests being justified and related to risks.
Do you need to do biocompatibility testing?
The short answer is that biocompatibility testing is almost always required for medical devices that have contact with human tissue. The ISO Materials Biocompatibility Matrix can help you to determine if your device needs testing.
However, you can reduce the number of tests you require or even eliminate them altogether if you provide sufficient justifications for tests and have any or all of the following types of data:
Data from previous submissions. If the materials you are using are substantially the same as those previously tested, you may not have to do further testing. If there are any significant changes, such as in the sterilization method, manufacturing process, the nature of patient contact, the chemical composition of materials or materials selection, then confirmatory testing may be required.

Data from suppliers of the materials being used. If they have conducted their own testing, you will need access to the data.

Clinical data. For example, there may be predicate devices or devices containing similar materials that have been approved for the market.

Analytical data. This may be used to affirm low risk.
What biocompatibility tests do I need to perform for my medical device?
The exact tests that you'll need to do vary according to the data and information you have as per the last section here. There are three steps to demonstrating biocompatibility:
Develop a Biological Evaluation Plan (BEP). This reviews your device and its materials, identifies potential risks and suggests possible evaluations or testing to address those risks. The BEP can serve as your initial risk assessment and you can also share it with the FDA during a free pre-submission discussion. This is a good idea to use this service and find out if the FDA might require anything further that you haven't included.

Device evaluation and testing. This involves using the tests identified in your BEP. Usually, these will be a combination of in vivo or in vitro biological tests, chemistry tests and toxicological risk assessment, written assessment based upon scientific literature. Pacific Biolabs presents a good summary of the types of tests here.

Produce a Biological Evaluation Report (BER). This is where the results of all tests and evaluations are summarized. This is submitted to the FDA along with test results.
What regulatory standards and FDA guidance documents apply to biocompatibility?
ISO 10993 is the international set of documents guiding biocompatibility. The FDA subscribes to the use of ISO 10993 and has prepared its own guidance document on the use of this standard for medical device developers in the US.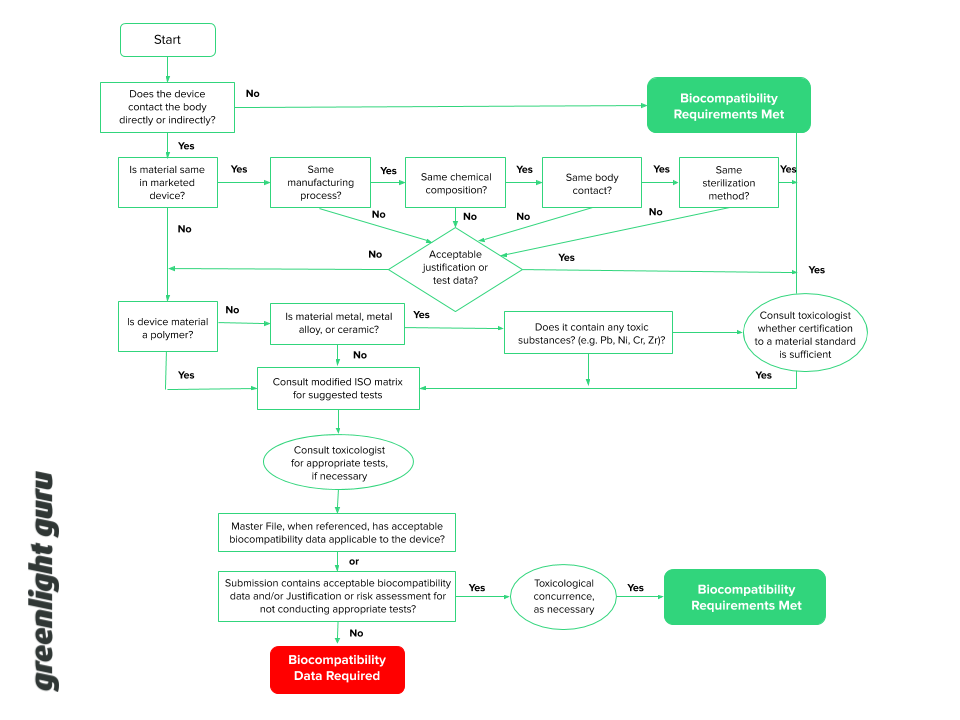 FDA CDRH Biocompatibility Flow Chart
You can download the full version of this flow chart for free by clicking here.
The FDA guidance document is your best resource for preparing Premarket Applications (PMAs), Humanitarian Device Exceptions (HDEs), Investigational Device Applications (IDEs), Premarket Notifications (510(k)s), and De Novo requests for medical devices that come into direct contact or indirect contact with the human body. It provides further information and clarification on how to use 10993 for your biocompatibility compliance.
Use of biocompatible materials in medical devices
Here's a question many medical device developers ask: "Is there a list of approved biocompatible materials from the FDA?" The answer to this is no. FDA doesn't approve materials, they approve medical devices and there is a raft of reasons that the use of certain material in one device might not translate well to its use in another device.
What you can do is look for predicate devices - those that are substantially similar or which use the materials you propose using in a similar way. Data from devices that are already approved can be used as part of your justification.
There are some materials for which there are "master files" filed with the FDA, but the FDA does not own those - the company that prepared them does. You might be able to get permission from the file owner to view it, but it's important to understand that information is not "pre-approved" by the FDA.
FREE DOWNLOAD: Click here to get a printable PDF of the biocompatibility evaluation flow chart.
Biocompatibility is nuanced, but it has a big impact on medical devices
You should always address biocompatibility testing for a new medical device. It's part of the requirements to ensure that risk is managed and that safety is prioritized for all materials that come in contact with users.
As to the extent of the biocompatibility testing that you'll be required to do, this is variable, depending on your particular set of circumstances. One thing we will say is that this isn't something to leave until the last minute before you submit a 510(k). Even if the actual testing you need to conduct is minimal, your justifications for why or why not must be impeccably well-written and researched.
Biocompatibility is something that you should consider from the outset when choosing the materials for your device. If you're new to all of this and unsure, we'd strongly recommend partnering with an industry expert that specializes in biocompatibility to ensure you stay on the right track. Learn how Greenlight Guru can help by matching you with the best partner for the job.
---
Looking for an all-in-one QMS solution to advance the success of your in-market devices that can integrate your post-market activities with product development efforts? Click here to take a quick tour of Greenlight Guru's Medical Device QMS software →